International Women's Day: Empty Talk Won't Empower Indian Women
Two rapes occur every hour in India. Neither speedy justice nor harsh penalties are a solution.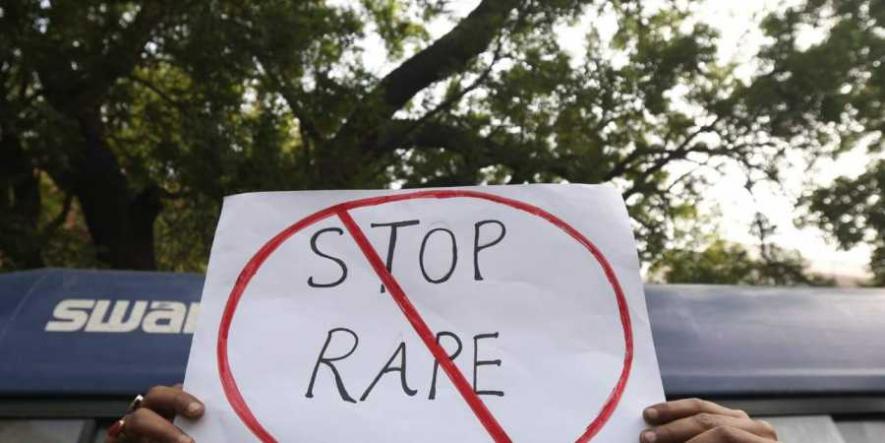 Image Courtesy: New Indian Express
On 3 March a court in Ranchi, the capital of Jharkhand, convicted three men to death for the rape and murder of a six-year-old girl in Ramgarh town of Dumka district. The breathtaking pace of this trial perhaps broke all records of speedy justice. The police filed a charge-sheet on 26 February and within four days came the sentence. 
Yet this trial is not unique. 'Quick', 'speedy', 'rapid-fire' and 'fast-track' are words and phrases that are now instinctively associated by people with the idea of delivering justice to women. For women (and child) victims of sexual crimes—especially rape and rapes that lead to death of the victim—the popular clamour is not just for speedy trials but also harsh punishments. This crescendo in favour of the death penalty—which women activists have been opposing for long—now seems to be echoing in the courts as well. 
The pace at which 35 death sentences were awarded in Madhya Pradesh between 2018-19 is part of this trend. These were cases filed under the Protection of Children from Sexual Offences (POCSO) Act, which deals with crimes against minors. A verdict in one of these cases was pronounced in just five days. After it was delivered, the Director General of Public Prosecution of the state, Rajendra Kumar, boasted that it was the "swiftest case of capital punishment in the history of jurisprudence".
Yet, is this spate of death sentences awarded by courts doing justice to women? It is a question that needs closer examination. Women activists have been insisting for long that women do not become safer if their state governments adopt a lynch mentality. It is worthwhile, on this International Women's Day, to focus on the very dangerous consequences of rapid trials that conclude in the harshest penalty and how they do not—cannot—amount to justice for women.
To start with, consider the fact that in India there are 4.5 lakh cases of sexual assault pending in the courts. "If even two per cent of these are found guilty of rape, will the state start hanging over 2,000 people every year," says Ranjana Kumari, social activist and head of the Centre for Social Research.
Kumari's question is rhetorical, for she does not believe that a death sentence awarded in such a short span, less than a week, can truly be just. The immediate question a rapid-fire trial raises is whether the due process was followed. Besides, when sentences are awarded in quick time, it implies that not enough time was available to settle all doubts regarding the crime, the perpetrator and other critical aspects of a criminal trial. "A forensic report has to be submitted. Often, a DNA report is called for by the courts," Kumari says, wondering if other critical steps are being skipped as trials are rushed through. 
Consider the criticism that the gunning down of four rapists by Andhra Pradesh Police in the first week of December 2019 had evoked. Four men were arrested in Cyberabad, a suburb of Hyderabad, on suspicion that they had raped and murdered a 27-year-old veterinary doctor. Ten policemen had taken them, without handcuffs, at the break of dawn, apparently to recreate the crime scene. The police claim that the suspects tried to snatch their weapons and in the ensuing struggle were shot dead.  
"This was clearly an extrajudicial killing," says Kumari, who had subsequently visited Hyderabad for a first-hand assessment of events, including a meeting with Cyberabad Police. The city police commissioner, VC Sajjanar, she says, had shrugged off the idea that there could be serious consequences for the policemen who had shot down the alleged perpetrators. She is not alone to criticise this case—many others have pointed out that this was nothing but "a cloak for our collective guilt". 
Yet, in Jharkhand, Madhya Pradesh and Telangana, and many other parts of the country, the pronouncing of death penalties in the name of women continues, and this has got most women activists agitated. They have been pointing out that women do not become safer if the law-enforcement agencies, state governments and the judiciary adopt a hard-line approach. They fear that it is a lynch mentality that seems to dictate some of the death penalties awarded, and this can have very dangerous consequences for women.
Let us see how. In the last sixteen years, that is, from 2000 to 2015, 30% of death sentences announced by trial courts ended in acquittals by the higher courts. A further 65% were commuted. Some 1,486 prisoners were sentenced to death by trial courts of which the higher courts upheld only 4.9%. All democratic governments are cautious in executing the death sentence. In a way, therefore, it is unsurprising that between 2004 and 2018, only four death sentences were actually served by India. Of these, three were terrorists while the fourth was Dhananjoy Chatterjee, who was accused of raping and murdering a 14-year old girl.
Besides, those who were awarded the highest penalty in the trial courts also belong to extremely poor backgrounds. Some of them could not afford to hire a lawyer. The case of autorickshaw driver Rajkumar is illustrative of how swift justice can actually end up being summary justice. 
An FIR charging Rajkumar with rape, under the POCSO Act, was filed on 4 July 2018. The verdict of death was announced on 27 July of the same year. A lawyer, BM Singh Rathore, from the Madhya Pradesh State Legal Services Authority was asked to represent him free of cost, for Rajkumar could not afford a lawyer. After the trial, Rathore informed the media that the speed of the trial was so overwhelming that he had not been able to speak to the convict even once. The court was closed for two days after charges were framed against Rajkumar. Twenty witnesses were examined over two days and Rajkumar's statement was recorded on the third, and then came the verdict. "I have never seen witnesses turning up so fast. Often they do so only when summons are served," Rathore said.
What shocks the conscience of people working in the field of justice and women's rights is that these travesties are taking place in the name of women's safety.
But as the number and incidence of rapes in India mounts, there is no gainsaying that the demands for stringent—meaning death—penalties will only rise. The grouse of lawyers, activists, and others who oppose quick-fire justice is that there is no evidence that death sentences reduce the incidence of these heinous crimes. Swetashree Majumdar, a lawyer who worked on the Justice Verma Committee report set up in the aftermath of cries for death penalty to the four men accused of raping and killing 'Nirbhaya', says that of the several recommendations it made on changing the law, death penalty was not one for a good reason. 
Evidence gathered by the committee during the course of its research from neighbouring countries such as Bangladesh, Pakistan and Afghanistan—all of whom award the death penalty for the crime of rape—shows that stricter laws cannot deter this crime in and by themselves. "Stricter laws alone do not act as a deterrent," Majumdar says. "The state needs to ensure a slew of confidence-building measures for the safety of women," she says.
The question is, are our state governments investing adequately in training and sensitising our police force. Kiran Bedi, the well-known former inspector general of police and present Governor of Puducherry, used to constantly emphasise on the importance of beat patrolling. This, she would say, is the backbone of effective policing. It has been a long-standing (although controversial) position of the police in India that local communities also need to get involved in these patrolling efforts. 
That said, activists do feel the need for state governments and society to develop initiatives that include adolescents and the youth, especially those from impoverished socio-economic sections, in the job of making towns and cities and villages safer.
"We need younger men and boys who live in the over-populated slum clusters of our big cities to get engaged with this process," says Akhila Sivadas, executive director, Centre for Advocacy and Research, and a long-time women's rights activist. "These boys and adolescents often have no role model, so it is important to engage them and make them agents of change," she says. 
Sivadas's organisation has been partnering youngsters to learn from women's experiences on actual safety-related issues. In addition, it has been educating them on substance abuse, better healthcare and sanitation and also training them under 'technical resource-people', such as plumbers, masons, electricians and sanitation workers. "These boys can then become agents of change," says Sivadas.
 Yet, for all the efforts by civil society, the government's response continues to be skewed despite overwhelming evidence that its punitive tactics, which include the death penalty, are proving ineffective. For example, in 2015 it was found that reported rape cases had grown by 837% since the mid-sixties in India, according to data collated from the National Crime Records Bureau. And, according to this report, more than 32,500 cases of rape were registered with the police in 2017, about 90 a day. 
The former Minister of Women and Child Development Menaka Gandhi had proposed to set up 660 'One-Stop Crisis Centres' after the Nirbhaya incident, where victims would receive legal, medical and police assistance under one roof. Such centres have proved successful in many countries including Australia, the United Kingdom, Malaysia and elsewhere.
But in March 2015 Gandhi's proposal was shot down by the Prime Minister's Office, which declared it a "waste of money".  We are talking about the same ministry which has spent some 56% of its precious funds on just publicity for the Prime Minister's brainchild, the 'Beti Bachao Beti Padhao' [Save Daughters, Educate Daughters] scheme. In five years of its first term, the Modi government spent Rs 364.66 crore of the total allocation of Rs 684 crore for the scheme on advertising it. Another 19% was not spent at all. And for the amount that was allocated to states—Rs 159.8 crore—no impact assessment was done.
It is only the Supreme Court which has voiced concern over the hasty imposition of the death penalty in cases of rape. It has vacated 31 death sentences in six months while the trial courts seem to be moving in the opposite direction, by pronouncing 162 death sentences in 2018 alone. 
The irony of sentencing rapists to death is that it is far easier to pronounce than implement. The Nirbhaya rape-murder case has dragged on for seven years. The four men convicted for the ghastly crime were to be hanged on 22 January, but this was postponed thrice as the convicts have the right to exhaust all legal remedies available. The lesson we learn from the 837% jump in rapes in India is that harsher punishment alone will not end sexual assault. The sooner the government understands this, the better it will be for women.
The author is a freelance journalist. The views are personal. 
Get the latest reports & analysis with people's perspective on Protests, movements & deep analytical videos, discussions of the current affairs in your Telegram app. Subscribe to NewsClick's Telegram channel & get Real-Time updates on stories, as they get published on our website.
Subscribe Newsclick On Telegram