Interview: How Will a Budget cut Affect the National Health Mission?
A decrease in the budget for the National Health Mission, a program that aims to improve the public health sector, will have serious consequences: Jan Swasthya Abhiyan.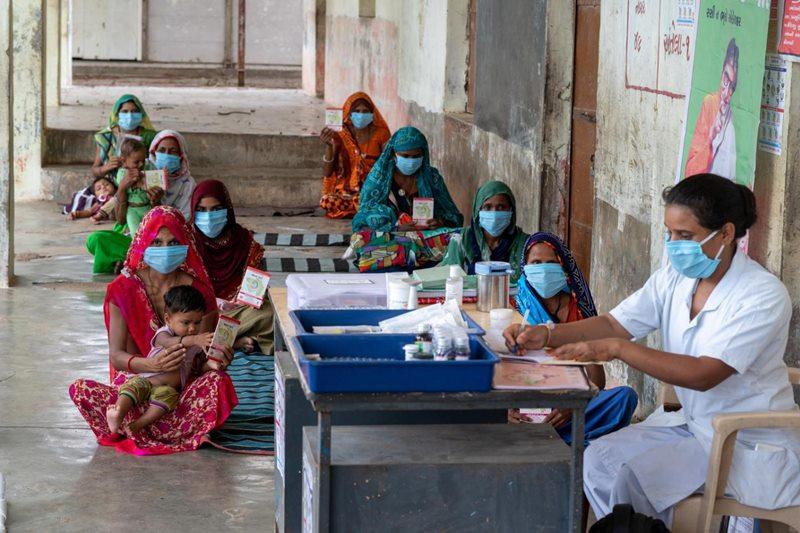 After the COVID-19 outbreak, there were concerns about the capacity of public health institutions across the country, leading to questions about the government's commitment to public health. Consequently, there were high expectations from the union budget this year. In terms of numbers, the health sector's annual spending has increased from Rs 86,606 crore to Rs 88,956 crore from 2022-2023.
Additionally, the government has announced two major programs: the establishment of 157 new nursing colleges and a program to eliminate sickle cell anaemia. However, the National Health Mission (NHM) saw its allocation reduced from Rs 37,165 crore in 2022-2023 to Rs 36,785 crore this year.
The NHM is a comprehensive program that oversees various initiatives aimed at controlling communicable and non-communicable diseases. It is a significant mass-serving scheme that has been in existence to support marginalised communities. To discuss the recent health budget and the implications of the budget cut for the NHM, NewsClick spoke with Abhay Shukla, convenor of Jan Swasthya Abhiyan, and Health Economist Indranil Mukhopadhyay.
Neelam Gaur: The budget document stated an increase in the percentage of GDP allocated to the health sector to 2.1%. Can you provide an overview of the changes in health sector allocations in recent budgets?
Indranil Mukhopadhyay: The 2.1% of GDP figure includes expenditure by states and union governments on health but, at the same time, water supply, sanitation, and nutrition. This is not a globally comparable result. When we compare India with other countries, a comparison would be health expenditure that too current health expenditure which is 1.2% of GDP (According to National Health Accounts).
The figure provided by the Union government (2.1%) has nothing to do with the budget. Because the main spending is coming from the state government and apart from health, other domains are also there. As far as this government's union budget is concerned, and the health sector is concerned, there have been several cuts in the recent budget. One of the most significant cuts in the budget is the National Health Mission, which has been declining in real terms, especially in the last two years. NHM is one of the union government's most significant mass health programs.
Having said that, other aspects of the budget have seen budget cuts. For instance, money going to the state government has also been reduced compared to previous years. The budget for the Indian council for medical research has also gone down in real terms.
Neelam Gaur: Based on your research, which government schemes have experienced reductions in funding in recent budgets?
Abhay Shukla: Given the entire experience of the COVID pandemic and shortfalls in public health services across the country, it was expected that the new budget would increase allocations for basic health services. The largest and most important national programme which is focused on ensuring primary and secondary healthcare across states is the National Health Mission, which needs additional funds and human power to keep up with the health needs of the population. While in the year 2022-23, allocation on NHM was Rs 37,159 crore, now allocation for NHM in 2023-24 is only Rs 36,785 crore, which is not only a decline of Rs 374 crore in nominal terms, but in real terms, this is a cut of Rs 1438 crore. The share of NHM in the total allocation for the health budget decreased from 41.6% in 2022-23 (BE) to 39.7% in 2023- 2024 (BE).
The critical national programmes to ensure child nutrition and reduce malnutrition are Saksham Anganwadi and POSHAN 2.0. Allocations for these in 2023-24 have increased marginally over the previous year by Rs 291 crore. Keeping in view inflation, in real terms, this means a decline of 4.3%. In real terms, allocations towards ICDS-related components of the scheme remain even lesser than what was spent in 2014-15.
Regarding Pradhan Mantri Matri Vandana Yojana, an important scheme for pregnant women, the allocations have decreased from Rs 2622 crore in 2022-23 to Rs 2582 crore in 2023-24. This programme has been quite underfunded since its inception; against the requirement of Rs 14,000 crore per the National Food Security Act (NFSA) mandate, the budget for 2023-24 has been a scanty Rs 2582 crore.
There is also a sharp budget cut for Pradhan Mantri Swasthya Suraksha Yojana (PMSSY), which envisages the creation of tertiary healthcare capacity by setting up All India Institute of Medical Sciences (AIIMS) type institutions and upgradation of existing Government Medical Colleges in various parts of the country. The budgetary allocation has come down from Rs 10,000 crore in 2022-23 to Rs 3,365 crore in 2023-24.
Neelam Gaur: In JSA's press release, you called for discontinuing the PMJAY scheme. Please tell us the reasons behind the statement.
Indranil Mukhopadhyay: The scheme is functioning. However, even half of the allocation of the scheme doesn't get spent. For instance, last year, Rs 6400 crore were allocated, but only Rs 3200 crore were spent., still the budget has been increased to 7200 for this scheme. In the context of COVID, we saw the PMJAY funding wasn't utilised because private sectors were not treating patients. Also, we hear many stories that people still need to pay from their pockets under PMJAY. The other main argument regarding discontinuation is that scheme is seen as a vast public-private partnership where a lot of public money is essentially going to purchase care from the private sector. The care should have been provided for free, but that is not happening, and also, the most complex cases are not treated in the private sector. And most patients are not treated in the private sector. They are sent back to the public sector. Then there are reports and RTIs that most marginalised do not benefit from the scheme. A considerable majority of the marginalised population doesn't benefit from the scheme, for whom it was essentially meant to.
Neelam Gaur: Over the past four years, ASHA and Anganwadi workers have been protesting over their inadequate compensation. Has there been any provision for them in this year's budget?
Abhay Shukla: We have already noted how the overall budget for the National Health Mission has been constricted in the coming year's budget (around a 4% decline in real terms), from within which a small proportion is allocated for ASHA incentives. When the overall budget envelope has been constricted, how can we expect that there would be any increase in compensation for ASHAs? Similarly, with a reduction in real terms of allocations for Saksham Anganwadi and POSHAN 2.0, where is the scope for increasing honorarium for Anganwadi workers? Given the critical role played by these frontline workers during and beyond the pandemic period, they deserve much better compensation, secure employment and improved working conditions. However, this budget lacks any favourable provisions for these workers, who form the foundation of our public health and nutrition systems.
Neelam Gaur: The budget has significantly cut funding for non-communicable diseases, with allocation reduced to Rs 289 crore from Rs 500 crore. Mental health, which falls under this category, is a pressing concern in our society. How will this cut affect the mental health program?
Abhay Shukla: In the Union budget for 2022-23, the National Mental Health Programme (NMHP) received a measly allocation of Rs 40 crore - which continues to be at the same low level since 2019-20. This amounts to spending just 30 paise/person/year for mental health services of Indian people. This allocation was mentioned in previous budgets as part of the overall allocations for Tertiary care services, which along with mental health, also included programmes for dealing with cancer, diabetes, cardiovascular diseases, care of the elderly etc., for which a total of Rs 500 crore had been allocated. However, in the budget for the coming year (2023-24), NMHP is not mentioned separately, which is surprising, and much more severe is the slash in the budget for overall tertiary care programmes to just Rs 289 crore. With the overall budget envelope for tertiary care being cut by nearly half, the already underfunded mental health programme will be even further starved of funds essential for the care of the mentally ill and for population-based mental health activities. This is likely to translate into restrictions on staff, medicines and basic facilities required for mental health services across the country, whose importance has been further highlighted during the COVID pandemic.
Get the latest reports & analysis with people's perspective on Protests, movements & deep analytical videos, discussions of the current affairs in your Telegram app. Subscribe to NewsClick's Telegram channel & get Real-Time updates on stories, as they get published on our website.
Subscribe Newsclick On Telegram