Iran Faces Twin Challenges of COVID-19 and American Sanctions
The worst hit country in West Asia, Iran has had a tough time coping with the pandemic amid US sanctions. It has resorted to strengthening links with countries such as Russia and China towards this end.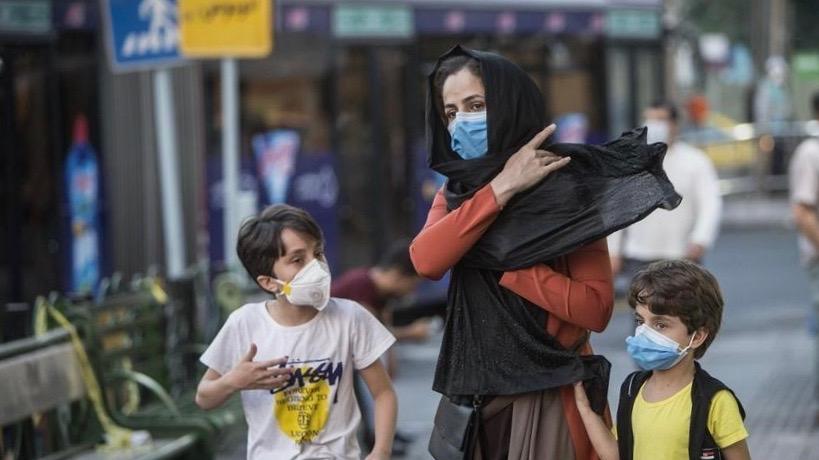 As of July 26, there were 2,91,172 reported cases of COVID-19 in Iran, of which, according to the government, 2,53,213 had recovered and 15,700 died. Therefore, the total number of active cases currently are nearly 22,000.
Given the fact that Iran was among the first few countries outside China to record a COVID-19 outbreak and remains the worst-affected country in West Asia in terms of overall death toll, the numbers presented by the government give some hope to the country which is still considered to be in the second phase of virus spread.
Twin challenges
Iran has a population of around 84 million, a large number of whom depend on the state's extensive welfare and social security apparatus for their well-being. The country has faced formidable challenges to its economy due to the sanctions imposed unilaterally by the US. Under the current pandemic situation, increased health expenditure has also stressed Iran's resources. 
The US sanctions have deprived Iran of its main source of export revenue, crucial to maintaining social expenditure on health and other services. Over 80% of all Iranian export earnings came from the sale of oil and gas in the international markets before the sanctions were imposed in May 2018. Without this export revenue, Iran faces a tougher challenge in dealing with the health crisis.     
While the share of hydrocarbon production in the Iranian economy is less than 20%, it still remains the main export commodity. However, many of Iran's client countries have withdrawn their demand fearing secondary sanctions from the US. In such a context, attempts to diversify the export bucket or look for alternative buyers may take time. Such attempts are also severely hampered by the COVID-19 outbreak which has led to the closure of most sectors in the domestic economy at a time when Iranians depend on domestic production to limit the effects of sanctions.  
Iran's ability to fight the disease was also hampered by the US sanctions, despite president Hassan Rouhani claiming the contrary. Though Iran has a strong public health system, the overwhelming number of cases and the novelty of the disease forced the country to seek international support. However, US sanctions have restricted Iranian access to crucial medical supplies as international suppliers cannot afford a hostile superpower. 
Additionally, Iran's inability to get necessary financial help from international lending agency IMF, again under US pressure, has made its attempt to mitigate the economic impact of the pandemic difficult.
Crucial international cooperation  
Though the number of infections in Iran has grown steadily since the first case was reported in February, the death rate even at its peak was about 10%. Despite a recent surge in cases, the death rate has now gone down to 6%. While this percentage is high compared to some countries like Germany, it comes close to the death rate in China and is much lower than that recorded in most other countries in Europe, such as France and Italy, where it is still over 15%.
Iran could withstand the impact of the sanctions and fight against the pandemic with crucial diplomatic and humanitarian help provided by countries like China.
China sent its first medical team to Iran along with necessary medical supplies and equipment on February 29, within 10 days of Iran reporting its first case of COVID-19. Chinese experts and volunteers used their experience to help provide necessary guidance to their Iranian counterparts.
#Chinese medical specialists arrive in #Iran to help combat #coronavirus https://t.co/8eS0Feg7Or pic.twitter.com/KaY0GhwPsl

— Press TV (@PressTV) February 29, 2020
The Chinese people also donated in their individual capacity towards the COVID-19 relief efforts in Iran. According to one Xinhua story, after the Iranian embassy in China opened its donation channel on social media site Weibo in March, they received more than USD 5,67,000 worth of donations within 24 hours. Several reports about Chinese aid to Iran in the form of medical supplies, masks, prefabricated rooms, waste disposal facilities, among others, have also emerged in the media.
پانصد اتاق پیش ساخته بیمارستانی اهدایی دو شرکت چینی شامل تخت، میز، صندلی این هفته با یک هواپیمای باری به تهران ارسال خواهد شد. این محموله قابلیت تجهیز فوری یک بیمارستان صحرایی پانصد تخته خوابی را دارد.تاکنون 21 هواپیما کمک از چین به ایران ارسال شده است. pic.twitter.com/ymukcwH569

— Mohammad Keshavarzzadeh (@keshavarzzadeh) March 27, 2020
Iran itself sent tankers carrying oil and other commodities to Venezuela in June. Apart from providing Venezuela essential commodities, this provided crucial financial resources for Iran to deal with the economic challenges at home. The move was also an important moral victory for the anti-imperialist movement in the world, particularly in the context of explicit threats by the US against it.    
The Iranian government has also gradually consolidated its relations with Russia and China through long-term "friendship treaties". This has led to raised eyebrows in the US. Russia has pushed for Iran's membership into Shanghai Cooperation Organisation (SCO), a regional grouping involving Russia, China and some Central Asian countries.  
Government's mixed record  
The Iranian government, mostly under pressure from the business communities known as bazar and the religious institutions, felt it necessary to lift the lockdown in May despite concerns raised by health officials about such moves being premature. The government had allowed reopening of almost all workplaces and recreational centers in the country with public transport operating at full capacity as before the imposition of the lockdown. This led to a second surge in cases, following which the government was forced to reimpose some of the restrictions since early July in eight worst-affected provinces, including southern Hormozgan, Razavi Khorasan, Khuzestan and Bushehr, among others. These areas are now designated as Red Zones.
However, Iran has been able to create infrastructure and now has an assured and steady supply of medical necessities. This has given the government breathing space to start looking for ways to revive the economy. On July 23, the Iranian government unveiled a 200 trillion Rials (around USD 1 billion) scheme to help people who are unable to pay rent due to the lockdown. It will extend a loan of USD 2,300 for each tenant to the landlord. Similarly, the government strengthened social security measures for pensioners by injecting more money.
Nevertheless, there are some areas of concern. Acting on calls from the international civil society and the United Nations, Iran had released some prisoners in March to prevent overcrowding in jails and save vulnerable inmates from any potential outbreak inside the prisons. However, most of the political prisoners were denied such relief. Now that cases have started rising again, political prisoners remain vulnerable. In the current context, there have been a number of calls for the government to release prisoners considered to be vulnerable to the virus, such as the elderly and those at risk due to co-morbidities.  
Iran has conducted over 2.2 million tests so far. The recent rise in infections has been attributed to increased testing. However, though the numbers look impressive, there is widespread speculation about the Iranian government hiding the real figures, and has also stopped publishing certain data of late.
According to president Rouhani, 25 million Iranians have been infected and it is expected that another 35 million would be at the risk in the coming month. There is also news about a domestic vaccine project passing the initial tests successfully. However, the rising number of new cases and deaths is alarming, last week being the worst with over 2,500 new cases and close to 200 deaths detected daily, highlighting the fact that Iran needs to be more careful in dealing with the disease.  
Get the latest reports & analysis with people's perspective on Protests, movements & deep analytical videos, discussions of the current affairs in your Telegram app. Subscribe to NewsClick's Telegram channel & get Real-Time updates on stories, as they get published on our website.
Subscribe Newsclick On Telegram