Is Karnataka Becoming South India's Uttar Pradesh?
Karnataka is going the whole hog with NRC-CAA without drawing negative attention like Uttar Pradesh.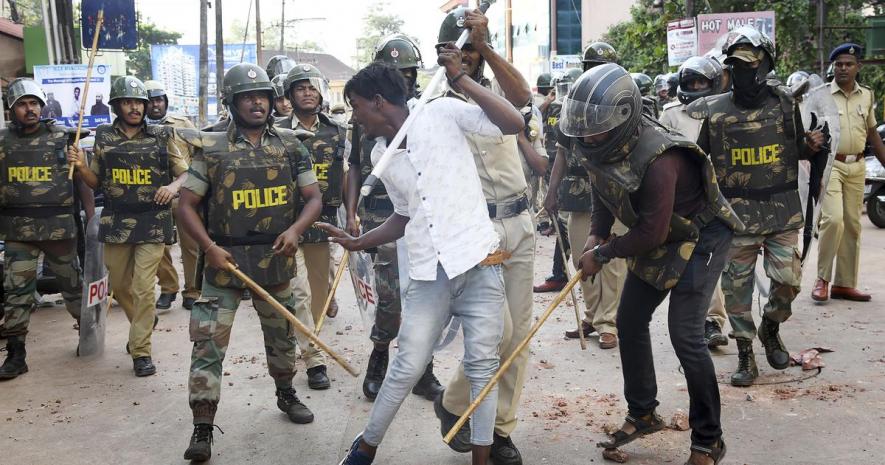 Police clash with a protester during demonstrations against the Citizenship Act in Mangaluru on December 19, 2019. | Image courtesy: Scroll.in
I know the title of the piece will provoke responses of "over reaction", "exaggeration", "misreading of the situation" etc. My purpose is to identify some disturbing signs and the pattern they make in the public and political domain of Karnataka. One of the reasons why reactions of the kind I mentioned are likely is the somehow enduring image of Karnataka as a progressive, forward looking state, generally free from excesses characteristics of many north Indian states. There is also the notion that all the apparatuses of the state, police included, have rarely shown the tendency to overdo things. Additionally, a large number of people in Karnataka feel that at the end of the day BS Yediyurappa, the Chief Minister, is not rabidly communal like his counterparts up north.
I find this narrative dangerous because it blinds us to several aspects of recent events in Karnataka in the context of the anti NRC-CAA protests. When the protests were planned all over India, it was clear that BSY did not want the massive rally planned at Mangalore to succeed. His political compulsions were clear.
Also read | The CAA and the Surveillance State
An extremely unsympathetic high command kept him on tenterhooks all through and tried every trick to best his moves. He knew that if he appeared less than tough in handling the Mangalore protest, his colleagues, most of them fire brand demagogues and waiting to backstab him, would portray it as weakness or plain incompetence. We can safely ignore the many explanations he gave post facto saying that he had instructed the police to deal with the protestors in a civilized manner. He must have told his police chief Bhaskar Rao that under no circumstances should the protest appear successful. Later events show that his officers and ministers would prefer to go by the "mood" of the high command than his instructions. Bhaskar Rao immediately placed Bengaluru under section 144 and most SPs followed suit in their districts. BSY would have almost made it to an "A" grade on his report card, had it not been for Mangalore. The superintendent of police of Mangalore obviously made his own interpretation of the instructions and allowed the police to run amok, who shot down two innocent bystanders. In a video that went viral a policeman could be heard saying, "After such long hours of shooting, [we] have not hit anyone". Every move later made by the SP to justify the shooting as inevitable was torn apart, including the 30,000 video clippings he obtained by openly appealing to people to provide information and put hundreds of them on the public domain without examining their authenticity. A series of videos recently released by the former chief minister, HD Kumaraswamy, not only demolish the SP's version, but also shockingly reveal the communalised attitudes and brutal actions of the police. What was more shocking was the saffronised behavior of the police. If BSY is not aware of this, he should quit. But the truth seems to be that he wanted to benefit from the narrative of the police and withdrew the compensation he had offered to the victims' families. After images, reports, interviews were published on social media, it became clear that nothing went out of hand. The only BJP state in the south "complied" with the expectations of the high command.
This became clear with the highly communal and provocative reactions BSY allowed his ministerial colleagues and legislators to make. I am saying "allowed" because apart from a friendly rap on the knuckles, BSY did nothing to castigate them.
Also read | People's Tribunal on State Action in UP: Citizenship, Democracy and Protest
For instance, the reaction of CT Ravi, Minister for Kannada and Culture, which turned the syncretic shrine of Baba Budangiri into a place of communal conflict with his anti-minority remark. His words were, "Do they [minorities] think we will keep quiet? If we show our strength…". This was the beginning of a distinctive and divisive political narrative in Karnataka. The anti-CAA protest was immediately converted into a communal battle with uppity anti-national Muslims waging war against the hyper masculinist, majoritarian Hindus.
Meanwhile the narrative has a prologue too. Karnataka was among the first states to identify detention centres. One building is ready to be occupied near Bengaluru. BSY's government also stealthily connived with the grand plan of throwing out the intruders. Kannada channels went berserk with stories in which Agatha Christie joined hands with Ian Fleming. We were told and shown how our police went in disguise as social workers and others to makeshift tin shandies of immigrant labourers, found nearly 60 Bangladeshis, took them to the India-Bangladesh border but had to come back because the friendly neighbouring country refused to take them! Worse happened on 20 January. An overzealous BJP MLA wrote on social media that illegal Bangladeshi infiltrators were living in Bellanduru and other areas in Bengaluru. The BBMP (Bengaluru Municipal Corporation) decided to do the patriotic thing. An Assistant Executive Engineer wrote to the police to provide protection to the BBMP officials and workers to evacuate the intruders. The police couldn't be less patriotic. Without serving any notices, they descended on the dwellings, refused to look at the IDs shown by the labourers and demolished all the shandies making the migrant labourers roofless. By the way, they were rural migrant labourers from other parts of Karnataka and some from Bengal and other places. There was not one Bangladeshi among them. In a statement which would put George Orwell to shame the police said, "We have no time to check the identity cards. We have also spent lakhs in taking the Bangladeshis to the border".
The absurd but cruel farce was politically motivated. Kannada channels celebrated the event as fulfillment of the "great dream of Narendra Modi" to free India from intruders. The main objective of the BSY government. The design is to execute everything needed without NRC and CAA.
The more sinister design lies in the way the pro-CAA government rallies to "persuade" people about the benefits of CAA have turned into no holds barred criminal verbal assaults on the Muslim community.
Also read | A round-up of news reports from Uttar Pradesh
Somashekhar Reddy, BJP MLA from Bellary said during a rally, "You are only 17 percent. We are 80 percent. It won't be right for you if we [act]. You think we will sit quiet when you produce 40-50 [children]. We will also produce 10-20. What if every Hindu holds a sword like Shivaji". Another MLA, Renukacharya, from Honnali, proclaimed, "We will take all money meant for muslim localities and give it to Hindu localities, we will throw you out. Masjids are used for storing weapons".
An RSS leader, Kalladka Prabhakar Bhat, said, "Muslims and Christians should live like guests in Hindustan. Do as we say. Muslims [have remained] in India after partition to claim power." Tejaswi Surya, MP from Bengaluru, who is known for his controversial remarks, said, "Those who come to protest against CAA are illiterate puncture shopwallahs".
Well, dear readers, our progressive little state of Karnataka is going the whole hog with NRC-CAA without drawing negative attention like Uttar Pradesh. It has already identified and thrown out Bangladeshi intruders without implementing NRC-CAA. By the way, doesn't that fact prove that NRC is unnecessary when Karnataka can throw out Bangladeshis without spending a single rupee?
It does not matter that these Bangladeshis were Kannadigas in reality.
Writer and activist Rajendra Chenni is a Professor in the English Department at Kuvempu University, Shimoga. Kadidal Shamanna, is a farmers' leader who has been at the forefront of farmers' movements. He was at the helm of the Karnataka Rajya Raitha Sangha in the 1970s. He continues to fight against agrarian distress to this day..
Get the latest reports & analysis with people's perspective on Protests, movements & deep analytical videos, discussions of the current affairs in your Telegram app. Subscribe to NewsClick's Telegram channel & get Real-Time updates on stories, as they get published on our website.
Subscribe Newsclick On Telegram