J&K: Nomadic Tribes Suffer Under Permission Raj, Corruption, and Govt Apathy
Tribal people face innumerable hardships before and as well as during migration. Getting permission from the administration is cumbersome, and nothing has been done to streamline the process. Abrogation of Article 370 and repeated Covid lockdowns have made things worse.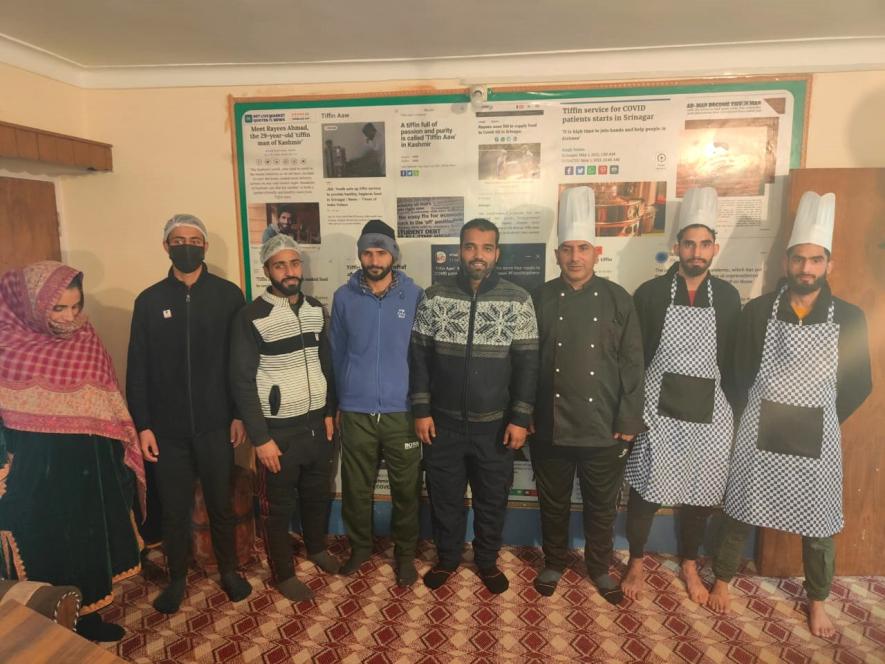 With the temperature beginning to rise in the plains of the Jammu region, Gujjar and Bakerwal tribes have begun their seasonal migration towards the upper reaches of the Kashmir region, where they will stay for the next few months along with their cattle. Every year the tribes start their seasonal migration around or after April. The tradition of seasonal tribal migration has been surviving for centuries, and nomadic tribes, mainly the Gujjar and Bakerwal people, migrate to their summer destinations.
However, this year's process got delayed due to the closure of the historical Mughal road. Every year it takes them 30 to 40 days of travel to reach the upper areas of Sonamarg, Gurez, Pahalgam, Kupwara and other districts with their livestock, comprising sheep, goats, buffaloes, cows, donkeys, horses, mules and camels in search of greener pastures.
This year, migration started after Jammu and Kashmir government ordered the reopening of the historical, alternative road that connects Kashmir with the Jammu region through Shopian and the bordering districts of Poonch and Rajouri. The road reduces the distance between Shopian and Poonch from 588 km to 126 km, respectively. The road passes through Buffliaz, Behramgalla, Chandigarh, Poshana, Chattapani, Peer Ki Gali, Aliabad, Zaznar, Dubjan, Airport, and Shopian.
Seasonal migration is an important part of the nomadic tradition. However, during the past two years of COVID-19 and the lockdown imposed by the Jammu and Kashmir government, the tribal population suffered massive damage as hundreds of cattle died due to scorching heat in the Jammu region.
"During the lockdown, the tribal people had to sell their cattle in order to feed their families as they failed to provide the necessary logistics support and food properly as seasonal migration practice was somehow halted for around two years due restrictions under Section 144 to prevent the spread of the pandemic," said tribal activist and vice president of Jammu and Kashmir Gujjar Bakerwal Youth Welfare Conference (JKGBYWC), an organisation working for tribal rights in Jammu and Kashmir.
In Jammu, tribal people face too many hardships before and as well as during migration. Getting permission from the administration is cumbersome, and nothing has been done to streamline the process. In order to get approval for migration, tribals have to move from one office to another to get formalities done.
"Irony is when we complete our whole process, we still have to pay money as a bribe to officials. One who had to get it easily and quickly, others who don't, have to wait for a month. You can understand how the system runs here," said Mohammad Suliman Choudhary from Thanamandi Rajouri, head of the Gujjar family. Suliman has reached Bandipora in North Kashmir and halted his caravan along with his family. He is planning to proceed to Gurez valley to stay there for the next six months.
Earlier this month, Jammu and Kashmir administration decided to provide trucks to transport livestock and families of the migratory tribal population from various districts of Jammu province to the "highland pastures" in the Kashmir Valley. Officials of the tribal affairs department said that transportation would reduce the travel time of the migratory tribal population from 20-30 days on foot to one to two days while it will also help in smooth management of traffic along Jammu Srinagar national highway.
Every year hundreds of cattle die on the Jammu-Srinagar highway and Mughal road due to accidents. Speedy trucks on the highway and historical Mughal road often crush sheep and other livestock to death, and there is no accountability to compensate for the loss. Human life has also been lost because of accidents along this rough terrain. Though the Police often claim arrests, investigations do not reach a logical conclusion. Health and medical emergencies are also important areas to look into.
"During migration routes, when our cattle or tribal families facing health issues, they have to travel hundreds of kilometres to reach animal dispensaries or hospitals for medical care. Ultimately they suffer, and on some occasions, they die without getting proper treatment on time," said Iqbal Khatana, another tribal family head who reached Kashmir from Jammu on their own.
"We don't receive any sort of help from the government. We registered names as well for transportation of our cattle and families, but nothing has been done. We paid 10,000 rupees to truck driver from Poonch to Bandipora," he added.
Official data reveal that there are over 15 lakh Gujjar and Bakarwal in Jammu and Kashmir. Of these, around 500,000 are nomads who rear buffalo, sheep, cows, goats and horses for their survival.
Ensuing man wildlife conflict often leads to bloody fights mainly to protect human life and cattle. "At times, wild animals like bears or leopards attacked us and our cattle and left us severely wounded. We tribal people have to go through unimaginable pain every year, especially during migration when everywhere and every time we have the threat of wild animals, sometimes our movement is being stopped and halted for security reasons, we are not being allowed to move freely whenever security forces have any sort of security reasons and inputs," said another tribal family head, Akram Choudhary.
"Not only this, we suffer a huge loss of cattle and livestock due to harsh weather conditions like windstorms, landslides, or extreme cold. We are not getting any sort of benefits from the government that other tribes are availing in the country. The plight of the Gujjar and Bakarwal population across the Union Yerritory is miserable," he added further.
EDUCATION
"As far as education of tribals is concerned, it is on the verge of devastation. Seasonal schools are just failure and futile exercise. There is no infrastructure or staff and facilities in such schools. There is no accountability and no proper facilities available, which include books and stationery items. Believe me, if any community is suffering badly, it is the tribal community," says Showkat, Vice President of JKGBYWC.
"Ninety per cent of our population resides in those areas where there is no internet connectivity. They fail to avail benefits of online education during COVID-19," he added. Commenting on the hardship of the tribal community vis-a-vis their education, Shahid Ayoub, who is a research scholar at Kashmir University, said that Gujjar Bakerwals face many problems during their migration and even during the course of their stay in meadows and pastures.
Their major concern is the education of their kids, who rarely go to school and lack basic education, and it adds to their suffering more. Though mobile schools were started for the education of tribal students up to a certain level and teachers have been recruited as well. Still, due to zero accountability and fewer facilities, quality education cannot be given to tribal students unless a special policy is formed that aims at tribals' overall development.
Special seats for nomadic Gujjar Bakerwal students in Gujjar Bakerwal hostels should be reserved, so they cannot suffer due to a lack of education in this digital and global world.
Commenting on the new initiative of the Jammu and Kashmir administration of providing trucks to tribal people for transportation of livestock and families from Jammu to Kashmir; Tribal activist Irshad Samoon termed it a welcome step and would go a long way in facilitating the movement of tribals from one location to another.
"Somehow, it will minimise the hardships of the migratory population, but this is not enough; the government has miserably failed to take any concrete steps for the welfare and well being of the tribal community. Restrictions are being imposed sometimes by the security agencies causing problems in their seasonal migration and have impacted the livelihood of the nomadic shepherd community," he added.
LIVING STANDARDS
The living standard of tribal people, especially during migration routes, is very critical. They have a poor standard in every aspect, including food, shelter, healthcare, education and security. There is no mechanism from the Government side to address their grievances and miseries. The status of mobile schools and Dispensers is very miserable and in pathetic conditions.
Lockdown and post-Article-370 abrogation restrictions have disrupted seasonal livestock migration. It caused a cascading effect on the lives of the nomadic communities and their traditional businesses. During the summer months, tribals live in the roughly made stone, wood and mud huts commonly called koothas' and no matter how severe weather conditions prevail, they survive it.
"Living in the vicinity of the borders, our community people are being forced to live like refugees in their own territory. Are not we part of Jammu and Kashmir that we have to seek permission from our own administration to move from one region to another? This exercise of permission should stop once and for all, or the government should issue a one-time certificate (like a Movement pass) to facilitate their movement. Although the government claimed that they are taking measures for their welfare, medical healthcare, and education, all these tall claims have fallen flat. These trucks either should be for all or for none. Because only selected or politically connected people get these vehicles. This is nothing but a photo-op exercise," said Guftar Choudhary, a prominent tribal rights activist.
"The tribe of Gujjars and Bakarwals in this era of development and upliftment is still educationally, economically and socially backwards. The need of the hour is to take concrete steps for their welfare and upliftment as the first priority. They are homeless and landless, wandering in the open. They are facing immense hardships. Children are lying naked and crying. One wonders if their hardships are known to the world, said Anees Lone Tribal, head of the J&K Students Association.
"Tribal leaders and organisations working for the upliftment of community said that they have requested government many times to provide necessary logistics to tribes including dispensaries, some health facilities on migration routes so that they don't suffer, however, our grievances remain unaddressed, and nothing has been done till now, added Anees.
Official sources in Rajbhavan Jammu and Kashmir said that Lieutenant Governor Manoj Sinha has committed to providing transportation support and transit facilities to the migratory tribal population.
There was a demand from the migratory tribal community that they face a lot of hardships during migration due to traffic jams and other problems, and to make their journey smoother, they should be provided with some sort of transportation facility. Sufficient funds have been released in favour of the J&K Road Transport Corporation (JKRTC) to procure trucks to provide transportation facilities to migratory tribal families.
This initiative has been taken to minimise the hardships during their journey. Also, it has been clearly directed that action will be taken against the officers found guilty of any delinquency during the movement of Gujjar-Bakerwal community members. When I contacted Tribal affairs Department secretary Dr Shahid Choudhy over the issue,there was no response from his end despite repeated texts. Repeated emails and calls to his office also remained unanswered.
It is pertinent to mention that in Jammu and Kashmir, there are 12 Schedule Tribes. The 2011 Census, it shows that the entire Schedule Tribe population of the Union Territory is 14,93,299.
Out of 12 Schedule Tribes, Gujjar is the most populous tribe having a population of 9,80,654, and Bakerwal is the third-largest tribe having a population of 1,13,198. Gujjar and Bakerwal tribes are two nomadic tribes which constitute the third largest community in the Union Territory. Both Gujjar and Bakerwals are found in all regions of Jammu and Kashmir.
The writer tweets as @NasirKhuehami & can be reached at [email protected]. His views are personal.
Get the latest reports & analysis with people's perspective on Protests, movements & deep analytical videos, discussions of the current affairs in your Telegram app. Subscribe to NewsClick's Telegram channel & get Real-Time updates on stories, as they get published on our website.
Subscribe Newsclick On Telegram