J&K: Two Civilians Among 4 Killed in Srinagar Encounter, Families Deny Militant Links
Political parties including NC, PC, PDP and CPI(M) have called for a probe in the incident and urged the authorities to return the bodies to their claimants.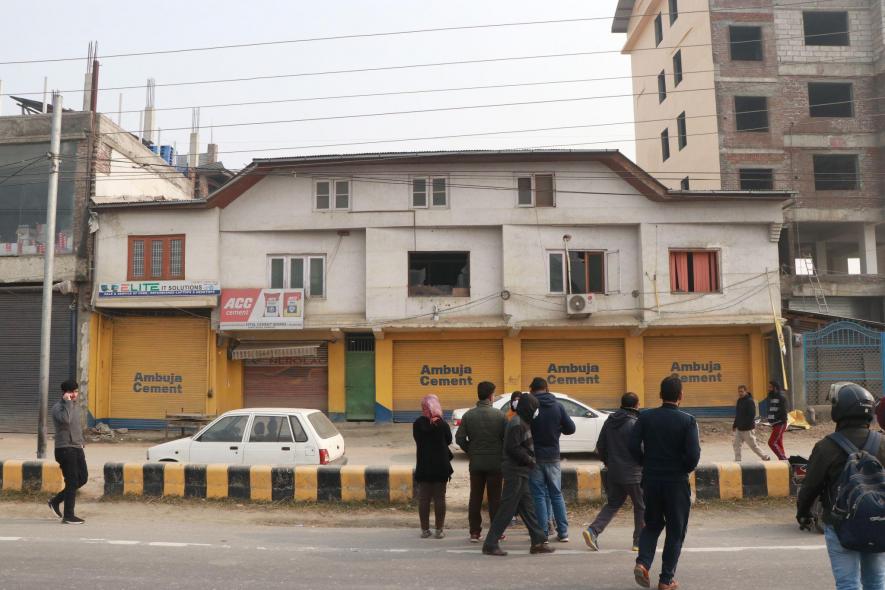 Encounter spot in Hyderpora, Srinagar. Courtesy Kamran Yousuf.
Srinagar: The families of two civilians killed during a gunfight in Srinagar's Hydepora area last night said that they were innocent and demanded the return of their bodies, buried over 100 kilometres away in North Kashmir by security forces on Tuesday.
Altaf Ahmad, 43, and Mudasir Gul, 40, were killed during an encounter that ensued in the city outskirts of the Hyderpora area where the police later claimed to have killed two militants, including one of Pakistani origin as well.
Many eye-witnesses told NewsClick that both Altaf and Mudasir were used as "human shields" during the incident and accused the police of deliberately putting their lives at risk.
According to one eye-witness, a group of policemen had arrived at the spot a little ahead of 5 PM and began to probe about one of the slain, later identified as Amir Ahmad of Banihal area in South Kashmir. The shopkeepers from the area said he worked as an office attendant at Mudasir Gul's office, where the encounter was carried out.
Another eye-witness had seen Amir leaving from the office towards a hospital but was called back again by a group of policemen. "I saw him being taken away," the eye-witness said. The police, however, termed him as a militant.
The police and security forces had in the meantime gathered about 40 shopkeepers, workers and employees working in different business establishments from the vicinity in a vehicle showroom where they were held till late evening and let off only after the encounter was over.
"We were asked to hand over our mobile phones immediately and Altaf was with us. Mudasir also joined later. The police said they would pump bullets inside us if we failed to comply," a shop-owner Nazir Ahmad told NewsClick.
The police then, according to multiple eye-witnesses, called Altaf and Mudasir outside but they returned back later. "Then they were called again. They said they needed them to enter our building. We were also told not to be afraid if there is a sound of gunfire," a relative of Altaf who also witnessed the incident said.
Both Mudasir and Altaf did not return the next time.
In a presser held in Srinagar on Tuesday IGP Kashmir Vijay Kumar said they had inputs about the presence of 2-3 militants in the area but were not sure of the exact location. "The CRPF and Army cordoned off the area and carried out door to door searches," the IGP said.
Kumar added that there was a militant present in Altaf's property who had locked one room from inside. "He began to fire indiscriminately from a pistol and our search party also fired back in self-defence and an encounter ensued. It became difficult to evacuate civilians who had received bullet injuries," he said.
The police officer, however, accused Mudasir of being involved in militancy and alleged he had militant links, a claim that his family vehemently denied later.
"He left home in the morning after breakfast. His office is in Hyderpora and when we heard about the encounter in the area we tried to call him but his phone was switched off. We don't know what happened after. He is innocent we just want his body back," Mudasir's younger sister said.
"He was working as a businessman but ran a terrorist module and harboured militants, but we regret that he died in the cross-firing," the IGP said.
Mudasir had aided one of the militants during a recent attack in which a policeman was shot in the neck in the Downtown area. Mudasir drove him back from the spot and sheltered him at his office," he added.
The family of Mudasir, however, denied the allegations saying he had no militant links and was being "framed."
"He was not a militant. I appeal that his body be returned to us. We are convinced today that they (police) are killing innocents...they are killing innocent civilians," another relative of Mudasir said during a demonstration at Srinagar's Press Enclave.
Mudasir, a dental surgeon, had rented office space from Altaf and ran a real estate business. Altaf, who owns the two-floor property, ran a hardware business and worked as a builder. His family – which includes his two daughters aged 13-15 and a 7-year-old son – is shattered and have since accused the police authorities of using Altaf as a "human shield".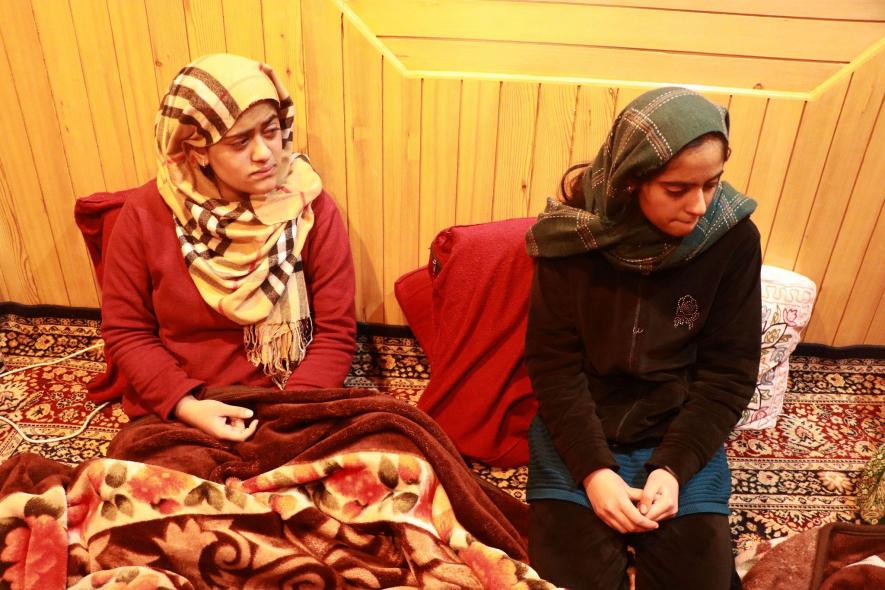 Daughters of Altaf Ahmad Bhat. Courtesy Kamran Yousuf.
"Around 10 PM my uncle received a call. I was really scared and I was praying to god. They took him three times there on the spot. He was killed the third time. When I asked them (police) why did you kill my father, they laughed shamelessly to which I had no response," Altaf's daughter said.
The two families are now demanding the return of Altaf and Mudasir's bodies. The police IGP, however, cited law and order for not handing over the bodies.
Tensions in the region have escalated since October, when, as many as 44 killings, including over a dozen civilians, were reported. Of them, at least four civilians have been killed in firing by the government forces, according to reports. Political parties including NC, PC, PDP and CPI(M) have called for a probe in the incident and urged the authorities to return the bodies to their claimants.
"It is concerning that the police and families of the slain civilians are making contrary claims. A thorough and impartial investigation is imperative to ascertain facts in this case. This will not only uphold the dignity of the institutions of justice and fair play but will also pacify peoples' anger and address their apprehensions about the gun battle in question", a spokesperson of Sajad Lone led PC said.
CPI(M) leader Mohammed Yousuf Tarigami while demanding a judicial probe into the civilian killings also urged the administration to immediately hand over bodies to respective families for last rites.
"We are passing through a painful period. Whatever the version of the authorities but, the family of these two civilians are continuously claiming that they are innocent and they were not involved. The government's claim is that they are upholding the law but we are witnessing a violation of law instead," Tarigami said.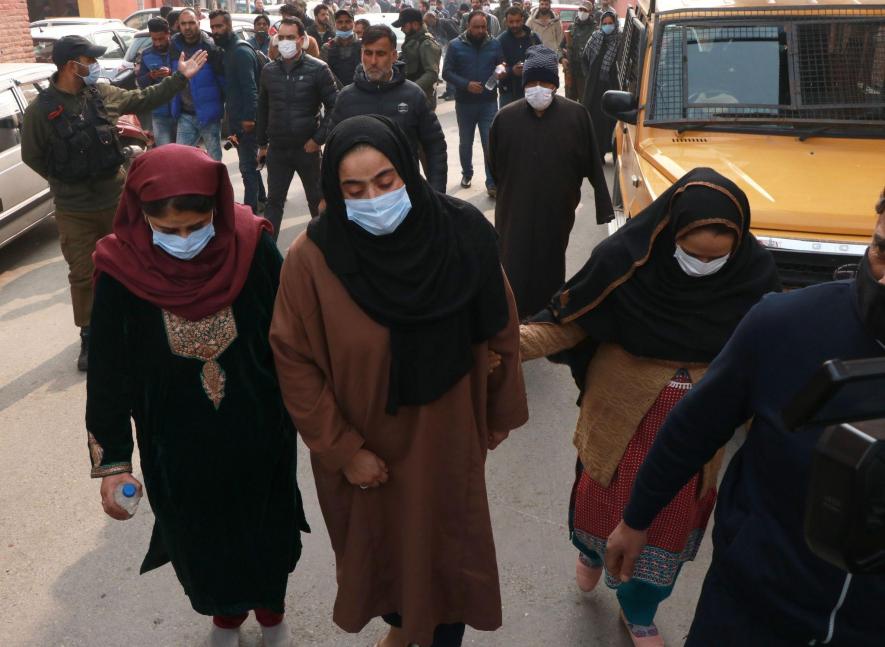 Family members of Dr Mudasir Gull in press colony, Srinagar. Courtesy Kamran Yousuf.
Separatist group All Parties Hurriyat Conference (APHC) led by Mirwaiz Umar Farooq condemned the killing of civilians which he termed as "gruesome".
"What makes this tragedy of impunity provided to the forces in J&K all the more heart wrenching, is that the family has since yesterday been pleading and protesting on roads that at least the dead body of their loved one be returned to them for burial which the authorities have ceased," the APHC statement read.
Mehbooba Mufti lashed out at the government for using civilians as "human shield", a 'norm' during such encounters, and accused the BJP led government of maltreatment to the people of the region.
"Using innocent civilians as human shields, getting them killed in cross-firing & then conveniently labelling them as OGWs is part of GOIs rulebook now. Imperative that a credible judicial enquiry is done to bring out the truth & put an end to this rampant culture of impunity," she tweeted.
Get the latest reports & analysis with people's perspective on Protests, movements & deep analytical videos, discussions of the current affairs in your Telegram app. Subscribe to NewsClick's Telegram channel & get Real-Time updates on stories, as they get published on our website.
Subscribe Newsclick On Telegram