J&K: Two Years, Three Waves Later, Many Remain Hesitant Against COVID-19 Vaccines
The government's claim about achieving its 100% vaccination target in the region doesn't appear to be true, as many continue to show hesitancy towards the vaccine.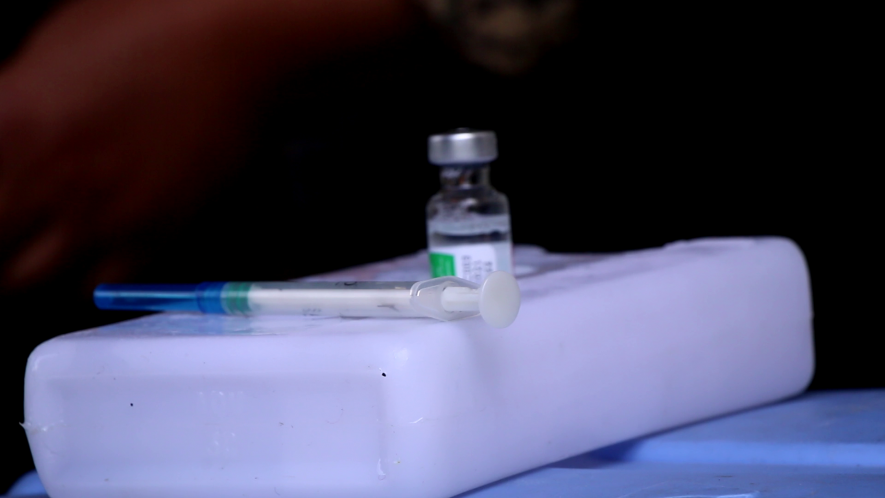 Srinagar: Even as the vaccination jabs are considered a key headway in the fight against COVID-19, a section of people continue to remain hesitant despite the efficiency and safety of the vaccines for varied reasons in Jammu and Kashmir.
For 75-year-old Ghulam Hassan, a resident of Srinagar's Sekidafar locality, consent matters, which he is unwilling to provide despite back to back waves of the global pandemic that swept the world two years ago, killing millions and infecting more.
"I have seen my close ones battling in Tuberculosis hospital fighting for their lives even after being fully vaccinated. I don't trust this vaccine, and I am quite suspicious about it," Hassan told NewsClick.
Witnessing the struggle of his kin against the infection, Hassan has since put his trust in religion. "I am at a stage of life when I don't need to depend on these vaccines," he says, adding that he put his life's protection in the hands of God alone.
NewsClick spoke to over 15 individuals over 18 years of age and are yet to receive even a single vaccine shot. Most of them live in the capital Srinagar, and health experts in the region believe that the vaccine hesitancy remained higher in rural areas earlier.
"I have a kind of psychological reluctance towards taking the vaccine. We have to live with the virus now, and I wish to boost my immunity by exercising and taking nutrient-rich food rather than taking a vaccine," a 24-year-old man from the city outskirts said, wishing anonymity.
Another 25-year-old resident of Srinagar told NewsClick that she wouldn't take a vaccine jab after witnessing the death of a close relative a week after getting fully vaccinated.
"How are vaccines even beneficial? People are still getting infected from COVID-19 and even dying despite being fully vaccinated," she said, feigning aversion to the vaccination.
The Government of India had launched the COVID-19 vaccination drive on January 16, 2021. Till now, over 156 crore people have been vaccinated in India. Of these, more than 90 crore have been given as first doses, 65 crore as second doses and 42 lakh as 'precautionary doses', commonly called the booster shots.
Dr Nisar ul Haq, President, Doctor's Association Kashmir, says there is a need to address people's concerns regarding vaccine efficacy and safety, which can be done with the help of local representatives like Imams of mosques or panch and sarpanches.
"Community awareness is a much-needed step as of now. If the medicine in the 100's population works for only 90, and if the rest 10 don't see any result. It doesn't mean that the drug is useless," Haq said.
There is a consensus amongst the global health experts, including Haq. They say that the vaccination is a "shield" against severe coronavirus infection and has proven to help minimise hospitalisation since it was introduced.
In January 2022, India witnessed an abrupt spike in COVID-19 cases with a new variant, Omicron. Daily coronavirus cases reached a new peak with minimum hospitalisation and low death rate where experts say vaccination has averted the severity this time.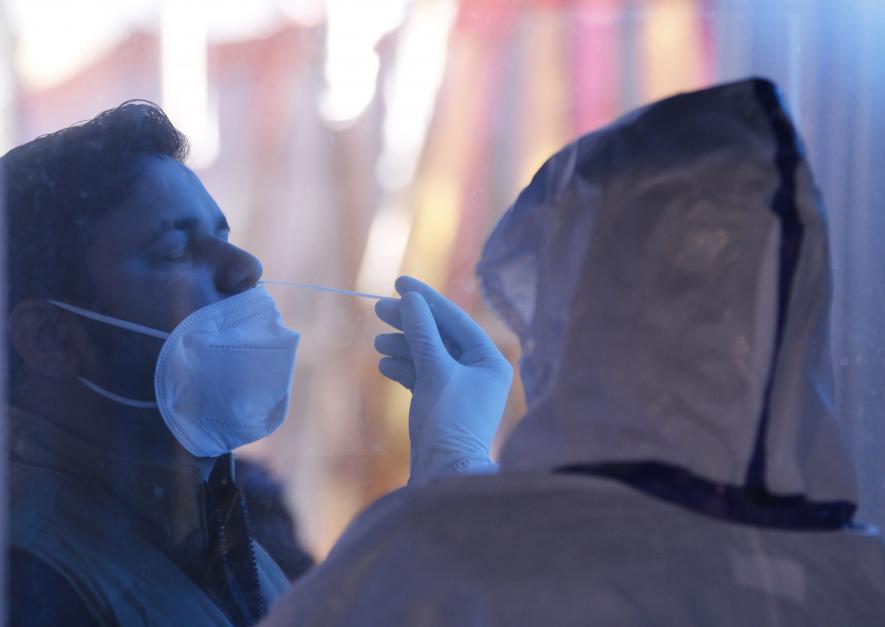 According to recent official data available online, 66% of the population above 18 years of age in Jammu and Kashmir is vaccinated, and 19 out of 20 districts are fully vaccinated. Despite the government's claim that they have achieved full vaccination in the region, many like Hassan have not received even a single dose.
Pandurang K Pole, the divisional commissioner of Kashmir, said there is a possibility of variation as the target for the age group over 18 was set based on the 2011 census.
"The population from 2012 till now who've crossed the age of 18, we set that in the form of projection, a hypothetical rate of increasing population, minus death rate from that. So, this data doesn't have to be 100% accurate," Pole told NewsClick.
He added that some districts have more than 100% vaccinated people because people have mentioned addresses where they don't live anymore during the census. They have shifted to cities, but according to the census, they live in villages. Or some even got vaccinated in other districts, making the total percentage 100 and chances of error in the data increases.
Aniqa and Afnan Habib are students of the Department of Journalism at the Central University of Kashmir.
Get the latest reports & analysis with people's perspective on Protests, movements & deep analytical videos, discussions of the current affairs in your Telegram app. Subscribe to NewsClick's Telegram channel & get Real-Time updates on stories, as they get published on our website.
Subscribe Newsclick On Telegram