Job Losses Soar as Modi Govt Continues to Grope in the Dark
In April alone, over 12 crore jobs were estimated to have been lost, and unemployment is at over 27% in the beginning of May.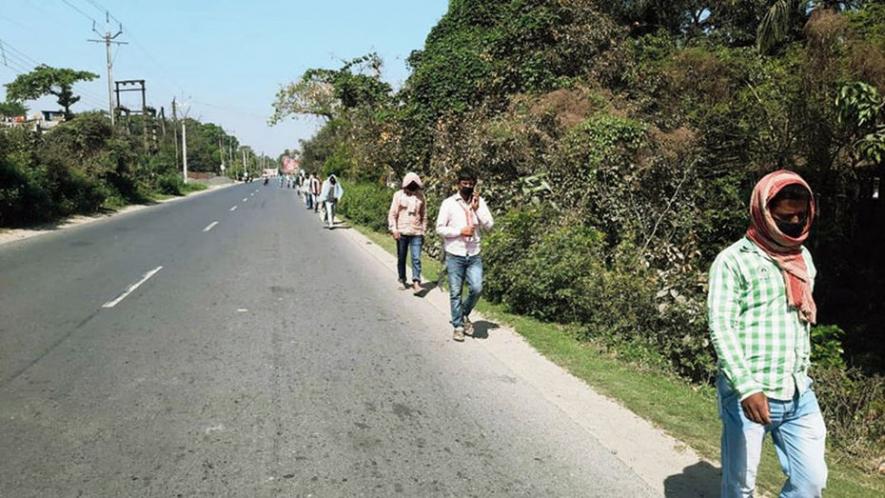 Migrants Return to Hometowns/ Courtesy: The Telegraph
After the loss of nearly 80 lakh jobs in March, most of them in the last week after the countrywide lockdown was suddenly announced by Prime Minister Narendra Modi on March 24, latest data collected by CMIE or Centre for Monitoring Indian Economy through their periodic sample survey, shows a staggering loss of 12.12 crore jobs in the full month of April. That's almost 30% of the average number of employed persons in the preceding financial year. 
These figures, though estimates, indicate that there is unprecedented economic distress in the country, mostly being shouldered by common people. While much hue and cry has been raised by powerful industrial lobbies to demand stimulus and assistance packages for the revival of industrial activity, the plight of working people, left without earnings for over a month, has been largely ignored, both by the Modi government and the mainstream media. 
CMIE's estimates for April break down the job losses according to type of economic activity, providing a glimpse of the inner story. The category of 'small traders and labourers' has shown the biggest devastation as over nine crore jobs are reportedly lost among them. Note that this is a wide category, including the whole range of workers from atomised informal sector wage labourers to small shop and office employees, petty traders and sellers of goods, including hawkers and vendors – in short, the huge base of India's working people pyramid.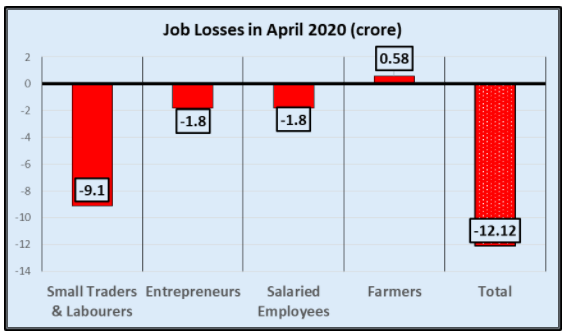 Surprisingly, even the salaried class of employees has suffered enormous damage, though not on the same scale as labourers. Nearly 1.8 crore such 'regular' employees, drawing monthly pay cheques, have lost their jobs in April. 
Remember that the government had urged employers not to throw out their employees in the ongoing lockdown. The Home Secretary and the Labour Secretary had both sent official letters to the state governments urging them to ensure this doesn't happen. Even Prime Minister Modi had reiterated this in one of his speeches. 
Yet, neither have employers cared for such advisories, nor has any government taken any worthwhile measures to ensure that workers are not dismissed. Many employers, including well known media houses, have thrown out employees and journalists, by adopting creative methods, like asking them to go on leave without pay.
Entrepreneurs, too, were estimated to have lost their jobs or earnings considerably – some 1.78 crore of them. Who are these? Mostly they are small or tiny entrepreneurs running service businesses although some high-end businesses, too, appear to have sunk, as is evident from organisations, such as  NASSCOM complaining of losses in the IT sector.
The one sector where jobs have increased is farming. The CMIE survey estimates that about 58 lakh jobs were added in farming in April 2020. The number is insignificant compared with the losses in other sectors, but it indicates a well-known reality of India – rural areas and agricultural occupations continue to absorb surplus labour, though what this means is that the same earnings are shared among a larger number of people. 
Technically, these are job additions but in reality it is each one getting less than before. Returning migrant labourers have been absorbed in this way. It must be remembered that April was harvest season and labour was needed. What will happen in May, when the summer blast sets in, is too terrifying to imagine. 
So, what's the bottomline as far as job losses is concerned? Since the lockdown began (on March 24 midnight), over 13 crore jobs have been lost, about 8.45 crore in rural areas and 4.5 crore in urban areas, as per the CMIE survey.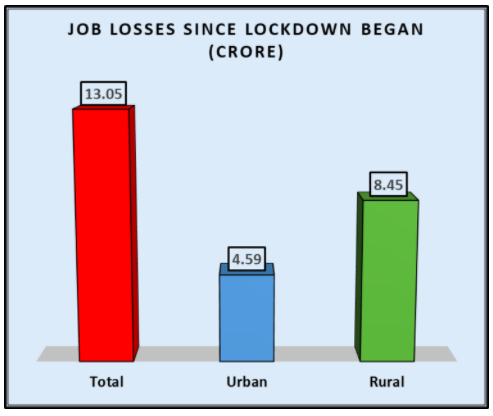 The small gain in farming in April is clearly outweighed by other job losses in rural areas, mainly in retail and wholesale trade, transport, construction, etc. Urban areas, which were magnets for those seeking gainful employment have also suffered immensely, evidenced dramatically in the ongoing tragedy of migrant workers struggling and even dying on their way back home.
All this also highlights the government's catastrophic failure in protecting people. If factories and shops and offices were to remain closed, the government should have provided essential food items to all families, and also a minimum transfer of money for subsistence. Many trade unions and other movements had demanded that at least Rs.7,500 be given every month to all families, besides other declared benefits. But the government has so far transferred only Rs.500 to each Jan Dhan account holder. 
This has destroyed the lives of crores of people across the country. And the lockdown still continues, while COVID-19 cases too continue to rise relentlessly. It's going to be a difficult summer for India, especially when there is a political leadership that is still groping in the dark
Get the latest reports & analysis with people's perspective on Protests, movements & deep analytical videos, discussions of the current affairs in your Telegram app. Subscribe to NewsClick's Telegram channel & get Real-Time updates on stories, as they get published on our website.
Subscribe Newsclick On Telegram