'An Unhealthy Recovery': Job Recovery has Left Out Salaried Jobs, Says CMIE
'The situation has worsened for the relatively better jobs, i.e. salaried jobs. While jobs have recovered, this recovery has left out healthier, salaried jobs. In this sense it is an unhealthy recovery,' the CMIE said in its latest report.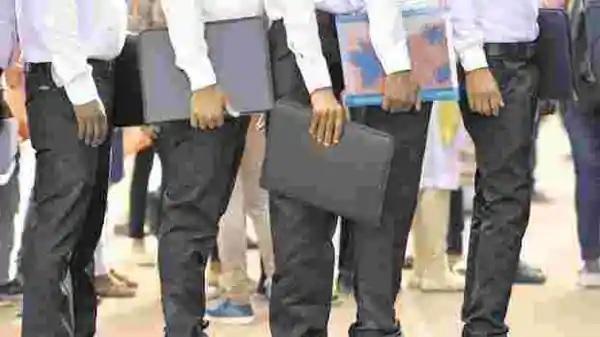 The COVID-19 lockdown has claimed the jobs of many, both in the formal and informal sectors. While most people lost their jobs in April – the month immediately after the lockdown announcement – some jobs were gained in June. However, according to the Centre for Monitoring Indian Economy (CMIE), nearly five million salaried people lost their jobs in July.
According to CMIE, the total number of salaried people who lost their jobs due to the pandemic was 18.9 million. It was despite a recovery in the overall employment rate which is driven by the informal sector, CMIE said. It also noted that the ballooning number of job losses among salaried class is a source of worry.
"An estimated 121.5 million jobs were forfeited by the lockdown in its first month, in April 2020. This loss narrowed down to 100.3 million in May and then dramatically to a much smaller, 29.9 million in June. July 2020 saw a further reduction in this loss of jobs to 11 million," it said.
Speaking of salaried jobs specifically, 17.7 million of them were lost in April 2020 and another 0.1 million jobs were lost in May. Though 3.9 million jobs were gained in June, additional five million jobs were lost in July.
Only 21% of all employment in India is in the form of salaried jobs. These jobs provide a sense of security and are more "resilient to economic shocks than the employment of say, a daily wage labourer," the report said. Job losses among these jobs were 15% of the total jobs lost in April.
While salaried jobs are not lost easily, once lost, they are difficult to retrieve said CMIE, adding that the ballooning numbers are a source of worry. Salaried jobs were close to 19 million lesser than the average in 2019-20. They were 22% lower than their level in the last fiscal year.
"While in April, 30% of the employed persons had lost their employment, by July less than three per cent were bereft of their source of livelihood. While the magnitude of this loss pales in front of the big loss of April, at 11 million, it is still a significant setback," says the CMIE report.
However, the recovery is largely in informal jobs, CMIE said. In the case of salaried jobs, the situation has worsened. When jobs have recovered, the recovery has left out healthier, salaried jobs and, according to CMIE, it is an "unhealthy recovery".
Small traders, hawkers and daily wage labourers were said to be the worst casualties of the lockdown in April. Out of the 121.5 million jobs which were lost in that month, about 91.2 million were from this category. While such jobs account for 32% of total employment, the CMIE said it suffered about 75% of the damage in the same month. "Of the 91.2 million such jobs lost in April, 14.4 million came back in May, 44.5 million in June and 25.5 million in July. Only 6.8 million remain to return," CMIE said.
The majority of entrepreneurs who were unemployed during the lockdown were back to work by July, the report said. It added that farming and salaried jobs were those that people fell back on the most.
Estimates from the Consumer Pyramids Household Survey said that 111.3 million had declared farming as their occupation in 2019/20. While the number rose to 117 million in March, it had cranked up to 130 million by June.
"Good rains and the consequent aggressive sowing absorbed a lot of the labour that was losing jobs in the non-farm sectors because of the lockdown. This was the first time that farm employment breached the 120 million mark, and it did so by a huge margin. Employment remained high in July at 126 million although it was lower than in June. It is tempting to conjecture that the 4 million fall in farm employment indicates reverse migration. But, there is no data to support such an inference," said the CMIE.
Get the latest reports & analysis with people's perspective on Protests, movements & deep analytical videos, discussions of the current affairs in your Telegram app. Subscribe to NewsClick's Telegram channel & get Real-Time updates on stories, as they get published on our website.
Subscribe Newsclick On Telegram