Jobs? Yes, Yes! They are Coming!
Finance Minister hints at creating more jobs, and hopes for the best. But, is that enough?
Presenting the Union Budget for 2021-22, Finance Minister Nirmala Sitharaman mentioned "jobs" three times and "employment" six times in her nearly two-hour-long speech. These honourable mentions ranged from how textile parks, public transport buses, promoting 'flagging' of merchant ships, seaweed farming in Tamil Nadu, and setting up shipbreaking yards will give jobs to many. She also, rather creatively, asserted that reducing custom duties on certain items, giving production-linked incentives to industries and generally having a transparent tax system will create more jobs. That, she must have thought, is more than enough about jobs!
India has an estimated workforce of about 50 crore (500 million) persons, as per latest estimates. These are persons who are either working or seeking work. It does not include children, elderly, and those who, despite being of working age, are not seeking work, either because they are studying or they are home-bound women, discouraged from working outside their homes.
10 Crore Jobless
Of these 50 crore persons, latest estimates by Centre for Monitoring Indian Economy or CMIE indicate that some 40.1 crore (401 million) persons are actually employed. That leaves a whopping 10 crore (100 million) persons, mostly youth, who are job seekers. It is an army of unemployed waiting on the sidelines. As the chart below (drawn from CMIE sample survey data) shows, for the past two years the number of employed persons has remained stagnant at around 40 crore.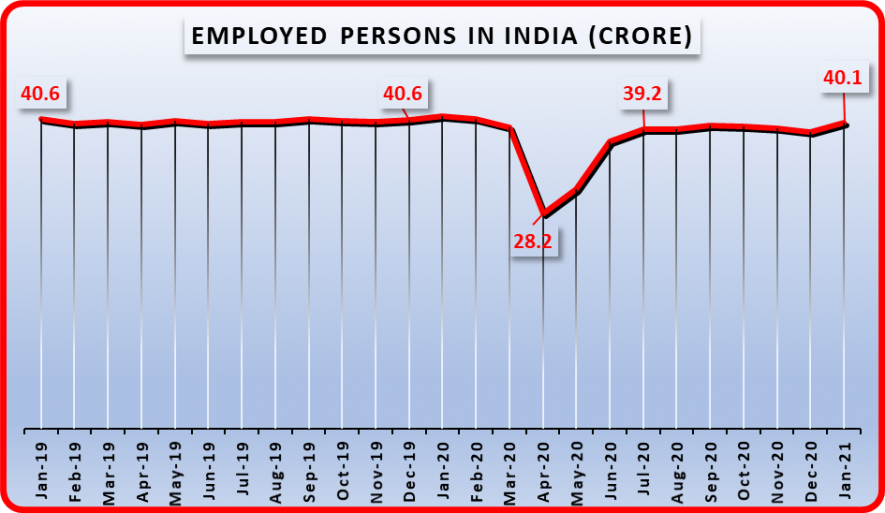 Roughly 1.2 crore (120 million) persons come of age and start looking for jobs every year. So this number of unemployed rises steadily. All these numbers are staggering – and they indicate only one thing, that India is facing a merciless jobs crunch. It is destroying living standards, pushing families into poverty and even starvation, causing social unrest and shredding to bits the great 'demographic dividend' that India's young population was supposed to bestow on the country.
The unemployment rate was 6.5% in January this year, according to the same CMIE data. In urban areas, it was over 8% while in rural areas, with rabi crop needing attention, it was about 6%. The jobless rate has remained unconscionably high for the past two years, plunging to nearly 24% in the lockdown in April 2020 but recovering somewhat since then. Yet the range is still high. (see chart below)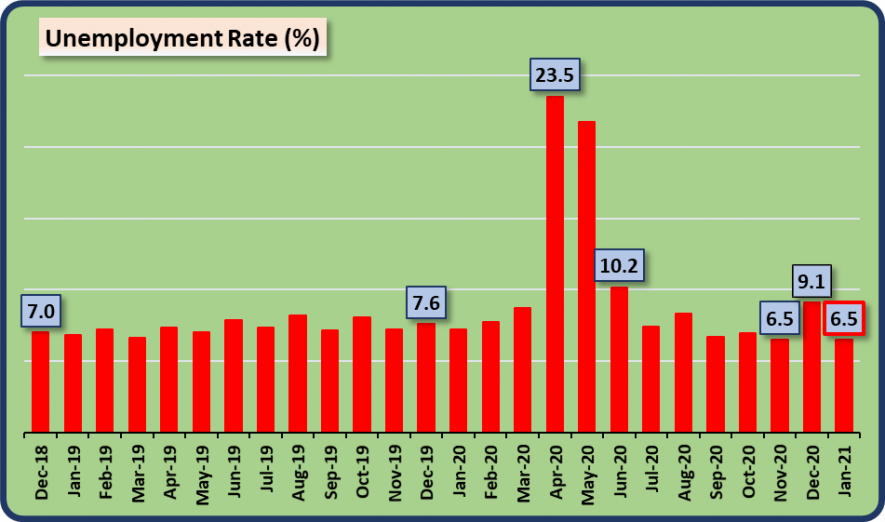 The Indian economy has another equally lethal feature – low paid, insecure employment. This is a kind of disguised unemployment. People who could do – and want to do – other better jobs are languishing in ill-paying jobs because of lack of opportunities. Last year, during the pandemic-lockdown, agriculture absorbed much of the workers who were rendered jobless in cities. It was not as if there were 'vacancies'. Just more people working for the same returns. That is why the issue of better returns is also burning uppermost in the protesting farmers' minds. Similarly, a vast number of educated youth is working for a pittance – and not daring to say a word because they know that if they lose this job, none other are available. Thus the jobs crisis has driven down wages and salaries too.
'Wealth Creators' Don't Care – They Only Want Profit
Can it be that the Finance Minister, or the Prime Minister (whom she referred to several times in her speech as the guiding spirit behind all the brilliant planning for making India a $5 trillion economy) are unaware of this deadly jobs' crisis that engulfs India? Does she really think that buying 20,000 buses here or setting up a seaweed farm there can make a dent in this gigantic problem?
If it was only this, then it could perhaps be called naivete or maybe, foolishness. But there is more. She and PM Narendra Modi, both have repeatedly referred to the corporate sector as 'wealth creators' and 'job creators'. There is a whole theory behind this which goes like this: industrialists will set up productive enterprises, which will give jobs; so, the government should give more and more incentives and concessions to these industrialists. This will automatically lead to more jobs, and all round happiness. The logic is seductive and many are indeed attracted by its simplicity.
But, sadly, it doesn't quite work like this. Those who take all the benefits offered by the government and set up some enterprise will need buyers. These buyers are the common working people. Unless they have buying power in their hands, they will not buy much, they will manage with minimum requirements. In other words, demand for all the goods and services produced by your kindly 'wealth creator' will not be much. In which case, the wealth creator will say pocket all the concessions and say bye-bye – he or she is not running a charity but wants profits!
FM Sitharaman, and PM Modi have been pumping money into corporate pockets through easy credit, tax cuts, and providing ease of doing business by removing regulations, allowing hire and fire of workers etc., or offering them profit-making public sector units for low prices, or easing rules for foreign investment in a slew of sectors including Defence and atomic energy.
In this Budget, too, a disinvestment target of Rs.1.75 crore has been set, and foreign investment limit in insurance sector raised from 49% to 74%. All the stress on building roads and highways is also to benefit the big builder/developers and engineering giants. Such is the desperation to please the profit-hungry corporate sector that they are being offered highways, power transmission lines, ports, airports, even sports stadiums, in the so-called asset monetisation programme.
But all this is going to come to nothing unless demand is boosted in the economy – and that too now, not after 5-6 years. What was needed was income support, expansion of employment programmes, a push toward government-led industrialisation, easing the burden of costs by expanding public healthcare and education so that people have more money to spend on other goods and services. The government could have assured minimum support prices at C2+50% to farmers across the country and invested in strengthening public procurement and distribution of food items. It would have immensely helped both farmers and consumers, while giving a massive boost to the economy.
Yet the government is blinded by the ideology that considers everything the government does to help people as unacceptable. When the FM talks about 'minimum government and maximum governance', it means – minimum support to the people, maximum help to the rich corporate sector. This is what six years of Modi governance has shown.
And that is why the FM and the Union Government have washed their hands off the serious jobs crisis. It was useful to first win the election in 2014, where the key words for Modi were 'Achhe din' (Good Days) and 2 crore jobs every year. Now, it is all about how to please the 'wealth creating' corporate sector.
Get the latest reports & analysis with people's perspective on Protests, movements & deep analytical videos, discussions of the current affairs in your Telegram app. Subscribe to NewsClick's Telegram channel & get Real-Time updates on stories, as they get published on our website.
Subscribe Newsclick On Telegram