The Terror That Must Not Be Named
"Independent India's first terrorist was a Hindu. His name was Nathuram Godse. That is where it begins."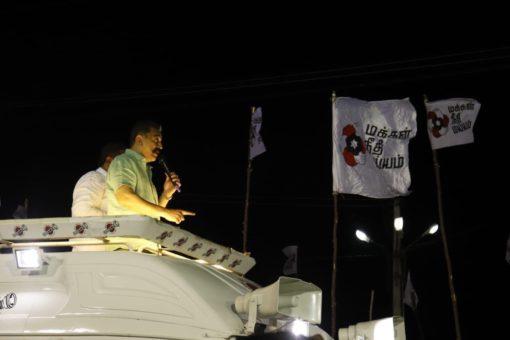 Image Courtesy: @maiamofficial, Twitter
Kamal Haasan, President of Makkal Needhi Maiam (MNM), has once again evoked the ire of right-wing factions following a statement he made on Sunday night, while on the campaign trail at Aravakurichi with S Mohanraj, the MNM candidate.The line that is now a sound bite on every major news channel is,  "I do not say this because there are so many Muslims living in this area. I say this standing in front of Gandhi's statue. Independent India's first terrorist was a Hindu. His name was Nathuram Godse. That is where it begins." But what did Kamal Haasan say before that? In the entire speach that is now available on the party's official YouTube channel, he preceded this by plainly stating that, "anyone who truly believe in their religion would choose to distance themselves from terror links within and would condemn it. The mulsims gathered here would agree, they would swear it by their holy book that compassion is what they value" and yes, he did follow that up with "Independent India's first terrorist was a Hindu."
Aravakurichi, in the Karur District of Tamil Nadu, is one of the four Legislative Assembly constituencies that will go to the by-polls on May 19. Following the disqualification of 18 "rebel" MLAs from the AIADMK, the deaths of three sitting MLAs including DMK patriarch, M Karunanidhi, and the resignation of Balakrishna Reddy (Hosur) based on criminal charges, a total of 22 seats out of 234 are currently vacant. 18 of these constituencies have already polled on April 18. Aravakurichi is one of the constituencies of the disqualified MLAs. The results of all 22 Legislative Assembly constituencies will be announced on May 23 along with the counting of the Lok Sabha Election votes.
At Aravkurichi, the party chief of MNM went on to say that, "I have come here to demand justice for that murder. Consider me Gandhi's great grandson. An India that is peaceful and believes in equality, one that is truly representative of the tri-colour, is the desire of every true Indian. I can proudly declare that I am a true Indian." He also reminded people of his film Hey Ram (2000) saying that the incidents depicted in the film and his fear of such violence repeating, pushed him to make the film. Hey Ram, shot simultaneously in  Tamil and Hindi, was a historical-fiction woven around the Hindu-Muslim clashes during Partition. It also included the assassination of Gandhi by Nathuram Godse. The film takes its title from what is popularly believed to be Gandhi's dying words.
This is not the first time that Kamal Haasan has spoken against right-wing terror. Earlier in 2017, in his column in the Tamil magazine, AnadaVikatan he reportedly said that Hindus needed to take stock of extremism and fundamentalism within their own religion as well. "Hindus cannot challenge others to show extremists among them since extremism has spread to that extent even among the Hindus. Hindus are losing faith in the principle of satyameva jayate and instead, they are subscribing to might is right." This was in response to Kerala Chief Minister, Pinarayi Vijayan, asking him about the danger Hindu right-wing groups present to the concept of Dravdianism and peaceful co-existence. The backlash he received included derogatory remarks from the likes of Subramanian Swamy, who disparaged him as an actor simply performing scripted communist propaganda. Rakesh Sinha, RSS ideologue and Rajya Sabha MP from the BJP insisted that, "Kamal Haasan must apologise for hurting Hindu civilisation, defaming it, trying to create provocation for his petty political end."
The reactions of the Tamil Nadu BJP which seems to lack any grasp on reason – often doing and saying provocative and incongruous things – continues in the same vein. State President, Tamilisai Soundarrajan tweeted in Tamil, accusing Kamal Haasan of deliberately trying to instigate minority groups into rioting and that the ECI should take action against him for that. National Secretary (BJP) and ex-MLA from Karur, H Raja compared MNM to a poisonous plant that needs to be uprooted at the earliest, and also adding that Kamal Haasan was a "coward for not condemning the murder of V. Ramalingam in Thirupuvanam." Ramalingam was a Pattali Makkal Katchi (PMK) functionary and a caterer by profession. He had allegedly been involved in heated opposition against unidentified individuals, accusing them of trying to convert Dalits to Islam, the same day of his murder. The PMK is also a part of the AIADMK-BJP led alliance and is largely dominated by the powerful Vanniyar caste. PMK founder S. Ramadoss claims that Ramlingam was murdered because he opposed religious conversion. There does not appear to have been any conclusive evidence to support this as per the news so far.
If there is any other sparse connection between these events and MNM, apart from the fact that Thirupuvanam happens to be in the vicinity of Kumbakonam, where Kamal Hassan launched his party, it is still elusive. H Raja has also been retweeting right-wing trolls and adding similarly convoluted vitriol that is best left untranslated.
K T Rajenthra Bhalaji, AIADMK MLA from Sivakasi after saying, "Terrorism has no religion, not Islam, Chirsitanity nor Hinduism. " went onto to warn that, "someone is sooner or later going to cut off Kamal Haasan's tongue for saying that India's first terrorist was a Hindu". Threatening bodily harm in the name of religion while objecting to the naming of extremism within the said religion, does not seem to sound odd to him. 
The reaction that staggers belief though, came from Vivek Oberoi – the "Divider-in-Chief's" supposed doppelganger. Never mind that his biopic on Modi needed to be postponed owing to it amounting to a "hagiography" in the EC's own words – a film that judging by just its promotional material, grossly misrepresents events in one of the worst communal riots in the country. This is what he had to say: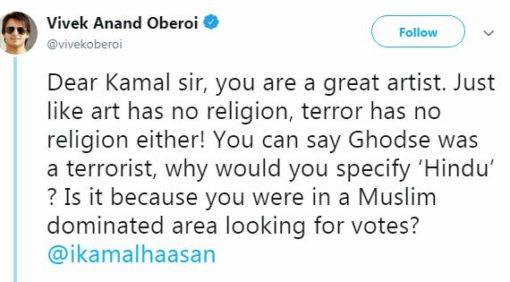 Until now, neither the party nor Kamal Haasan have responded to the massive outrage being minted from this incident. Such violent denial of the term Hindu Terror and the intimidation of anyone who dares to name it, goes right up to the top of the BJP command chain. Can we take a moment to recall what the Prime Minister of the country said in response to the fielding of Malegaon Blast accused, Pragya Singh Thakur as the BJP candidate from Bhopal?
Get the latest reports & analysis with people's perspective on Protests, movements & deep analytical videos, discussions of the current affairs in your Telegram app. Subscribe to NewsClick's Telegram channel & get Real-Time updates on stories, as they get published on our website.
Subscribe Newsclick On Telegram