Karnataka: The Unending Exclusion of Civic Workers in Bengaluru
As per the State Safai Karamchari Commission, only 10,755 civic workers in BBMP out of 54,512 are permanent.
Protesting Pourkarmikas in Bengaluru. Pic Credit: AICCTU
Civic workers in Karnataka, also known as 'pourakarmika', are entangled in an unending web of exclusion. The frontline civic workers, with the list of unfulfilled demands of pending payments, social security, permanent employment and dignity to labour, are agitated but stand lonely in the battle against exploitation unleashed by the state government.
The BBMP Pourakarmika Sangha, affiliated to All India Central Council of Trade Unions (AICCTU), has submitted a request to the Bruhat Bengaluru Mahanagara Palike (BBMP) Chief Tushar Girinath. The letter was submitted on December 21 by sweepers, drain cleaners, drivers, garbage loaders requesting the BBMP to scrap the existing contractual system in recruitment of civic workers and complete wage payment on time.
On December 19, the union submitted a complaint to the state's deputy labour commissioner on no wages to auto drivers, loaders and helpers for the past five months.
In November, AICCTU wrote to the Chief Minister demanding fulfilment of the assurance to make all contractual workers permanent which was not paid heed. There was also a state-wide demand convention of pourakarmikas asking the government to fulfil its promises made to the workers.
A Painful Existence
Despite the state-sponsored exclusion, civic workers continue to discharge their duty relentlessly. From garbage collection to underground drainage cleaning and garbage load-unload, the uncompromising civic duty has underlying pain.
Venkat Narasappa, 49, a garbage loader in Bommanahalli region routinely picks up dry and wet waste in the designated areas without fail. But his grievance is all about the government's neglect of the existential crisis of pourakarmikas.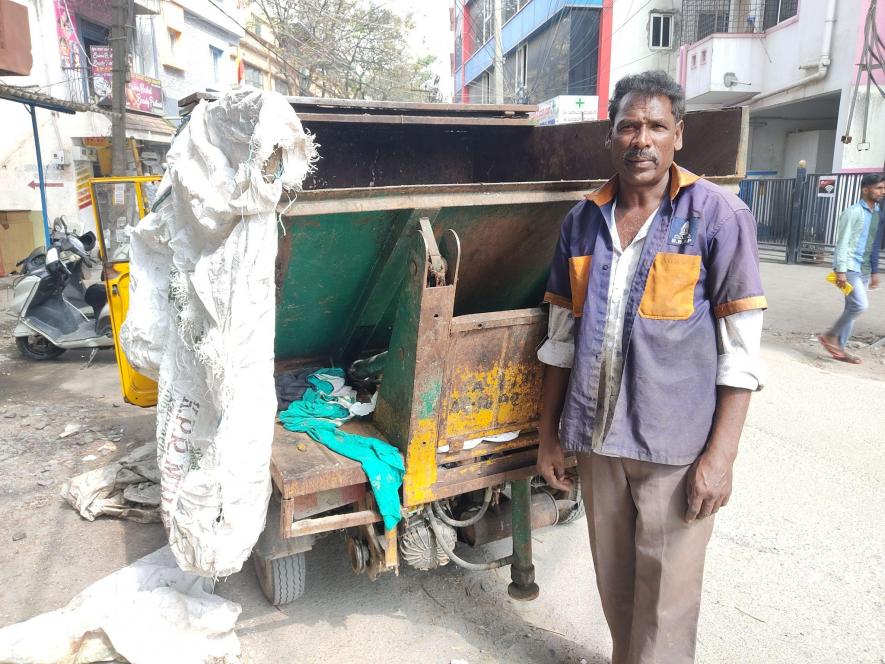 Pic: Venkat Narasappa, Garbage Loader. Pic Credit: Saurav Kumar
Narasappa told NewsClick: "I have been collecting garbage for 17 years with instances of irregular payment and insecure working conditions. Every month, I earn Rs. 14,000 working for all 30 days. Even one day's leave gives me a loss of Rs. 600. The life as a pourakarmika is uncertain"
The contractual work looms as a threat over Narasappa and thousands like him despite their undying efforts to keep the streets of the state clean.
Nirmala, who sweeps the streets of Madivala market, too, finds herself facing an uncertain future. "For decades, I have been managing solid waste in different parts of the city but my job is not permanent and is a threat to our financial security," she told NewsClick.
As per Nirmala, her monthly earning stands at Rs. 14,000 whereas a permanent worker get Rs. 40,000. She demands scrapping of the ongoing pay disparity.
Pourakarmikas have alleged unfair treatment in terms of working conditions.
Narayanappa, a street sweeper employed near NGR Layout in Bommanahalli, claimed that working conditions of civic workers have deteriorated in the past couple of years. BBMP has not provided them new uniforms since the onset of the COVID-19 pandemic.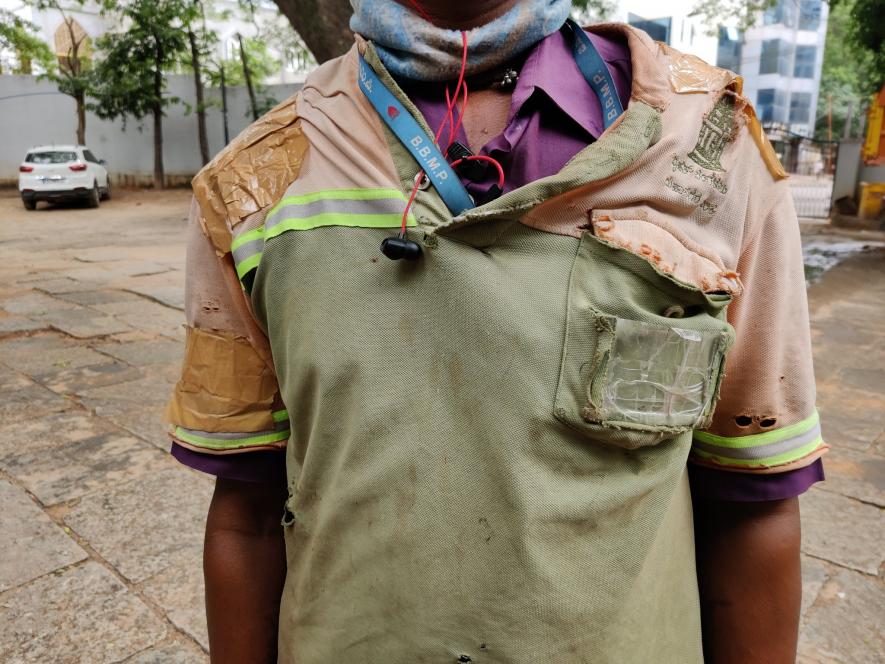 Pic: Torn Uniforms of Pourakarmikas. Pic Credit: AICCTU
A few months ago, pourakarmikas were seen working in torn and shabby clothes and its revelation pushed the BBMP on the backfoot and it came out with an assurance to provide new uniforms.
Amid the ongoing struggle of the pourakarmikas, M Shivanna, Chairman, Karnataka State Safai Karamchari, has been a prominent voice for thousands of workers but could not succeed in ending the contractual work system.
Failed Promises
The civic frontline workforce has been duped by the Karnataka government, on several occasions, says their union, be it abolishing the contractual system of recruitment or making all workers permanent employees.
Rathna, a member of the BBMP Pourakarmika Sangha, told NewsClick: "The state government, after the protest of July 2022, assured us of giving permanent jobs to 11,000 workers but now it claims to have provided it to only 3,000 workers. This is blatant betrayal."
The state government declared recruitment of workers on permanent basis on three occasions -- in 1996, 2014 and 2019.
As per the State Safai Karamchari Commission, only 10,755 civic workers out of 54,512 are permanent, with the rest deprived of any social security and health benefits.
As per the commission, civic workers are categorised as permanent workers, direct payment workers, contractual workers, outsourced workers and daily wage workers.
After being subjected to "prolonged betrayal", nearly 40,000 pourakarmikas went on indefinite strike on July 1 2022. This pushed the government to back foot and negotiations took place with demands of regularisation of work, social and health benefits, etc. The government gave written assurance to make permanent all pourakarmikas and abolish the contract labour system in waste management, but after the strike ended, the state government has "betrayed" thousands of workers by taking no action on the issue, allege the workers.
According to BBMP Pourakarmikara Sanghatane President Nirmala M, scores of pourakarmikas belonging to the oppressed dalit community are engaged in the caste ordained occupation of waste collection and management for the sake of keeping the city clean. But, in return, all they have got is vulnerability, exploitative conditions and no minimum wages.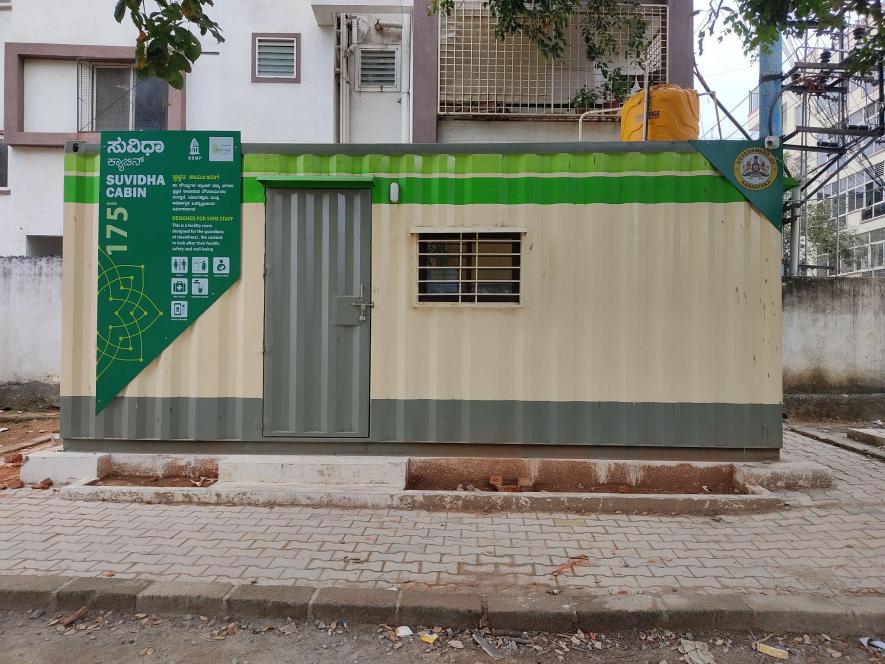 Suvidha Cabin. Pic Credit: Saurav Kumar
The state government's betrayal goes beyond wages, persisting contractual systems, etc. BBMP promised to establish Suvidha cabins for pourakarmikas across the city but largely it remains unfulfilled, said the union.
According to Narayanappa, the Suvidha cabin in NGR layout remains inactive and exposes the truth behind "half-baked claims" of the government and the civic body.
On reaching out to the BBMP Joint Commissioner Bommanahalli zone, Muniraj, he said that the functioning of Suvidha cabin needs to be checked.
The first cabin was inaugurated in Malleshwaram by MLA and minister in the government C. N. Aswathnarayan in the year 2020. Since then only a few of these are reportedly functioning.
The writer is a freelance jourmalist.
Get the latest reports & analysis with people's perspective on Protests, movements & deep analytical videos, discussions of the current affairs in your Telegram app. Subscribe to NewsClick's Telegram channel & get Real-Time updates on stories, as they get published on our website.
Subscribe Newsclick On Telegram