Karnataka: Two-way Migration Creating Labour Helplessness in Malur
The mass movement of daily wagers reflects the state of labour opportunities in the country.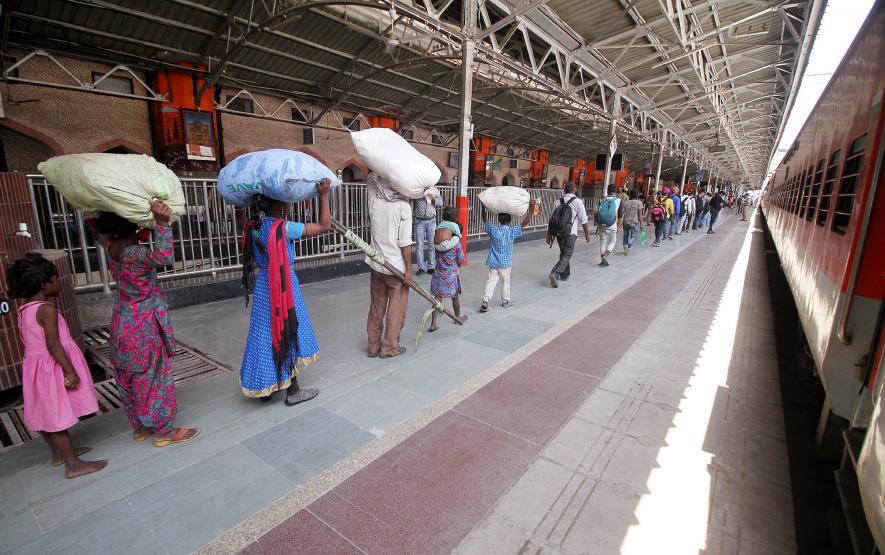 In Malur, a town some 25 kilometres from Bengaluru, the story of India plays out in microcosm every day.
Every day, some 4,000 daily wagers get on a train to travel northwest to work in the upmarket apartments and industrial complexes of Bengaluru because they cannot make enough money in Malur.
And every day, thousands from far more impoverished areas in states like Odisha, West Bengal and Bihar stir from their dormitories or their houses to work in one of Malur's many factories.
At 7:30 in the morning, Malur's three platform railway station is packed. Lounging on the platform are hundreds of men and women waiting for the train to Bengaluru to pull in. With horns hooting and brakes hissing, they surge forward towards the door when it does. They fight their way in until the coaches are packed.
There appears to be room only to keep one foot at a time, and people are spilling out the door, hanging on with their fingertips until the train reaches the first of the stops in suburban Bengaluru and some people get off.
Malur is a small town situated almost midway between Karnataka's capital of Bengaluru and Kolar, home of the eponymous Kolar Gold Fields, where a now-defunct company mined gold.
Every morning starting at 7:30 am, almost 4,000 people throng the otherwise little-used railway station, according to Aasha, a commercial clerk, at Malur railway station's booking office.
Srinivas, an electrician, is a case in point. "I have been travelling to Bangalore for the last ten years. I earn Rs 500 a day - Rs 15,000 per month- which is insufficient. If I work here, I won't be able to earn half of it."
The 45-year-old said, "Unless you work in a physically demanding factory or construction work, there is no regular work here."
According to the 2011 Census report, Malur has a workforce of about 30,000. Half of them are employed for more than six months, while others are daily wagers.
The town boasts a literacy rate of 82.5% – higher than the average, but most students discontinue their studies after completing pre-university colleges.
"There is only one government degree college in Malur. As most students cannot afford high charging private universities, they prefer to work in the Cargos of big companies like Amazon, Flipkart in Bangalore, or the industrial area," said Venkatesh, economics teacher in a pre-university (PU) college in-town school.
It was 1985 when the town first saw the first phase of setting up the industries. Completed in three phases, the town has over 200 industries of clay-tile-and-brick, granite, pharmaceutical, chemical, food processing and automobile.
But the woes of workers, whether local or migrant, are still there.
Fighting a case against the management of his former company after they suspended him without an appropriate reason, Sriram, a 50-year-old former office assistant in Exedy Clutch India Private Limited, has been going around the Kolar labour courts for five years now.
"My supervisor could not adjust with me. I was harassed for small things like going out smoking without permission. Before the suspension, no first warning or prior notice was given to me," said Sriram, who works both as an electrician and a plumber to manage his family.
He added that either he wants the company to reinstate him or pay him compensation.
BV Sampangi, Sriram's lawyer and President of the Industrial & General Workers Union (IGWU), said, "Locals are migrants on their land and search for jobs in other areas. Implementation of Sarojini Mahishi Report, 1984, which directs industries to appoint local people on priority, should be done immediately."
On being asked about the influx of migrant workers in factories, Sampangi said that the factory managers get away with keeping migrant workers at a cheaper rate because the local demands better wages with complete rights.
Dayanet Das (32), a helper and granite cutter at Global Granites Limited from Balasore, Odisha, compared how things were better for him before COVID-19.
"Before the lockdown in 2020, I used to earn Rs 25,000 in a factory in Andhra Pradesh. After coming back when the lockdown was relaxed, I worked in a granite factory in Bangalore, but that employer never paid on time. So, I joined here, but they pay only 12,000, and we have to work from 9 am to 7 pm. There is no holiday except when anyone gets unwell," lamented Das, who is differently-abled from his right shoulder.
Living in their dormitories, the workers drink tap water, which affects their health badly. Whenever asked, they have to perform extra chores.
"If the migrant workers dare to question their employer, they are thrown out by the employers. They avoid coming to unions as they don't want to be in long legal proceedings," added Sampangi.
Commenting on the state of migrant workers in Karnataka, Professor YJ Rajendra, state president of the People's Union of Civil Liberties, said, "Migrant workers become victims of employers' tyranny. Sources of livelihood have decreased after Covid-19. Labour contractors also swallow a lot of their incomes. If they come directly, they can't bargain much, have no social security and are exploited."
According to the St Joseph College professor, the government needs to draft pro-workers policies. 
Get the latest reports & analysis with people's perspective on Protests, movements & deep analytical videos, discussions of the current affairs in your Telegram app. Subscribe to NewsClick's Telegram channel & get Real-Time updates on stories, as they get published on our website.
Subscribe Newsclick On Telegram