Kashmir: Lumpy Skin Disease Killing Both Cattle and Livelihood of Dairy Farmers
The deadly cattle disease is threatening the livelihoods of Kashmir's dairy farmers severely, and the absence of veterinarians in certain places has caused more worry.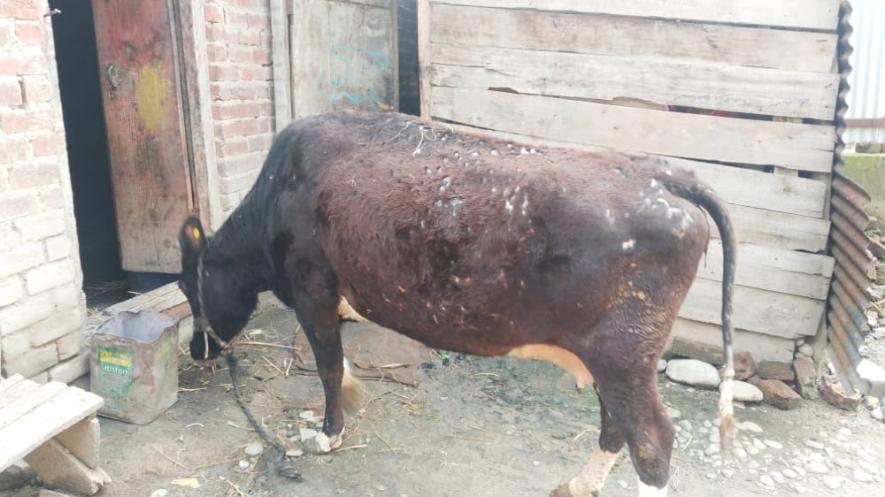 The lumpy skin disease has affected several parts of the country and, especially, wreaked havoc in Kashmir, where several farmers have lost their livelihoods and been left high and dry. The disease has already infected millions of cows and has led to the death of lakhs of cows in India. India has the largest cattle population and is considered the world's largest milk producer.
Like other parts of the country, the lumpy skin disease has spread rapidly in Kashmir, claiming the lives of numerous cattle. Jammu and Kashmir produces around 7.5 lakh litres of milk annually and is among the country's top milk-producing states.
The cattle disease is threatening the livelihoods of Kashmiri dairy farmers severely, and the non-availability of veterinarians in certain places has made the farmers more worried.
On November 10, Mohammad Rafiq Ganei, 45, had to lift three dead cows from his shed due to the non-availability of veterinarians in the area.
Hailing from North Kashmir's Boniyar, a border area, Rafiq told the NewsClick that his three cows had contracted the lumpy skin disease (LSD) and died. "My livelihood was dependent on these cows. We lost our source of earnings. And we haven't received any kind of compensation from the government yet," Rafiq told the NewsClick. 
Doctors and other officials from the department of animal husbandry conducting door-to-door awareness about lumpy skin disease in Pulwama Kashmir.
Rafiq said that those cattle who recovered without vaccination are producing less milk. However, the concerned doctors have yet to visit their area. Despite a lower mortality rate, Rafiq says that the infection is weakening cows to the point that they cannot produce milk, which impacts farmers' livelihoods.
Dairy Farmers in Kashmir are becoming worried as the number of cattle affected by LSD is rising. The cattle farmers in Uri Baramulla alleged that many of them lost their animals, and the administration should investigate and farmers should get compensation.
According to officials of Animal Husbandry Kashmir, the dairy industry generated a total of Rs 2.62 crore each day in revenue. The valley's dairy industry has been rattled by the most recent LSD outbreak. The officials say Baramulla, Kulgam, Kupwara, and Anantnag districts are the worst-affected regions. North Kashmir's Uri, Boniyar, and Kupwara have been the most affected, with a large number of fatalities.
NewsClick spoke to Kashmir's Joint Director of Animal Husbandry and Nodal officer, Lumpy Skin Disease, Dr Mohammad Hussain, who says that as per the department record, 31,039 cows have been infected by lumpy skin disease in Kashmir. And out of them, 2,374 have died as of now. 
"Till now, we have made some breakthroughs to contain the spread of this lumpy skin disease. So far, the department has done 8,86,632 vaccines throughout Kashmir with the recoveries of 23,555," Hussain told the NewsClick.
According to Hussain, the situation resembles the Covid-19 outbreak; it's not possible to reach out from home to home. There might be a lack of manpower in border areas like Uri, but overall they are doing their best to deal with it, Hussain told NewsClick. 
While speaking to NewsClick, Mohd Qasim, 43, a dairy farmer from Srinagar's Lawaypora, said that though the government is making tall claims about the ongoing vaccination campaign, it is only on paper. Qasim, too, lost his cow, and no veterinary doctor reached out to their area. 
Speaking to NewsClick, Abdul Rashid, a Srinagar-based Veterinary doctor, said that it is a fatal outbreak of LSD
"People, by and large, throw their dead cows on roads and in rivers. We must be very vigilant while treating these deceased cows. I request people to avoid doing so and bury them," Rashid told NewsClick. 
On being asked whether the consumption of milk of these cows infected by lumpy skin disease is safe, he said that people should not waste the milk as it's safe and only needs to be boiled thoroughly. 
He said that once the winter sets out, the disease may vanish in no time. 
According to Dr Rashid, the disease is not incurable, so dairy farmers should not worry; rather, they must spray to keep animals and humans safe. The department didn't receive any cases that it spread to humans. " Our Working campaign is in progress for a vaccination, and as of now we mostly prefer the goat pox vaccine, which has significant recovery rates, " Dr. Rashid told the News click.
The NewsClick spoke to several dairy farmers from border areas they said that their only source of income was cattle that had been completely crushed due to Lumpy skin disease. 
" People have got dairy loans to establish their enterprises since cows are expensive, but this epidemic has shattered our dreams, " Rafiq, a dairy farmer from Uri, told the Newsclick. 
While talking with News Click, Mohideen Dar, 56, a dairy farmer from the Baramulla district said that they belong to the Gujjar and Pahari communities. They often remain cut off from the main cities of Kashmir.  
"Because of the shortage of veterinary professionals and supplies in our border region, our animals have suffered badly. The Uri region has just one doctor, and the department has not paid enough attention to our animals. Our cows succumb daily," He told the NewsClick.
An official who wished to remain anonymous told the NewsClick that LSD in Uri has killed close to 300 animals. Locals stated that the virus has killed more cows than known, and many people have not even reported those to the concerned department. Farmers living near the Line of Control and the meadows lack access to mobile and internet services; thus, most of these deaths have gone undetected.
Over the last two months, there has been a shortage of dairy products as a result of LSD, and meat producers have also been impacted. 
"We recently bought a cow of nearly one lakh rupees but it also died due to LSD. The death of the cow has devastated not only our family but also our livelihood. It was the sole source of our family earnings," Gulzar Reshi, another dairy farmer from Pattan, Baramullah district, told the News click.
"After treating my cow for a few days and spending thousands of rupees on medical expenses, I couldn't save my cow from death. I will not blame the government or any other department for my loss, it's like a catastrophic situation and nobody knows how it is spreading and what is the main cause of this disease," he said.
On being asked about the government compensation to dairy farmers, the Joint Director of Animal husbandry Kashmir, Hussain told NewsClick, "Neither have we received any guidelines for the compensation process nor has it been initiated by the administration anywhere as of now. It's up to the government to make any decision regarding it."
"Once the government gives the green signal for this, we will start the process of compensation to these dairy farmers whose livelihoods have been affected by the lumpy skin disease" he said.
Earlier, in September, Jammu and Kashmir administration imposed a blanket ban on the import of bovine animals from outside the union territory and their inter-district transportation. Despite this order, the disease has almost spread throughout the Valley.
Get the latest reports & analysis with people's perspective on Protests, movements & deep analytical videos, discussions of the current affairs in your Telegram app. Subscribe to NewsClick's Telegram channel & get Real-Time updates on stories, as they get published on our website.
Subscribe Newsclick On Telegram