Kashmir: Weavers Return to Kanishawl Craft as Trade Picks up With Govt Assistance
The Kanihama hamlet, located on the national highway that connects central Kashmir to the northern portions of the area, has been a hotspot for creating antique Kani pashmina shawls for decades. Its unique craft has recently found a new push.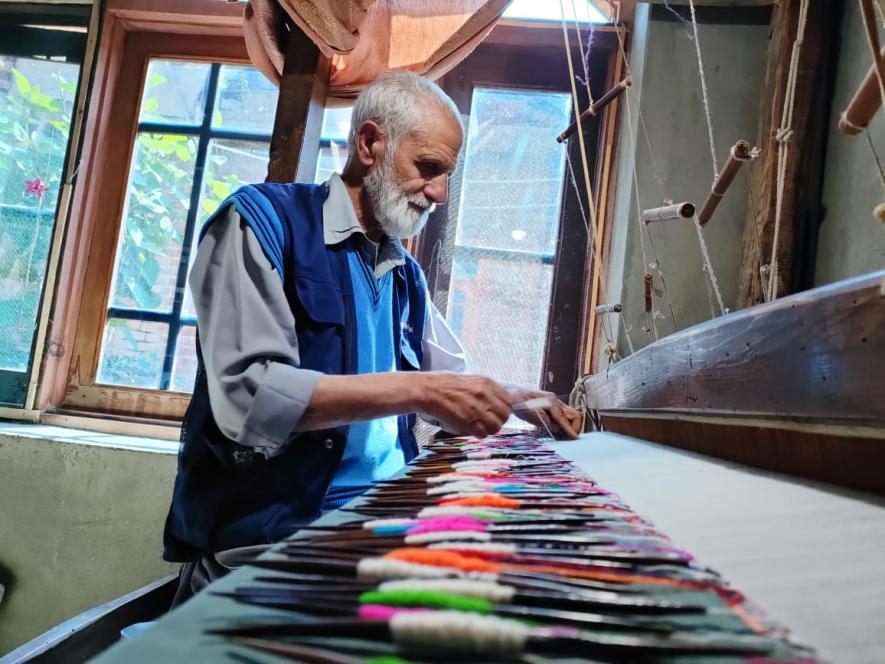 In 2002, when Shabir Ahmed, 47, a Kanishawl artisan weaver from central Kashmir's Budgam district, planned to quit his Kanishawl weaving job, suddenly a new hope generated in his life, and he didn't give up rather than following his ancestors' craft which they have been doing for the last 65 years. " It was when the artisans thought that the pashmina weaving craft would not exist here due to the low demand in the National and international market," Shabir says.
Shabir Ahmed, a national award winner for promoting Kanishawl craft in Kanihama village, says that his brother is also a teacher now in the handloom department.
Kanihama, a village in central Kashmir's Budgam district, has 500 households. The name 'Kani' derives from the Kanihama area where this particular artisan hails. The word 'Kani' also refers to a little wooden rectangular spool in Kashmiri.
Known as a handloom village, it is said to be the birthplace of pashmina and Kani shawl weaving in Kashmir. Kanihama hamlet, located on the national highway that connects central Kashmir to the northern portions of the area, has been a hotspot for creating antique Kani pashmina shawls for decades.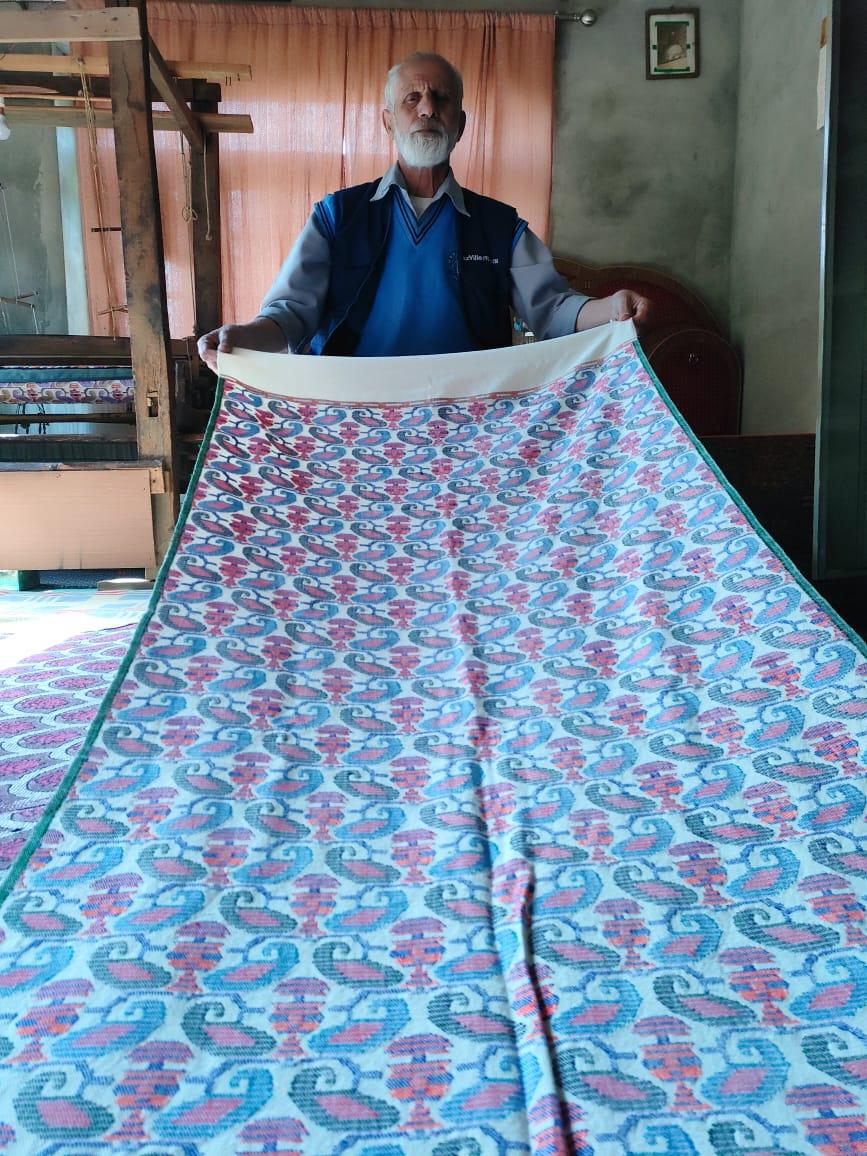 Shabir says around 80% of the people in the adjacent areas of Kanihama village are working in the industry for the last more than 65 years.
"There are many national award winners in our village. In 2017, I was given a National award in Jaipur on August 7, which marks handloom day. After getting an award, new hope has been generated among the artisans," Shabir adds.
However, the dwellings are small, and residents have made little progress by producing magnificent shawls that sell for millions in markets across the globe. "The Kanishawl business went through many trials and tribulations here in Kashmir. The younger generation is not interested in following this craft," Shabir says.
Ghulam Mohideen, 64, weaver, says that Kanihama drives from the two words, "Kani" and "Hama"; Kani means wooden sticks, and Hama means village. The craft of Kani weaving uses small sticks of wood called Kanis. Around Kanis, the colourful weft thread is wound to create attractive and magical different patterns over a shawl.
GOVT ENCOURAGING PASHMINA ARTISANS IN KANIHAMA
The Government of Jammu and Kashmir has given the status of Kanihama to handloom village as the area is known as a hub for its handloom products like Pashmina Shawal and Kani Shawls across the globe. The village is being developed to attract the attention of tourists. Locals of the Kanihama village told NewsClick that no doubt the government has given the status of "handloom village", but that is not sufficient. "The concerned authorities should provide pashmina looms free of cost to the artisans," they said.
"Even we are leaving no stone unturned to preserve the craft from declining. Despite not making much money, this village was ignored for years. The action is late, but we hope the government will fulfil its commitments," said Farooq Ahmad, a weaver who has received a national award for his efforts.
He says that artisans in the village seem happy after being encouraged and supported by the government's efforts. Declaring Kanihama as a handloom village has created a new hope as many artisans had quit the traditional craft and are now returning to their work.
Shabir Ahmed opined that the administration has so far provided around 30 sheds for artisan weavers in the village intended to keep the craft alive. Now, artisans will, by and large, be benefitted directly. Each shed costs Rs 1,20,000, and the locals say that apart from sheds, the government has also provided fifty solar inverters and 20 pashmina looms to artisans. Each loom costs Rs 25,000.
However, some artisans said that not all benefit from these government projects. "The government has done a lot for the artisans in the village, the looms should be given at subsidised rates," said Fatima Akhtar, a shawl weaver.
VILLAGERS ON TOES TO PRESERVE CENTURIES-OLD CRAFT
Last year, in 2021, the administration in Kanihama village set up a common facilitation centre where hundreds of young pashmina artisans were being trained by trainers. Mohammad Ashraf, 40, a craft teacher at the common facilitation centre, says that it was specifically established here to attract tourists and encourage the artisans.
"We have here 20 female craft teachers who have been teaching pashmina weaving at the centre. The centre aims to encourage the artisans in the area. Those who are promoting pashmina Kani shawls craft, and are enrolled in the centre, are being given Rs 1,500 for a monthly allowance," Ashraf, a teacher at the facilitation centre told the front line.
The centre is situated at the famous ski resort in Gulmarg, where many tourists pay visits and purchase Kanishawls from the facilitation centre. Earlier, artisans in Kanihama village used to sell their Kanishawls in the different places and states of India. "After the establishment of the centre at the village, artisans are bringing their products here for display. It has become a new platform for us, where our products are being sold to tourists," Shabir says.
It was the Indian textiles ministry that took the call to develop Kanihama village in Kashmir's Budgam district as a handloom and tourism village. The district commissioner of Budgam, Shahbaz Ahmed Mirza, says that he looked at the formulation of an action plan and work distribution for the project there.
"We have plans for the village to repair and construction of internal village roads, installation of ATM, public parks, display of publicity hoardings, signage and other developmental works which can be the boost for the tourism sector, " the district commissioner said.
PRODUCING 700 SHAWLS EACH YEAR
Previously, craftsmen were not registered with the government, but now that many camps have been organised in the area, artisans' confidence has increased.
People had forgotten about the arts, but the locals here are grateful to the government for taking this step to conserve and resuscitate them for future generations.
Among the crafts people, there is optimism. People are now more interested. People who had abandoned the artwork in the middle are now returning after the village was designated as a handloom village and resurrected the craft.
"A shared facility centre in the village also serves as a training ground for artists. The centre is utilised to host events and exhibitions to promote the items," said Shabir Ahmed.
He stated that the government had given an internet channel through which artisans could sell and ship their products directly. "Every weaver can now take advantage of the facility," he says.
Kanihama shawls are known for their high quality and are sold in national and international markets, but craftsmen desire social programmes to help them improve their lives.
Kashmir is known for its specialist fabric weaving. The handloom sector occupies a unique position in the valley's socio-economic structure, and women have always contributed to it.
According to community officials, the town produces about 700 shawls each year. Shabir says they are focused on Geographical Indication (GI) tag. Kanishawl had got GI tag years before, but its label had not been launched.
The residents are pleased with the fact that the practice has been restored not only in their village but also in other regions of Kashmir, particularly in the adjacent areas of Batapora, Mazhama, and Roshanabad. National honours were given to two of our weavers for producing the best shawls on spools. "Here, you will discover original items in the price range of Rs 50,000 to Rs 3,00,000 and nobody can question the shawls' quality," Ashraf Ahmad adds.
According to officials, a centrally financed project will deliver Rs 5 crore to the community, which will see dwellings painted a consistent colour and weavers furnished with solar lighting and workstations. However, Shabir Ahmed, a weaver, acknowledged that many houses were painted here, and some viewpoints were already established.
Ahmed stated that in a few months, concerned officials would develop a QR code-based Kani shawl application that will provide complete specifications to the buyer, hence increasing customer trust.
He further stated that five simultaneous exhibitions had been held in picnic resorts, including Gulmarg, Tulip Garden, Pahalgam, Surajkun, and Indian Carpet Export, to promote the Kani shawl.
It is pertinent to mention here that Mughal monarchs, Sikh Maharajas, and British nobility were all attracted to this magnificent shawl. Emperor Akbar was a voracious collector of Kani shawls, as per the Ain-i-Akbari.
Mubashir Naik is an independent journalist based in Jammu and Kashmir. He tweets at @sule_khaak. His views are personal.
Get the latest reports & analysis with people's perspective on Protests, movements & deep analytical videos, discussions of the current affairs in your Telegram app. Subscribe to NewsClick's Telegram channel & get Real-Time updates on stories, as they get published on our website.
Subscribe Newsclick On Telegram