Kashmir: Woodcarving Declining due to low Demand and Lack of Interest From the Younger Generation
Local artisans hope that Srinagar's addition to UNESCO's list of Crafts and Folk Arts for 2021 would help in reviving the old art.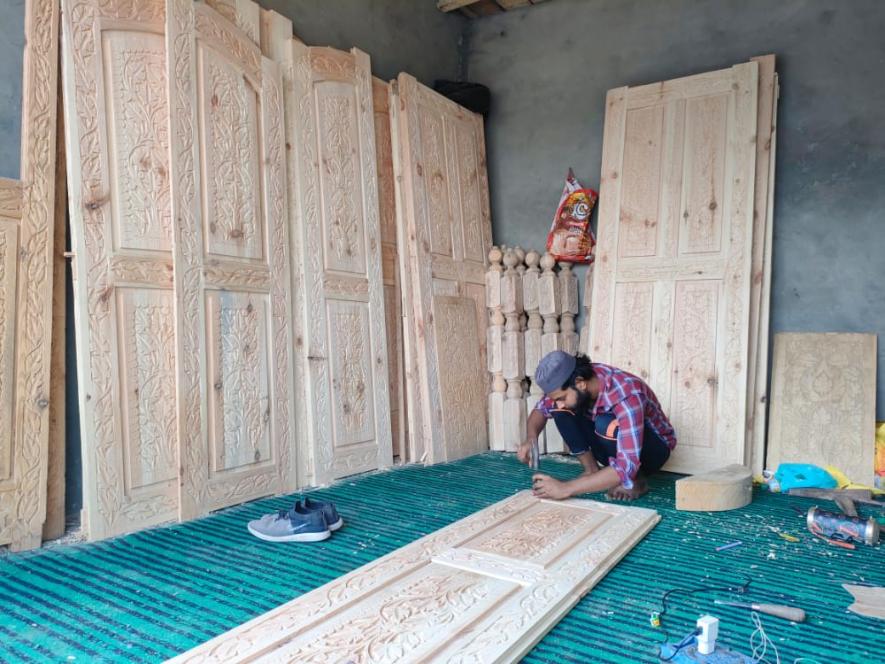 Carved walnut woodwork is one of Kashmir's most important crafts, prevalent in the region for decades. At present, Kashmir is one of the few areas where walnut is still grown. The walnut wood is tough and long-lasting, with a fine grain and even texture that makes fine and detailed work easier. It also creates visually appealing effects using only polished surfaces.
Kashmiri carvers delight in creating elaborate and unique designs. The rose, lotus, iris, bunches of grapes, pears and chinar leaves frequently appear on carved goods. Dragon themes and designs from Kani and embroidered shawls appear in deep-relief carvings on wooden objects. Thousands of people in the valley used to rely on traditional woodcarving for a living, but this distinctive heritage is dying quietly due to the unregulated import of wooden objects.
Sheikh Imran, 35, wanted to become a lawyer. His family has been involved in Kashmir's centuries-old traditional art of woodcarving. His dream shattered when he witnessed the sudden decline of woodcarving in Kashmir.
"In our region, woodcarving has been the worst-hit nowadays," says Imran
Previously, Kashmiri carpenters and artists were famed for imprinting distinct designs on wood, used to decorate homes and old buildings with wooden doors.
Local artists believe that earlier, there was a high demand for woodcarving products not only within the state but also from outside the state. However, as consumers prefer pre-made things accessible in the market, demand has dropped to its lowest.
The artisans who are associated with this art suffered the most.
"I believe a lack of development in art woodcarving led to its fall," Imran told NewsClick.
Whenever Imran sees law students in uniform, it melts his heart. Although he studied for a bachelor's in law to be a lawyer, he now sits at his woodcarving shop, which his ancestors have run in Srinagar's Parimpora area for the last 40 years.
Imran told NewsClick that unemployment is at its peak in Kashmir, and their business was severely affected when the GST was imposed in the region.
"We used to get orders from Delhi, Bangalore, Calcutta, etc. Of late, we hardly get such orders," he said.
Imran believes that international shipping has been privatised over the last four years.
"Years ago, the customer would get a wooden door with hand-made design at Rs 4,500. The same wood-carved door is being sold for around Rs 8,500. Common people cannot afford to purchase it. This led to its massive downfall," he said.
Mehraj-ud-din Sofi, 46, associated with the woodcarving trade, said this art is now on the brink of 'extinction'. He says that demand for locally manufactured wood-carved objects has declined significantly due to importing wooden goods made of foreign timber, which are also cheaper than local items.
Before the abrogation of Article 370, 700-800 cubic feet of curved wood were being sold to the customers. The cost has doubled to Rs 1,200, which the locals cannot afford to purchase.
These imported wooden items are being imprinted by machines and are cheaper than finely crafted local products.
There are hundreds like Imran who kept their dreams aside and followed the legacy of their families to carry forward art and woodcarving to the next generation.
However, Sofi raises severe concerns and adds that their children are not interested in this art. Many artisans' children shy away from carving the woods in their shops.
"It needs support and workforce to keep the tradition alive. Local carpenters and budding artisans have not shown any concern towards woodcarving; this has further affected this trade and has led to its downfall."
Sofi remembered when he had 30-40 outsider men who used to work with him throughout the year. The situation has drastically changed now. All his associates have quit and started different jobs.
Sofi said he also wants to start another job after finding woodcarving a non-profitable trade in Kashmir.
Abdul Majeed Dar, 47, is another artisan who has run his woodcarving shop in Budgam for 27 years. He alleged that the outsiders had started their business in woodcarving in Kashmir. The forest department of Jammu and Kashmir issues licenses to the citizens of Kashmir only for the running of woodcarving shops.
"I don't know how they are opening their shops in Kashmir. For running a woodcarving shop, one needs to receive timber, walnut-tree woods, and other products. These non-locals are running these shops illegally here, which mostly affected the trade of locals," Dar told NewsClick.
Dar said they lacked a platform to display their wares, but they are delighted that the handicrafts department has approached them.
"We are confident that Srinagar's UNESCO designation would aid in the revival of the dying art of walnut woodcarving," he said.
Last year, Srinagar was added to UNESCO's coveted list of Crafts and Folk Arts for 2021. Woodcarving artisans believe that this would revive the dying art.
Citing the downfall, Dar added that the woodcarving artisans throughout the valley were not receiving enough walnut products from the locals.
As per the Jammu and Kashmir Preservation of Specified Trees Act, 1969, a blanket ban was imposed on cutting walnut trees. Dar says that walnut trees are primarily used for woodcarving in Kashmir, and their demand remains high. The prohibition on cutting down a walnut tree directly affects their livelihood.
"Due to the 1969 Act, a person can neither cut the walnut tree nor prune. People can only cut them once they seek permission from revenue officials. And the entire process is time-consuming. This is also the reason for the decline in woodcarving," Dar adds.
The Kashmir horticulture department has requested that the restriction on walnut tree cutting in Kashmir Valley be lifted. The suggestion comes five decades after the prohibition was enacted in 1969.
It is estimated that 700 Iranian craftsmen came to Kashmir and taught the Kashmiri people how to make carpets, walnut woodwork, paper machines, and most other handicrafts that are still done today.
The locals believe that Shahi Hamadan came to Kashmir thrice in the 14th century AD with a noble mission of spreading the teachings of Islam. Apart from spreading Islam, his followers brought the concept of woodcarving to Kashmir.
An official of the handloom department, who wished not to be named, told NewsClick that Kashmir might lose this traditional art due to changes in need and market demands. The artisans should now develop new and eye-catching designs to revive this trade which can attract foreign tourists as well, he said.
"I guess woodcarving is a 600-year-old traditional art. It did work for some time as it was limited to old-style products. And from tourists to locals, they didn't prefer to take it. The need of the hour is to replace old designs with new stylish ones. Many art masters had passed away who were tirelessly reviving this dying art. The new generation is not ready to revive its glory," the official said.
Irshad Hussain and Mubashir Naik are Independent Journalists based in Srinagar, Kashmir. Irshad Hussain tweets at @Irshad55hussain. Mubashir Naik tweets at @sule_khaak.
Get the latest reports & analysis with people's perspective on Protests, movements & deep analytical videos, discussions of the current affairs in your Telegram app. Subscribe to NewsClick's Telegram channel & get Real-Time updates on stories, as they get published on our website.
Subscribe Newsclick On Telegram