Kashmiri Pandits, Their Migration and Return
There is urgent need for reconciliation and rapprochement between the two communities – Kashmiri Pandits and Kashmiri Muslims – and staying away from demonising each other.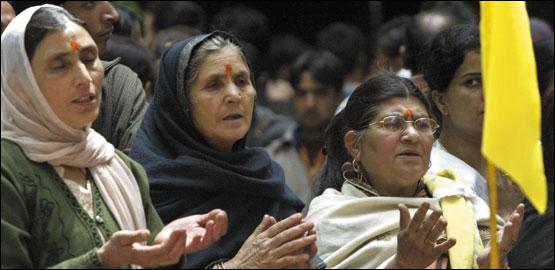 Image credit: BBC, Image for representational purpose only.
The issue involving the migration of Kashmiri Pandits (KPs) has been broached by this author on several occasions. However, the need for writing this piece was spurred by a recent friendly encounter with some of my Kashmiri Pandit friends in Jammu and an earlier column by a well-known Kashmiri Pandit, AK Chrungoo. In this column, he had written about how he looks at the history of Kashmir and how he perceives the role of KPs in shaping it, which was followed by a rejoinder by Javid Iqbal in a local newspaper.
I begin with a brief reference to Iqbal's rejoinder where he has set the record straight by bringing up the singular contribution of Kashmiri Muslims and Pandits in fostering a syncretic culture in the Kashmir of yore which persists even to this day, despite efforts by certain quarters both within and without at undermining it. Appropriating that contribution to a single community, as Chrungoo has sought to do, is plainly tendentious and should have been avoided at all costs, as that is not rooted in the recorded history. Beyond that, I don't wish to add further by reference to history that Iqbal has done so well in his rejoinder.
However, my take on the issue seeks to touch upon the circumstances underpinning the mass migration and the long overdue return of KPs back to the valley. This issue has generated a lot of heat over the years, and it did come up for discussion in that marathon meeting with my KP friends.
Before elaborating on this issue, let me say at the outset – and at the risk of repeating what I have all along maintained on this count: "The idea of migrating from the valley was motivated by the singular desire to get out of the harm's way in the midst of a cataclysmic upheaval that had visited the valley in the early nineties!" Nothing less, nothing more. Period!
Let me elaborate. Despite all that is being said ad nauseam by those who think that they stand to gain by presenting a picture of Kashmiri Muslims (KMs) as being complicit in the flight of KPs to other parts of India when armed militancy had broken out in the valley, the facts on the ground tell a different story.
To begin, it has to be conceded that in the deafening din marked by an overwhelming support for Azaadi among the Kashmiri Muslims, KPs perceived themselves as potential victims of violence that they thought would unfold, given the elemental fury of anger in the midst of a mass uprising against India that prevailed then in Kashmir. And this was not without reason, though; perhaps KPs had good reasons to think of themselves as being distinct from the Muslim majority of Kashmir, and so thought that they were on a different page than the majority of KMs insofar as the uprising in Kashmir was concerned. That's hardly surprising, considering that there have been far more compelling reasons, both contemporary and those rooted in the history of post-Partition Kashmir. KMs' revolt was rooted in how India had handled Kashmir and its people since Partition, where KPs were seen as willing to accept the status quo ante!
Also read: Citizens of Nowhere Living in Kashmir
The fact, however, remains that the idea of leaving behind their hearths and homes was solely motivated by their desire to escape the fury that was planned to be unleashed in the valley by the security agencies. It was expected to take its toll on everybody, and by implication, upon KPs as a result of the 'collateral damage' that would ensue in such a situation.
It goes without saying that the fear of an imminent grisly scenario was real and that this feeling of fear had gripped KPs as much as it had taken its toll on KMs. In the light of these circumstances, the only plausible reason that could have possibly motivated them to move out to safer locations elsewhere has to be pinned down to this atmosphere of ubiquitous fear that was looming large over the valley. 
Come to think of it, the mass migration of KPs happened exactly after they were convinced of reports of a massive army crackdown being planned to flush out armed insurgents as well as dissident voices in the valley, which would naturally not spare those living in the vicinity of ground zero, including the KPs. Secure in the belief that the uprising was going to be crushed with brute force, KPs decided to head outwards to Jammu and other parts of India, leaving behind their properties.
In the ensuing drama that unfolded in the valley, the promised putsch did indeed come to shove, followed by hundreds and even thousands of similar crackdowns having been carried out over the following decades and claiming not fewer than a hundred thousand human lives in the. But sadly, the dust refused to settle, and so the KPs chose to remain away from what has become a cauldron of unprecedented violence where people are being made to live with unspeakable humiliation and indignity. The ugly fact remains that it is not the kind of Kashmir that the KPs would have loved to return to.
Also read: Kashmir in 2018: A Year of Bloodshed and Resistance
Some invoke stories of KPs suffering acts of brutality at the hands of the local goons involving cases of kidnappings, killings and mass rapes. They contend that these incidents had occasioned their exodus. There is also this constant reference to the "cacophony of pro-freedom slogans" having been raised from mosques in Srinagar that had caused consternation among large sections of KPs.
I am not here to discount these stories as completely untrue. But, for all we know, there is no evidence to corroborate the veracity of such claims, not at least the scale and magnitude of such incidents. Even so, it is nobody's case to justify such heinous acts, as much as those of far graver nature involving acts of similar nature that have been visited upon KMs, who continue to suffer indignities on a daily.
As such, the contention that local KMs had turned against KPs, killed many of them or driven them out of their homes doesn't stand scrutiny.
The question that continues to stare us all is this: when and how are the KPs going to return to the valley? The reasons for their inability to return thus far have to be located in a number of factors, including those motivated by political considerations, the perceived role of KMs in the entire saga is surely not one of them. For all that one knows, more than anyone else, it is the KMs who would welcome them back to the valley with open arms. But there are other factors as well playing themselves out in this drama. One of these has to do with those migrant KP's whose stay elsewhere in India and abroad has borne fruit in terms of the change of fortune that the decision to leave their homes has brought to their lives.
It devolves upon the government, both in the state as well as at the Centre to create avenues for gainful employment of our migrant KP friends – who haven't been as lucky as their more privileged counterparts – as and when they choose to return.
But it is not clear if in spite of such avenues being created, our KP brethren would wish to return to begin a new life in the close vicinity of their erstwhile neighbours in the valley. A good and old friend who has a keen eye on the political/social developments, as they play out both in the valley and in mainland India, has an interesting take on this issue. Says he, "If only the government were to choose to withdraw migrant relief and reservation of jobs/admission to KPs living outside the valley and then decides to make these sops being doled out to them contingent upon their return to the valley, there is no reason why those who would sincerely wish to return would not". On my part, I see a lot of merit in that suggestion as a litmus test for good intentions.
This is because of those who are seen to be raising noises to return to the valley but shall not, would do so in view of the following reasons. One, they would surely not wish to be part of a place which happens to be beset with extremely hostile living conditions on account of the unprecedented levels of violence that has become the order of the day. In doing so, they may derive consolation from the understanding that the majority community living their lives back home in the valley have literally gone through hell. On the other hand, there is also this thinking amongst a section of the migrant KP community that they don't stand to lose anything by making occasional noises to return to the valley, as long as they find themselves secure in the sops being provided to them while living outside the valley!
Last, and certainly not the least, there are those in the KP community who have a constant grouse against the KMs for either having played a role in the former's flight from the valley or having looked the other way when the mass migration of KPs was underway. While the former contention is not vindicated by facts on the, the latter, though largely a case of wishful thinking, may perhaps have a ring of truth attached to it. This is chiefly because in the surcharged atmosphere as it had prevailed at that point in time, the fate of every single soul in the valley was hanging in balance. In those impossible circumstances, the question of interceding on someone else's behalf, howsoever necessary and desirable in the conditions, wouldn't simply arise. That would have led to courting controversies that could have been life-threatening. On the obverse side, equally unfortunate and disconcerting has been the realisation that there is no one out there in the KP community, barring a handful, who would care or commiserate on the violence being visited upon their KM counterparts since the breakout of militancy in the valley.
And that is not without reason; this unconcern coupled with the ill will that sections the KP community have been nursing against KMs may be pinned down to the ease with which they have allowed themselves to gravitate towards the Rashtriya Swayamsevak Sangh, who, as is their wont, are well known to stop at nothing to inject the venom of communal hatred.
Be that as it may, that does not take away from the stark reality that both the communities have suffered, and suffered grievously over these past 30 years. The urgent need is, therefore, for reconciliation and rapprochement between the two communities by reaching out and staying away from demonising each other.
The writer is a professor at the Central University of Kashmir, Srinagar. The views are personal.
Get the latest reports & analysis with people's perspective on Protests, movements & deep analytical videos, discussions of the current affairs in your Telegram app. Subscribe to NewsClick's Telegram channel & get Real-Time updates on stories, as they get published on our website.
Subscribe Newsclick On Telegram