Doctors in Kenya Strike for Better Conditions as Infection Rate Among Professionals Rises
Over 750 healthcare workers tested positive, at least 14 of whom died, including some of the country's top doctors. The union claims that doctors have not received their salaries since July and don't have health insurance.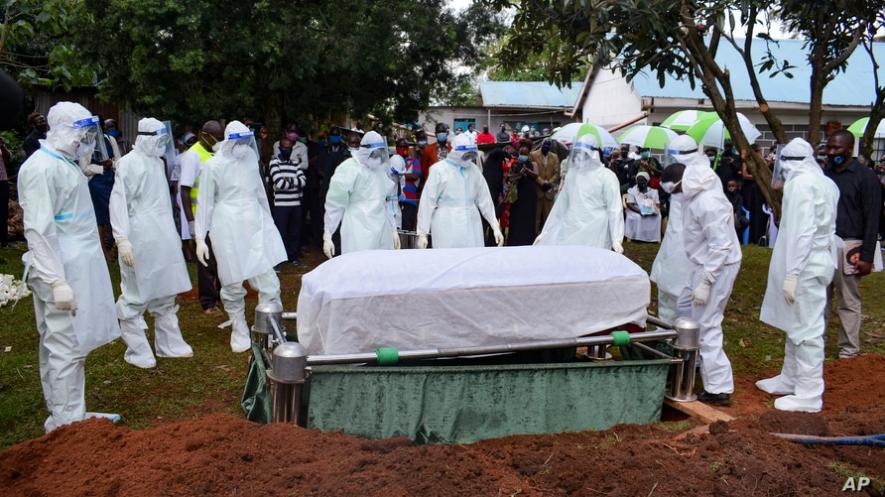 Health officials wearing PPEs prepare to bury coronavirus victim Dr. Doreen Adisa Lugaliki at her burial in Ndalu, Bungoma county, Kenya, July 13, 2020. Over 750 healthcare workers have tested positive, at least 14 of whom died. Photo: VOA
Doctors in public healthcare facilities of Kenya's capital Nairobi are set to go on strike on August 21 in protest against unpaid salaries, lack of medical coverage, PPEs and isolation facilities dedicated to healthcare workers.
15 doctors in the city are said to have contracted COVID-19 since April. Across the country, at least 768 healthcare workers tested positive, at least 14 of whom have succumbed to the disease, including some senior doctors leading the national effort to contain the pandemic.
Representing the doctors, the Kenya Medical Practitioners, Pharmacists and Dentists Union (KMPDU) on August 14 served the Nairobi Metropolitan Services (NMS) a 7-day strike notice which expires on August 21.
Healthcare workers in the county's public hospitals have also been demanding their salaries. Wages for the month of June were paid in July, that for July and August remain unpaid to date, according to KMPDU.
The union's county secretary in Nairobi, Thuranira Kaugiria, said that governor Mike Sonko was supposed to hand over "all human resources instruments to NMS by 1st of July 2020. This has not yet happened."
NMS was established as a central government agency in March 2020 and the Nairobi County Government transferred four key functions to it, including health. The county's governor Mike Sonko, who had been barred by the court due to corruption charges, signed a Deed of Transfer in the presence of president Uhuru Kenyatta.
On July 25, his lawyer announced on July 25 that he would formally reclaim the running of Nairobi County Government. Sonko was reported to have told local media that he was intoxicated during the signing of the deed, and was not in the right frame of mind required to sign officially. After the transfer, it appears he was upset that some of his stately privileges were withdrawn. "Why forcefully take the official Nairobi County Governor's residence and ceremonial vehicle?" he had demanded to know.
Sonko "still controls the payroll," Kaugiria said, alleging that his office has "intentionally delayed payment of salaries". The governor is reported to have settled his dispute with NMS director general Mohammed Badi on August 12, after the President's intervention. However, KMPDU claims that the salaries remain unpaid.
Those doctors hired by the county on short-term contracts have not received a pay for more than 6 months, Thuranira said. "Most have since quit." Extreme is the case of "5 medical specialists who have worked at the Mama Lucy Kibaki Hospital without pay for 26 months," he said. "Efforts to get them put on payroll have been futile."
The Health Ministry's Chief Administrative Secretary, Mercy Mwangangi has underplayed this issue, and said that it was only "a slight delay in transfer of payroll", and that "teams involved in ensuring this transition" will fix it soon.
In the meantime, 'COVID- billionaires' have emerged overnight as the government has been giving overpriced tenders for procurement, worth billions of shillings. For example, according to a report by the Daily Nation, a company called Kilig Limited, registered only in January 2020, was offered a Sh4 billion to supply 450,000 PPEs, at the cost of Sh9,000 each. The market price at the time was only Sh4,500 per piece.
With numerous such contracts, the Sh223 billion COVID fund – which includes remittances from the IMF, World Bank, the European Union and donations by private philanthropists – has been looted.
The quality of the PPE that was supplied to the healthcare workers have been sub-standard. Medical staff have been "forced to improvise PPEs. Due to this several.. have contracted COVID-19."
In response to the allegations over faulty PPE, Mwangangi claimed that their "doors are always open" for people to denounce the fault PPE.
The first death of a doctor was in July, when a gynecologist, Adisa Lugalika, succumbed to the disease. According to the union, by the start of July, most of the medical staff in public healthcare facilities no longer had medical insurance because the National Hospital Insurance Fund (NHIF) was running out of finance.
"A number of counties have not remitted money to NHIF, a delay that is putting us in an awkward situation," the union's acting secretary-general, Chibanzi Mwachonda, who is himself COVID positive, said earlier this month. "It is worrying that there is no assurance of health cover, as much as we are on the frontline fighting the pandemic."
Doctors who are being admitted to hospitals after testing positive are "not forgetting that at the end of it all we have to pay the bills," Thurinara adds. Health Ministry CAS Mwangangi, dismissed this claim and said that "COVID-19 allowances have been paid for all healthcare workers in Nairobi."
On August 13, a senior pulmonologist Ndambuki Mboloi died. The same day one of the senior most doctors under the health ministry, Kamau Mugenda, also breathed his last. He was the second-in-command of the Kenya Medical Research Institute, overseeing the testing and vaccine trial nationally.
The following day, when KMPDU gave the strike notice, it also started a campaign in the name of the first victim among doctors. "I am Adisa… my health, my life as a doctor is longer in my hands," the union said, "We lost Adisa, would you protect me..? Am I next?"
All "our efforts to get these issues resolved have fallen on deaf ears. We have suffered enough. The system has failed us," Thurinara said.
"The clock has started ticking. Doctors are not martyrs," Thurinara declared, "we are not children of a lesser God. We have given them until August 21, 2020 to resolve the grievances."
Courtesy: Peoples Dispatch
Get the latest reports & analysis with people's perspective on Protests, movements & deep analytical videos, discussions of the current affairs in your Telegram app. Subscribe to NewsClick's Telegram channel & get Real-Time updates on stories, as they get published on our website.
Subscribe Newsclick On Telegram