German Treasure Trove for Kerala's Gundert Library
While most Indian states are struggling to retain public interest in existing libraries, Kerala cannot seem to have enough of them.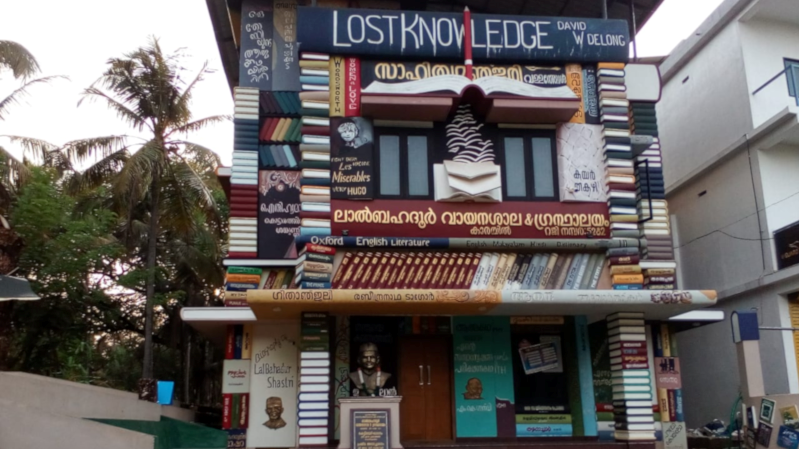 Lal Bahadur Vayanasala and Granthalayam at Payyannur- a library built to resemble a stack of books. (Picture courtesy: Appukuttan Karayil)
A sprawling colonial bungalow at Illikunnu hill in Thalaserry, Kerala, is being restored to its original orthodox Kerala architectural style. The impressive structure, surrounded by verandas on all four sides, was once the home of German missionary, scholar and linguist Hermann Gundert, who lived here for 20 years from 1839, studying and contributing to Malayalam language and literature.
In a few months, this historical monument will open to the public as the Hermann Gundert Museum and Study Centre. This is part of the Thalassery Heritage Project led by the Kerala Tourism Department. The heritage mansion belongs to the Church of South India, and had earlier housed the Nettur Technical Training Foundation (NTTF).
Hermann Gundert is revered in Kerala for his pioneering contribution to the Malayalam language and literature. He introduced punctuation marks—the full stop, comma, semicolon, colon and question mark—into the Malayalam language. He also compiled the first encyclopaedic Malayalam-English dictionary in 1872, and published the first Malayalam newspaper, "Rajya Samacharam" in 1847. Gundert published 13 books in Malayalam, on diverse disciplines such as religion, history, language, literature and science during the two decades he spent in India.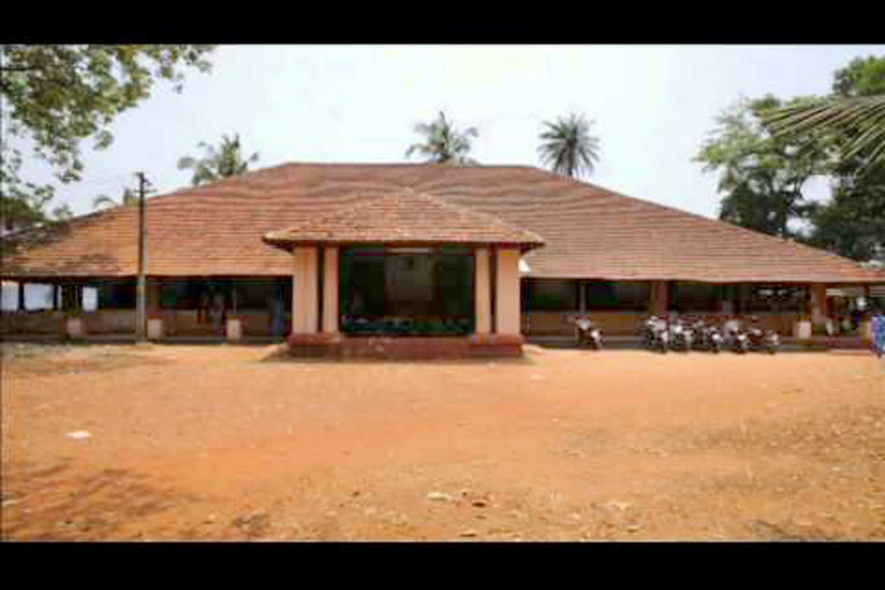 Hermann Gundert Museum and Study Centre (Picture courtesy: Terence Fernandes)
The heritage and language museum is expected to carry on the robust legacy of Gundert, and foster cultural exchange between Kerala and Germany. Language study centres worldwide are incomplete without a well-stocked library, and in this case, the authorities did not have to look too far to develop a library collection. The founding library for the German Study Centre came into being thanks to a personal library donation of more than 10,000 books by Dr. Marie Elisabeth Mueller, a German expert in digital and emerging media.
When Elisabeth visited the city of Kannur for the first time in early 2017, she was fascinated by the nicely tucked away, modest public libraries in every nook and corner of this coastal Kerala city. Little did she know that two years down the line she would be gifting her life's most prized possession to the book-loving community of Kerala.
Elisabeth's decision to donate her personal library to a city she had not known before, was nurtured by her multiple visits to Kerala's village libraries and interactions with librarians, educators, students, journalists and media professionals. She learnt that Kerala's public libraries, known as 'grandhashalas', serve as social meeting points, and not just reading places for the quintessential Malayalee.
Libraries are an integral part of Kerala's tradition, and while most Indian states are struggling to retain public interest in their existing libraries, Kerala cannot seem to have enough of them! There are 8,500 libraries registered with the Kerala State Library Council.
These libraries are like a second home for Keralites, offering a warm abode for the quiet reader as well as the enthusiastic orator. While the politically inclined engage in serious discourses on underpinnings of Government policies, often dissecting and scrutinizing local, national and international news articles, those with a literary bent keep their audiences entertained with flowery proses and mindless banter. Kerala's libraries also host literary events, social gatherings, and political meets to encourage a fruitful exchange of knowledge, views, ideas, and talents.
The uniqueness of this library model appealed to Elisabeth as it cuts across caste, creed, religious and linguistic barriers, taking libraries to the remotest villages of Kerala, to benefit the literate and the illiterate likewise. "The hospitality as well as the eagerness to learn and share knowledge, which I experience in Kerala, is heart-warming and priceless to me. I can't imagine a better place or person to hand over my library to, and see it purposefully used," says Elisabeth.
The media professional's 36-year-old personal library collection from her adolescent days has grown and literally travelled with her across continents over the past decades. It comprises of 10,000 books, 200 CDs, and 50 DVDs, most of which are in German.
The collection covers literature, philosophy, European history and fine arts of the 20th and 21st centuries, media theory, as well as biographies, travel books, maps, encyclopedias, dictionaries, text books in German as a foreign language, and a new collection of TV series and jazz and classics CDs. The entire editions of Goethe, Schiller, Heine, Hesse and other German authors are a part of this collection. Around 70% of the books are in German, rest are largely in English, and a couple are French and Malayalam titles. The original value of this collection is close to Euro 350,000.
Elisabeth had always wished to share her treasured collection with a wider community as she strongly believes that "books are for readers, not for shelves". She is hopeful that her library donation can "empower youth and all interested readers, with knowledge, and foster the vivid friendship between Keralites and Germans."
Earlier this year, Kerala received another overwhelming literary treasure chest from Hermann's home country. The texts, novels, and palm leaf manuscripts that Gundert donated to his alma mater Tuebingen University after returning to Germany in 1859 because of poor health, has been painstakingly digitized by the German university. The digitized collection in Malayalam, Kannada, Tulu, Tamil, Telugu, Sanskrit and other languages, is not strictly speaking from the Gundert legacy, as it includes some works of his missionary colleagues as well.
A total of 1,37,148 pages including 142 manuscripts were presented in their digitized form to Chief Minister Pinarayi Vijayan by Dr. Heike Oberlin, Professor of Indology at the Eberhard Karls University of Tuebingen. Around 24,000 pages of Gundert's work can be accessed free of charge from the university's website.
The author is an independent writer based in New Delhi. She writes on socio-economic and cultural issues. The views are personal.
Get the latest reports & analysis with people's perspective on Protests, movements & deep analytical videos, discussions of the current affairs in your Telegram app. Subscribe to NewsClick's Telegram channel & get Real-Time updates on stories, as they get published on our website.
Subscribe Newsclick On Telegram