Kinnars of Champaran: Deprived of Rights, Identity and Dignity
At last, transgender people in a Bihar town find themselves trapped in the web of exploitation, poverty and discrimination. They neither have an identity card nor any document to avail the benefit of any governmental scheme or to prove their citizenship at large.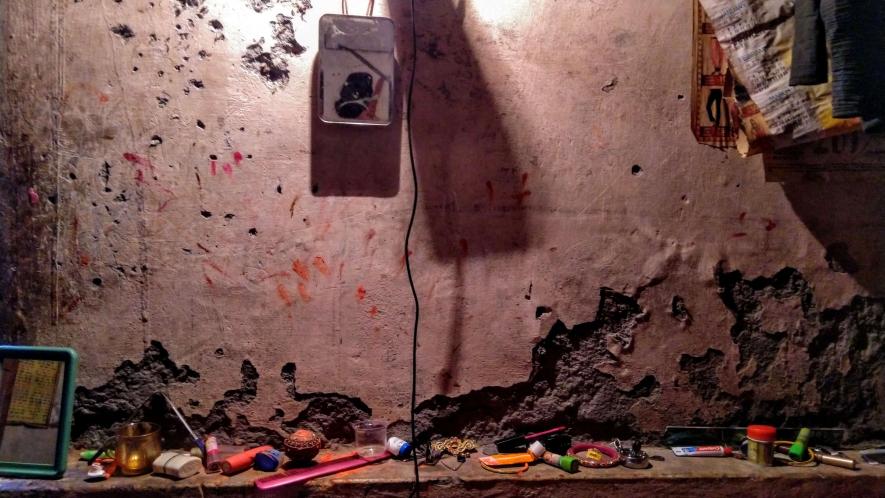 Mirrors, vermillion containers, lipsticks, combs, bangles, toothpaste tube and moisturiser cream
"We used to live in the ITI area of the town, but one day, our home was bulldozed," says Muskan Kinnar. "Our last hope was lost. We protested against this. District administration then promised that no one would disturb us again and they allowed us to live there. Where were we going to live? Our efforts had already turned to rubble."
Inside view of Muskan's room.
With a semi pucca structure, a fridge worth Rs. 38,000, a fan worth Rs. 1,000 and a second-hand TV set worth Rs. 4,000—bought from years of saving—were destroyed. It took 10 hectic days for these transgender people—who have been enduring all the odds utilising their survival instinct without external help till now—to locate a lodge.
When asked about this long delay, Muskan questions, "We lived in a tent for 10 days. Who accommodated us?" Then, a "kind woman" in this neighbourhood, after learning about their misery, had requested the owner of the lodge to allow the transgender people to stay there. It has been a year since Muskan Kinnar, Rabina Kinnar along with Guru Rubi Kinnar—who have given themselves a common surname 'Kinnar', meaning half-man in Sanskrit—fled to live three kilometres away, at this undisclosed* location, coterminous with Bettiah town's railway station area. Fourth person is Sanjana Kinnar, disciple of another Guru; they share two lodging rooms, each has a monthly rent of Rs 1300.
Metal roofing sheets transduce scorching sun to unbearable heat in summer, while winter season implies deadening of senses by cold. They earlier have faced this issue in the ITI area, but the bygone season of rain created a mess for them as their lodging rooms sit in a low-lying area.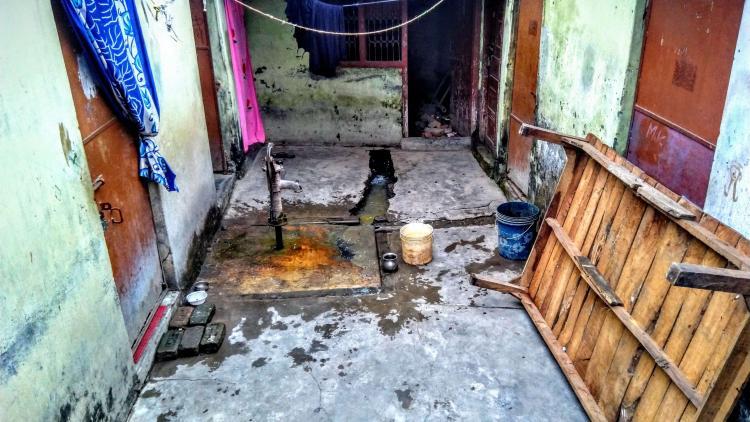 One handpump and one lavatory for five lodging-rooms; Guru Rubi's group members live in two such rooms.
Guru Rubi Kinnar has gone to Kolkata to meet some friends; so, we catch up with Rabina, Muskan, Sanjana and some guests from Panipat. Trans people, we are told, routinely go on such trips which they call 'mehmani'. For the members of the marginalised Hijra [umbrella term for eunuchs, intersex and transgender- people] community, this opens new avenues for establishing trust and friendship which may prove useful in difficult times. They have visited Dehradun, Haridwar, Ludhiana, Kushinagar, Benaras, Patna, and Samastipur among many others. Similarly, Muskan and Rabina plan to leave for Patna next day. Meanwhile, they are resting as the weather has severely deteriorated, restricting them from asking for alms. Trans people NewsClick spoke with were mainly dependent on the money gifted by train passengers; other sources of income, although negligibly small, are ritual performances on "auspicious" occasions like childbirth and weddings.
Also read: Murder of Gender Justice, Say Transgender Activists as Rajya Sabha Passes Bill
Rabina grows uncomfortable when we try to find her origin story through some questions about her birthplace, parents, village, religion, etc. Of course, she does not have an answer. Like her, others are clueless too. Only fact Rabina remembers is that her birth town is Padrauna in Uttar Pradesh. For the Hijra community, Guru-Shishya (mentor-protégé) tradition is a crucial thread. Guru, we are told, is mother-like for the disciples. Disciples also apply vermilion at the parting of the hair– they tell us that they do so in the name of their Guru. Trans people here prefer female pronouns which reflect their feminine subject position. Additionally, they conform to "Hijrahood", as Adnan Hossain discusses in 'Beyond Emasculation: Being Muslim and Becoming Hijra in South Asia, that
"[…] is an identity acquired through various and repeated ritual and gender practices that are described […] as hijragiri, 'the occupations of the hijra'. Those occupations are construed as acts of devotion to both Muslim saints and Hindu mother goddesses, an eclectic cosmological frame of reference that defines and is practically acquired in and through ritual practice."
To this, Rabina adds, "Yes, most of the Kinnars are ritually Muslims and they also pray to the Hindu gods. Our Guru is 'officially' known by Rubi 'Khatun' [a surname in Indian Islamic tradition]." Some Kinnars know the professed religion of their real parents, however, for many, like Rabina, the religion is an amalgamation of traditions. One can see a few posters of Hindu gods in their rooms; they confirm to have pasted them.
As the subject of the conversation switches to the ongoing protests against Citizenship (Amendment) Act, National Population Register (NPR) and the National Register of Citizens (NRC), the group told NewsClick that they do not possess documents like Aadhaar card [nor the unique number] birth certificates, voting cards, etc. None of them have exercised their right to vote yet, while they seemingly are older than 18 years of age. "A Kinnar rarely has any identity card," says Rajkumari, "most of us do not even have permanent address. We do not know who our parents are. […]"
As a result, these trans people do not have bank accounts. They mostly keep money in cash or deposit it into someone else's account for safety. Similarly, for requirements like SIM, they take help from others. Rajkumari quips, "Let them come to us. We will show them whether we are from Pakistan or Nepal." All burst into laughter; nonetheless, after learning about recent legislations, they are very much concerned if not troubled.
Also read: CAA/NRC: 'How Can We Show Papers', Ask Nomadic Communities in Maharashtra
The average daily income for a Kinnar, who begs on trains, is Rs 500. For each Kinnar, "the monthly rate is Rs 4,000," says Rabina, "which has to be paid to Railway Protection Force or RPF officers." "You will be found lodged in a jail if you do not concur with their demand."
"We normally go on every Thursday, Saturday and Sunday. For us, the route—between Bagaha and Sugauli railway line, 90 kilometres apart—is fixed. There are two morning trains we usually prefer: 'Saptkranti' and 'Satyagraha'," says Sanjana, adding that "going beyond these stations may invite brawl with other trans-groups. Similarly, we also do not allow any Kinnar from other areas on our route." This means that the source of income is heavily capped for these trans people. They also admit that they have faced harassment in the past at the hands of passengers and protection forces.
"In summer, we also went to Delhi to protest against some kanoon or law the government was enacting to snatch away our right to beg. Tell me how we will earn if this last option is closed. Who employs us? […]," questions Muskan. She had gone with all other friends to participate in a demonstration. They are referring to the protests against the Transgenders Persons (Protection of Rights) Act, 2019, which initially had mentioned that "whoever compels or entices a transgender person to indulge in the act of begging [author's emphasis] or other similar forms of forced or bonded labour other than any compulsory service for public purposes imposed by government […]" in Section 19 under Chapter VIII of the Bill. After the agitation, Social Justice and Empowerment Ministry was forced to remove the word "begging", which was to criminalise begging covertly, and the provisions for offences and penalties have now been shifted to Section 18 under the same chapter of the Act. Moreover, the newly introduced idea of the 'certificate of identity' does not allow self-determination of gender, viz. transgender, transsexual and intersex; the sentences for "sexual abuse" and "physical abuse" have been reduced too.
Unfortunately, these trans people were unaware of their rights, let alone the disadvantages of the Act. Further, they have no idea about what exactly certificate of identity is. In fact, they are illiterates. They somehow have learnt to operate mobile phones as "it was needed. We get to know about train timings through mobile applications," Rabina adds. "How could we receive proper education? How many Kinnars do you find studying in the schools?" questions Rabina.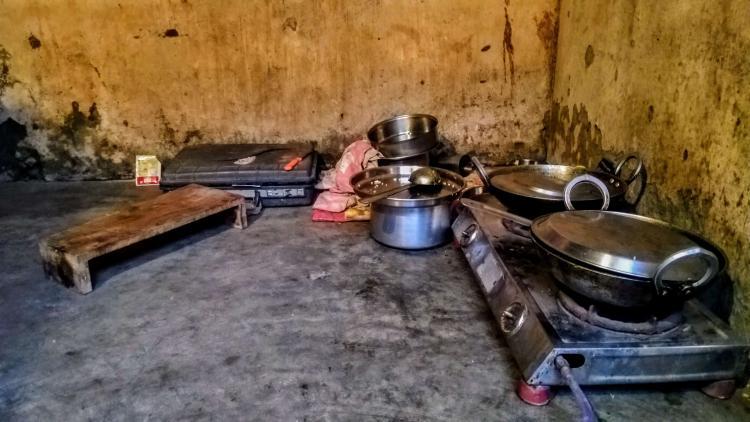 The group members share a single kitchen, set up in Rabina's room.
"As we move to and fro on Panipat-Delhi route, the guards also ask for bribe. But we do not pay. We are arrested and taken to the magistrate. There, we are fined Rs 1,000. This happens twice a month; at least the amount, if fined, goes to the government, not in someone's personal pocket," says Ragini Kinnar*, another guest from Panipat. Ragini says that transgender people there have established a medical facility for the community members. In contrast, "Bihar does not have any such facility or capable union," clarifies Rabina. "Bettiah has a maximum of 12 local Kinnars. Adjacent towns of Sugauli and Sikta have only 8 and 30 people, respectively, of our community."
Finally, Rabina shares a recent experience of transphobia: "In rainy season, many parts of this town were inundated. We were searching for rooms. Some houses even with 'to-let' boards didn't provide us accommodation." "Why?" "We also see it. However, they forget that we do have eyes," she answers herself.
*real names concealed
Also watch: Transgender Bill 2019 Confines Us to Mere Bodies, Say Activists
Get the latest reports & analysis with people's perspective on Protests, movements & deep analytical videos, discussions of the current affairs in your Telegram app. Subscribe to NewsClick's Telegram channel & get Real-Time updates on stories, as they get published on our website.
Subscribe Newsclick On Telegram