Kunal Kamra Sends Legal Notice to IndiGo, Seeks Lifting of Ban, Rs 25 Lakh in Damages
The stand-up comedian's lawyer said the pilot-in-command or Arnab Goswami had not made any complaint and therefore, as per the regulations, no action could be initiated against him.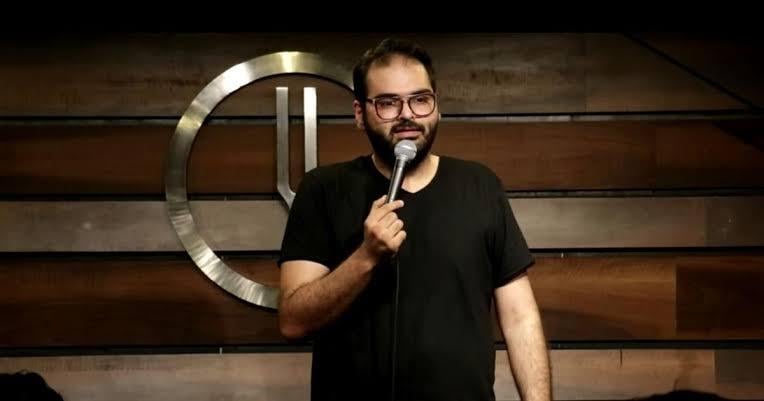 Image for representational use only.Image Courtesy : Scroll
New Delhi: Challenging the ban imposed by IndiGo, stand-up comedian Kunal Kamra has sent a legal notice to the private airline, demanding suspension of the ban along with a compensation of Rs 25 lakh.
IndiGo airlines had banned Kamra for a period of six months after he "heckled" Republic channel head Arnab Goswami on a Mumbai-Lucknow flight and recorded his one-way interaction with Goswami on January 28.
The notice asks the airline to pay compensation of Rs 25 lakh to Kamra, apart from a cost of Rs 1 lakh for the legal notice. The demand has been made "on account of adoption of a totally illegal, arbitrary and high handed procedure which is against the extant DGCA CAR on the subject matter", reported The Leaflet.
In its legal notice to IndiGo's CEO Ronojoy Dutta, Kamra's lawyer Prashant Sivarajan said Goswami had neither made any complaint nor requested the intervention of the cabin crew at any point of time during the flight.
Kamra has also demanded action against the errant officials responsible for imposing the instant ban "in abrogation of the DGCA CARs as notified under Rule 133A entailing imposition of penalty under S. No. 13 of Category III of Schedule VI of the Aircraft Rules, 1937".
This development comes soon after the pilot of the IndiGo aircraft, Rohit Mateti, recently said in a 'leaked' email to his management that he was disheartened that the airline had taken action against Kamra solely on the basis of social media posts, without consulting him. "Kamra's behaviour, while unsavoury, was not qualifying of a level one unruly passenger. […] Pilots can attest to incidents which were similar and/or worse in nature that were not deemed unruly."
Arun Kumar, director general of Directorate General of Civil Aviation (DGCA), too, had said that the ban is a clear violation of the Civil Aviation Requirement (CAR Section 3, Series M, Part Vl on Handling of Unruly Passengers) rules revised in 2017, but he later retracted.
As per the rules, the complaint of unruly behaviour by a passenger has to be filed by the pilot-in-command—in this case, Mateti.
After Kamra posted the video of his monologue on the flight on social media websites, many congratulated him for confronting Goswami—whose channel has been accused of peddling only the ruling Bharatiya Janata Party's propaganda, while being Islamophobic and extremely provocative in nature. However, Union Minister of Civil Aviation Hardeep Singh Puri had issued an advisory to all air carriers to take action against Kamra. "Offensive behaviour designed to provoke and create disturbance inside an aircraft is absolutely unacceptable and endangers safety of air travellers," he tweeted. "We are left with no option but to advise other airlines to impose similar restrictions on the person concerned."
Subsequently, Air India, SpiceJet and GoAir, too, prohibited Kamra from travelling with their aircraft "until further notice".
This turn of events had upset many, as Kamra had claimed to have apologised to the flight crew and had not done anything to endanger safety of the passengers or crew members on board. Many Twitter users even pointed out how the airlines had rushed to "do the government's bidding" while overlooking the rules to prosecute Kamra, who is often critical of the government.
Pilot Mateti, in a letter to the airline, said, "After the flight when most passengers had deplaned, Mr. Kamra requested permission to enter the flight deck to speak with me to personally apologise again. He did so. I asked him if his issue was political in nature, which he confirmed. I advised him that while we are all entitled to our opinions, there was a time and place to voice them, and that mid-flight was no place for it. He agreed, thanked us and left the aircraft. The flight deck crew briefly encountered Mr. Kamra again outside the LKO terminal where we were waiting for Hotel Transport. He apologised again and left."
He also wrote: "While Mr. Kamra's behaviour was unacceptable and verbally abusive, at no point did he not comply with Crew instructions. While he did briefly display Level 1 traits for Disruptive behaviour (ICAO Doc 9811), he was also immediately compliant of crew instruction, was never issued a red warning card and hence cannot be classified as such."
Mateti said that he did not find the events on the Lucknow-bound flight "reportable" in any way.
According to Kamra, the pilot-in-command has not made any complaint against him and therefore, as per the regulations, no action can be initiated against him, Sivarajan said.
The 2017 DGCA rules state that a passenger who verbally assaults anyone is deemed as "level 1" unruly passenger and he or she can be banned up to maximum of three months by the airline's internal committee.
Therefore, Sivarajan said, even if Kamra is found guilty by the internal committee, the maximum penalty under law is of three months. "Thus imposition of six months' ban is wholly illegal, manifestly arbitrary and non-est in law".
(With inputs from PTI)
Also read: Kunal Kamra Wasn't Unruly, Sad Decision Was Taken on Basis of Social Media Posts: IndiGo Pilot
Get the latest reports & analysis with people's perspective on Protests, movements & deep analytical videos, discussions of the current affairs in your Telegram app. Subscribe to NewsClick's Telegram channel & get Real-Time updates on stories, as they get published on our website.
Subscribe Newsclick On Telegram