LSR Students Flagged Issues Long Before Aishwariya Reddy's Suicide; Admin Didn't Pay Heed
E-mail communication between the students and the administration of Delhi's LSR college shows that timely action could have prevented the suicide of Aishwarya Reddy.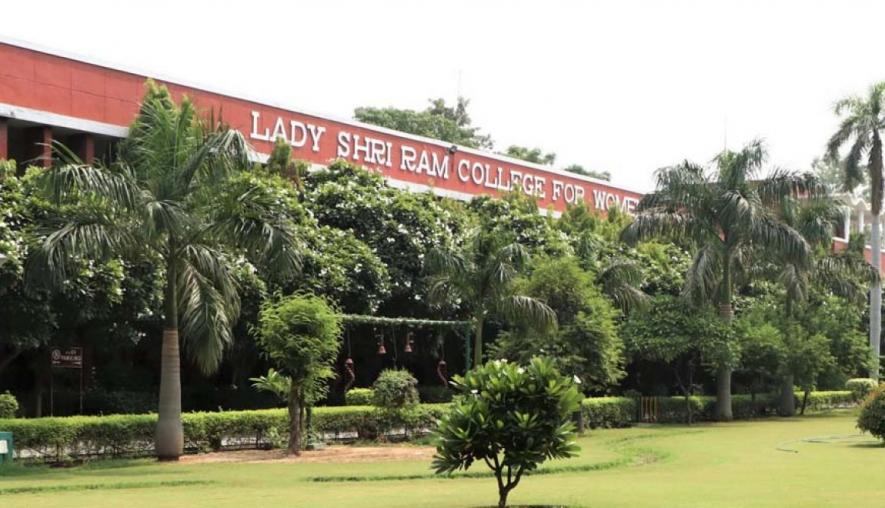 Image Courtesy: lsr.edu.in
Months before financial stress led to the tragic suicide of Aishwarya Reddy, a student of Lady Shri Ram College for Women under Delhi University, other students had flagged the issues of accessibility regarding online classes, fees and subsequent impact on their physical and mental health in a trail of mails addressed to the administration and hostel authorities, which NewsClick has accessed.
In her suicide letter, second-year student Reddy had said her family was facing financial constraints which further accelerated in absence of timely disbursement of the Inspire Scholarship given by the Department of Science and Technology. A general estimation of expenses borne by a hostel resident of the college suggests that her family was spending at least one lakh rupees per annum on her studies.
The trail of mails and letters sent by students before Reddy's suicide shows that the college hardly paid any heed to the suggestions by the students' body including curtailing teaching hours and syllabus, foregoing the fee of the semester and disbursing the money to the distressed students hailing from rural areas for enabling the infrastructure for attending online classes.
To begin with, the students of different departments and student organisations, led by the senior co-ordinator of the LSR Students' Union Unnimaya, on September 6 sent an e-mail to the advisor of the union, Rukhsana Shroff, highlighting the issues and presenting suggestions for further action.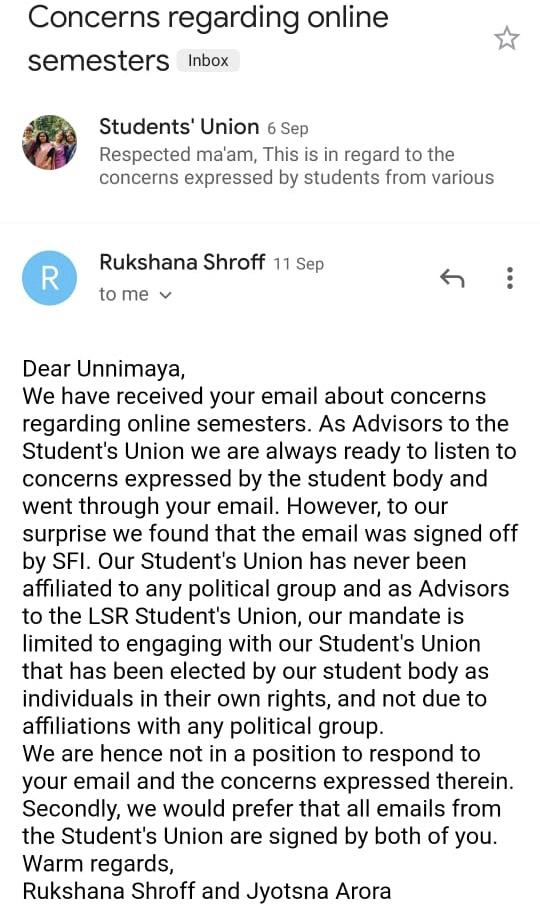 Among other things, the letter most significantly read, "It needs to be noted that there have been no concessions in annual fee or any promises of allowances being disbursed. LSR has not issued any notification for payment of fee. The administration must recognise that the annual fee includes infrastructural facilities and services which we are not availing and therefore fee abatement is a fair expectation from students...the attendance policy remains unaltered even in light of this unprecedented situation. It is unfair to expect students too have high attendance records even as material conditions restrict it." The colleges of Delhi University generally follow a rule of at least 75% attendance to be eligible to appear in the semester examinations.
Shockingly, Shroff found that the letter could not be considered due to the association of some pupils to the left-wing student organisation Students Federation of India (SFI). In her reply, Shroff wrote, "As advisors to the students' union, we are always ready to listen to concerns expressed by the students' body and went through your mail. However, to our surprise, we found that email was signed off by SFI. Our students' union has never been affiliated to any political group and as advisors to LSR Students' Union, our mandate is limited to engaging with our students' union that has been elected by our students' body as individuals in their rights and not due to affiliation to any political group. We are hence not in a position to respond to your email and the concerns expressed therein."
Baffled by the response, the committee for inclusive education formed by the students released the results of a survey conducted among 1,400 pupils on September 9. The survey found that 60.6% respondents did not have a stable internet connection to attend the classes. Importantly, 95.5% respondents admitted that the online classes were affecting them physically and mentally. The students allege the administration completely ignored the findings.
Three days later, the students' union on September 12 again wrote a letter to the Principal and Vice Principal of the college but did not receive any reply. Given the gravity of the situation, the students from the departments of English and History had written letters to the professors demanding relaxation in attendance norms and extra measures for deaf and students with low vision. One of the letters written by the students of the History Department read, "For students with disability, and partially sighted folks in particular who use accessibility features other than TalkBack (such as magnification, selective Text-to-Speech) the online classes put an extreme amount of pressure on already depleting eyesight. Those with degenerative retinal disorders hold a serious chance of further vision loss."
It added, "Students who are deaf face problems with subtitles provided by Google Meet (which work but are not entirely functional and reliable). Post 8.45 AM to 4.30 PM classes, even after talking to classmates about notes and queries, it takes many hours to note them down and understand what transpired in all classes. This barely leaves any time to relax physically and mentally, further compromising on the stresses faced by students with disabilities." However, the situation did not deter teachers of the English department who later shifted the blame to Delhi University.
The mail trail further suggests that students have been demanding accommodation for three years for outstation students against the existing policy of one-year accommodation to first-year students only. However, the situation further worsened when the hostel warden, citing rules, asked students to vacate rooms by October 31 this year. The abrupt notice by the warden sent jitters among students about prospects of vacating and finding an accommodation amid the raging pandemic in the national capital.
Still awaiting a humane reply
Unnimaya, the Senior Co-Ordinator of LSR Students Union who has been voicing the concerns of the students told NewsClick that the students are still awaiting a humane reply to the suggestions of reducing the teaching hours and syllabus, fee relaxation and allowances for procuring digital equipment. She said, "The principal is still non-committal even after the death of Aishwarya Reddy. This is an unprecedented situation and everyone must act accordingly." Further detailing obstacles faced by students, Unnimaya said, "I know a friend of mine based in Kashmir who is really stressed about her classes. She cannot attend them because she neither possesses a laptop nor has a stable internet connection. Another friend who studies in Ramjas College lost his father after he was infected with the coronavirus. Now, his friends are running a campaign to raise funds so that he does not drop out. The only relief we got is that Delhi University has relaxed attendance norms. The teachers are apprehensive about recording the classes and uploading them on digital platforms because they think it can be used against them for political reasons."
Unnimaya emphasised that the biggest relief the students want is to forego the fee for the year. "Many parents lost their jobs and funding studies for their children is their biggest concern. The brunt would be borne mostly by women students and Aishwarya's suicide validated it. Even after it, the college administration thinks that it has been unjustly blamed. They must understand that all we need is a humane response."
Get the latest reports & analysis with people's perspective on Protests, movements & deep analytical videos, discussions of the current affairs in your Telegram app. Subscribe to NewsClick's Telegram channel & get Real-Time updates on stories, as they get published on our website.
Subscribe Newsclick On Telegram