Language War in Assam, Miyah Muslims Allege Harassment
A section of Muslims has called for Bengali-origin Muslims to register their language as Bengali in the upcoming Census 2021, overturning decades of being recorded Assamese.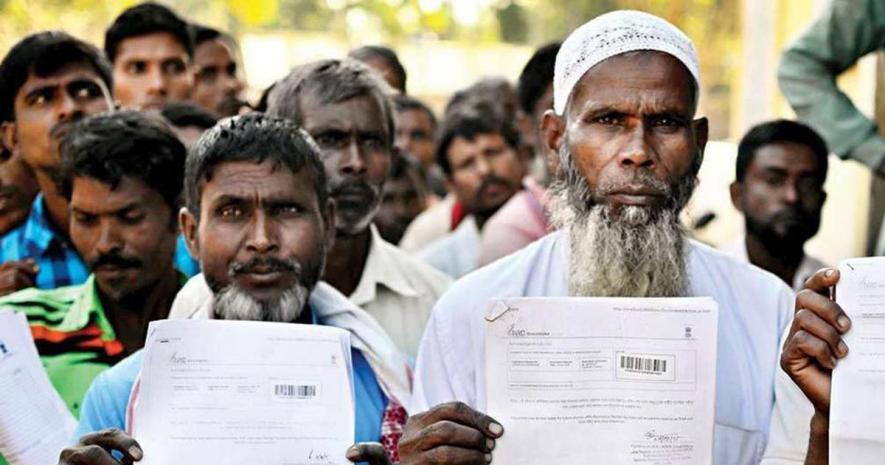 Image for representational use only.Image Courtesy : Scroll
Ethnic and language wars have been a hallmark of Assam politics for more than 100 years now. This time, amid the ongoing National Register of Citizenship's (NRC) exercise and the publication of an exclusion list of more than a lakh people on June 26, another war of languages looms large. As the fear rises, a fringe Facebook group called "Chalo Paltai — Mission 2021" has already given a call to the Bengali Muslims of the Brahmaputra valley to change their adopted language – and identity – from Assamese to Bengali in the upcoming Census 2021.
Why? Because they are angry with being called Bangladeshi infiltrators into Assam, or being called Miyahs, an Urdu word for gentlemen, which is often used as a derogatory term to identify them by the Assamese.
The word Miyah made the language war even more intense on July 2, when an Assamese newspaper Niyomiya Barta, allegedly owned by Assam BJP's heavyweight minister Himanta Biswa Sarma published a report against a literary movement called "Miyah Poetry" initiated by Assamese Muslims and reportedly to be funded by money from the Middle East.
Interestingly, noted Assamese writer and journalist Homen Borgohain is the editor-in-chief of the Niyomiya Barta, who returned his Sahitya Akademi award in 2015, citing "growing fascist tendency in the country" ruled by the Bharatiya Janata Party as a cause for returning the award.
Miyah Poetry and Chalo Paltai: Resistance and Assimilation Going Together
There are both differences and similarities between the Chalo Paltai group and the people writing Miyah poetry. The Facebook group's name Chalo Paltai, meaning Let's Change, was borrowed by the BJP from a popular Bengali movie during its pre-poll campaign for Tripura Assembly elections in 2018. It is literally a war cry by the Bengali-speaking Muslims of Brahmaputra valley to change their identity acquired since the 1951 census. Miyah poetry is merely a literary movement asserting their identities and writing about their crises. Unlike Chalo Paltai members, Miyah poetry writers do not want to shed their Assamese identity. They rather want to assimilate their culture and literature with the larger Assamese society. What they all seek is recognition, of both their language called Miyah language — which is a mix of Mymensingh dialect, Assamese and Bengali and evolved over decades — and their identity as Miyah, as a part of the Assamese society.
Common Factors and Disagreements
The common factors that somehow connect the two different issues are — both of them are perceived as threats by the mainstream Assamese society and both of them are run by Bengali Muslims of the Brahmaputra valley. But here ends the story of connection. Dr. Hafiz Ahmed, a leading proponent of the Miyah poetry and head of the Char Chapori Sahitya Parishad, the most prominent literary body representing the community, is up against the Chalo Paltai movement. "We, the Char Chapori Sahitya Parishad have been against these Bengali ultra-nationalist movements. The basic thing is that these people have been considering themselves Assamese since 1899 and have assimilated themselves with the Assamese language, culture and literature. Now, after more than 100 years, we are considered Assamese by majority of the people."
"They had begun accepting Assamese as their identity on a large scale in 1951, and Jyoti Prasad Agarwala called them Naࣤv-Axmoiya (Neo-Assamese) Maimensinghiya. Since then, a process of assimilation has been going on, it has gone long ahead now, people of Char-Chapori (sand-bed) areas have given their lives in the name of the Assamese language. What I want to say is, we need to live in harmony and stick to the decisions made by our forefathers. The way Misings, Tiwas and Karbis are parts of the greater Assamese society, we also are part of it. If some people do not consider us Assamese, that is not our concern — because Bishnu Prasad Rabha has taken us along, Jyoti Prasad Agarwala has considered us Assamese, Hiren Gohain has accepted us. If some folks practising evil politics don't consider us Assamese, I do not have words for them," he further added.
"Some youngsters, whatever they are doing on Facebook is not my concern at all. Some are in favour of Chalo Paltai, but they are not the flagbearers of our society," he also said.
The Counter Argument by Chalo Paltai
"They (Assamese) are calling us Bengali-origin Muslims, Bangladeshis, Geda (originally meaning a guy, now used as a derogatory term for Muslim Bengalis) and we have to bear with all these humiliating tags, as well as the detention camps. How many Assamese are there in the detention camps? We want to vet all the people in the detention camps once again. You will find that more than 90% people have been detained without any fault, simply because of a mismatch of names, and such minor errors. You can find only Bengali-speaking Muslims and Hindus in the camps, and because of all this, now we have the Chalo Paltai movement, emerging out of the passion and harassment of Hindu and Bengali Muslims," said Abu Eusuf Mohammad Raihan Uddin, one of the admins of the Chalo Paltai Facebook page, at Guwahati Press Club on June 30 when Mia (Axmoiya) Parishad, a body of Miyahs called for an open debate with the Chalo Paltai group.
"These people in the detention camps are mostly from the poor sections of the society, who don't understand even the 'L' of law. They are being harassed only because they speak Bengali, and for nothing else. So, until and unless such illegal harassment of minority community stops, there is no force that can control or stop Chalo Paltai," added Raihan, who is an electronics and communications engineer from lower Assam's Nagaon district.
"We don't know for whatever reasons our forefathers adopted Assamese identity. Actually, the Bengalis were more affected because of this identity. Only 10 to 15% Assamese people have divided us between Hindus and Muslims for the sake of politics," added Raihan. He and his group are apparently combining Hindu and Muslim Bengalis together. Such unity would increase the political clout of Bengalis as they will become a numerically big group.
The BJP is playing a different game: it is luring the Hindu Bengalis with the Citizenship (Amendment) Bill 2016, while letting the Bengali Muslims to be divided and fight among themselves. The BJP's objective is to consolidate the Hindu Bengalis and Assamese together and isolate the Bengali Muslims — as was seen in the results of the recent Lok Sabha polls where BJP begged the maximum number of seats in Assam — 9 out of 14.
A Brief History
The history of Muslim and Hindu Bengalis coming to Assam dates back to as far as 1826 when the British annexed Assam with the Bengal Presidency. A large chunk of Bengalis were brought into Assam by the colonial rulers mostly for clerical jobs (Hindu Bengalis) and cultivation of the riverine tracts (Muslim Bengalis). The Muslim immigrants were, in a later phase, offered contractual ownership of lands. This lured more Muslims to flock in to Assam, as a result of which the majority Assamese sentiments gradually started going against the Muslims. Mainly the local peasants did not like the idea of Muslim Bengali peasants grabbing their land.
The Hindus were placed at higher clerical posts. So, the wave of latent fear of being minority and hatred went mostly against the Muslim peasants. However, there were eminent Assamese intellectuals, such as Dhaniram Talukdar of Barpeta, who started initiatives to calm down the fear psychosis and urged the Bengali Muslims to start adopting Assamese as their language, to which the Muslims willing responded. Joynath Bora also requested the newcomers to adopt Assamese identity in his famous book titled Axomot Bideshi published in 1925. The Hindu Bengalis were already in a superior position, and so they did not have to succumb to any such request or anxiety. They always kept their medium of education and identity as Bengali.
The second wave of fear and anger that engulfed the Assamese minds came when the Saadullah ministry of Assam (1937-41) under a scheme known as "grow more food" brought a large number of Bengali-speaking poor, landless and exploited Muslim peasants to Assam from neighbouring districts of East Bengal and settled them in a planned way in the erstwhile districts of Kamrup, Nagaon and Darrang. After the Partition, there had been a wave of riots between Bengali Muslims and newcomer Hindus in Assam, particularly in Goalpara district. This pushed many Muslims to flee to the newly formed East Pakistan. A large chunk of them, however, came back to Assam following the Nehru–Liaquat pact ensuring security for both communities on both sides of the border. Then onwards, the Bengali Muslims began adopting Assamese as their identity.
The Mainstream Assamese Response to Chalo Paltai
While the two Muslim groups are now fighting between themselves, the Assamese – afraid that they might become a minority - are taking cautious steps to have an equation with at least Muslims who still want themselves to be considered both as Miyahs and Assamese, a mingled identity though favouring the Assamese. This would ensue that the Assamese remain in their dominant position. That's why, Dr Hiren Gohain sends a cautious message, saying, "In the decades before Partition, there was serious tension between locals and immigrant Muslims because the greater part of them were militant supporters of Pakistan. After Partition, the locals demanded that those who had come in three decades before the Partition should return to their homeland. They suffered from great insecurity."
Continuing, Gohain further said, "The Congress leadership found a solution. If they accepted Assamese as language of education and official business, they will be treated as citizens. This has ensured lasting peace, broken in the early 80s by violent communal propaganda under political guise."
"But this agreement still serves as bulwark against vicious conflict. Going back on it will re-light violence and disorder," cautioned Gohain.
All Assam Students' Union advisor Dr. Samujjal Bhattacharya also appealed to the people not to react TO the Chalo Paltai movement at all. "Actually there is no need of any reaction on this issue. But as you are asking, this Chalo Paltai word was first introduced in the Tripura elections. Now we are closely observing the whole situation. It's a conspiracy of the divisive forces. So, we are appealing to the people not to fall for such a conspiracy, but we are determined to protect our language, culture, identity in our own motherland."
Har Kumar Goswami, a social activist associated with Forum for Social Harmony, however, responded to the issue in a slightly different manner, expressing sympathy with the Bengali Muslims of the Brahmaputra valley. "These days a part of the Miyah Mulsims, precisely speaking, a small group of youth, have initiated this program called Chalo Paltai. As far as I know, already there are debates going on within the Muslim community itself. Many have gone against it; many are smelling a political conspiracy behind it. Well, I saw a video of these people who started this movement. Now, it's their personal matter how they will identity their culture or their linguistic identity in the coming Census. So as an outsider, I don't think I am anyone to comment on it."
"They have got personal rights to identify themselves either as Bengali or as Assamese; they have the right to call themselves simply as Miyahs too, apart from being Assamese or Bengalis. But I have seen many over-reacting on the issue, which I don't think is a good step. Although since 1950, the Muslims have been identifying themselves as Assamese, why they should think about altering their identity in the 2021 Census is a serious question. We need to think deeply about the reason why this is happening," he added.
Further analysing the situation, he said, "We need to accept without any doubt that even though the Muslims comprise a large chunk of the population, today they are facing several types of injustice. Take the example of NRC, where despite having all the correct documents and their names enlisted in the draft list, they have faced massive objections against their enrolment. Isn't it harassment? Some people, even though a small group, are covertly involved in harassing these people, but the majority of us have kept maintained complete silence on these issues. There should have been protests against these harassments, which is not happening, for which the Muslims are feeling deprived and finding themselves aloof. Maybe these are reasons why these types of movements have erupted."
The fear psychosis and anger is playing on both Assamese and Bengali sides, but maybe it is the right time for the Assamese intelligentsia and leadership to take the right steps to make some amends, voice concerns on the alleged injustice happening in the name of NRC and detention camps — at least to avert any "divisive forces" playing with Assam's integrity as AASU's Samujjal Bhattacharya observes.
The writer is an independent content management consultant in Assam. The views expressed are personal.
Get the latest reports & analysis with people's perspective on Protests, movements & deep analytical videos, discussions of the current affairs in your Telegram app. Subscribe to NewsClick's Telegram channel & get Real-Time updates on stories, as they get published on our website.
Subscribe Newsclick On Telegram