Left Parties Come Together for Joint Conference in Bengaluru
The leaders used the common platform to speak about workers' rights in the era of rapid privatisation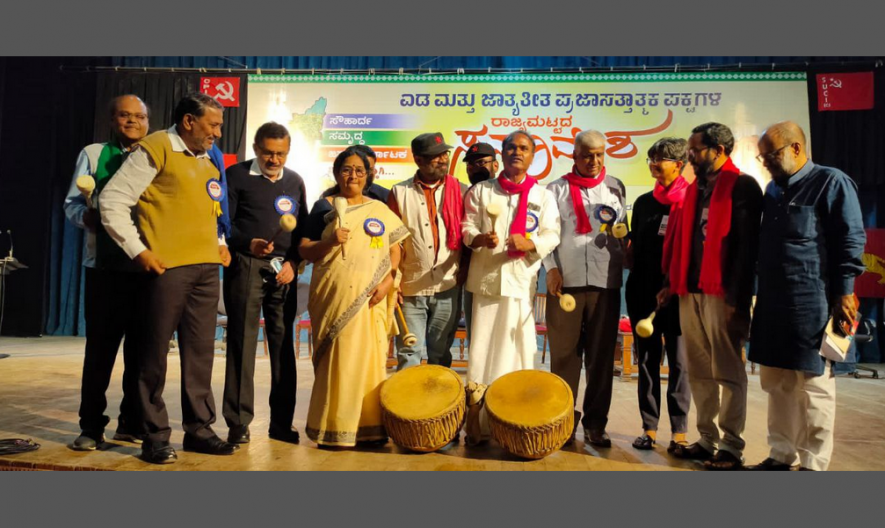 On July 16, the left and democratic parties held a conference in Bengaluru to discuss ideas pertaining to education, employment, farmers, workers and human rights. The parties in attendance were the Communist Party of India (Marxist) - CPI(M), Communist Party of India (CPI), Socialist Unity Centre of India (Communist) - SUCI(C), Communist Party of India-Marxist Leninist (Liberation) - CPI-ML, All India Forward Bloc (AIFB), Republican Party of India (RPI) and Swaraj India. The state-level convention was held at Ambedkar Bhawan and saw around five hundred people in attendance.
A booklet on alternative policies was launched at the conference. These policies address the problems in the agricultural sector, industrial sector, education sector, health, land rights, distribution of resources, caste atrocities, administrative language, corruption and protection of people's rights. The political parties are calling for struggles around these policies.
The new vision in the industrial sector involves regularising all contract workers and doing away with the contract system of labour; enacting laws to recognise labour unions; implementing fair minimum wage laws in all industries; industrial developing of impoverished regions; opposition to privatisation in public sector industries and rollback of the four new labour codes.
The proposed policies for dalits and Adivasis include reservation in the private sector; prohibition of child labour, bonded labour and devadasi system; rehabilitation of manual scavengers; land rights in forests for Adivasis; ensuring benefits of reservation reach all scheduled castes and tribes; implementation of caste census; and withdrawal of Karnataka Protection of Right to Freedom Law, 2021 (the anti-conversion law).
The new ideas for land & agriculture reforms include reduction of land ceiling limits and redistribution of land to Dalits and other landless communities; a rollback of amendments made to the Karnataka Land Reforms Act, 1961; transition from corporate farming to cooperative farming; transfer of land ownership to peasants who are cultivating government and forest land; provision of homes with toilets for agricultural labourers; expansion of the network of cooperative banks and public sector banks; a rollback of Karnataka APMC Act, 2020 and implementation of MSP at 50% margin above the cost of cultivation.
CPI(M) Karnataka State Secretary, U Basavaraj spoke about the lingering problems that persist despite 75 years of independence. Addressing the conference, he observed, "Farmers and peasants are facing many difficulties in the country. Unemployment is on the rise. Marginalised communities are still in distress due to untouchability, caste atrocities and religious persecution. Ruling governments have failed to address inequality. There has been economic progress in the country. However, the result of this is that rich people have become richer, while the working classes are struggling to survive. In Karnataka alone, there are 1.45 crore BPL ration card holders. Peasants are earning less than Rs 2,000/month. Farmers' suicides are still common. India has the highest number of bovine deaths, compared to anywhere in the world. The current economic policies are the root cause of all these problems. We need land reforms to be drafted in favour of farmers and workers. We need to ensure a decent minimum wage. If we want a peaceful, prosperous and people-oriented state, the left parties must work to establish democratic policies."
CPI leader, Ramakrishna, spoke about engaging workers through political movements. Addressing the conference, he said, "Our Anganwadi workers are not earning even the minimum wage. After many struggles and protests, their salary is now Rs 10,000/month. The cooks and helpers are earning Rs 2,000 - Rs. 3000/month. The reality of today's times is that workers need to earn at least Rs 30,000 to meet all the monthly expenses. The workers have demanded that the minimum wage be revised to Rs. 26000/month, but the government is not ready to listen. The Bourgeois parties are crushing farmers, workers, students and women. Can we solve all these issues just by protesting? No. The democratic and secular parties, through workers' unions, have to engage workers to think and organise politically. We have to expose the agenda of bourgeois parties and create an alternative platform."
Speaking to NewsClick over the phone, Clifton D'Rosario, of CPI-ML spoke about the need to have a joint platform of democratic parties. He said, "This is a unique period in history where we have an all-out attack on the constitution and democracy. The nature of society itself is being changed. This sets it apart from even the period of emergency. It's very important for left and democratic parties to come together and collaborate. That is why we initiated a joint conference. We recognise that Karnataka is a social laboratory for the RSS. As progressive parties, we are going to stand together and fight that."
Rosario suggested that there may be a possibility of collaboration for the upcoming assembly elections in Karnataka, however, the effort is for something beyond elections. He said, "the district committees of our organisations will have discussions and meetings. The agenda is to take up the issues faced by the agrarian sector and the working class. We have a common vision for the state."
Socialist Unity Center of India (Communist)-SUCI(C) State Secretary, K. Uma spoke about the commercialisation of education and alleged that the government is looking to shut down public schools and colleges. Addressing the conference, she said, "The central government has announced that the education sector is a good avenue for investment and handed it over to the business sector. Our state was the first one to implement the National Education Policy (NEP), and around 8 states have followed suit. Now students will have four-year degree courses and will be given a certificate after each year. We have to inform people that these certificates are worthless. The need of the hour is for hiring good teachers in public schools and colleges. instead, they are more intent on saffroning the curriculum through the likes of Rohith Chakrathirtha."
R Mohan Raj, state president, Republican Party of India (RPI) spoke about the consequences of rapid privatisation. Addressing the conference, he said, "Oppressed communities and women got rights only due to the 41-year-long struggle of Dr Baba Saheb Ambedkar. However, today, the ruling party in the country is trying to undo his work by destroying the Constitution of India. We can see the speed with which Public Sector Industries are being privatised. This directly hurts excluded communities. The policy of Privatisation is being implemented to destroy reservations. The ruling governments are trying to bring back the days of slaves and serfs. Back in 1936, Dr Ambedkar started the Independent Labour Party to protect the rights of workers. Today, the left and democratic parties have come together to do the same and build a better Karnataka."
According to the members who attended the conference, the left parties in Karnataka have held joint protests on several issues in the past. However, due to the pandemic, there has not been a conference of this scale in more than 4-5 years.
Get the latest reports & analysis with people's perspective on Protests, movements & deep analytical videos, discussions of the current affairs in your Telegram app. Subscribe to NewsClick's Telegram channel & get Real-Time updates on stories, as they get published on our website.
Subscribe Newsclick On Telegram