Why Lynching Victims Don't Need Special Laws
Our laws already proscribe murder and communitarian crimes and these need to be strictly followed.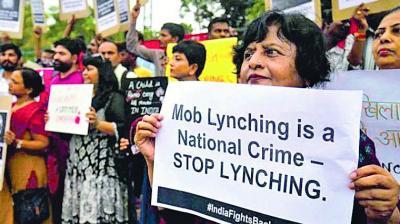 Representational image. | Image Courtesy: Deccan Herald
The Rajasthan Legislative Assembly recently passed a Bill providing for life imprisonment and a fine of up to Rs 5 lakh to convicts in cases of mob lynching that lead to the death of victims. If a victim is hurt by a lynch mob, the perpetrators can invite up to 10 years in prison and a fine of Rs 25,000 to Rs 3 lakh, depending on the extent of injury.
The Rajasthan Protection from Lynching Bill, 2019 was passed amidst vociferous protest by the opposition Bharatiya Janata Party (BJP), which wanted the Bill referred to a Select Committee.
The new Bill defines a mob as a group of two or more individuals. It defines lynching as a violent act or series of acts, spontaneous or planned, by a mob. The definition covers violence motivated by religion, race, caste, sex, place of birth, language, dietary practices, sexual orientation, political affiliation or ethnicity. The law now awaits the governor's assent.
This new Bill is nothing but a belated legislative attempt. It is over a year since a notice was issued by the Supreme Court that asked all states to prevent lynching and punish the wrongdoers. In 2018, the Supreme Court had urged Parliament to enact a law to deal with lynching. A three-judge bench led by the then Chief Justice of India, Dipak Mishra, had condemned lynching and noted that the state was responsible to uphold the rule of law and pluralism, both of which were at stake as the cases of lynching rose exponentially.
The court's directions to curb the menace included preventive, remedial and punitive steps. It had asked the Centre and states to broadcast the dire consequences of indulging in lynching and mob violence. It wanted special courts to hear lynching cases which would conclude trials within six months. Importantly, it had wanted dissemination of messages that provoke violence to be controlled. There was a slew of other directions.
Under the existing legal framework of the Indian Penal Code (IPC) Section 34, deals with cases where a 'common intention' binds two or more people who commit a crime. At present, this section is relevant to the trial of offences such as mob lynching. For example, in the trial of the 1984 anti-Sikh riots cases, the accused were charged with criminal conspiracy, rioting with a common object, statements conducive to public mischief and murder.
In other cases of mob violence, Sections 304 or 302 of the IPC, read with Section 34, have been used to prosecute mobs for the common intention of murder or culpable homicide. Section 149 is also used to punish those who joined an unlawful assembly and under Section 147 for rioting. However, there is little clarity on the distinction between Section 34 and Section 149 in their application to the prosecution of group crimes. Even the Supreme Court's jurisprudence on the issue is unclear. This leads to ambiguity in the prosecution of group crimes.
Section 505 also provides punishment for those who make statements 'creating or promoting enmity, hatred or ill-will between classes'. This provision seeks to punish those who make or publish WhatsApp forwards that incite others to indulge in mob violence or lynching. Clause (3) of the section seeks to punish those who commit offences in places of worship; for instance, the recent violence committed in mosques in Haryana.
The anti-lynching Bill does not add to the maximum punishment (life imprisonment and fine up to Rs 5 lakh for death) as the IPC already prescribes. Similarly, in cases of grievous hurt, the quantum of punishment given in the new Bill is the same as under the IPC. The only change is regarding the quantum of fine.
Whether the law against mob lynching is efficacious is yet to be seen. However, the recent verdict in the Pehlu Khan case exposes the serious institutional lapses in cases of this kind. The principal reason why all the accused were acquitted is that the six persons named by Khan were not named in the police's chargesheet.
There is an institutional bias in favour of cow vigilantes, who belong to majority community, and this is apparent in how the police investigates these cases. Political support to the perpetrators has also boosted their morale. In some states, politicians have even supported lumpen vigilantes. For instance, former Union minister Jayant Sinha felicitated the eight men who were later convicted for lynching a Muslim man in Ramgarh, Jharkhand.
Such events send a signal to the police not to nab the criminals. The police system, therefore, must be reformed to disrupt the police-politician nexus. Moreover, steps must be taken to reward the Good Samaritans who attempt to prevent riots and lynching. This is essential to curb bystander apathy and will sensitise the crowd that witnesses violence without intervening.
In the absence of strong political will against lynching and mob violence, it is possible the new law will not be diligently enforced. For, institutional bias persists even in the existing legal framework, which is why the conviction rate is dismal in cases where vulnerable identities are the victims in particular.
A news report finds that of all the cases investigated in 2016 under the Scheduled Caste and Scheduled Tribes (Prevention of Atrocities) Act 1989, a chargesheet was prepared in only 77% of these cases and the rate of conviction was barely 16%. Witnesses turned hostile, prosecution was delayed, the parties lost interest due to long delays in trial, there was lack of evidence and various other hurdles, as a report of the Union Ministry of Social Justice and Empowerment itself records.
Yet, the court has still determined that a special law of the kind the Rajasthan Assembly has cleared is necessary. The belief is that a new law would instill fear among perpetrators, though there is no sound evidence supporting it. That the court did not explore how existing laws have failed to cope with the growing instances of mob violence does not help either. Whether the existing law is inadequate or the law-enforcing authorities have failed, has not been examined by the court.
Mob lynching is the result of a particular set of social and psychological factors and circumstances. Such crimes flourish in a political atmosphere that looks the other way while lynching explodes on the social landscape. Hence, to simply criminalise the act, without taking contributing factors into account, is bound to be inadequate.
This is why Rajasthan's new legislation has sparked a debate around their efficacy. According to some, the crime being proscribed is still "murder", which is already penalised under the IPC. Hence, the argument is that a whole new law is unnecessary. A better-equipped, more intelligent and sensitised enforcement mechanism—one that makes existing legislative and judicial systems effective—will undoubtedly be far more valuable and effective to stem the violence of mobs.
Bhaskar Kumar and Prannv Dhawan are third-year students at National Law School of India University, Bengaluru. Dhawan founded and edits the Law School Policy Review.
Get the latest reports & analysis with people's perspective on Protests, movements & deep analytical videos, discussions of the current affairs in your Telegram app. Subscribe to NewsClick's Telegram channel & get Real-Time updates on stories, as they get published on our website.
Subscribe Newsclick On Telegram