MGNREGA Execution Poor in West Bengal, Centre's Attitude Also Questioned by Social Activists
TMC supporters often get preference when MGNREGA job cards are issued in West Bengal. Social activists have complained that the Central government is not serious about the scheme's implementation, repeatedly highlighted in its allocation of funds.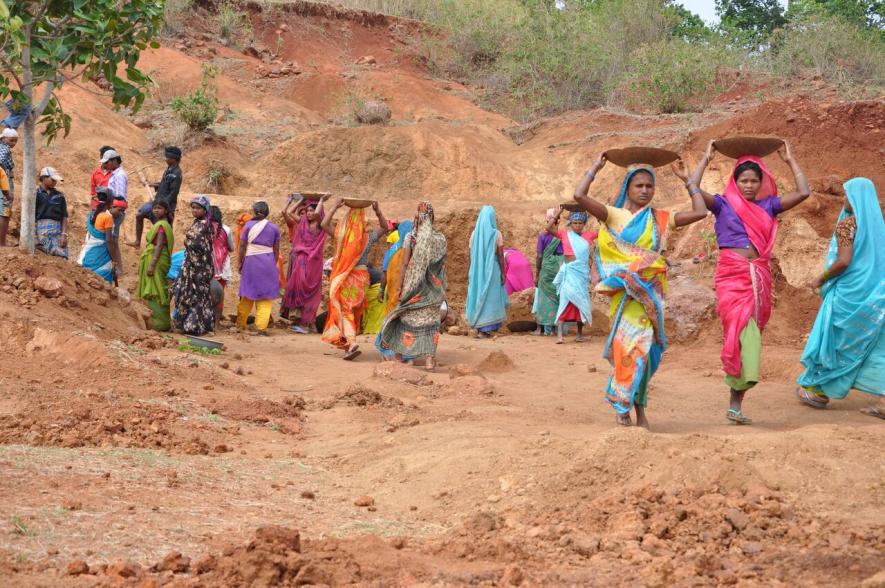 Image Courtesy: The India Forum
Kolkata: About 70% of an estimated 10 lakh migrant workers who had returned to West Bengal during the two waves of the pandemic have gone back to their home states after failing to get work.
Migrant workers who have gone back and those who stayed hoped to get engaged in the 100-day rural job scheme under the Mahatma Gandhi National Rural Employment Guarantee Act 2005 (MGNREGA).
Earlier, during various peaks of the COVID-19 pandemic, these workers returned to their homes to be with their loved ones, hoping to receive job cards under the MGNREGA scheme. But, as revealed by social activists and trade union leaders who regularly interact with the rural labour force while tracking the execution of the 100-day job scheme, "eking out a living in their home states" proved to be a tricky proposition.
Even in West Bengal, it has been pointed out the implementation of the scheme has left a lot to desire for. State committee member of the Paschim Banga Khet Majoor Samity (PBKMS) Anuradha Talwar told NewsClick that there was a considerable unmet demand for jobs, and the scheme's implementation may be considered satisfactory only in a few of West Bengal's 23 districts.
PBKMS is active in about a dozen districts. Talwar mentioned the backward Purulia district, where the execution track record was good.
As per Talwar, there are several reasons for the scheme not making the desired impact. The MGNREGA wage rate is low when judged against "market rates", evident during harvesting. She pointed out the 'dadagiri' of the ruling party activists, with officials often joining hands. As a result, the ruling party supporters are often the preferred lot when job cards are issued.
"A worker may have been engaged for, say, 14 days in a given period. A Trinamool Congress leader of the area will tell that worker: "See, for you, we have allocated six days' work this time. Therefore, when your dues for 14 days are deposited in your bank account, you should give us eight days' wages after withdrawal." Such allegations are frequently heard," Talwar highlighted.
Corroborating much of what Talwar said was chairman of Paschim Banga Kisan Congress (PBKC) Tapan Das, who told NewsClick that faking of thumb impressions was rampant and intermediaries still held sway. In a somewhat different context, Das gave the example of the paddy procurement centres, where middlemen regularly elbow their way in the queue and farmers are left waiting for their turns to sell their paddy. Complaints and pleas for remedial action remain unheeded, the PBKC chief said.
Nadia and Murshidabad district general secretaries of the Centre of Indian Trade Unions (CITU) Shaikh Mohammed Sadi and Abdul Mannan said that they faced a lot of difficulty in getting the block development officers to issue job cards to several thousands of migrant workers in five-six districts of the state. However, "In our state, they would earn much less than what they were earning as migrant workers," they said.
Sadi and Mannan, respectively president and general secretary of the West Bengal Migrant Workers Union floated by the CITU, told NewsClick the panchayat system was ineffective, and the state government's skill development efforts were not worth mentioning.
"How can migrant workers feel confident that staying back would be worthwhile? They managed to survive only because of the free ration arrangement."
NewsClick sought the views of social activists on whether the ground realities reflect the Centre's seriousness about the scheme.
Debmalya Nandy, associated with the NREGA Sangharsh Morcha (NSM), said that New Delhi should have provided Rs.1.2-1.3 lakh crore in this fiscal year's budget to take care of 6.5 crore households, ensuring 65-70 days' work for each. With Rs 10,000 crore recently committed, the allocation adds up to Rs 83,000 crore, which still leaves a gap of at least Rs 40,000 crore. This excludes the pending wages of Rs 6,078 crore as of November 22.
For the job scheme to positively impact the rural economy, the Centre must make a supplementary allocation for December-March and the pending wages at one go.
Nandy conceded there is leakage and systematic corruption, yet some states' record is quite good- for instance, Rajasthan, Jharkhand and Bihar. Their success may be ascribed to an effective social audit system, Nandy told NewsClick.
In West Bengal, the number of job cardholders may appear to be impressive. Still, people who track the scheme's progress have found that nepotism, domination of ruling party activists, malpractices and near absence of social audit have severely impacted its execution in the state.
Mazdoor Kisan Shakti Sangathan leader Nikhil Dey suggested that downsizing of the budgetary allocation for 2021-22 to Rs 73,000 crore and the recent decision to release Rs 10,000 crore on an ad hoc basis from the revised expenditure estimate for 2020-21 of Rs 1,11,500 crore spoke volumes of the Centre's stance. This is at a time when a sizeable amount is needed to clear the wage payment backlog. The employment situation is yet to show clear signs of improvement, and inflationary pressures continue to impact the living conditions of rural people who look up to the MGNREGA for relief.
"They do not like the scheme; there is no other way of describing New Delhi's attitude," Dey told NewsClick.
An editorial in The Hindu edition of November 27 observed: "The budgeting for the scheme by simply fixing a nominal increase from the original Budget estimate in previous years is a flawed method. If anything, the outlay must be tied to revised/actual estimate of expenditure for the scheme each year..."
In recent days, outfits of people's organisations in several states, which work to protect the interest of people dependent on the rural job scheme, have sought the intervention of chief ministers on some demands. These are in addition to the pending requests.
The outfits include The Human Rights Forum in Andhra Pradesh, Dalit Bahujan Front in Telangana, the NSM and Adivasi Adhikar Samity in Chhattisgarh, PBKMS and Shramajeevi Mahila Samity in West Bengal and Jan Jagaran Shakti Sanghatan and Kosi Nav Nirman Manch in Bihar.
The Telangana organisation has sought unconditional reinstatement of field assistants. The Chhattisgarh units have sought payment of compensation for delayed payment of wages. The West Bengal units' demands are rationalisation of schedule of rate to see that wages are disbursed after workers put in eight hours' labour in the field and prioritisation of category B works for vulnerable rural families identified based on the criteria laid down in the socio-economic caste census 2011.
The NSM has pointed out that "the rationale for trifurcation of fund transfer order based on the caste categories of workers is unclear and is causing unnecessary tension among workers. This is also at odds with the universal nature of the Act."
The common points are timely payment of wages, early release of wages overdue, work for 150 days and additional budgetary allocation. Last week, their demand for increasing fund flow received support from economists, including Jean Dreze, Prabhat Patnaik, Mahendra Dev, Pronab Sen, C Rammanohar Reddy and Amit Bhaduri.
In an open letter to Prime Minister Narendra Modi, the economists said that more funds were needed to meet the work demand according to the Act provisions. Through its effect on mass demand, such a step will also contribute to the overall economy's recovery and boost micro and small enterprises that remain in bad shape, they said. Moreover, lack of funds would result in suppression of demand for work and delayed payment of wages. These would be violations of the Act that promises 100 days' work to every household that demands it, they pointed out.
The writer is a Kolkata-based senior freelance journalist. The views are personal.
Get the latest reports & analysis with people's perspective on Protests, movements & deep analytical videos, discussions of the current affairs in your Telegram app. Subscribe to NewsClick's Telegram channel & get Real-Time updates on stories, as they get published on our website.
Subscribe Newsclick On Telegram