MGNREGA Protects The Poor From Further Poverty During Natural Calamities
The rural employment scheme puts cash in hands of the most vulnerable and also builds their resilience to extreme weather events while sequestering carbon.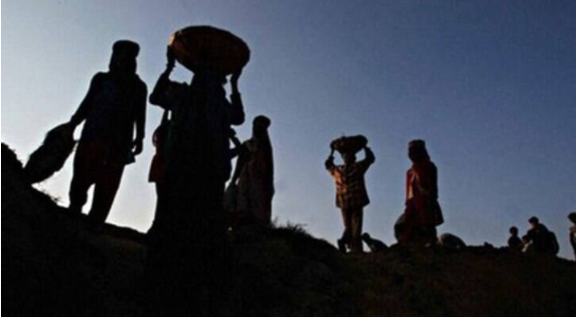 Image Courtesy: The Indian Express
When a jobless Jagdish Kheda returned home from Udaipur during last year's lockdown, he was hopeless. But his native Dedli village, in Dungarpur district of Rajasthan, saw a slew of activities in the next few months, including the construction of a check dam and a road and levelling of land under the Mahatma Gandhi National Rural Employment Guarantee Act (MGNREGA). "Even though the wages were low compared to my previous job at a company in Udaipur, I could fall back on it when everything was shut," he said.
MGNREGA, which offers, at least, 100 days of unskilled manual work to every rural household in a year, shielded scores of workers, like Kheda, who were forced to leave cities during one of the world's strictest Covid-19 lockdowns. After a 50 per cent jump in the number of households employed under MGNREGA in June 2020 as against the same month in 2019, the Centre increased the budget by Rs 40,000 crore to deal with the emergency.
Households have traditionally used MGNREGA wages to supplement other sources of income and smooth consumption gaps, but its indirect benefits include the building of rural infrastructure, strengthening of grass-root institutes and skill development.
Besides dovetailing with the climate justice movement, the scheme has also ensured the high participation of women and landless and marginal farmers. Women person days have hovered around 54 per cent—much above the scheme's requirement of 33 per cent—of the total person days in the last three years. Person days of Scheduled Castes and Scheduled Tribes comprise 20 per cent and 17 per cent of the total person days respectively.
Several research studies have highlighted that MGNREGA resulted in a hike in wages besides challenging the traditional power equations by allowing low-caste and female labourers to be more assertive about their working conditions. The programme has also enhanced women's bargaining position within the households. Women's participation in MGNREGA significantly improved school attendance and grade achievement in Andhra Pradesh and also reduced the impact of drought on children of the poorest and lowest-caste families.
Poverty and climate crisis
Western countries are the largest emitters of greenhouse gases, but it's the poorest nations in Asia, Africa and other parts of the world that bear the brunt of climate change. Similarly in India, the rich emit carbon dioxide seven times more than the poor, according to a January study by Japan-based Research Institute for Humanity and Nature.
Most importantly, the study showed that eradicating poverty in India—aided by schemes like MGNREGA—would increase India's overall carbon footprint by only 1.97 per cent.
MGNREGA reduced poverty by up to 32 per cent and prevented 14 million people from falling into poverty, a study by the National Council of Applied Economic Research (NCAER) and University of Maryland using data from 26,000 rural households through two rounds of survey conducted in 2004-5 and 2011-12 found.
MGNREGA also protects the poor from sliding further into poverty during droughts and floods. It offers an additional 50 days' work during natural calamities like floods and drought, making it a climate-responsive instrument.
A 2017 survey by the International Institute for Environment and Development (IIED) in Sikkim, Odisha, Andhra Pradesh and Jharkhand found that MGNREGA increased the capacity of people to deal with drought, floods and cyclones. New vocational skills related to the creation of infrastructure resulted in a more diversified and specialised workforce that is better able to manage climate-induced hazards.
In Odisha, the convergence of MGNREGA with other government schemes for skill training in agriculture and horticulture led to improvement in wages and skills in the rural labour market. Around 85 per cent of the respondents reported an increase in the number of rural enterprises due to MGNREGA.
In Rushikudda gram panchayat of Andhra Pradesh, MGNREGA was used to deepen and widen a local river and drainage channel which is now being used to divert the flow of cyclone water back to the ocean, saving agricultural land and houses from flooding.
The programme also sequesters carbon dioxide through works involving natural resource management. Plantations and soil quality improvement work done under MGNREGA captured 102 million tonnes of carbon dioxide (MtCO2) in 2017-18, which might rise to 249 MtCO2 by 2030, found a recent study by the Indian Institute of Science. This can help India create an additional carbon sink of 2.5-3.0 billion tonnes of CO2-equivalent through additional forest and tree cover by 2030, one of the country's targets under the Paris Agreement.
Unrealised potential as gaps persist
MGNREGA's potential has still not been tapped since its inception 15 years ago due to improper implementation. Seventy per cent of the poor surveyed were unable to find work under MGNREGA due to inadequate implementation, the NCAER survey showed. "MGNREGA can improve several things, including enhancing the daily wage, timely payment and making good its promise of 100 work days," says RP Srivastav, a social activist who exposed embezzlement in MGNREGA accounts in Kushinagar district of Uttar Pradesh.
Even though the programme helped the jobless poor during the pandemic last year, the Centre has reduced its budget by 34 per cent though the demand for work continues to remain high due to the economic downturn.
The IIED survey showed that guaranteed wages helped the landless in Andhra Pradesh absorb the impact of cyclones, but most of the assets created to increase the availability of water for irrigation or to prevent waterlogging benefited the big and small landowners.
In Sikkim, around 4 per cent of the surveyed households reported a decline in well-being during droughts because they benefited only from wages, not from other aspects of the scheme. "It has to be ensured that MGNREGA promotes spillover benefits to the local economy and provides ecosystems services to create more resilient communities," the study said.
Despite the higher participation of women workers, men still dominate decision-making. Very few women are in the role of manager or supervisor, who must have passed class 8. Though this gap has been acknowledged for a very long, little has been done on the ground.
Kerala has a unique model by placing management of MGNREGA in the hands of women neighbourhood groups formed under its poverty eradication mission Kudumbashree. The state government issued a notification that supervisors for MGNREGA should be chosen from among these women groups. The state now boasts of 100 per cent women supervisors but that hasn't led to a revolutionary change.
"Kerala is still a male-dominated society and men continue to exert influence through village panchayats in deciding the work to be taken up under MGNREGA. The state has definitely done better than others as it has the highest women participation and better wage rates, but assertiveness of women varies from place to place and corruption is still prevalent," says an independent researcher closely associated with monitoring of programme's implementation. "There are also hierarchies within women and mostly those with better social status end up as supervisors."
Several villages in south Rajasthan are also appointing more women as supervisors with support from Rajasthan Asangathit Mazdoor Union (RAMU), a union of unorganised workers. "Till a few years back, I didn't have any idea about a muster role. Now, I am working as a supervisor after being trained by the union. The panchayat wants us to not align with the union because that hampers their chances to embezzle money through fake attendance and substandard work," said Asha Devi of Kalaliya village, in Pali district of Rajasthan. "Our union ensures Pura kaam, pura daam (Complete work, complete payment). We pay a daily wage of Rs 221 as against wages at other MGNREGA sites which fluctuate between Rs 160 and Rs 200."
The union has trained around 1,000 women from 150 panchayats in the region. "Many women who are qualified have come forward to join as supervisors. This shift in gender roles has curbed irregularities in MGNREGA because union members ensure that the post of a supervisor is rotated regularly among eligible women candidates. So, someone can be a supervisor one year and a worker the next," says Nikhil Shenoy, secretary, Jodhpur division of RAMU. "The change has also led to women becoming more vocal for better implementation of other government schemes in their villages as well."
Manu Moudgil is an independent journalist. The views expressed are personal.
Get the latest reports & analysis with people's perspective on Protests, movements & deep analytical videos, discussions of the current affairs in your Telegram app. Subscribe to NewsClick's Telegram channel & get Real-Time updates on stories, as they get published on our website.
Subscribe Newsclick On Telegram