MP: 2 Cops Shunted out After Photo of 8 Stripped Men, Including Journo, in Sidhi Police Station Goes Viral
The men, which included local theatre artistes, can be seen half-naked inside lock-up in the photograph.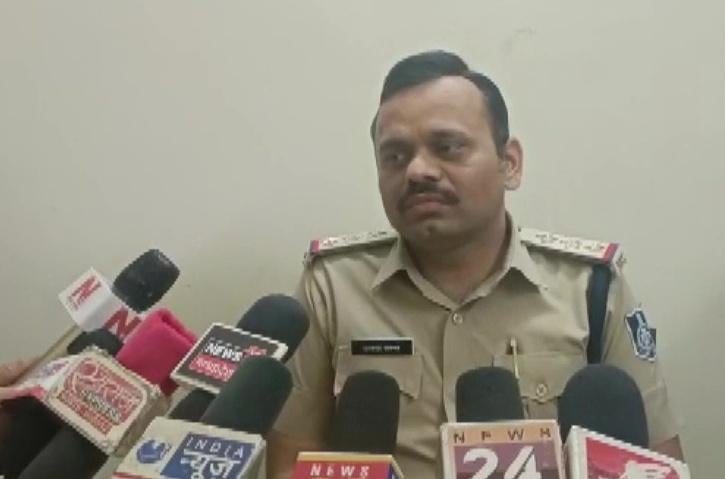 Image Courtesy: indiatimes
Bhopal: Hours after a photo of a YouTuber journalist and theatre artistes standing stripped inside Kotwali police station of Madhya Pradesh's Sidhi district went viral almost four days after it was shot on April 7, the state government removed Town Inspector Manoj Soni and Station House Officer of Amaliya Police station Abhishek Singh Prajapati, and initiated a probe. 
In the viral picture, the half-naked men have been identified as 36-year old you-tuber journalist Kanishk Tiwari, social activists Ashish Soni and Suneel Choudhary, Ujjwal Kunder and Shivnarayan Kunder, theatre artistes affiliated to Indravati Natya Sanstha (a local drama institute) and some others reprortedly affiliated with Congress' Youth wing.
According to sources, the photo which went viral on Thursday was shot on April 2 and circulated with a message that "youtube journalists were stripped in the police station for reporting against BJP MLA Kedarnath Shukla."
Giving a clarification, SP Sidhi Police Station, Mukesh Shrivastav, said that on April 2, Kotwali Police arrested Neeraj Kunder, a theatre artiste, in a case related to a Facebook account which was posting alleged 'defamatory' content against sitting BJP MLA Kedarnath Shukla and his family. They have lodged an FIR against the page, he added.
According to Sidhi police, it was on March 16 that an FIR was registered at the Kotwali police station by BJP MLA Kedarnath Shukla and his son, Guru Dutt, stating that indecent remarks were made against them and their family on Facebook using a fake ID. The Kotwali police said that while investigating the case, they sought details of the fake ID from Facebook and while tracing the IP address found it was linked to Neeraj Kunder. Shrivastav said: "A few hours after Kunder's arrest, a group of around 40 men gheraoed Kotwali police station, shouting raising slogans and created a law and order issue after which they were detained under Section 151 of the IPC."
The protesters, however, alleged that they were stripped naked ( which can be clearly seen in the photo) and beaten up inside lockup not only by Kotwali police station officials but also by Abhishek Singh, SHO of Amaliya police station, which is 40-km away from Kotwali. After the initial probe, the SP, however, removed Abhishek Singh.   
Kanish Tiwari, while speaking to media, claimed that he and his cameraman were heading to cover a protest against the local BJP MLA when they were detained. He also alleged (he is also in the said photo) that people who had gone to protest his arrest were also detained, and inside the police station Abhishek Singh forced them to remove their clothes and it was he who circulated the photo. "It is a violation of our human rights," Tiwari told the media. 
Tiwari also claimed that they were detained for about 18 hours between April 2 and 3. After after the picture went viral on April 7, when asked why a journalist and theatre artistes were stripped inside the police station, Town Inspector Manoj Soni said: "Detainees were not naked and were instead in their underwear. We have removed their clothes to ensure they do not use their clothes to harm themselves inside the prison or at worst commit suicide."       
Tiwari, in a video released on his Facebook page, has claimed that he and his family were receiving threat calls after he told the media about what actually transpired. He said he had been tipped off that the police were in the process of registering a fake case against him. He urged people to come out in his support to stand with 'real journalism'.
The Sidhi SP had first ordered an internal enquiry of Thursday, headed by Sub Divisional Police Officer, Gayatri Tiwari, into the incident, but by the end of the day, Town Inspector Manoj Soni and Station House Officer Abhiskeh Singh were shunted out and attached to police line after Chief Minister Shivraj Singh Chouhan took cognisance of the incident. 
"Taking cognisance of the incident, prima facie the two have been attached to the police line. SHO Abhishek Prajapati has also been shunned out as he was also present at the police station at time and being in a responsible position, he is also held accountable along with TI Soni," said Shrivastav. 
Get the latest reports & analysis with people's perspective on Protests, movements & deep analytical videos, discussions of the current affairs in your Telegram app. Subscribe to NewsClick's Telegram channel & get Real-Time updates on stories, as they get published on our website.
Subscribe Newsclick On Telegram