MP: 39 % of BJP, 34 % of Congress MLAs, Including 13 Ministers, Have Three and Above Children, Shows Data
The Congress government in Madhya Pradesh had opted for a two-child policy in government jobs and Panchayati Raj elections in 2000. But the BJP government in 2005 withdrew the policy from PRI elections.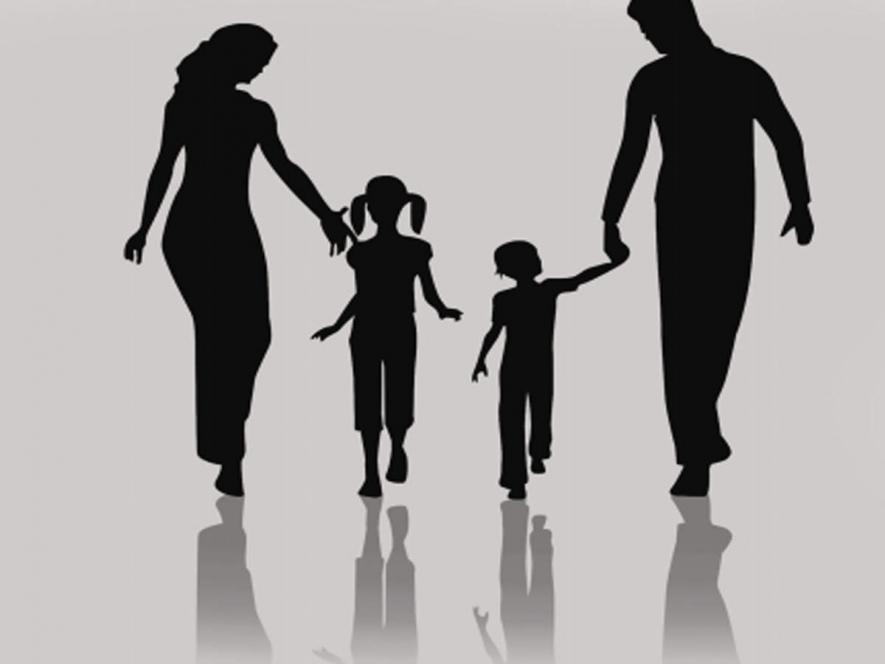 Representational Image. Image Courtesy: Times Of India
Bhopal: As Uttar Pradesh presented the draft Population Control Bill - 2021 on July 12, aimed at controlling the state's population, a minister and MLA from the Bharatiya Janata Party-led Government in Madhya Pradesh demanded a similar Bill to control the state's population.
Hours after the announcement of UP's draft Population Control Bill, Vishwas Sarang, health education minister of Madhya Pradesh demanded a similar Bill.
UP के बाद MP में जनसंख्या नियंत्रण कानून को लेकर चर्चा।

MP BJP मिनिस्टर @VishvasSarang ने जनसंख्या नियंत्रण कानून के पक्ष में कहा के देश में संसाधनों की कमी है ऐसे में जनसंख्या पर कानून की ज़रूरत है। @newsclickin@Deepak_Scribe @vinodkapri @JournoAshutosh @romanaisarkhan pic.twitter.com/xqMdTkqpUO

— काश if (@KashifKakvi) July 12, 2021
Going a step further, Rameshwar Sharma, former protem speaker and MLA from Bhopal's Huzur constituency, dashed off a letter to Chief Minister Shivraj Singh Chouhan on July 13 demanding urgent need for a population control Bill, saying that the state's population had surpassed the population of developed countries like Germany, England, France, Italy and Spain and was "hampering" the state's development.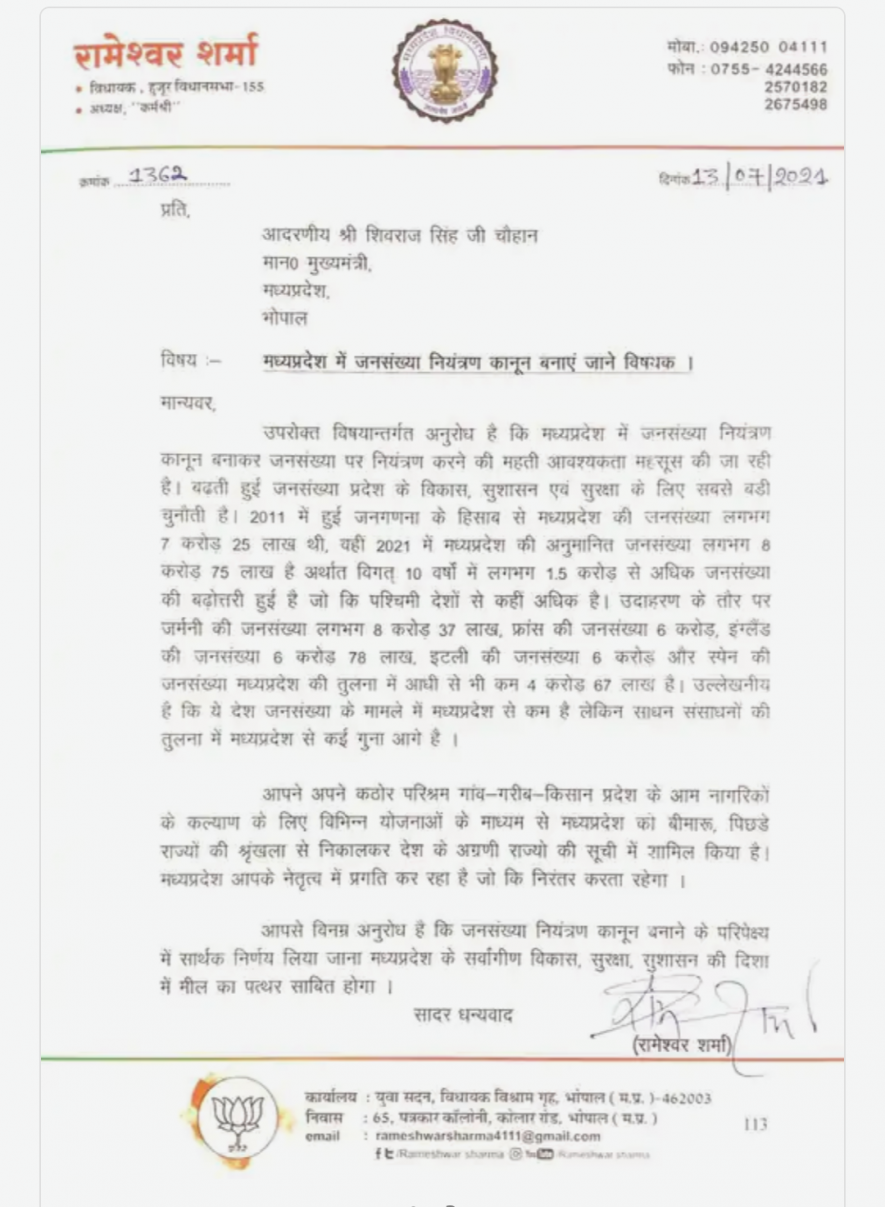 This is not the first time the BJP-led Madhya Pradesh government is toeing the line of his party's government in Uttar Pradesh. Recently, Madhya Pradesh has opted for many policies of UP, including the anti-conversion law, law against stone pelters and seizure or demolition of properties of accused persons and others.  
As per the proposed provisions of the Uttar Pradesh Population (Control, Stabilisation and Welfare) Bill 2021, a person with more than two kids will be barred from contesting local body elections, getting government jobs, promotions if already in government service, and getting benefits of government welfare schemes. 
Ironically, out of 227 sitting MLAs, over 39% of the BJP MLAs, including 13 Ministers, as well as 34.8% of Congress legislators could face disqualification as they have three and above children.
The ruling BJP has 125 sitting MLAs while the Congress has 95 and there are seven other MLAs belong to Bahujan Samajwadi Party, Samajwadi Party and four independent MLAs.
According to data uploaded on the website of Madhya Pradesh Vidhan Sabha, the ruling BJP has 125 sitting MLAs, of which 49 have three and above children, including 13 ministers. One BJP MLA has nine children, another has eight while four have six children and 14 have over four children. 
Moreover, BJP's Singrauli MLA, (general seat) has nine children while his fellow MLA from adjacent constituency, Sidhi, has eight.
Out of 125 BJP MLAs, 31 are ministers, as per official data, 13 of them have three and above kids. Three Ministers -- Bisahulal Singh, Prem Singh Patel and Bhupendra Singh -- have five and above kids. 
In the Opposition Congress, which has 95 sitting MLAs, 16 of them have three children, 12 have four, three have five and one has nine children. Congress' Petlawad MLA, (Scheduled Caste seat) as well as Udaipur MLA (General) have nine and six kids respectively, the data reveals. 
As far as Members of Parliament are concerned, Madhya Pradesh has 28 sitting Lok Sabha MPs and 10 Rajya Sabha MPs including six Union Ministers. Two seats, one each from Lok Sabha and Rajya Sabha, are vacant in the total 40 seats.
According to the data uploaded on the Lok Sabha and Rajya Sabha websites, out of 38 sitting MPs from the state, 13 have over three or more children of which 12 are from BJP. 
One BJP's Lok Sabha MP from Dhar and one Congress' Rajya Sabha MP has five kids each, highest in the list. Four BJP MPs, including two Union Ministers, have four kids each. 
Madhya Pradesh is the second largest state in the country in terms of area and fifth largest in terms of population. As per the 2011 Census, the State has a population of 7.27 crore with a growth rate of over 20%. However, the growth rate saw a steep decline from 24.34% to 20% between 2001 and 2011. The State had 6.03 crore population as per the 2001 Census.
This is not the first time that a law to control the population of Madhya Pradesh has been proposed. In 2000, the Congress-led Digvijaya Singh government opted for a two-child policy in government services and Panchayati Raj elections by amending the laws. However, the two-child policy was withdrawn in 2005 by the BJP government from the PRI elections after a backlash.
BJP Govt withdrew two-child policy for Panchayati Raj polls in 2005
The Congress government in Madhya Pradesh opted for a two-child policy in government jobs and Panchayati Raj polls almost two decades ago, in 2000.
The State had amended Madhya Pradesh Civil Services (General Condition of Services) Rules 1961. As per the order issued by the General Administrative Department of the MP Government, dated March 10, 2000: "No candidate shall be eligible for appointment to a service or post who has more than two living children one of whom is born on or after the 26th of January 2001."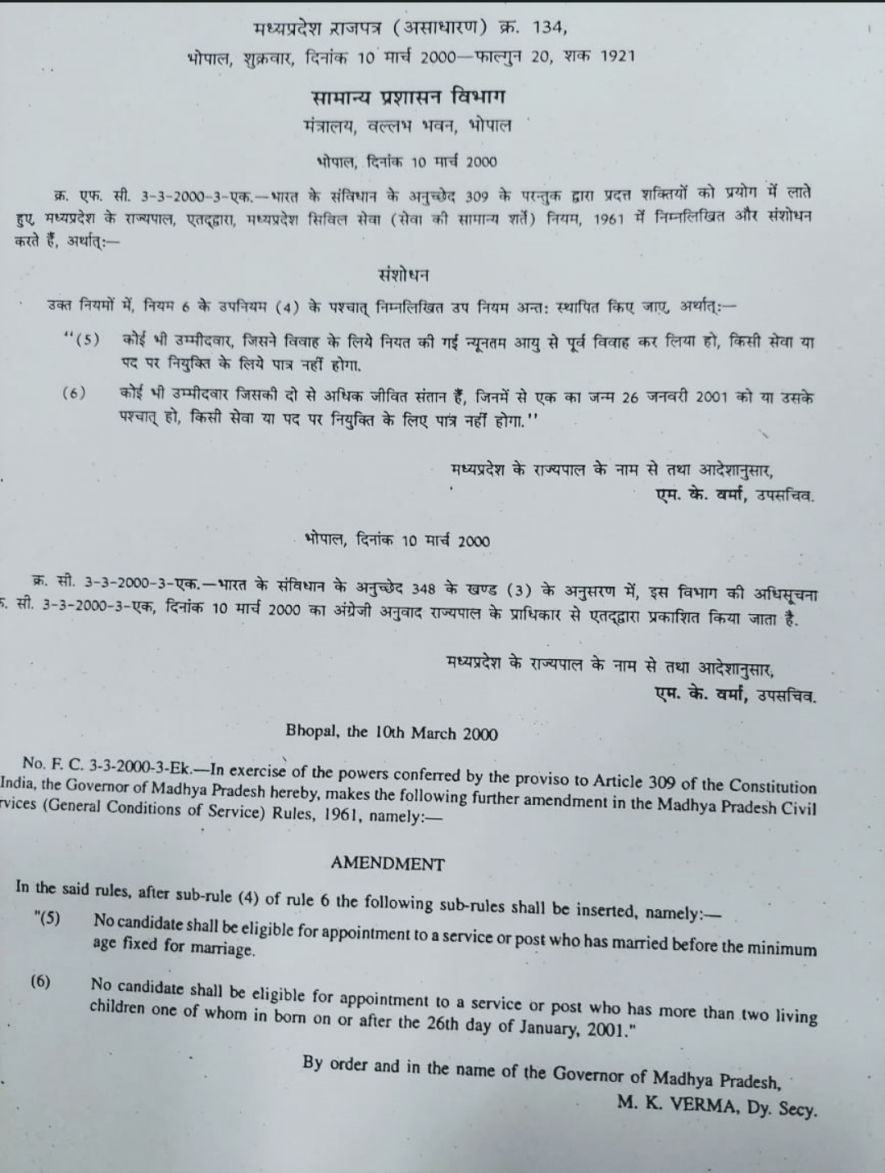 Madhya Pradesh took another step to control the population by opting for a two-child policy in PRI elections by amending Section 36(D) of Madhya Pradesh Panchayati Raj and Gram Swaraj Act, 1993 and the cut-off date for its application was prescribed as January 26, 2001. The provision was made applicable to members of PRIs, local bodies, mandis and cooperatives. The district collectorate was made responsible for implementing the provision.
However, the decision backfired and in the following PRI elections, out of the total 2,122 disqualified candidates, 54% (1,140) were for violation of the two-child norm. Subsequently, this was challenged in the MP High Court.
The High Court, in its judgment of May 17, 2002, granted a stay on the provision of M P Panchayati Raj and Gram Swaraj Act 1973 and finally, the BJP-led government withdrew the provisions in 2005.
PIL in Supreme Court
A public interest litigation was filed in the Supreme Court in December last year seeking a population control law on the lines of China's population control model. In its reply, the Union government told the Supreme Court that India was on the verge of achieving a replacement level of fertility rate of 2.1 through various voluntary birth control measures. It added that international experience, like the China model, showed that any coercion to have a certain number of children was counterproductive and would lead to demographic distortion.
Explaining to the court, the Union Health Ministry submitted that 25 of 36 states and Union territories had already achieved replacement level fertility of 2.1 or less. But 146 districts in the seven states – Uttar Pradesh (57), Bihar (37), Madhya Pradesh (25), Rajasthan (14), Jharkhand (9), Chhattisgarh (2) and Assam (2) — had fertility rates above 3. According to the Census office, 2001-11 was the first decade in the past 100 years in which India added less to its population than in the previous one, it added.
Data and graphics: Peeyush Sharma
Get the latest reports & analysis with people's perspective on Protests, movements & deep analytical videos, discussions of the current affairs in your Telegram app. Subscribe to NewsClick's Telegram channel & get Real-Time updates on stories, as they get published on our website.
Subscribe Newsclick On Telegram