MP: BJP Bets on CM Rise Schools in the Poll-bound State
The CM Rise School program aims to provide world-class education by developing over 9,000 schools in two phases.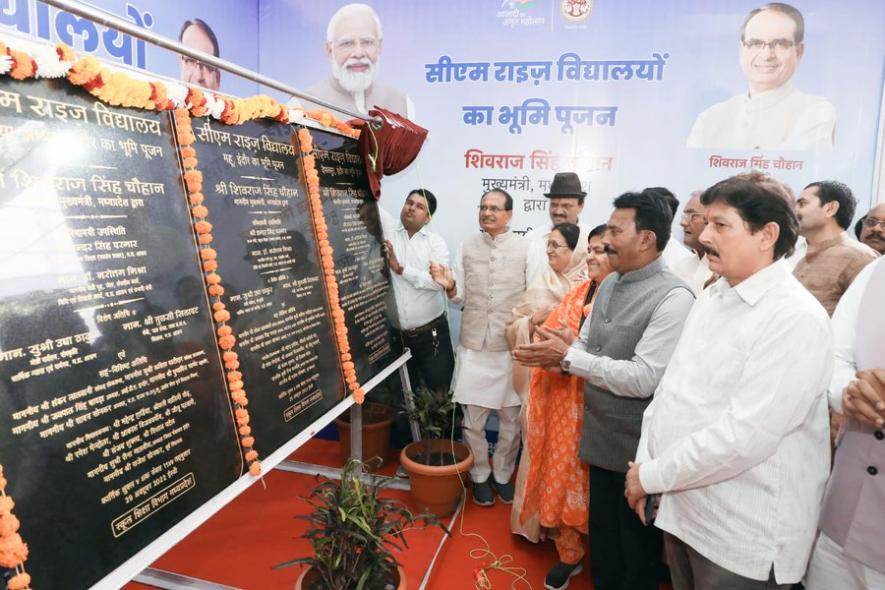 Bhopal: After 18 years of stable governance, Shivraj Singh Chouhan-led Bharatiya Janata Party (BJP) government in Madhya Pradesh came up with an idea to open over 9000 'CM Rise Schools' to 'revolutionise' school education and provide free education that will be at par with private schools.
The government launched the flagship scheme in May 2020, which was conceptualised and led by NGO Peepul, which works in the field of education. A year after the announcement, CM Rise got cabinet approval in June 2021.
Laying the foundation stone of 69 schools to be built with a cost of Rs 2519 crore in the first phase, Chouhan said, "CM Rise Yojana is a new social revolution in the field of education. With this scheme, government schools are being made well-equipped with modern facilities and smart classes. Not only infrastructure, qualified and hard-working teachers are being hired to teach the students to make our schools better than the private schools."
#CMRise स्कूल की बिल्डिंग भी भव्य होगी। इसमें लैब, खेल के मैदान, स्मार्ट क्लास, लाइब्रेरी और अच्छा पढ़ाने वाले हमारे शिक्षक होंगे।

मेरे बच्चों, तुम्हारा भविष्य उज्ज्वल हो, इसके लिए मैं सतत कार्य कर रहा हूं:मुख्यमंत्री श्री @ChouhanShivraj pic.twitter.com/Vxn6HGR1Xs

— Office of Shivraj (@OfficeofSSC) October 29, 2022
CM was speaking at an event in Indore held at Government Higher Secondary School Ahilya Ashram (No.1) on October 29.
The CM said that students just needed to be given opportunities and facilities.
"We have decided to have one school in over 20-25 villages that will be better than a private school with teachers for all subjects, laboratories, libraries, and playground. There will be a bus for transportation. The poorest of the poor will be sent their kids to a school better than a public school, and such will be a CM Rise School," he said.
This came when Madhya Pradesh is going for Assembly polls next year.
The CM Rise School program aims to provide world-class education by developing over 9,000 schools in two phases. The first phase will see 350 schools developed by March 2023, with one in each block, providing one government school for children in a 15 km radius giving quality education at nominal rates. The remaining 8,850 would be completed in the second phase by 2031. The government has allocated Rs 4,952 crore for the first phase, which received cabinet approval in June 2021.
DILAPIDATED CONDITIONS IN SCHOOL
This came after several reports highlighted the dilapidated condition of schools in Madhya Pradesh. The state has over 1.4 lakh government schools. According to various reports, most had a poor teacher-student ratio and inadequate staff. Many schools had a single teacher teaching multiple subjects, often without a headteacher or principal.
According to a report of the unified district information system for education (UDISE) plus, released by the Union Ministry of Education, Madhya Pradesh has 18,307 schools with a single teacher - the highest in the country after Rajasthan. Over 90% of the government primary and middle schools do not have drinking water taps, and four out of every ten schools are without electricity and a hand wash facility.
The report also observed that 1,582 schools are operational without a building, and 13,759 schools lack boundary walls. Half of these schools lack a separate principal's office. According to the research, there are no functioning restrooms for boys in 3,654 schools and girls in 2,760 schools. Besides, in 3,654 schools, there are no functional toilets for boys and none for girls in 2,760 schools.
Besides, the state was ranked 29 in the UDAISE Performance Grade Indicators (PGI) after its score slipped from 775 points in 2018-19 to 748 in 2019-20. The state also ranked 17 in the 2017 National Achievement Survey (NAS) report, which assesses students' learning achievements in classes III, V, VIII, and X.
"The two major issues affecting school education in the state are high drop-outs and poor learning outcomes," said a senior official from the School Education Department. "Out of 100 kids enrolled in class 1, only 12 pass out from class 12. Those who complete their education show poor learning abilities and lower aptitudes, leading to poor outcomes."
When Congress came to power after toppling 15 years of the BJP regime, the then Chief Minister Kamal Nath had mooted a plan to revamp schools on the lines of South Korea.
Considered one of the best school education systems in the world, a team of officials toured South Korea in the first week of June 2019. They visited government schools, two vocational training centres and one university to understand their education model. The team also prepared a report and made recommendations to revamp the schools.
Before it could be implemented, Congress lost the government in March 2020 after 22 sitting MLAs switched to the BJP with Union Minister Jyotiradiya Scindia, including education minister Prabhuram Choudhary.
Out of the 350 schools identified for the first phase of CM Rise, around 276 were found to have 48% vacancies for teachers, while only 131 had full-time principals.
According to the school education department, at present, 274 CM Rise schools are functional with 6500 teachers and 2.5 lakh students from standard 1 to 12.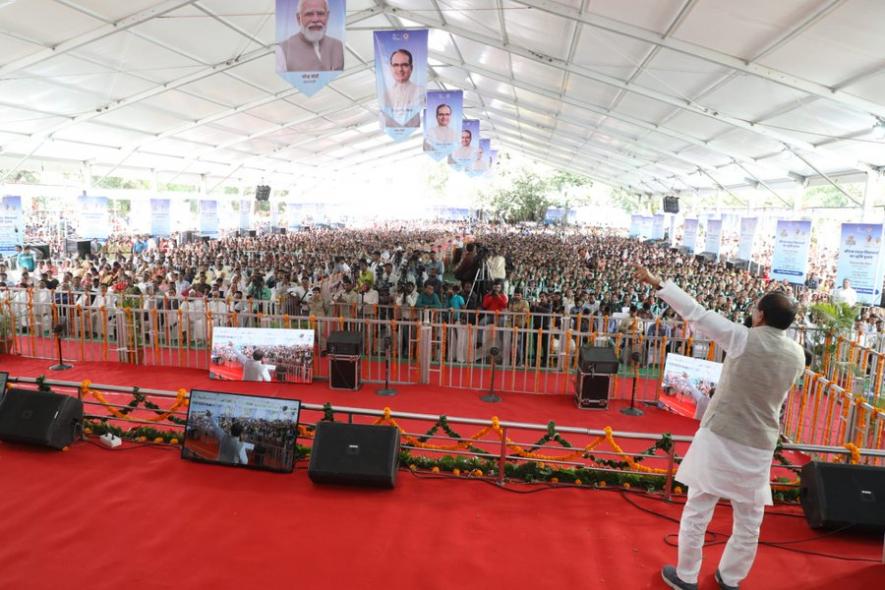 Officials claimed that students are getting smart classes, modern labs, and preschool activities have been introduced for kids. Besides, school principals have been trained to build leadership skills and capacity.
WHAT TEACHERS OF CM RISE SCHOOLS SAY
Speaking to NewsClick, many teachers who shifted to the CM Rise schools claimed that the reality is different from what the government claims.
"Facilities the government has been claiming were never made beyond the work table," said a teacher appointed in one of CM Rise schools of Chief Minister's home district, Sehore.
Requesting anonymity, he said, "A few selected buildings were renovated and renamed as CM Rise schools. Political events inside the school campus have surged. CM Rise schools have provisions to run in both Hindi and English. But schools don't have English teachers. There is no change in the syllabus or facilities. The bus facilities for students have also failed to kick start."
He said, "Schools have purchased projectors and big LCDs for smart classes. But, it's been kept in the storeroom since its arrival."
Another teacher of a CM Rise school claimed that the teachers appointed in CM Rise schools had been shifted from Excellence Schools --the elitist government schools run by the department.
"Shifting of teachers from Excellence schools to make CM Rise successful has jeopardised the future of thousands of students studying there. Now, Excellence schools have a shortage of qualified teachers," he claimed, requesting not to be named.
When questioned over teachers' allegations, a senior Education Department official said, "The scheme is in its initial stage, and the department is fixing all the loopholes and providing the facilities guaranteed under this programme."
OPPOSITION ALLEGES BJP IS MISLEADING PEOPLE AHEAD OF ELECTIONS
Hours after CM Chouhan laid the foundation stone of 69 schools in Indore, former chief minister and Congress leader Kamal Nath rapped the BJP government for its pathetic school education system. He said, "In his 18 years of rule, BJP paralysed school education and jeopardised the state's future. And now, misleading people ahead of the assembly election by showing false dreams."
Referring to government data, Nath questioned, "What BJP has done in the last 18 years in the field of school education reflects in the union government's various reports. In 36,000 schools, there is no electricity, and 18,000 schools are running with just one teacher. There are 14,000 schools which do not even have drinking water facilities. Another 40,000 schools have dilapidated buildings, and classes are held under trees. In many schools, the roof leaks during rains."
He alleged that one lakh posts of teachers are vacant and teachers have not been recruited for years. Besides, lakhs of teachers are working on a contractual basis.
Get the latest reports & analysis with people's perspective on Protests, movements & deep analytical videos, discussions of the current affairs in your Telegram app. Subscribe to NewsClick's Telegram channel & get Real-Time updates on stories, as they get published on our website.
Subscribe Newsclick On Telegram