MP: In CM's Home District, Bulldozers Reduce 20 Homes Built Under PMAY to Rubble
For a 25-km road project, 53-km away from Bhopal at Bhaukhedi village, Sehore, the administration razed 20 PM Awas Yojana homes along with 200 others and a temple.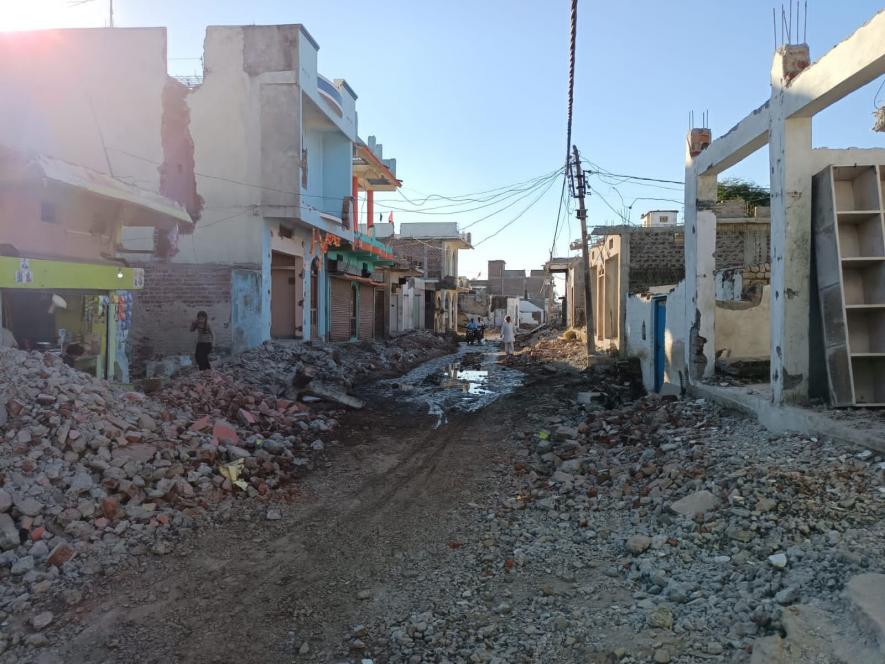 Bhopal: The year 2016-17 was memorable for 50-year-old Suresh Jain, as his application for the Pradhan Mantri Awas Yojana (PMAY) and toilet scheme, got approval. It took him three years to build a three-bedroom-toilet house for his family of four, after loaning out Rs 1.50 lakh.
Jain is a resident of Bhaukhedi village of Ichhawar tehsil in Sehore district. The village is 53-km away from the state capital, Bhopal, and is the home district of chief minister Shivraj Singh Chouhan.
A below poverty line (BPL) card beneficiary, Jain, who earns Rs 5,800 a month working as a security guard at a private warehouse, was in a process of paying off that loan. But on the morning of January 30-31, 2023, a fleet of bulldozers, accompanied by policemen, landed at Bhuakhedi village and demolished his home along with 19 other houses built under the PM Awas Yojana or PMAY, labelling them as 'encroachments'.
"I had been living in that home (demolished) since I was 10 years old," recalled Jain, while speaking to NewsClick. "I built this house with my sweat and toil and managed to secure benefits under PMAY and the toilet schemes, but in vain."
Similarly, the district administration razed the houses of Kailash, Mohan Nath, Dinesh Das and Sankar who were allotted homes under PMAY between 2016-17 and 2020-21.
Apart from PM Awas houses and toilets, the district administration partially demolished 200 homes, shops and a few temples built on either side of Bhuakhedi village's main road. 
The homes were demolished to construct an 18-km-long two-lane road worth Rs 25 crore under the Bhuakhedi-Amlaha road project. The Madhya Pradesh Road Development Corporation (MPRDC) last year floated a tender for the road to connect Ichhawar town directly with the Indore-Bhopal highway, which passes through the middle of Bhuakhedi village.
"Over 20 homes were demolished and 200 homes were partially razed down for a road project as it was constructed on government land," Sub Divisional Magistrate, Vishnu Prasad told NewsClick. "Since it was an encroachment, MPRDC cannot offer any compensation to the families according to the laid down laws," he added.
Prasad further said: "According to the work plan, the road needs 52 feet width for the construction. Yet, we have only acquired 40-42 feet of land to prevent maximum damage."
Rebuked by the officials after demolishing his PMAY home, Jain has taken shelter in a creaking two-room anganwadi centre for the past two weeks. The room neither has electricity nor water or toilet facilities. "We were already struggling to make ends meet. I have two daughters, and losing a home at this age has stunned us. It doesn't matter who is at fault here, it is we who are suffering in the end."
The district administration not only razed homes built under PM Awas Yojana but also razed those houses built on government-allocated pattas.
Suneel Kumar Verma (36), a bus driver, completed his four-room PM Awas home with toilet in 2021-22 on a 600 sq feet patta allocated by the government in 2013. He earns Rs 5500 a month for driving a school bus, and took a loan of Rs 2 lakh on high interest. Yet, his three rooms were razed, labelled as 'encroachment.'
An outraged Verma questioned officials: "How is it possible to demolish a home that is built on government allocated patta and with the financial assistance from PM Awas Yojana?"
The officials, who evaded his question in the beginning, dubbed it a "mistake" when villagers demanded a reply. "It's a mistake of the block secretary and staff. But we have instructions to clear the land for the road," they told irate villagers, according to some eyewitness.    
An enraged Verma said: "Jab sarkar kahe, patta de do. Jab sarkare kahe, PM Awas or toilet de do. Aur jab sarkar kahe, bulldozer le kar sab ujaad do. What a system! " (when the government wishes, you give patta; when the government says, you allot PMAY and toilets; and when the government says demolish everything, you land up with bulldozers)
Now, Verma's four room home has shrunk to two rooms, without a toilet.
The villagers claimed that the district administration also demolished a Jain temple but refrained from bulldozing Ram Temple built on the middle of the road after facing opposition from villagers. To save the Ram temple, the administration held a slew of meetings and razed a house built under PMAY, claimed Manisha Jain, wife of Suresh Jain.
This is not the first case when a home built under PMAY was was demolished terming it "illegal."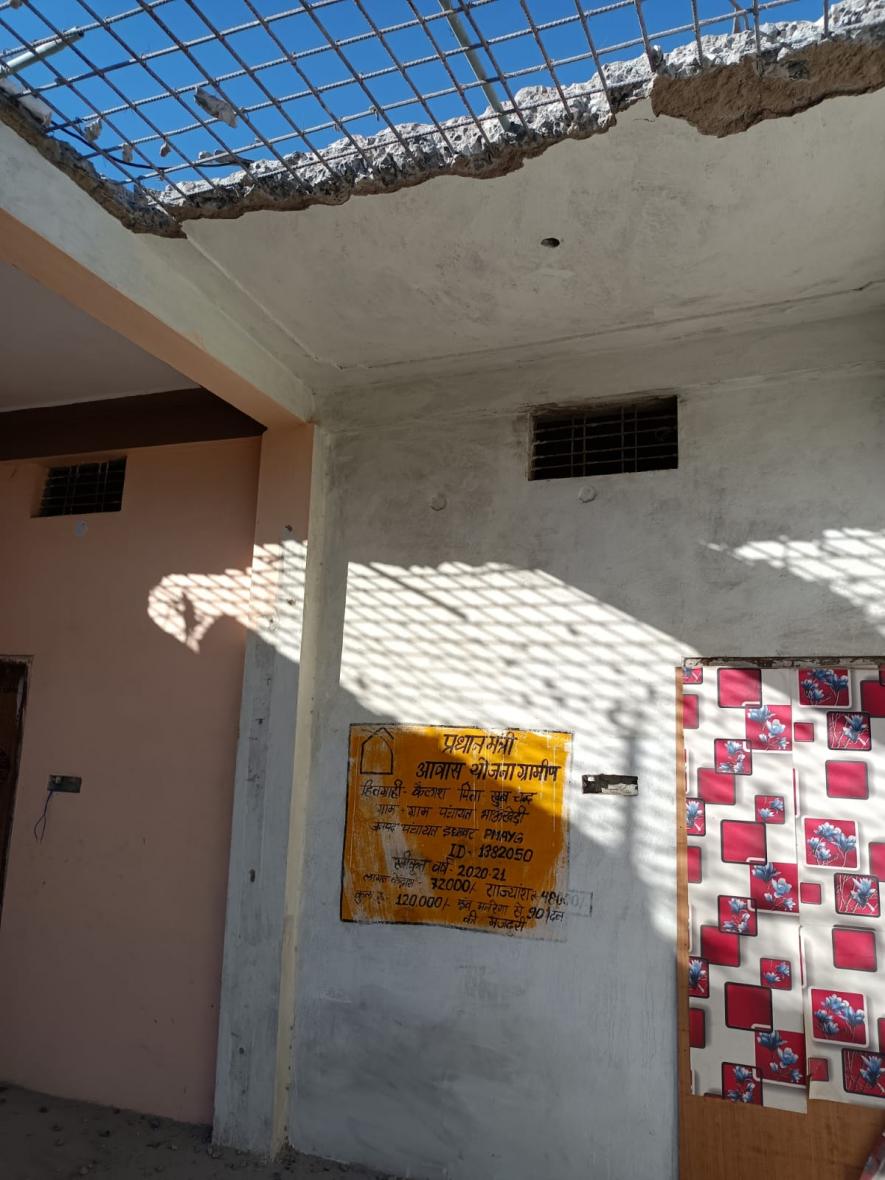 Last year, a day after the Khargone communal violence on April 11, the district administration demolished 49 properties along with a house built under PMAY.
When contacted, Rajesh Banasiya (40), deputy sarpanch of the village, told NewsClick that a majority of the residents are BPL card holders who had been living there for over five-six decades. 
Seeing fellow villagers homeless has Banasiya. Demanding compensation, he said: "How can the administration demolish homes built under PM Awas and rebuke the beneficiary without compensation? We are not against construction of the road, but the affected families must be compensated, as they belong to the marginalised section." 
"When officials marked the area for demolition a month ago, villagers submitted a memorandum addressing the chief minister, district collector, SDM and local MLAs to prevent the demolition of over 150 homes and two temples falling in the marked area. The villagers also offered substitute land to divert the road and prevent the demolition, but it was turned down," he told NewsClick.
"A memorandum was submitted to the district administration for compensation but didn't get any response," he added.
The administration also razed the two-room home and a government-aided toilet of 72-year-old Devkaran. He said: "We have only one room left, we have put all our belongings in it, and there is no place left even to sit. When I asked the SDM, 'where will we live now?', he said "we do not know all that, we have to make a 52 feet road. Your house was built illegally so it got demolished."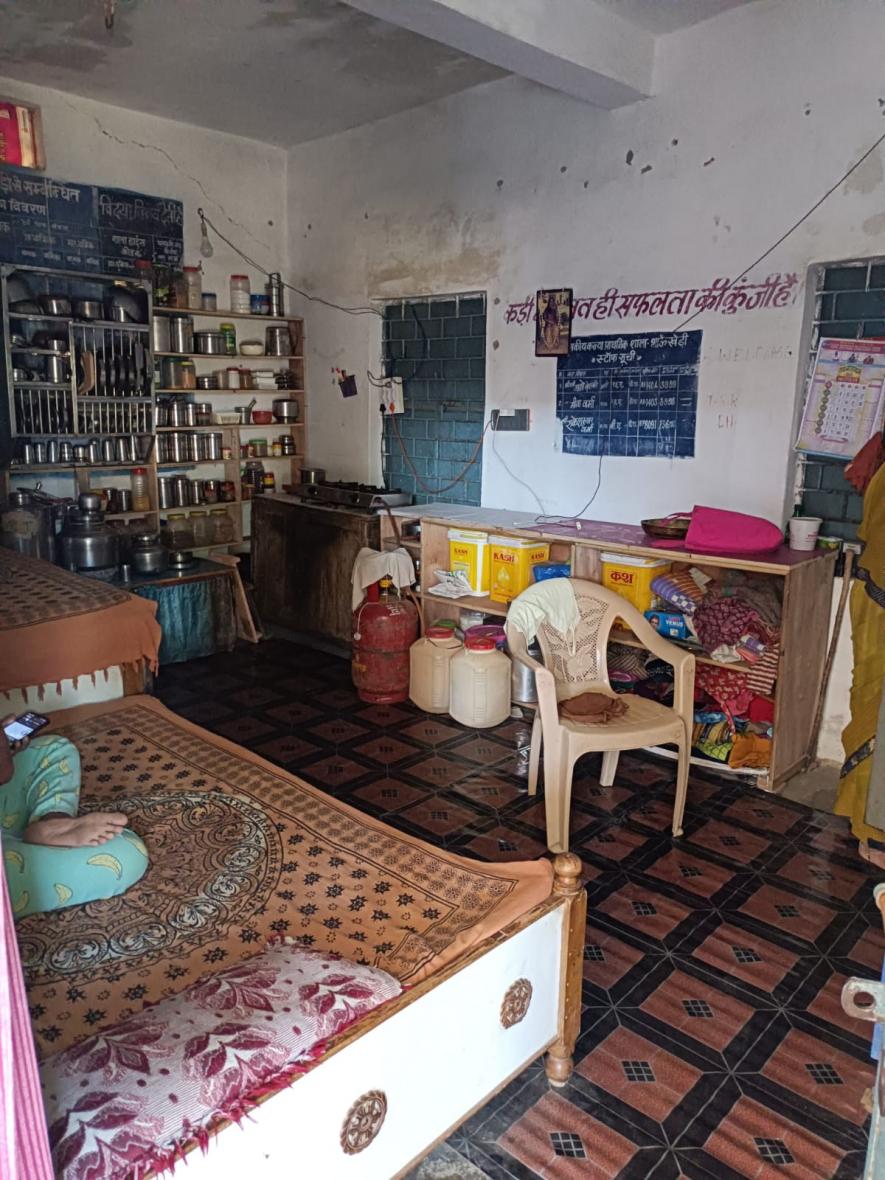 Like others, Devkaran, who is a BPL card holder, is also hoping for compensation. But he says "SDM sir ne hame kaha hai koi compensation nahi milega" (SDM said we will not get any compensation).
When NewsClick reached out to PWD Minister Gopal Bhargava and Sehore district collector Praveen Singh for their response over the PMAY demolition, they were not available for comment.
But SDM Vishnu Prasad said: "After the tender, it wasn't feasible to divert the route, as suggested by the villagers. Since it was an encroachment on government land, the department can't pay compensation. But we are chalking out a plan to accommodate close to 20 families who have lost their homes in the eviction drive."
He said: "Many have built houses beyond permissible limits. Therefore, we only demolished that portion."
When questioned over the PMAY demolition, the SDM claimed that only five-six such homes were razed, while the others were partially demolished. But, deputy sarpanch Banasiya contradicted, saying many of the homes that were partially razed have no toilets. "Many families living in a one or two-room house have developed cracks which need money for repairs," he added.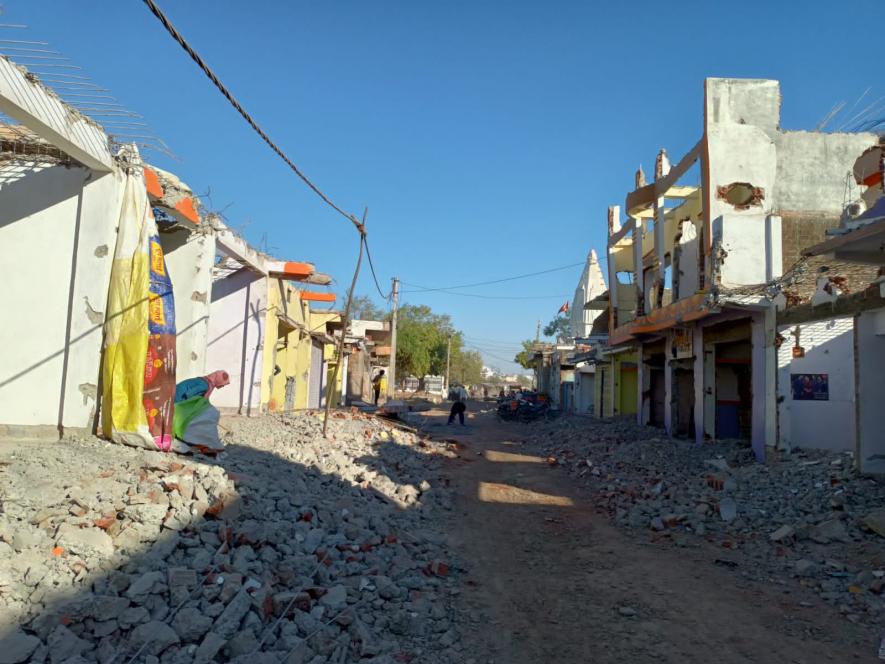 Many like Krishna Bai, a widow, who lives alone in the village, lost her home and a shop, her only source of income, in the eviction drive.
Get the latest reports & analysis with people's perspective on Protests, movements & deep analytical videos, discussions of the current affairs in your Telegram app. Subscribe to NewsClick's Telegram channel & get Real-Time updates on stories, as they get published on our website.
Subscribe Newsclick On Telegram