MP: Over 35 Journalists Fell Prey to COVID-19 in April, Govt. Has no Data
As many as 42 cops have died due to COVID-19 in the state last month and their families are entitled to Rs 50 lakh as financial aid. However, journalists, not considered as front-line workers, will get nothing of the sort.
Bhopal: The demise of TV journalist Rohit Sardana to a heart attack following a COVID-19 infection on Friday in Delhi kicked up a storm across the country. However, news of the deaths of over 35 media persons, who, by all accounts, fell prey to the virus in Madhya Pradesh over the past month, has probably not gone beyond their courtyards.
The deceased were senior journalists from a news agency, reporters, photo and video journalists of local Hindi dailies who fell prey to the virus in an effort to bring out the news and its visuals to people with a predictablity on a daily basis. However, they died unpredictable deaths.
Out of a total of 38 who died, 22 were reporters, six were photo or video journalists, seven were independent journalists while the remaining held senior positions on the editorial teams of dailies, reveals a Newsclick survey conducted across MP on scribes covering the pandemic. The deceased were between 28 to 70 years of age.
Of six the photojournalists, three were working with the Jansampark Department of the State.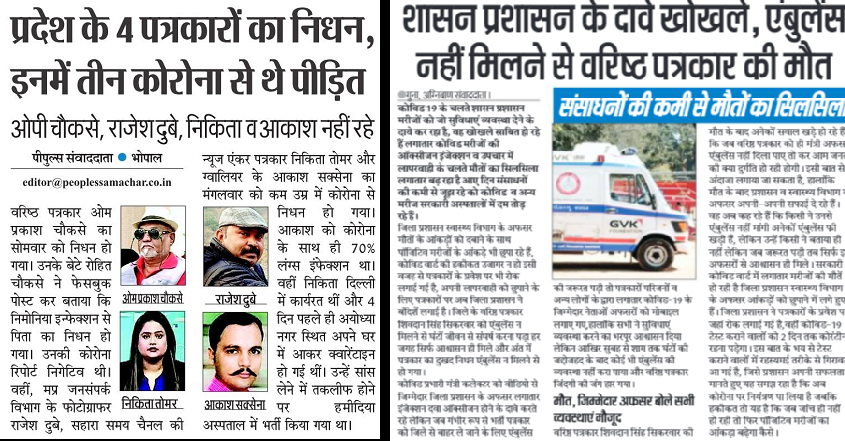 Bhopal and Indore, the cities worst-hit by COVID-19 in the state, have witnessed the highest (nine) deaths of media persons in each; there were four each in Jabalpur and Chhindwara, three each from Rajgarh and Mandla and one from Barwani, Ujjain, Khargone, Bhind, Gwalior and Guna, the survey noted. Two senior journalists died owing to prolonged illnesses.
Just like doctors and police officials, who were given the status of front-line workers by the state government as a result of which their families are entitled to financial assistance of Rs 50 lakh if they succumb to COVID-19, journalists were offered nothing despite the fact that they have been risking their health and life in the fight against the pandemic.
Journalists, who are paid peanuts, have neither been vaccinated nor do they have the status of front-line workers. Yet, they have been working shoulder-to-shoulder with cops and doctors, keeping the residents informed about the prevailing conditions since the pandemic broke.
List of media persons who fell prey to COVID-19 in April in MP
Sr No.
Name of Journalist
Institution
Designation
District
Cause of death
1
Rajesh Dubey
MP Jansampark
  Department
Photojournalist
Bhopal
COVID-19
2
Om Prakash Chouksey
Independent
Senior Journalist
Bhopal
Pnemonic (COVID negative)
3
Tajnoor Khan
Absolute India
Photo Journalist
Bhopal
COVID-19
4
Nikita Tomar
Sahara Samay
TV Journalist / Anchor
Bhopal
COVID-19
5
Mahendra Gagan
Editor - Pahle Pahal
Journalist/Poet
Bhopal
COVID-19
6
Kamal Dixit
Former Resident Editor Rajasthan Patrika
Professor & Journalist
Bhopal
COVID-19
7
Rajeev Mittal
Nai Dunia
Editor
Jabalpur
COVID-19
8
Manoj Singh Rajput
Haribhoomi
Journalist
Bhopal
COVID-19
9
Ansar-ul-Hasan
YouTube News channel
Video journalist
Bhopal
COVID-19
10
Shivdan Singh Sikarwar
Rashtriya Hindi Mail
Journalist
Guna
COVID-19
11
Rajesh Mishra
Agniban
Journalist
Indore
COVID-19
12
GS Yadav
Freelance
Journalist
Indore
COVID-19
13
Mohd. Rauf Khan
Global Herald
Journalist
Indore
COVID-19
14
KK Sharma
Freelance
Journalist
Indore
COVID-19
15
Ramesh Upadhyay
Hello Hindustan
Deputy Editor
Indore
COVID-19
16
Dilip Jain
Saamana
State Head
Indore
COVID-19
17
Sharad Joshi
Independent
Journalist
Indore
COVID-19
18
Manon Binal
Prajatantra
Executive Editor
Indore
COVID-19
19
Seemant Suveer
Webdunia
Editorial
Indore
COVID-19
20
Sushil Tiwari
Independent
Journalist
Jabalpur
Illness
21
Harish Choubey
Dainik Bhaskar
Editorial
Jabalpur
COVID-19
22
Salil Rai
PTI
Correspondent
Mandla
COVID-19
23
Madan Parate
Bhaskar News
Reporter
Mandla
COVID-19
24
Santosh Tiwari
Jansampark Mandla
Photographer
Mandla
COVID-19
25
Prem Verma
PTI
Correspondent
Rajgarh
COVID-19
26
Rambabu Bhilala
Raj Express
Correspondent
Rajgarh
COVID-19
27
Shubham Saxena
N/A
Reporter
Rajgarh
COVID-19
28
Gayyur Khan
Jansampark Ujjain
Photojournalist
Ujjain
COVID-19
29
Trilok Ramnerkar
SMBC Insight TV News
Correspondent
Khargone
COVID-19
30
Dinesh Sahu
Rajasthan Patrika
Reporter
Chhindwara
COVID-19
31
Raju Chandel
Dainik Jagran
Reporter
Chhindwara
COVID-19
32
Dharmendra Chourey
Sani Express weekly
Reporter/editorial
Chhindwara
COVID-19
33
Nitin Chourasia
Janpaksh
Editor
Chhindwara
COVID-19
34
Achal Vajpayee
Freelance
Journalist / writer
Bhind
COVID-19
35
Akash Saxena
Patrika Newspaper
Reporter
Gwalior
COVID-19
36
Praveen Shrivastav
Shankhnad (Local YouTube channel)
Editor
Bhopal
COVID-19
37
Ashwini Panchal
News Observer
Reporter
Barwani
COVID-19
38
Sushil Tiwari
Dainik Bhaskar
Editor (Died in January )
Jabalpur
COVID-19
The only piece of armory journalists have had at their disposal are masks. When they contracted the virus, institutions as well as the Government allegedly deserted them and even failed to provide beds and Oxygen which led to their deaths, alleged family members of the deceased.
The four journalists who fell prey to the virus in Chhindwara were below 40 years of age. A health reporter from a Hindi daily Dinesh Sahu (33) contracted the virus during the course of reporting and died in lieu of better treatment. Dharmendra Chourey, (28), the youngest journalist who fell prey to the virus in MP last month, used to run a local weekly newspaper called Sani Express. Raju Chandel and Nitin Chourasia too died as the district is struggling for Oxygen beds and life-saving injections as COVID-19 cases surged following the second wave in the country.
Thirty-three-year-old Akash Saxena, who had been working for a well-known Hindi daily in Gwalior died after contracting the virus while in the field. Shivdan Singh Sikarwar (43) from Guna was in home quarantine but as his health deteriorated his family called for an ambulance. The vehicle almost took half a day to arrive and Sikarwar died on the way.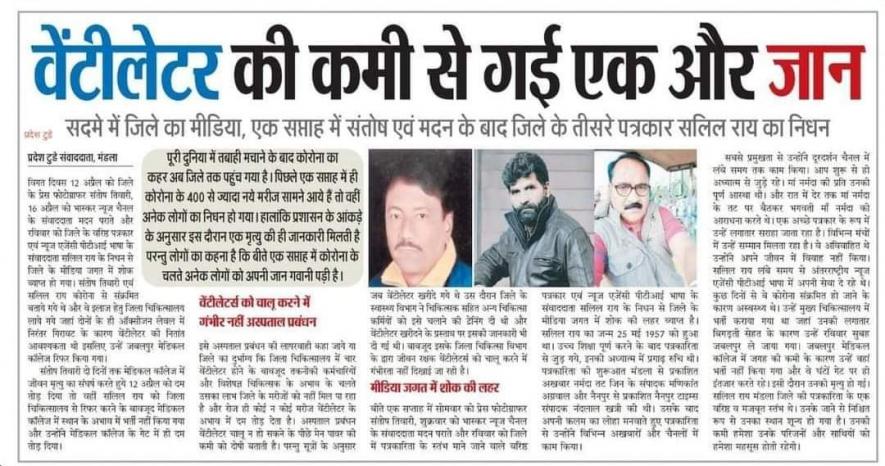 Three journalists from Rajgarh; Rambabu Bhilala who worked at Raj Express, Shubham Saxena and Press Trust of India's Prem Verma too contracted the virus during the course of their reporting and succumbed to it at a young age.
A Switzerland-based media watchdog, Press Emblem Campaign, claimed that nearly 122 journalists have died owing to COVID-19 in India. India-based watchdog the Network for Women in Media (NWMI), which has been compiling the deaths of journalists who succumbed to COVID-19 in India, has pegged the death toll at 165.
Dilip Jain (50) a resident of Indore and the state head of the daily Saamana, waited for at least four hours in a hospital's parking lot in a critical condition before he got a bed. He succumbed to the disease within 40 hours of gaining admission.
"My father had been selflessly helping the needy since the second wave of COVID-19 broke. He was helping people get beds in hospitals, Oxygen, food and trying to do everything he could," said Mayur Jain, the son of the deceased journalist. "But when he was exposed to the virus, we ran pillar to post for hours to get an ICU bed while his condition deteriorated and he died," he added.
Nikita Tomar (32) from Bhopal, who was a TV anchor at Sahara Samay, struggled for days to get bed in the state capital. An appeal on social media helped her to get a bed at Bhopal's biggest government facility, Hamidia Hospital . But she did not survive. Manish Singh Rajput, a special correspondent at Haribhoomi, wandered for days in a critical condition before getting a bed at the same hospital, but he also succumbed to COVID-19.
In Mandla, three journalists died within a week. Santosh Tiwari, the official photographer of the district Jansampark office and Madan Parate from the Bhaskar news channel died on April 12 and 16 respectively. District bureau head of PTI, Salil Rai, took his last breath at the gate of Jabalpur Medical College, waiting for a bed, on April 16. The district hospital had referred him to Jabalpur after his condition deteriorated.
"There are countless examples of young journalists and camera persons who are struggling to keep the people informed and are falling prey to the virus, but only a few stories are told," said Deepak Tiwari, journalist and author from Bhopal.
"The one who reports others' ordeals, injustice and deaths cannot even witness his own agony, suffering and death going unreported; very few organisations came forward to rescue their families," he added.
As many as 42 cops fell prey to the virus in April in MP with the deceased's family to receive Rs 50 lakh from the state government. But, of 38 media persons who fell prey to the virus only two from Indore were given Rs four lakh, said Praveen Khariwal of the Indore Press Club.
"We had urged the government to consider journalists as front-line workers, to support their families upon their death and also those struggling for their life in hospitalsm," he said.
The total death toll might be greater and there are also dozens of examples of journalists' families suffered owing to their job, many of whom died. "Theses reports hardly get media attention," Khariwal added.
"The sun may forget to rise but journalists and camerapersons cannot remain off the field. Media houses won't survive if they decide to," said a journalist from Bhopal's popular Hindi daily who reports on health and had contracted the virus while reporting on the pandemic. Two days after he tested negative, he had hit the field again.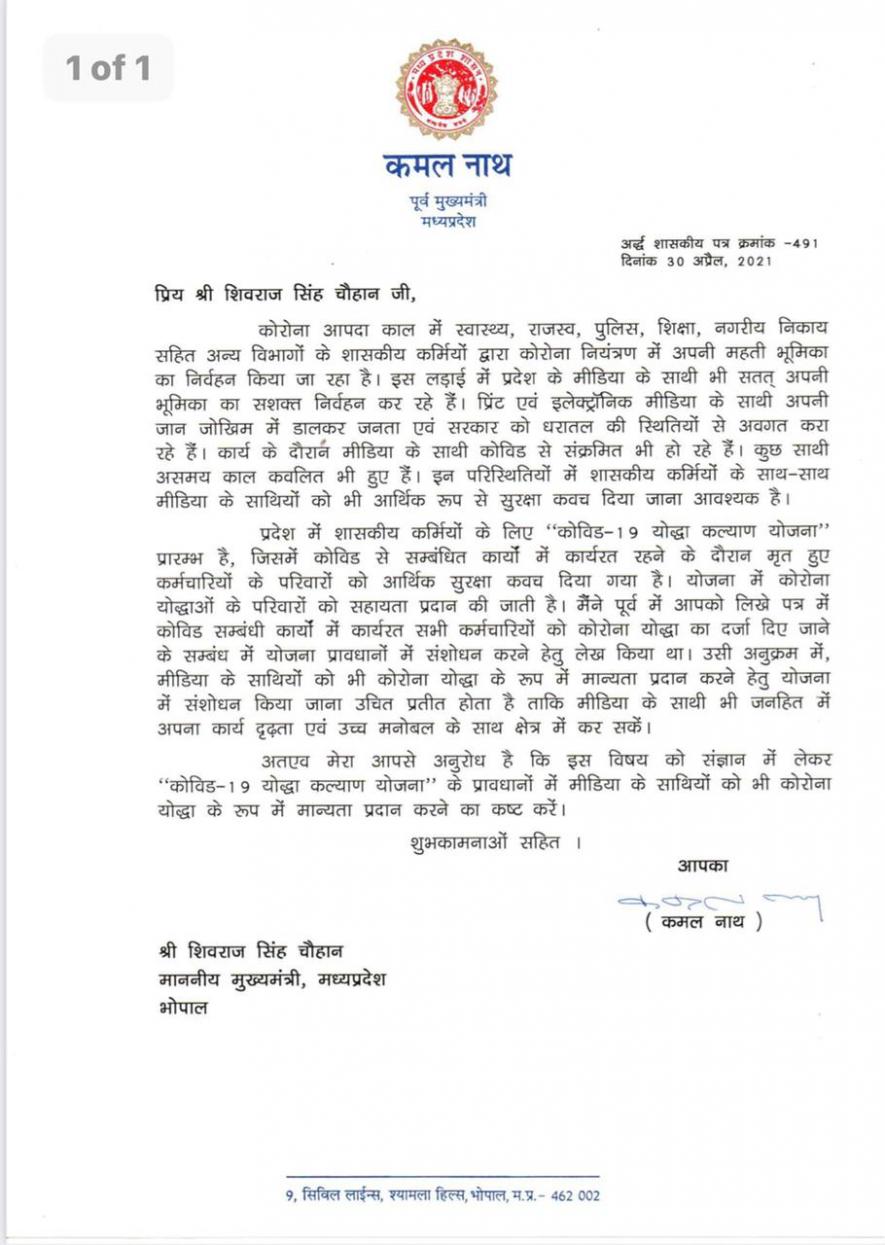 "Hence, we should also be considered as front-line workers and be provided financial aid and vaccination," he demanded
President of Indore Press Club, Arvind Tiwari, claimed that nearly three dozen journalists in Indore alone were suffering after having contracted the virus. They are struggling even as their families fail to make both ends meet.
"Hundress of journalists have been infected. The Indore Press Club has tried to reach out to those families to provide some financial aid. But we have limited resources and the state's intervention is a must,"Tiwari said, adding no one runs a crowdfunding campaign for journalists and their families.
Hundreds of journalists are down with the virus and are under treatment in various private and government hospitals, but there is a lack of institutions looking after them.
"Local reporters and video journalists receive peanuts as salary. When they contract the virus the only way out is a private hospital since government facilitates are already overwhelmed with patients. How will they pay private hospitals which charge Rs 15,000 to 20,000 a day," pointed out senior journalist Shahroz Afridi.
Dozens of letters and memorandums have been given to the government by politicians and journalists' unions in the past to consider them as front-line workers, but to no avail.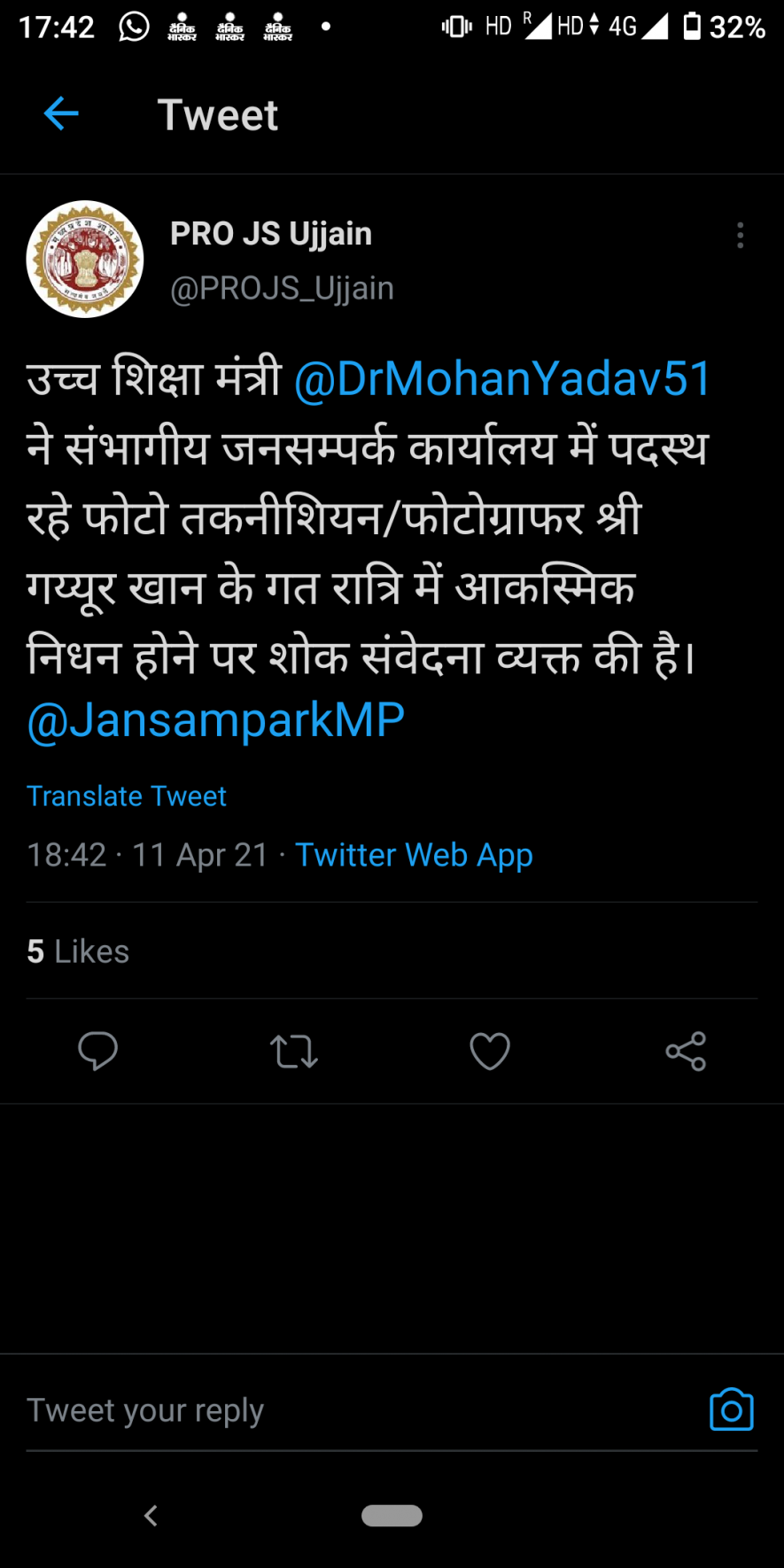 The Indore Press Club and journalists have said that just like cops and medical staffers, journalists too are dying while fulfilling their duty. Hence they should be considered front-line workers.
When Newsclick contacted Sudam Khade, Commissioner, Directorate of Public Relations, Madhya Pradesh, to know of the number of journalists who fell prey to COVID-19 and what help had been given to them, he replied: "We don't have any data related to this."
He chose not to comment when asked about the deaths of over 35 journalists in just a month owing to COVID-19.
(NOTE: Kamal Dixit died in March this year.)
Get the latest reports & analysis with people's perspective on Protests, movements & deep analytical videos, discussions of the current affairs in your Telegram app. Subscribe to NewsClick's Telegram channel & get Real-Time updates on stories, as they get published on our website.
Subscribe Newsclick On Telegram