MP: Behind the ASHA Workers' Fight for Regular Salaries and Recognition as Permanent Workers
ASHA workers have been struggling for recognition as permanent workers, a regular salary and social security for years Despite having worked for eight to twelve hours a day during the COVID-19 pandemic, ASHA workers in MP got a meager Rs 3000 as honorarium.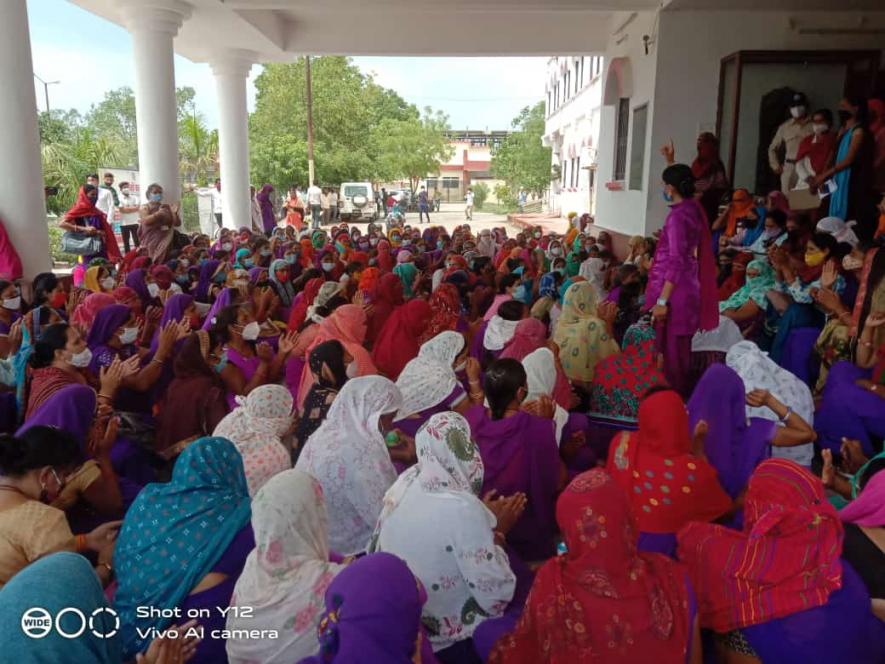 ASHA workers strike in Sehore, MP.
"We are on duty for 24 hours a day! We have to be prepared at all times as a pregnant woman can go into labour at any point during the day. We perform our duties diligently and make sure that no pregnant woman has to face any problems because of us. We make sure that she is treated, and delivers the baby in our presence," Pooja Kanaujiya, Assistant General Secretary of ASHA USHA ASHA Sahyogi Ekta Union, Madhya Pradesh (MP), said, explaining what ASHA workers go through on a daily basis.
"The government gets all their data collection work done from us. We make sure we do it as soon as we are given orders, but they are neither interested in recognising us as permanent workers nor are they interested in giving us a minimum wage," she added.
Instituted under the National Rural Health Mission in 2005, Accredited Social Health Activists (ASHA) act as health activists within a community to create social awareness on health and its social determinants. They mobilise the community for local health planning and increased utilisation of existing health services. Simply put, ASHA workers serve as the link between the community and the healthcare system. They have been playing a crucial role in improving maternal and child health outcomes. During the COVID-19 pandemic, ASHA workers were given the job of conducting surveys, tracing and testing people with COVID-19 symptoms in their communities, and counselling them. They also played a role in assisting them in creating and maintaining quarantine facilities and referring them to health facilities in case of a severe infection.
In June 2021, thousands of (ASHA) workers in MP went on an indefinite strike, demanding a hike in their monthly honorarium and the status of permanent workeRs A.T. Padmanabhan, state president of the Sahyogi Ekta Union in MP, asserted: "The struggle by ASHA workers has been a historic one. For the first time in the history of MP, all women workers from a particular sector have come together to fight for their rights. Out of 53 districts, this strike was conducted in about 40 to42 districts."
Their demands include recognition as permanent workers and a regular salary of Rs 18,000 per month instead of an honorarium. The amount is the starting salary norm for Central Government employees as per the Seventh Pay Commission. As of now, ASHAs are entitled to a monthly honorarium of Rs 2000 a month under the National Health Mission for their routine activities. Notably, this monthly remuneration was revised to Rs 2,000 from Rs 1,000 in the year 2018. In addition to this monthly honorarium they get incentives based on additional tasks such as Janani Suraksha Yojana, Home Based Newborn Care (HBNC), etc.
ASHA workers have been paid a meagre sum of Rs 1,000 in addition to their monthly honorarium of Rs 2,000 for all the work done during the pandemic.
In addition, the union has been demanding that ASHA Sahyogini be given a salary of Rs 24,000 instead of an honorarium of Rs 7,500 a month. The role of a Sahyogini is to supervise ASHA workers and guide them. They are also responsible for reporting the progress of the work done by ASHA workers to the health department.
"On June 24, following a demonstration in Bhopal, the delegation of the Samyukta Morcha went to the Mission Director of National Health Mission, MP. She agreed to propose an honorarium of Rs 10,000 per month to ASHA workers and send the proposal to the state government and the unions. They also promised a hike in the honorarium of Sahyogis but on the condition that their work days will be increased from 25 days to 30 days. She also promised a compensation of Rs 50 lakh to the families of ASHA workers succumbing to COVID-19 while on duty," Padmanabhan told Newsclick.
During a discussion on July 5 the state health minister urged the union leaders to call off their strike and assured them that the CM was looking into the matter. The union leaders then decided to postpone the strike. Eventually, the government announced an increase in the honorarium of Sahyoginis from Rs 7,500 to Rs 9,000 and increased their working days from 25 days to 30 days. However, the honorarium given to ASHA workers has not been increased.
A number of state governments pay ASHA workers an added remuneration over the honorarium given by the Centre. Kerala and Telangana have hiked the salary of ASHA workers to Rs 7,000 per month while Karnataka and Andhra Pradesh pay them a fixed salary of Rs 10,000 per month. In MP, the state government does not pay ASHA workers any extra remuneration from its side.
ASHA workers work for eight hours a day on an average. Research shows that workload of ASHA workers increased substantially during COVID-19; workers clocked almost 12-15 hours of work per day while being on call for almost 24 houRs
Before the pandemic struck, the duties of ASHA workers included conducting surveys every six months and collecting data from every household – registration of pregnancy, birth, death, marriage, health condition of every member of the household, etc. On an average, an ASHA worker covers 20 households a day. While conducting the survey they also counsel the members on any health conditions they may be facing at that time. One of the most important duties of ASHA workers is to counsel pregnant women on birth preparedness, importance of safe delivery, breast-feeding etc. and helping them in accessing health related services available to them.
Explaining the duties of ASHA workers during COVID-19, Kavita Solanki, the working president of ASHA USHA ASHA Sahyogi Ekta Union, MP, said that they "conducted a survey of 30 to 40 households on a daily basis to check if there was any COVID-19 patient. We checked for symptoms, helped people get tested, counselled patients and even assisted people in creating and maintaining quarantine facilities. This was when public transport was shutdown and we had to travel for work. Some of our husbands were beaten up while dropping us off to work," she added.
ASHA workers were later also deployed at vaccination centres from January this year where their duties include running awareness campaigns and taking people from the community to vaccination centeRs "We were told that we will be given a remuneration of Rs 200 per day along with lunch and snacks. We have not received any of that till date. Vouchers have been issued but we have not received any amount yet," Solanki added.
ASHA workers have to report to vaccination centers for four days a week – Monday, Wednesday, Thursday and Saturday. Vaccination camps are also organised on Sundays at times. Between July 18 and August 18, ASHA workers have also been asked to conduct surveys under the Dastak Abhiyan, which aims to screen children with severe anemia, severe acute malnutrition, those critically sick and children suffering from pneumonia. For their duties under Dastak Abhiyan, ASHA workers have not been promised any incentives.
Following is a list of some incentives received by ASHA workers for performing additional tasks:
Facilitating pregnant women in getting four check-ups through the nine months of pregnancy – Rs 200
Assisting a pregnant woman in delivering her baby at a government hospital – Rs 200 (the ASHA worker is entitled to this incentive only when her presence is acknowledged in the documents of the mother).
Duties related to Urban Health Nutrition Day (UHND) – Rs 150
Different vaccinations for children – between Rs 50 and Rs 100
Making visits to all the new born babies and their mothers for up to 42 days after the delivery [Home Based Care of New Born Care (HBNC)] – Rs 250
Besides this, they are also offered incentives for promoting family planning within the community, monitoring recovery of patients suffering from Tuberculosis, etc.
"Despite performing our duties diligently, they (the government) often cut back on our incentives. The reasons they cite are lack of funds, invalid entries etc. This is why we have been fighting for a regular salary instead of this system of incentives. Even an unskilled worker at a regular job is paid more than us, gets a provident fund, insurance and a regular salary. Despite being well educated, skilled and trained ASHA workers get none of this," Solanki added.
Elaborating on the issue, Padmanabhan said that "the system of incentives is the most ideal system to enable exploitation by extracting maximum work while paying the least for the work done."
ASHA workers from across the country have been agitating for higher pay, regularisation of work and social protection over the last few years. In August 2020, there was a nationwide strike of six lakh ASHA workers In May 2021, taking cognisance of a complaint, the National Human Rights Commission (NHRC) had issued notices to the chief secretaries of states to submit reports on issues being faced by ASHA workers
Laying emphasis on the role played by ASHA workers, Padmanabhan added: "It is only because of the hard work by ASHA workers that communities are aware of the situation and the virus today. The health department has played a role but the actual work on the field has been performed by ASHA workers A number of officials from the health department have been recognised and awarded for the improvement of the health situation in the state but their work have never been recognised or rewarded. They are not even given living wages. This is why we have been fighting for them."
ASHA Workers and Sahyoginis demonstrating at Dindori, MP.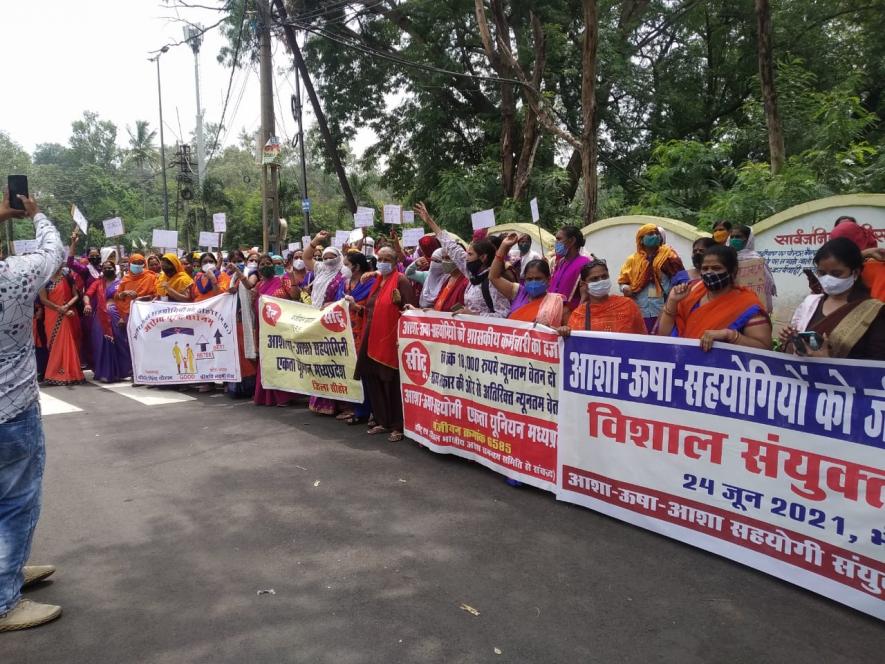 ASHA workers demonstrating in Bhopal, MP.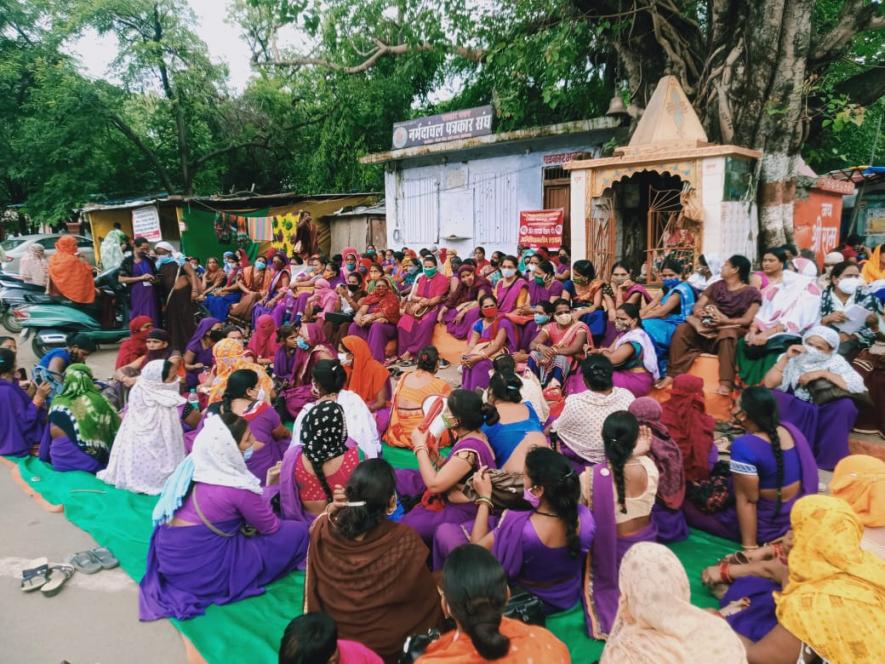 Demonstration of ASHA workers at Hoshangabad, MP.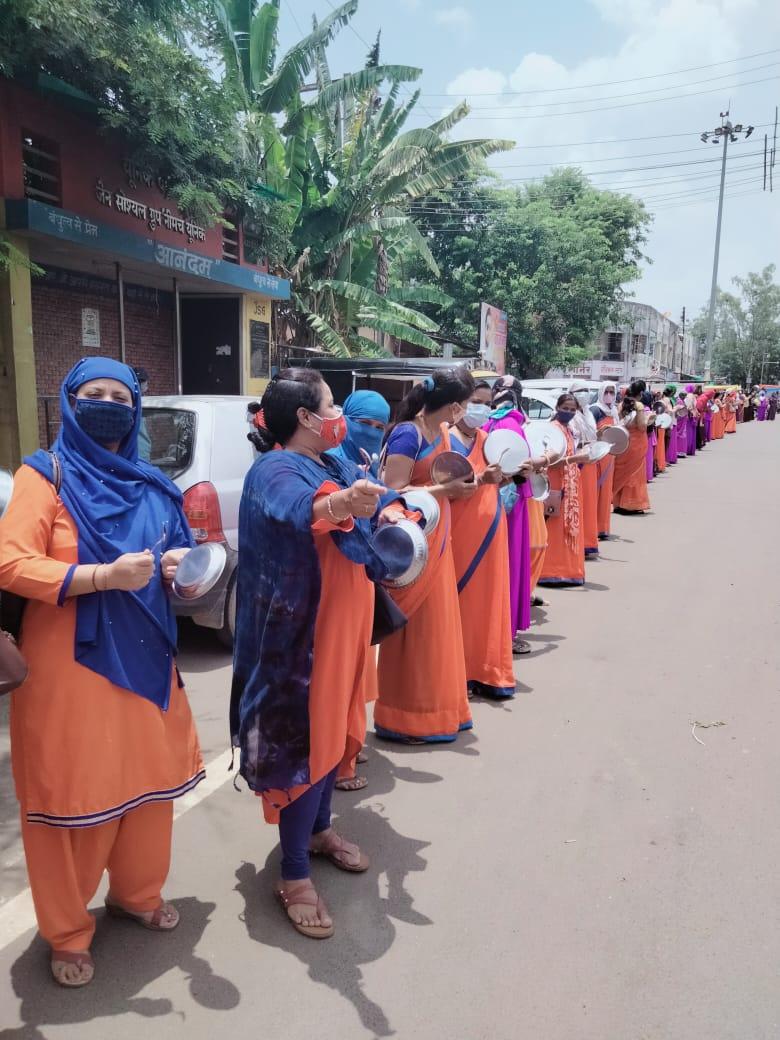 ASHA workers demonstrating in Mandsaur, MP.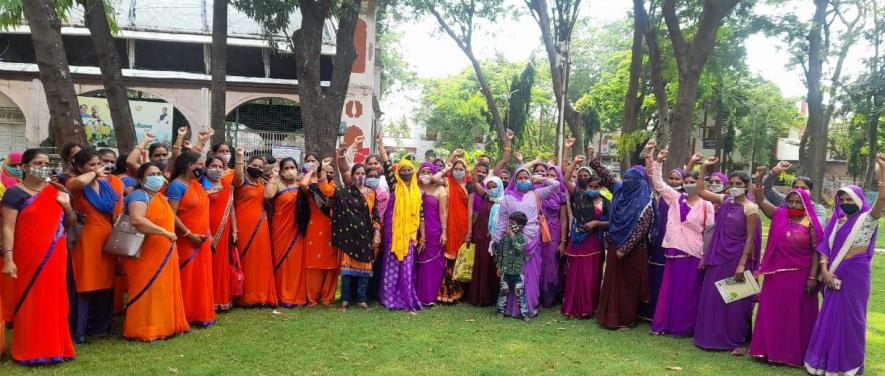 Demonstration of ASHA workers in Ratlam, MP.
The writer is an author and a Research Associate with Newsclick. The views are personal. She can be reached on Twitter @ShinzaniJain. 
Get the latest reports & analysis with people's perspective on Protests, movements & deep analytical videos, discussions of the current affairs in your Telegram app. Subscribe to NewsClick's Telegram channel & get Real-Time updates on stories, as they get published on our website.
Subscribe Newsclick On Telegram