MP Celebrates 7.21 crore COVID Vaccines, but Hasn't Paid Over 90,000 Vaccinators, ASHAs
Hundreds of ANMs and paramedical vaccinators, outsourced by the health department and NHM to administer vaccines, were to be paid Rs 500 a day, but over 75% of them are still awaiting payment.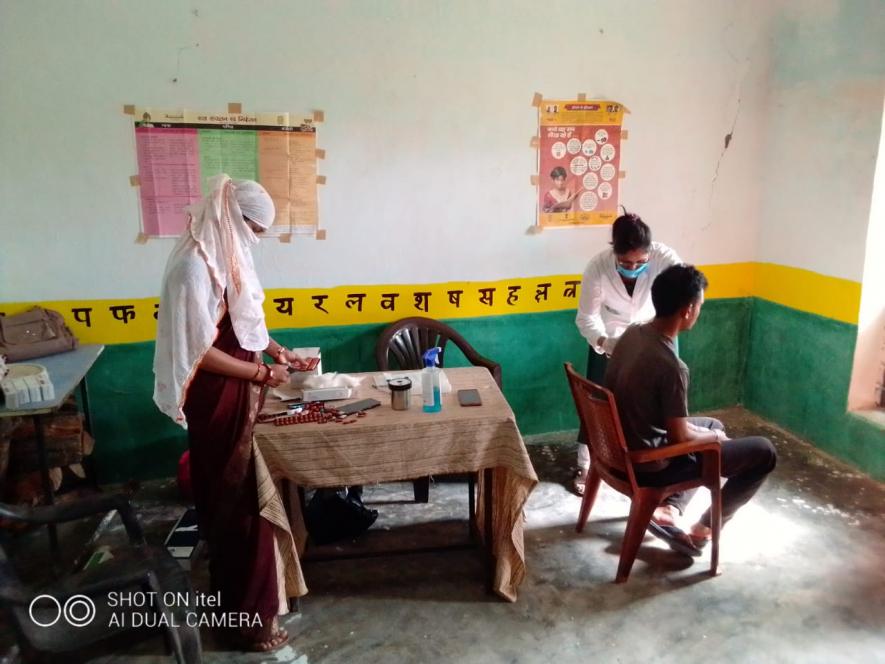 Bhopal: Archana Carpenter, 29, an Auxiliary Nurse Midwife (ANM) posted in Narsinghpur locality of Rajgarh district of Madhya Pradesh died of heart attack on October 23, while she was on her way to administrate door-to-door COVID-19 vaccine in nearby villages. 
Carpenter's husband Chitresh Ojha, 33, alleged she was overworked. She had not been given a single leave since January 23, nor any remuneration or incentives promised by the government.
"She was under tremendous pressure and had been returning home late at night since vaccination started. She was often busy with paperwork till 2 a.m. The night before her death, she slept at 3 a.m and was rushing to administer the vaccine around 8 a.m but collapsed and died subsequently," said Ojha, who runs a general store.   
Like Archana, there are over 90,000 health workers who are instrumental in administering over 7.21 crore COVID vaccines (till November 12) making Madhya Pradesh the state with the fifth highest vaccination in the country. These workers have been running from pillar to post and have even faced lathi-charge during protests, all in the quest to get their rightful dues. Some of them are paid a pittance, while thousands are still awaiting payments.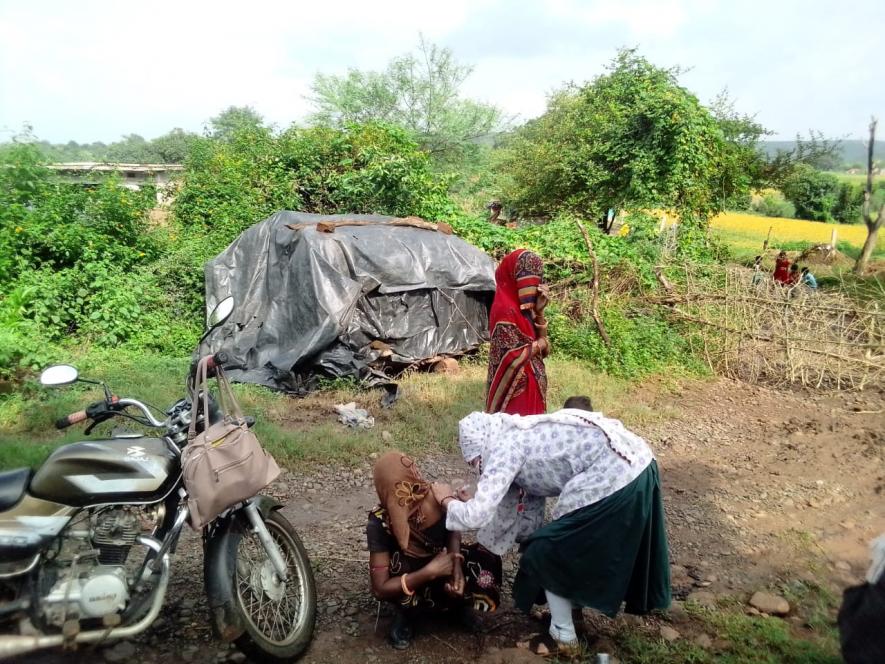 Over 84, 000 accredited social health activists (ASHA) workers, who pulled crowds to vaccination centres, were promised Rs 200 a day, as per the government order. Hundreds of ANMs and paramedical vaccinators, outsourced by the health department and National Health Mission to administer vaccines, were to be paid Rs 500 a day, but over 75% of them are still waiting for payment. 
In addition to that, Alternate Vaccine Delivery (AVD) staff who transport vaccines to the centres from the cold storage, were to be paid Rs 90 per bucket of vaccines they transported, with one person permitted to transport a maximum 10 buckets in a day. However, much like ASHA workers and ANMs, even their dues are unpaid since August.
According to State Health Department officials, over 14,000 ANM staff who are either contractual or outsourced have been administering vaccines on 8,498 sites. For the past two months, ANMs have been vaccinating people on their doorsteps with the help of ASHA workers.  
In a letter issued by the National Health Mission, Madhya Pradesh, to Chief Medical Health Officers and District Immunisation Officers of all districts on January 28, 2021 says that the Rs 200 a day will be paid to ASHA workers for mobilising people for COVID vaccination apart from their existing salary of Rs 2,000 a month. Besides, Rs 500 per day will be paid to vaccinators who are outsourced for the job.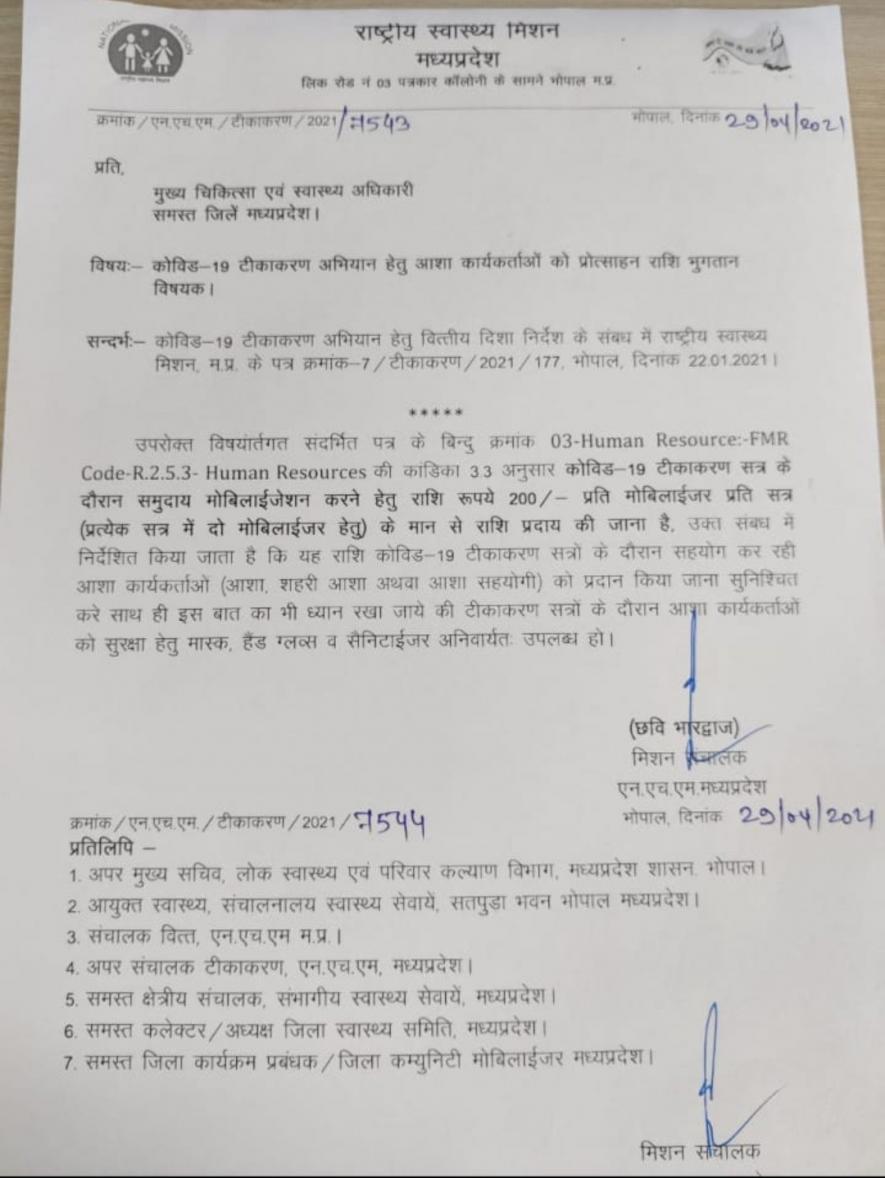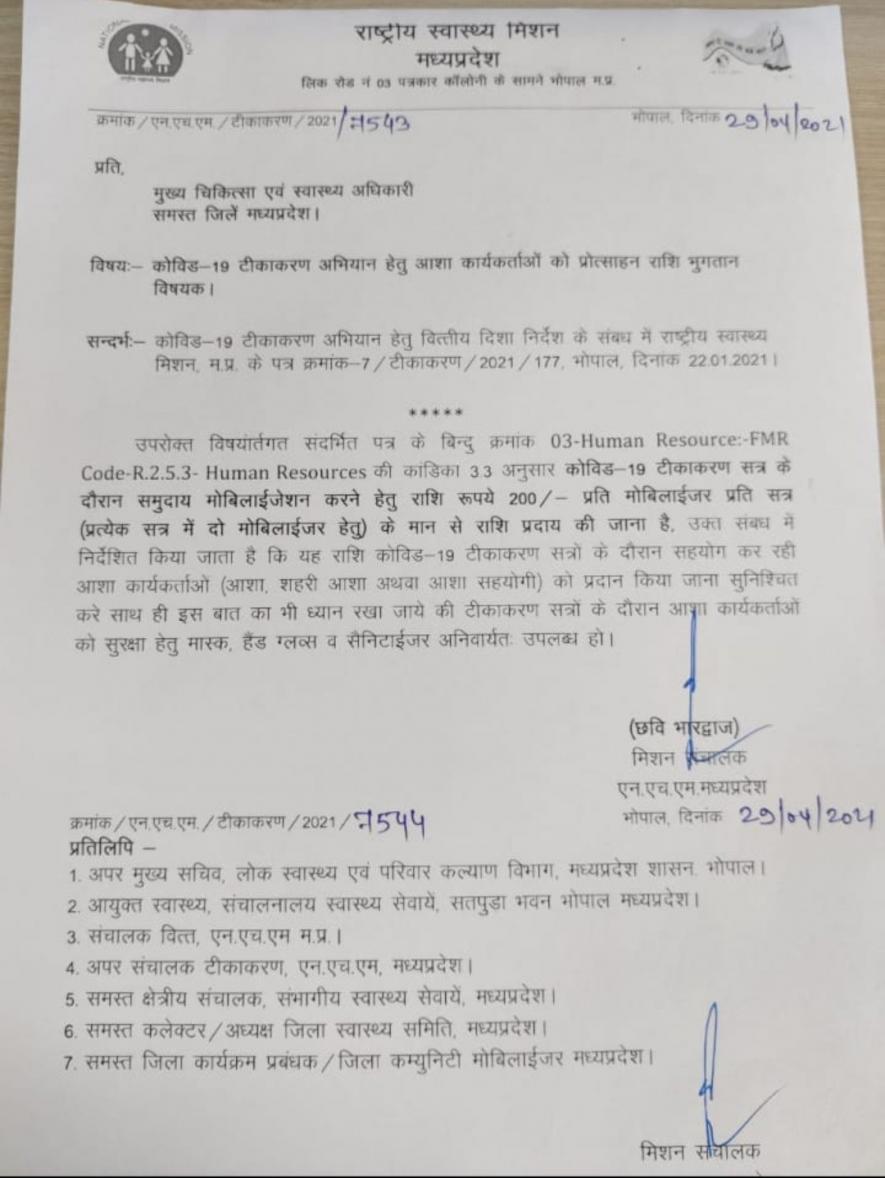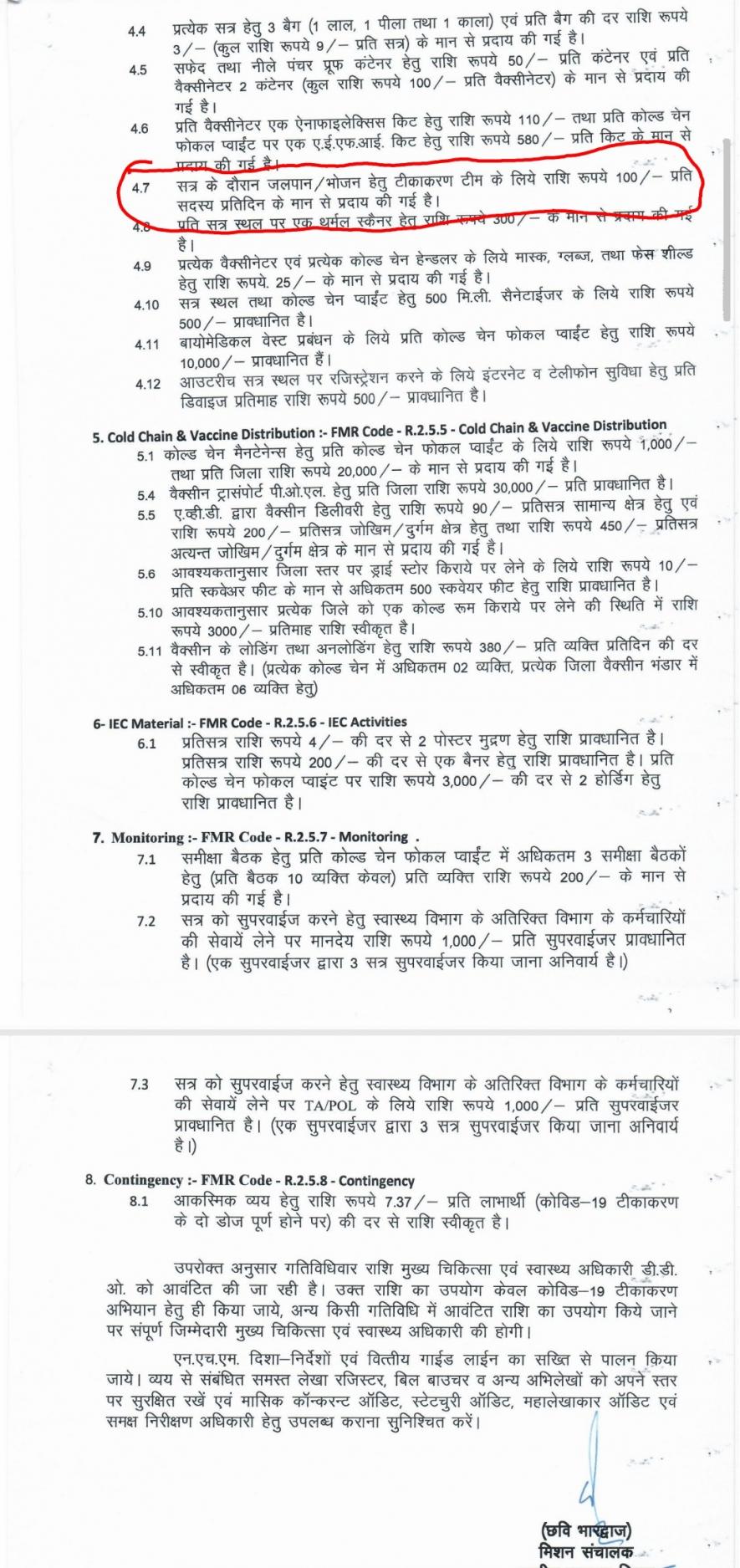 In addition, Chief Minister Shivraj Singh Chouhan had announced protsahan rashi (incentive) of Rs 10,000 to COVID frontline workers. But these health workers have neither got the promised remuneration nor the protsahan rashi. 
To press their demands, health workers, including junior doctors, have held dozens of protests in Bhopal in the past eight months, and have given numerous memoranda to the district collectors and senior health officials, but all in vain.
This pathetic plight of health workers is stark at a time when the Bharatiya Janata Party-led Madhya Pradesh government is celebrating the 'landmark' achievement of the India administering over 100 crore COVID vaccines since January 16, 2021 and crediting Prime Minister Narendra Modi and Chief Minister Shivraj Singh Chouhan for this achievement. 
"Empty words can't fill the stomach," lamented ANM union leader Aakancha Dubey, speaking on the issue of non-payment of honorarium and other incentives to the health workers.
On the day-to-day struggle of ANM workers in administering COVID vaccines, Dubey said since January 16, 2021 (when vaccination started), ANMs and ASHAs have been working over 15 hours a-day from 9 a.m to till late night with no support from the district administration either in terms of transportation or safety.
"We were promised the sun and moon when the vaccination drive was kickstarted and the administration was in need of manpower. They offered not only higher pay, but also vehicles for our travel to reach out to villagers, but these promises have turned out to be hollow," she said.
Dubey claimed when the price of petrol was skyrocketing, ANMs were travelling with their own mode of transportation to remote areas. "Our government holidays were cancelled forcing us to work on Diwali and Bhai Duj", she said. 
Rahul Jain, president of ANM workers union, said: "ANMs were targeted to administer an average 400-500 vaccines a day. Many have laid down their lives in the line of duty, some in road accidents on their way to administer vaccines. But after all this, the government is turning its back in paying them and is taking all the credit."
Archana Carpenter , a mother of two, had joined as an ANM in Narsinghpur on January 5, 2020. She had the charge of over 15 villages but conducted door-to-door surveys during both COVID waves without PPE (personal protective equipment), mask or sanitiser provided by the government, except Rs 12,000 as salary. 
"She was a soldier without a gun who laid down her life in a bid to save others. She put her life at risk and almost abandoned both her kids during the vaccination drive. But what is the outcome?" asked her husband, adding "Neither is she considered as COVID warrior nor is her family provided any financial support. Who will look after both her kids, including two-year-old daughter."
Patting the backs of ANM, ASHA and CHOs for the success of COVID vaccination drive, Priyanka Das, Director, National Health Mission said: "Just because of their hard work, we succeeded in administering over 7.11 crore vaccines in just couple of months. ASHAs mobilised the people, ANMs and CHOs administered vaccines and this equation works perfectly."
On the question of non-payment of promised money, she said: "I have joined as NHM director recently. Hence, I don't know much about the promises made to them."
After an extensive protest in Bhopal by the ASHA workers, on April 29, the then NHM Madhya Pradesh director Chhavi Bharadwaj had written to Chief Medical Health Officers of all districts to release vaccination incentives of ASHA workers, but it has not yielded any results. 
Throwing light on the work done by ASHA workers who mobilised people for vaccines, Laxmi Kourav, state president of MP Asha Sahyogini Sangh, an independent body of ASHA workers, said: "During the first wave of COVID, we were promised Rs 1,000 a month for three-month long door-to-door survey and Rs 10,000 by the Chief Minister as Protsahan Rashi. When it comes to vaccination, we have been working as mobilisers and are eligible to get Rs 200 a day for it. But, even after half dozen protests, merely 20% of us have received payment."
In addition to that, many of the ASHA workers who died due to COVID complications after contracting the virus during the door-to-door surveys, hardly one or two got paid Rs 50 lakh, as promised by the Chief Minister.
When the issue of non-payment was raised before the State Immunisation officer, Dr Santosh Shukla, he said the department had not promised any honorarium or incentives to anyone. "The government is already paying them a salary for their work. What is the need for an honorarium? No such order has been issued by the department which promises incentives or honorarium to government employees. As far as outsourced health workers are concerned, we are paying them."
When asked about Chief Minister Chouhan's statement of June 2020 in which he promised Rs 10,000 to every frontline health worker as incentive for working during COVID, he said: "The department does not run with just words. No such order has been issued in this regard."
Terming this as 'injustice', Amulya Nidhi, state convener of Jan Swasthya Abhiyan, said: "When the government needed manpower, they promised incentives and honorarium but the foot soldiers are still unpaid for months. This is injustice. They should be paid what they were been promised."
"The government which has countless funds for developmental projects in poll-bound districts and for holding big events must fulfil the rightful demands of frontline health workers," he added. 
Despite repeated attempts, Health Minister Prabhuram Choudhary could not be contacted.
Get the latest reports & analysis with people's perspective on Protests, movements & deep analytical videos, discussions of the current affairs in your Telegram app. Subscribe to NewsClick's Telegram channel & get Real-Time updates on stories, as they get published on our website.
Subscribe Newsclick On Telegram