MP: Sinha, Murmu Reach Bhopal as Presidential Poll Campaigning Nears End
On the one hand, former Union finance minister and UPA candidate for the Presidential election, Yashwant Sinha, expressed concern over the falling value of the rupee against the US dollar; on the other, NDA's tribal candidate Murmu pitched for staying with Constitution.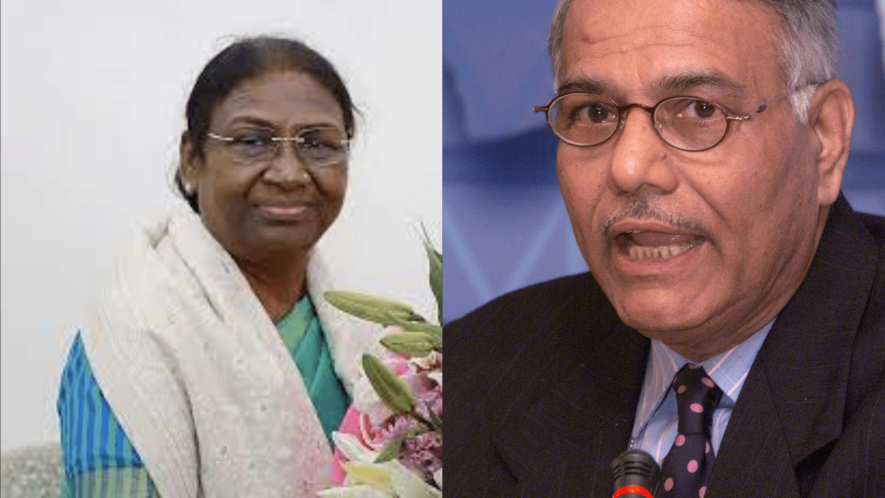 Droupadi Murmu and Yashwant Sinha. Image Courtesy: Wikipedia
Bhopal: To drum up support ahead of the Presidential election, ruling party candidate - Droupadi Murmu and opposition candidate Yashwant Sinha - visited the state capital and met with MLAs.
On the one hand, former Union finance minister and UPA candidate for Presidential election, Yashwant Sinha, who visited Bhopal on Thursday, expressed concern over the falling value of the rupee against the US dollar, financial debt of Madhya Pradesh, degradation of democratic values in the country and horse trading of MLAs to win the presidential election, on other, NDA's tribal candidate Murmu pitched for staying with Constitution.
Sinha visited Bhopal on July 14 and addressed the media after meeting with Congress MLAs at the party office. "If I am elected for the president office, I will use that power to uphold the democratic values and try to stop the ongoing tendencies in the country," he said, pointing at the falling of Uddhav Thackrey-led collision government in Maharashtra and attempts to poach Congress MLAs in Goa and Madhya Pradesh. "And if I fail, I will fight with opposition parties to defend democracy."
He continued, "I'm deeply pained that tribal MLAs from Madhya Pradesh are being offered money and posts to vote against the party line. If BJP has numbers and is confident of the victory, why did they need to poach MLAs and bring down the government in Maharashtra? I want to ask non-NDA parties, BJD, YSR Congress, JDS, JDU, Shiv Sena, and Akali Dal, who extended their support to the BJP's tribal candidate ahead of the presidential election, do you support such undemocratic behaviour?"
Referring to the horse-trading of MLAs by the ruling party, the former BJP leader said, "In 1999, Atal Bihari Vajpayee-led government fell with just one vote because he chose not to hoard. Can we imagine this under Modi-led BJP?"
Showing concern over the falling of the rupee against the dollar, the former Finance Minister pointed out that India will never see a crisis like Sri Lanka, and yet, the country's foreign exchange reserve, which was $641 billion till a few days ago, is fast depleting. "The rupee is galloping towards Rs 80 a dollar. We have never seen such rapid deterioration in the value of the rupee before," Sinha cautioned.
"When Narendra Modi became Prime Minister in 2014, it was Rs 58.44 to a dollar. Today, it is Rs 79.86 to a dollar. Why? Someone from the government has to explain what is happening to the economy," he said.
Taking a dig over the financial mismanagement of Madhya Pradesh, he said, "In March 2020, Madhya Pradesh had loan burden of Rs 1.8 lakh crore which will surge to Rs 3.25 lakh crore by March 2023, according to the government's estimate. Is this financial management? And the Centre is silent on this. Is this how the economy functions under the 'double-engine government'."
He remarked, "Atmanirbhar Bharat and Atmanirbhar Madhya Pradesh will soon become Karz Nirbhar Bharat and Karz Nirbhar Madhya Pradesh."
The Congress has 96 MLAs in Madhya Pradesh, while the BJP has 127 MLAs, and the remaining seven are from SP, BSP and an independent candidate. Nonetheless, on June 13, three sitting members of the legislative assembly (MLA) of BSP, SP and one independent MLA joined the BJP, making it the 36th defection in the 230-seated Assembly since the fall of the Kamal Nath government in March 2020 with Jyotiradiya Scindia's exit.
Droupadi Murmu, NDA's tribal presidential candidate who visited Bhopal a day after Sinha's Friday, spoke on her political and social journey and god while addressing the BJP MLAs at the chief minister's residence in Bhopal. "I have no one before or after me. All I have is this country, its soil and God."
"After 75 years of Independence, the tribal society, which never thought they would reach the top, is inspired. PM Modi has made a roadmap for the next 25 years to make this country flourishing and prosperous. We will work to fulfil his dream. Staying within the limits of the Constitution, I am ready to serve the nation," she said.
Hours before Murmu's visit, on Friday, a team of tribal BJP MLAs met with Congress state president Kamal Nath urging him to support Murmu in the presidential election.
The former Jharkhand Governor, who was welcomed by chief minister Shivraj Singh Chouhan and other stalwarts leaders of the BJP at the state hanger, rejoiced a colourful gathering of tribals and their fold daces at CM house. "I will never forget how India's heart, Madhya Pradesh, welcomed me today. This is the first time in my life that I have been received this way," Murmu said at CM House.
"On the 21st of last month, just 15 minutes before the announcement of the Presidential candidate, I received a phone call from the Prime Minister. He said, 'this is what you have to become'," the Presidential candidate said. "I said, Sir, you made me Governor. But will I be able to work in that high position? He said, "We are all with you."
Explaining why she is going from state to state before the Presidential elections of July 18, "I have never been to Rajya Sabha or Lok Sabha. I was not part of central politics. So, people would wonder, who is she? I wanted to know my country, and the people of this nation wanted to know me."
"I know this is our (BJP's) state, and I will get support. So I had to come here. But I have even gone to states where the vote value of an MLA is 7 or 8 because this is an opportunity to meet everyone," she added.
The former Odisha minister, who belongs to the Santhal community, lost her husband and two sons but kept working – first as a teacher, then as an assistant professor and then in the Odisha irrigation department.
"When I was elected a corporator, I worked for my ward. Then, as an MLA, I worked for my constituency. As a minister, I worked for my state. I was stunned when appointed as Governor. I often wondered if I would be able to work at that position," she recalled, adding that she was happy to return to her village in Odisha after completing her tenure as Jharkhand Governor.
Along with BJP's MLAs, at least two independents and BSP MLA Ram Bai were seen in the gathering of legislators. At the end of the meeting, CM Shivraj Singh Chouhan told MLAs, "There is no place of "if" and "but", the party is everything, and we have a clear-cut line to follow. Therefore we should not use our intelligence but follow it."
After getting the support of some regional parties like BJD, YSR-CP, BSP, AIADMK, TDP, JDS, Shiromani Akali Dal and Shiv Sena, the vote share of Murmu has already crossed 60%. It was around 50% at the time of her nomination.
Polls to elect the 16th president will be held on July 18. The race for the Rashtrapati Bhavan will be between Murmu and Sinha.
Get the latest reports & analysis with people's perspective on Protests, movements & deep analytical videos, discussions of the current affairs in your Telegram app. Subscribe to NewsClick's Telegram channel & get Real-Time updates on stories, as they get published on our website.
Subscribe Newsclick On Telegram