MP: Tribal Freedom Fighter Tantya Bhil's Village in Dilapidated State
During Bharat Jodo Yatra, Rahul Gandhi's visit to the tribal icon's village has created a political flutter. He also demanded an apology from BJP and PM for terming 'adivasis' as 'vanvasis'.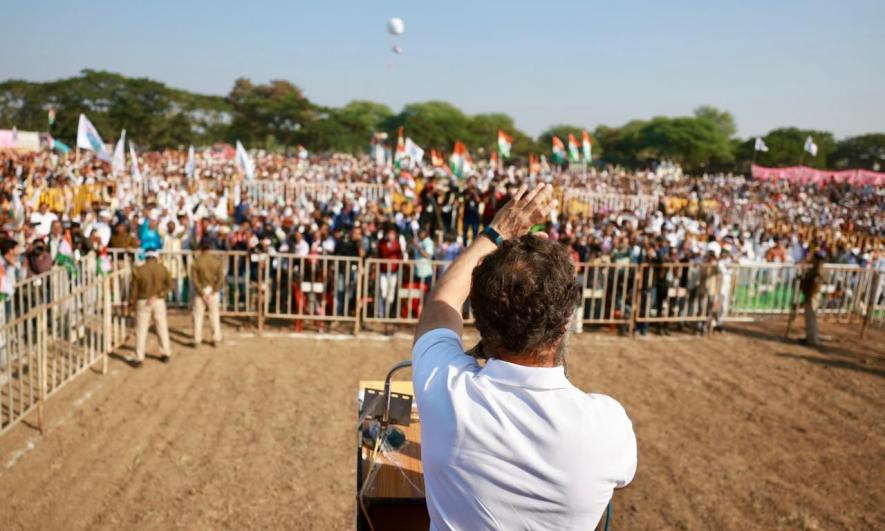 Khandwa: Congress leader Rahul Gandhi's visit to the birthplace of tribal freedom fighter Tantya Bhil (Tantya Mama) in  Badoda Aheer village of Khandwa district in Madhya Pradesh on Thursday during the Bharat Jodo Yatra has put a spotlight on the plight of over 230 tribal families living in the village.
 Bumpy roads with dust welcomed Gandhi into the village, where he met descendants of Tantya Mama, heard their problems and distributed chocolates to the children. Villagers shared their problems with the Congress leader and told him that there was no proper water system in the village -- for drinking and irrigation. More so, as irrigation was their only source of livelihood. The condition of electricity supply is also poor, as are the roads.
Badoda Aheer, a village with 250 houses and a population of 845 voters, lacks proper roads, water, and electricity and has faced neglect in majority of government schemes. Of the 250 houses, at least 220 belonged to adivasis, 15 to the Scheduled Castes (SC), while the remaining families belonged to the upper castes.
The village, 30 km from Khandwa town on the border of Khargone district, has over 200 Below Poverty Line (BPL) cardholders, while the remaining get ration under the PM Garib Kalyan Anna Yojana.
"Yeh Tantya Mama ka gaon hai. sarkar ko isko chamka dena chahiye tha, (this is Tantya Mama's village. The government should have developed this)", 45-year-old Soni Bai, the fourth generation descendant of tribal icon Tantya Bhil.
Except for Tantya's Memorial, constructed on 1.5 acres donated by his granddaughter Soni Bai, the village has no pakka (concrete)house.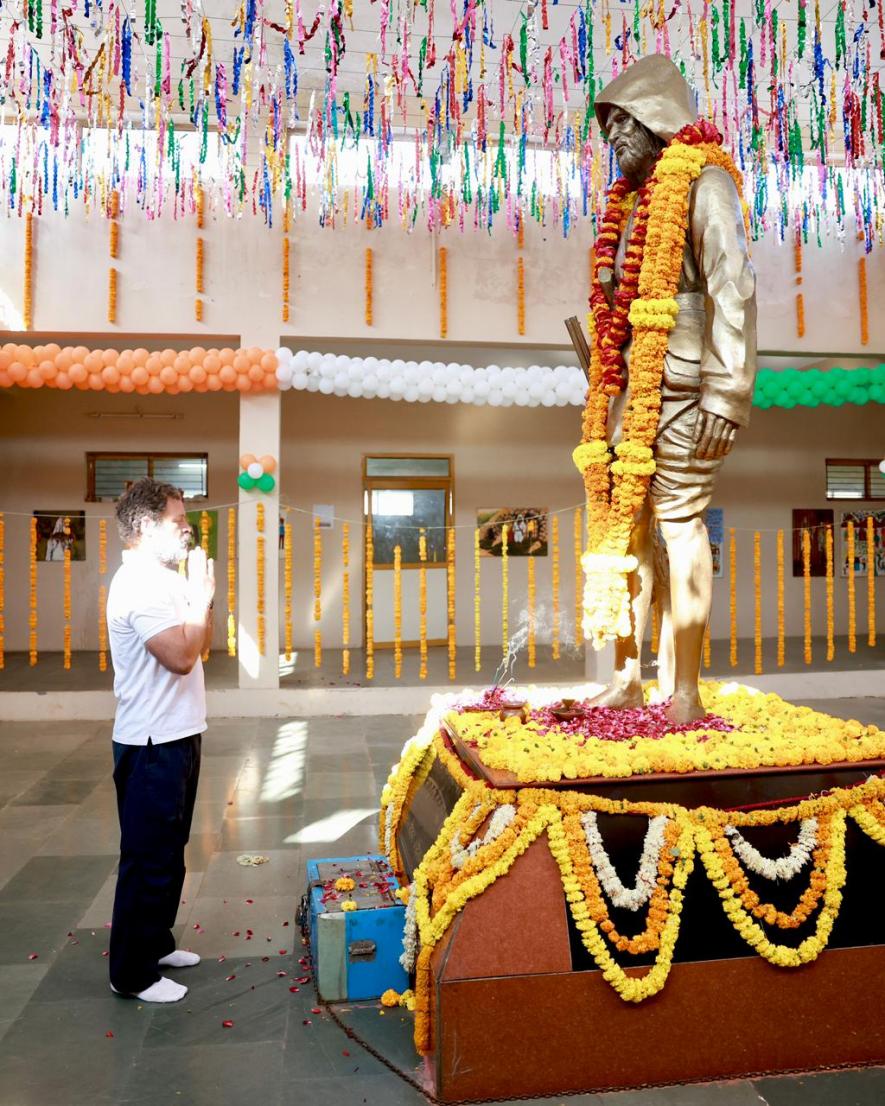 Interestingly, a day before Rahul Gandhi's visit, Chief Minister Shivraj Singh Chouhan of the Bharatiya Janata Party (BJP) visited the village, paid tribute to Tantya, and launched the 'Janjatiya Gaurav Abhiyan' from Badoda Aheer after participating in a tribal dance. But these visits hold little meaning for the villagers who still struggling with basic amenities.
Villagers claimed that Chouhan, some ministers, and politicians often visit the village, and make promises but never fulfill those.
"Wo jb aate hain to khud bhi to dekhte hai ke gaon wale kaise rah rahe hai. kya kya suvidhaon ke kami hai. zaruri hai ke sab kuch hath phaila kar mange tabhi milega?" (when they visit, they see the condition of the village and how we live. Is it necessary for us to always beg for development work?) Bai told Newsclick. She said she received Rs 11 lakh from the Madhya Pradesh government for donating land for the Tantya's memorial.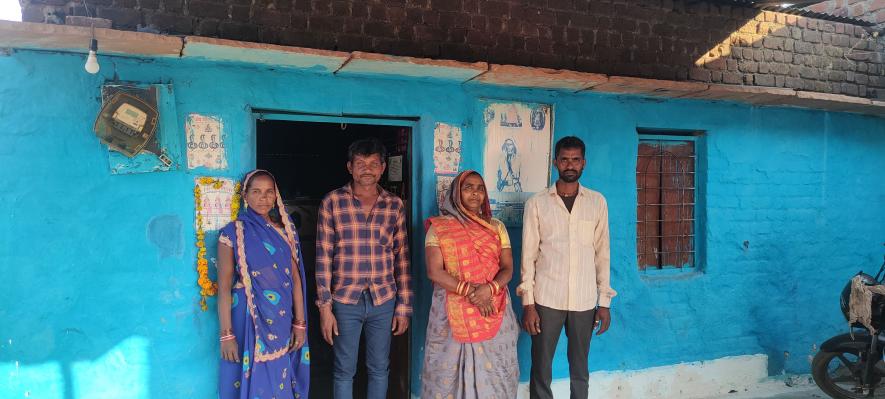 At present, Soni Bai earns Rs 8,000 a month for working as a cook in the tribal residential hostel built close to Tantya's memorial and lives meters away in a one-room mud house. 
According to Sushil Vikram, the sarpanch (village head) of Badoda Aheer, who has been elected in the recently concluded panchayat elections, the village lacks basic amenities, such as proper roads, water, and electricity. 
Vikram claimed that less than 10% of the villagers had received houses under the PM Awas Yojna and just over 20% benefited from the PM Ujjawala Yojana to give free gas cylinders to the poor.
"The village is totally ignored in government schemes. The officials don't understand the importance of this village. Would this have happened if Tantya Bhil belonged to the upper caste or influential community?" he said.
Expressing disappointment with the ruling regime, Vikram said: "When CM Chouhan visited the village two days ago, I urged him to fix the dilapidated roads and provide proper water for drinking and irrigation in the village. I raise the same point last year. But both times, I was told that the government is going through a financial crisis."
Speaking over the phone, he alleged: "Government has crores to buy MLAs and for the day-to-day event of ministers to woo tribal votes but not for the village of a tribal freedom fighter Tantya Bhil."
Villagers claimed that the recently introduced 'Take Home Ration' delivery scheme in all 89 tribal blocks of Madhya Pradesh was also dysfunctional in the village. 
"Last year, CM Chouhan promised home delivery of PDS (pubic distribution system) ration in all tribal blocks of the state. But, we receive our monthly ration from a village located three km away from the village. The majority of villagers go there on foot," said 65-year-old Sobai Bai, a Bhil tribal.
Champa Lal (45), another villager, pointed out that the Chief Minister had made promises to build a canal in the village to provide water for irrigation last year. But, this didn't happen. 
On his visit, Rahul Gandhi promised adivasis to give them all their rights if Congress returns to power.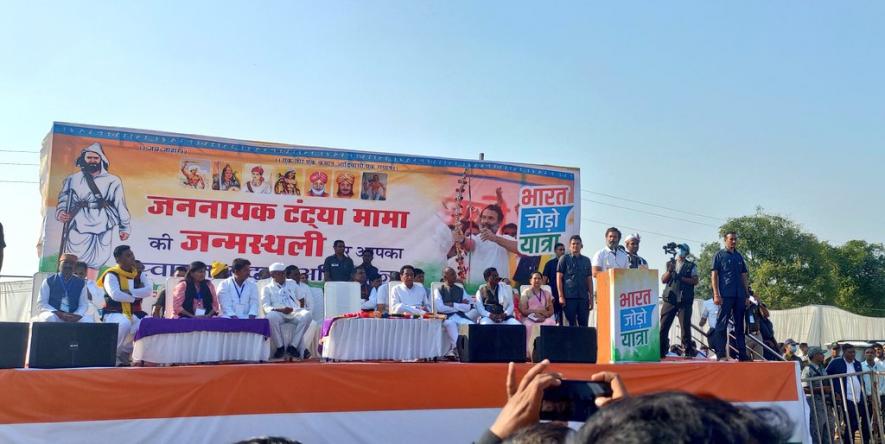 Tantya Bhil was only 25 years old when the 1857 mutiny broke out. His parental property was seized by the British and he was put in jail. He was tainted as a thief even by those from his village. He was arrested from Pokhar village near Indore but he escaped. His pro-poor approach earned him the title of 'Tantya Mama'.
The British formed a special police unit known as the "Tantya police" to apprehend Tantya Bhil as his power was growing. The British authorities once again detained him at the age of 50 from a village near Indore. He was given death penalty on October 13, 1889, despite the Bhils and Holkar King's efforts. This made him a revered hero of the Bhils and has become part of their folklore ever since.
Tantya is politically important for both Congress and BJP as tribals account for 21% of the state's population-- the highest in the country. Tantya Bhil, as the name suggests, belongs to the Bhil community, which accounts for nearly 40% (59.93 lakh) of the total 1.53 crore tribal population in Madhya Pradesh. The Bhils are spread across western MP in the districts of Barwani, Khandwa, Burhanpur, Khargone, Dewas, Dhar, Jhabua and Alirajpur. These eight districts together account for 18 tribal seats, of which 13 seats are held by Congress.
After losing half of the tribal seats in the 2018 Assembly elections to Congress, the BJP, which has been in power in Madhya Pradesh since 2003, excluding the 15-month-long rule of the Congress in 2018, has launched a tribal outreach programme.
To woo tribal voters last year, Chouhan renamed Patalpani railway station in Indore after Tantya Bhil. A bus stand, a primary health centre in Indore and an intersection were also named after the tribal icon, whose temple in Palanpur will also be renovated.
During the Bharat Jodo Yatra, Gandhi, while addressing a tribal gathering after meeting the descendants of Tantya Mama, countered Prime Minister Narendra Modi's recent comment referring to adivasis as 'vanvasis' (forest dwellers).
"You (tribals) are owners of this land, not vanvasi. By terming you vanvasi, the BJP wants to label tribal communities as forest dwellers and deprive you of all your rights over land, forest and water. Congress brought the Forest Rights Act, MANREGA, Land Acquisition Act, PESA and others to empower tribals and give them rights," the Congress leader said.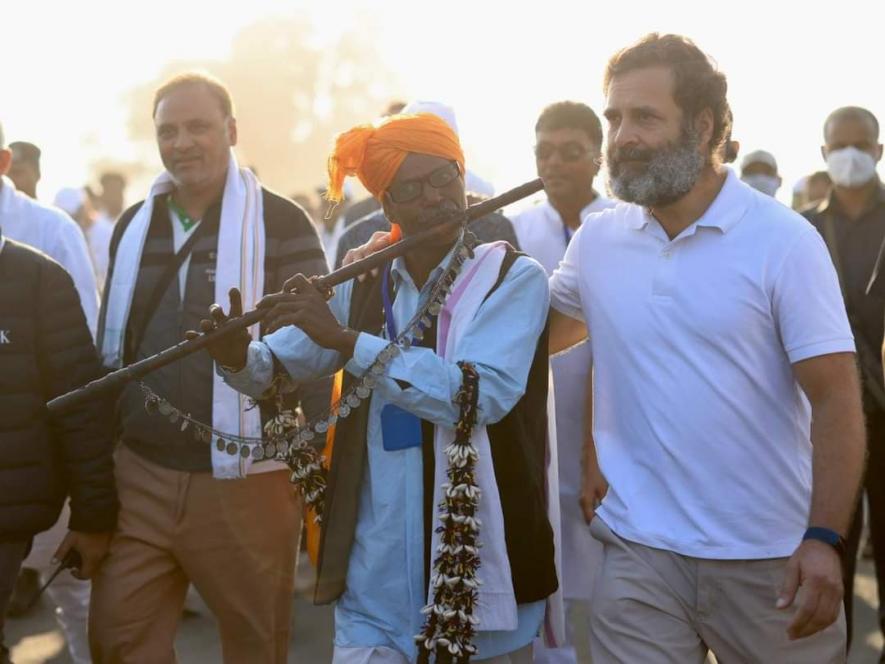 Gandhi demanded an apology from BJP for terming adivasis as vanvasis. "He (Modi) is taking your (tribal) rights to hand over land, and forest to his industrialist friends," he added.
Attacking Rashtriya Swayamsevak Sangh (RSS), the ideological parent of BJP that has coined the term vanvasi, Gandhi linked Tantya's freedom struggle and his public execution by the British, Gandhi said: "The British hanged Tantya to send a message to freedom fighters. And the RSS, which was against the freedom movement, helped the British to kill people like Tantya Bhil and Birsa Munda and others. RSS is behind the death of Tantya."
He also pointed out that Tantya Mama was born on January 26, the same day that became the Republic Day of India.
The Congress leader also criticised BJP's decisions, such as demonetisation, Goods and Services Tax (GST), unplanned lockdown among others. He also held the Madhya Pradesh government responsible for failing to curb atrocities against tribals, which is the highest in the country.
Rahul Gandhi's Bharat Jodo Yatra entered Madhya Pradesh on November 23 in Burhanpur and for the first time, Priyanka Gandhi, his sister and Congress leader, joined the Yatra with her husband and son. 
In his maiden speech in Burhanpur, Rahul Gandhi said: "People voted for Congress in 2018 but a few corrupt MLAs switched to the ruling party and we lost the government."
Get the latest reports & analysis with people's perspective on Protests, movements & deep analytical videos, discussions of the current affairs in your Telegram app. Subscribe to NewsClick's Telegram channel & get Real-Time updates on stories, as they get published on our website.
Subscribe Newsclick On Telegram