MSP, Debt Crisis: Why Farmers in Western UP Are Protesting Against Farm Laws
With the latest farm laws advising contract farming, the farmers believe that it would altogether deprive them from their most prized possession, land.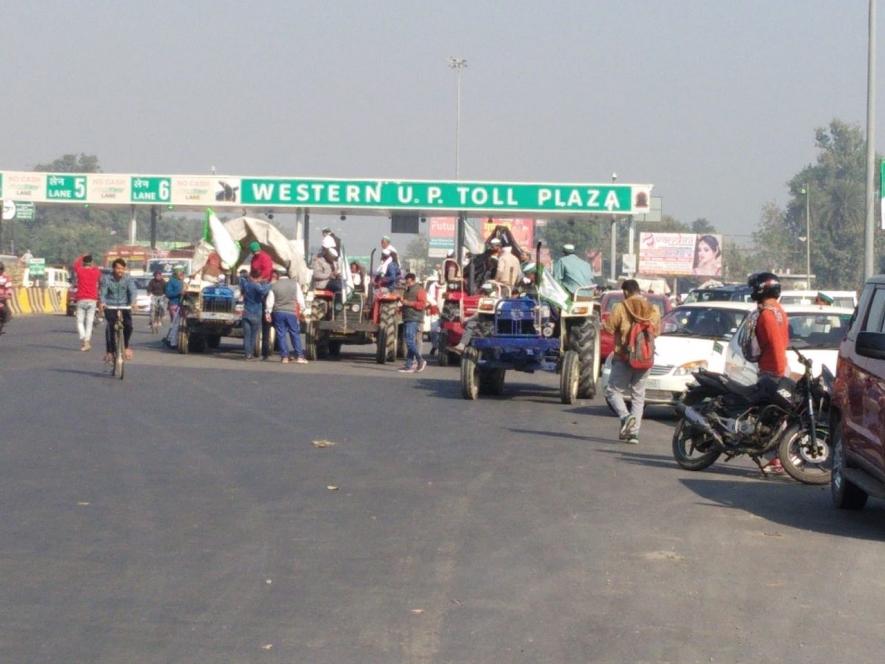 "I went through a surgery of my kidney a few days ago and it is still aching. I can tolerate this pain but, the suffering that the government has made us go through will surely kill us. That is intolerable and this is why I am going to Delhi for protest," these words of farmer Hariraj Singh exemplify the distrust and anguish that the newly enacted farm bills have caused among the farmers in western Uttar Pradesh.
NewsClick met Hariraj Singh, a farmer from Bijnor in Uttar Pradesh on the way from Meerut to Delhi, after the farmers had assembled to march towards the national capital in response to a protest call given by Bharatiya Kisan Union (Tikait). Singh and other farmers NewsClick spoke with narrated their ordeal about the distress looming over farming and how it has inflicted a never-ending debt and miseries in their lives.
Western Uttar Pradesh is known for its sugarcane farming and hosts several prominent sugar mills including Simbhaoli and Mawana. Sugarcane farming brought rich dividends and prosperity to the farmers, who now have almost abandoned paddy and wheat, but a delayed payment system by the private mills appears to have wrought havoc. With the latest farm laws advising contract farming, the farmers believe that it would altogether deprive them from their most prized possession, land.
Talking to NewsClick, Singh said, "Nobody asked the government for the new laws. Did it invite any farmer or farmers' organisation to find out what we want? No, it is just imposing the laws on us!"
Also read: 'Delhi Chalo': UP Farmers Stopped at Ghazipur Border, Police use Force
He further argued if the Centre has no ill intention with Prime Minister Narendra Modi reiterating that the farmers will continue to get the minimum support price, it should not have any hesitation in adding two lines in the laws about it. "Why is it hesitant in writing it?," he questioned.
The farmers also highlight the fallacy of minimum support price of crops in the region. Singh said, "The biggest impediment that we face is the limited opening of buying centres in our region. The government opens the centres for only two months. I do not wish to sell my produce now but I do not have much option and it's hurting me."
He explained, "For example, the government announced the MSP for wheat at Rs 1,975 per quintal. But when I go to the market, I find no takers and I have to sell it for Rs 1,500. When I calculate my costs, I find that I get three quintals in a bigha with Rs 4,500 as cost and this is precisely what I get in the market. So, where is the profit? Now, Modi ji repeats in every meeting that the income of the farmers will be doubled by 2022. Is this the way we will get our double incomes? I do not think so. Our costs have risen. We are paying Rs 18,000 for our electricity bills. There has been no rise in SAP (state advisory price, announced by the UP government) for sugarcane for four consecutive years. Our bills are pending with sugar mills for more than a year now but it did not bother the government. How can we trust it?"
Also read: Sugarcane Farmers Protest in Muzaffarnagar, Demand Dues Worth Rs 1,000 Crore
Another farmer told NewsClick that the SAP for early variety sugarcane is stagnant at Rs 325 per quintal for consecutive four years whereas the costs have consistently risen over the period. He said, "We supported Narendra Modi because he promised that we will get our payments within 14 days. It's more than a year now and there is no clue about payment from the mills." Independent estimates suggest that the mills collectively owe around Rs 12,000 crore to the farmers.
BKU official Dharamender Malik clears the air around the economics of the farming in the region and the policies which led to their apathy. He said, "If I begin with the farming costs, it may vary with crop and land size. It is quite difficult to reach at a consensus but when we look at the findings of Punjab Agricultural University in Ludhiana and G B Pant University of Agriculture and Technology about the input costs, we found that the farmers employed by them incurred costs upto Rs 1,800 and Rs 2,000 for paddy and wheat. If we take Swaminathan Commission recommendations in account, the MSP should be Rs 2,700 and Rs 3,000 for paddy and wheat, respectively."
He continued, "After harvesting the crop, the next big impediment is the buying centre and the corruption associated with it. In Uttar Pradesh, we have a buying centre for every 25 villages whereas the ratio in Punjab is around two villages only. Since there is a long queue in front of buying centres, the private players come to farmers and buy at throwaway prices. The same produce is later sold at the centres in the evening and the food corporation procures it."
Also read: Sociologist Judge on Why Farmers Cannot Rely on Modi's Assurances
Additionally, there is the absence of coordinating machinery, which allows middlemen and such forces to take advantage, he said, adding, "As a farmers' organisation, we clearly see a lack of coordination among ministries and the tilt of policies in favour of importers. Around 27 ministries are involved with farmers but there is no platform through which they can coordinate. For example, imports are decided by Ministry of Commerce and not Agriculture. Same Ministry of Commerce signed different agreements with World Trade Organisation keeping farmers at peril. The government issues tender for import in the name of scarcity of the grains. It takes months to procure and arrives when our crops are ready. Thus, we do not get our prices. One prominent example is Maize for which the government announced the MSP of Rs 1,800 but nobody was buying in market for even Rs 800. Thus, we demand the end of this discriminatory policy."
Malik is also angry at the procurement policy and fixation of MSP by the government. He said, "We are of the understanding that the government officials keeps MSP consistently low because it wants to procure grains at low prices and distribute it among the poor through public distribution system. I do not have any objection to the intention. We grow to feed the nation but it shouldn't be so less that our plates remain empty and our children are uneducated and forever trapped in debt."
Get the latest reports & analysis with people's perspective on Protests, movements & deep analytical videos, discussions of the current affairs in your Telegram app. Subscribe to NewsClick's Telegram channel & get Real-Time updates on stories, as they get published on our website.
Subscribe Newsclick On Telegram