MVA Govt Inaction Leading to Farmers, Workers Issues Being Neglected
The government which had come to power with the promise of fast decision making seems to have lost its focus, the brunt of which is being borne by farmers, labourers and also industry.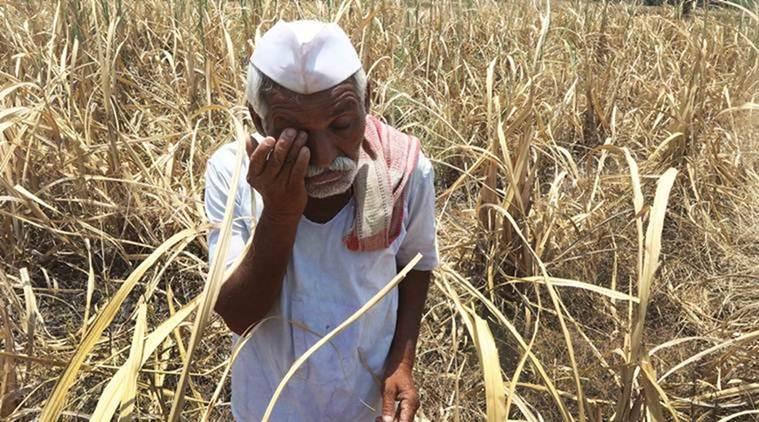 The Maharashtra government had announced all possible help to rebuild the Raigad district which was badly hit by cyclone 'Nisarga'. The cyclone made landfall in the seashore district on June 3. However, nearly two months later, there are still more than hundred villages where roads are not yet repaired. Farmers who faced losses due to destruction of their coconut and betel trees have not yet received total compensation. While both Chief Minister Uddhav Thackeray and Nationalist Congress Party chief Sharad Pawar had visited the sites which had been hit the worst, helping hands are yet to reach the farmers.
However, this is just one example of the Shiv Sena-NCP led Maharashtra government's failure to deliver on its promises of providing relief and working for the people of the state.
Milk rate is another issue where the state government has so far failed to address teh demands of the stakeholders. The government had held a meeting with milk farmers on on July 21, but no announcements have been made so far to address their issues. This has stoked the anger of milk producing farmers across state, especially in the milk belt of 10 districts in North Maharashtra, Western Maharashtra and Marathwada regions.
Kantilal Shringare is from Chombut village of Parner tehsil in Ahmednagar district, one of the highest milk producing districts of state. He has three jersey cows, from which he sells 60 litres of milk per day. Before the pandemic-induced lockdown, he used to get Rs 1,800 per day which has now fallen to Rs 1,200. He is therefore suffering loss of Rs 600 per day. "Farmers need at least Rs 24 per litre for jersey cow milk. This includes animal feed, fodder, water charges and also charges to keep the cowshed clean. So, selling milk at Rs 20 or 22 is loss for us. We are managing with just daily payment of cash," he said. He was hoping for some relief or announcement during the meeting on July 21. "I thought this government would declare minimum rate as at least Rs 27. But it has failed to help us," he said, expressing his disappointment.
Maharashtra has been witnessing protests from milk farmers since July 20. In the coming week, the milk farmers have resolved to intensify their protests if the government does not come up with a solution. On Thursday, July 23, there was a state cabinet meeting, however, they did not come up with any decision even then. This has kept the fate of 47 lakh milk producing farmers (data from Dairy Development Ministry) hanging.
"State government says we are in consultation process. Why is that? Don't they know that the rates have fallen since two months and farmers need special financial assistance? Leaders in the ruling parties understand the problem. But there is no will to take decision," said State General Secretary of All India Kisan Sabha, Dr Ajit Nawale.
A similar fate is being borne by the labourers in the state. During the initial stage of lockdown, the Maharashtra government had announced Rs 2,000 to be directly transferred to the account of labourers. As per the state Labour Department, it has distributed Rs 154 crore till now, which translates to accounts of 7,70,000 labourers. But this is a meagre number, as according to the Labour Department itself, there are more than 60 lakh labourers in different sectors in the state.
"The help which has been given to labourers is just for those from one sector, i.e.real estate. But apart from this, there are no labourers who have received help from the ministry," said Vishwas Utagi, joint convenor of the trade unions' joint action committee.
Following the Union government's announcement of financial assistance to the tune of Rs 20 lakh crore under 'Atmanirbhar Package', all the three ruling partners of MVA government, Shiv Sena, NCP and Congress had slammed the Union government for inadequate help. The state government had also announced that it will come up with special package for the industries in Maharashtra. But no such package has been announced so far.
Even though the state government began the relaxation of lockdown restrictions with the name 'Mission Begin Again' in the first week of June, nothing concrete has been taken up after that. All announcements made by the industry department are about the relaxations and procedural information about industries to restart. But there is no word about financial assistance to industry for revival.
Opposition leader in legislative council, Pravin Darekar, slammed the state government for showing no responsibility. "MVA leaders kept blaming Union government for not giving adequate package. But in reality it is MVA government which is trying to escape its responsibility," said Darekar.
Meanwhile, sources inside the MVA government have indicated that there are similar disturbances between MLAs of all three parties over lack of decisions. A senior minister in the government raised concern about cabinet meetings, saying, "In the last two months, state cabinet has been held once in two weeks. But look at the cabinet decisions. Only COVID-19 and urgently required work about Kharif are being discussed in the cabinet. Almost all the major departments are struggling to get their issues to cabinet. Postponement of policy decisions can't be the government's policy."
The Maharashtra Vikas Aghadi government had promised in its common minimum agenda about the welfare of farmers, labourers and other marginalised sections of the society. But the delays in decision making has led to discontent among its supporters. Senior journalist Padmabhushan Deshpande said, "Three major parties have joined hands to keep the single largest party out of power. But, if you fail to deliver what you have promised then ultimately your supporters will turn away from you. So, the decision makers in all the three parties should take note of it."
The earlier Congress-NCP government in Maharashtra had fallen in 2014 due to many reasons. The lack of political will to take decisions had led to the term 'policy paralysis' being used for the government's performance at that time. The Congress and NCP leadership had even fought publicly over delay in decision making. The current situation indicates that the MVA government seems to be heading towards a a repetition of the earlier period.
Get the latest reports & analysis with people's perspective on Protests, movements & deep analytical videos, discussions of the current affairs in your Telegram app. Subscribe to NewsClick's Telegram channel & get Real-Time updates on stories, as they get published on our website.
Subscribe Newsclick On Telegram