No Cases of Covid-19 Among 3 Lakh Migrant Workers Who Entered MP, Claim Officials
In past one week, there has been a huge influx of migrant labourers, especially tribals, from five states into Madhya Pradesh's border villages, creating a nightmare for district administrations.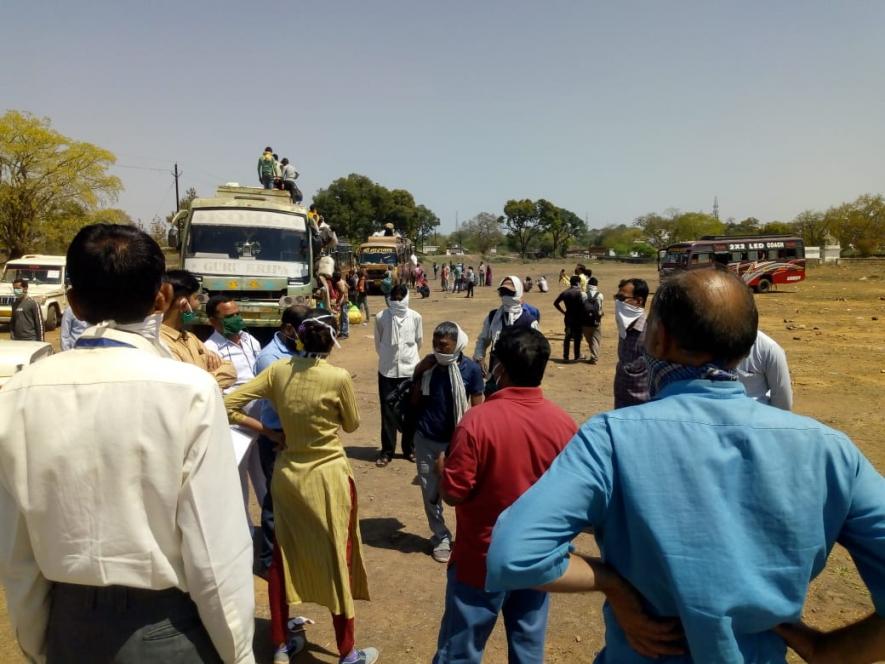 Images from Jhabua and Panna, Madhya Pradesh. | Image Courtesy: Kashif Kakvi
Bhopal: Madhya Pradesh, a landlocked state in Central India, which shares its borders with five other states -- Maharashtra, Uttar Pradesh, Rajasthan, Chhattisgarh, Gujarat -- has been facing a massive influx of migrant labourers amid the 21-day countrywide lockdown to prevent the spread of COVID-19.
Migration from the state has been a major issue in under-developed Madhya Pradesh. So much so that even during elections, the Election Commission makes it a point to urge labourers to come and vote. The residents of bordering districts, mostly tribals, migrate to the closest state in search of work.
Left without work after the lockdown, and insecurity about food and shelter, these migrants are returning to their native places, giving sleepless nights to the district administration as the deadly coronavirus threat looms large. What's more, there is lack of infrastructure to either accommodate the migrants or keep them in quarantine.
As per media reports and some social activists, an estimated 3 lakh migrants have entered in the state in the past few weeks. Armed with infrared thermometers, ill equipped doctors on various checkposts bravely checked the migrants and suggested that they remain in quarantine for 14 days, But, the migrants barely understand the meaning of the word.      
Newsclick spoke to some officials, activists and migrants of Madhya Pradesh's border districts to understand the extent of the problem.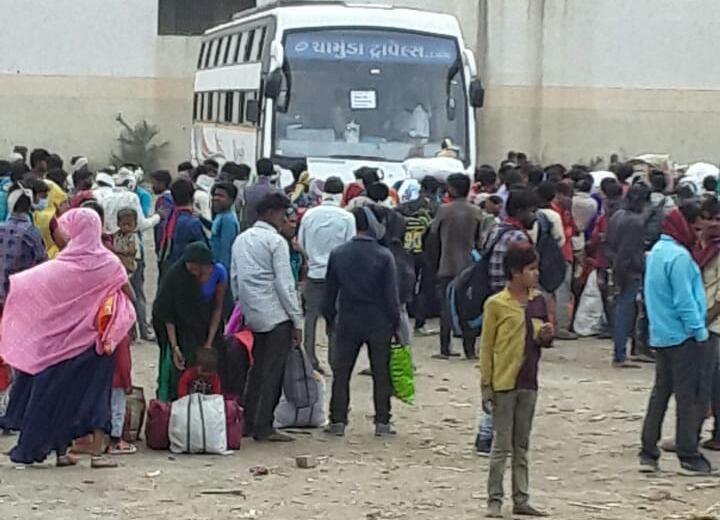 Jhabua and Alirajpur – Influx from of Gujarat and Maharashtra
Jhabua and Alirajpur districts share borders with Gujarat. These tribal-dominated districts have become the entry points for migrants from Gujarat and Maharashtra. 
Both Jhabua and Alirajpur are most backward districts in the state. According to a local journalist, migration has been the biggest challenge in both the districts with around 30-35% of the population having migrated. During the previous Assembly and the parliamentary elections, the State Election Commission had to arrange for government buses to bring migrant voters.
Alok Dwivedi, a local journalist, claimed that there was a flood of migrants from the Gujarat-Jhabua border. After walking miles, switching transport, sleeping in the open and starving, they were entering the state via the Pitol checkpost. On the first four-five days of the lockdown, over 10,000 migrant labourers from Surat, Bharuch, Rajkot, Ahmedabad, Vadodara and other parts of Gujarat and Maharashtra entered on foot or in trucks, he said.
Most of these labourers worked in various factories, mills and construction firms, which closed down owing to the lockdown. Thousands of migrant labourers from Bhind, Morena, Gwalior, Jhansi, Kota, Neemuch and Ratlam also reportedly entered from Jhabua.
At the Pitol entry point, health officials screened the migrants and offered them food, after which they were huddled into buses for a journey back to their villages. On a microphone, an official advised each of them to stay indoors and maintain distance from one another.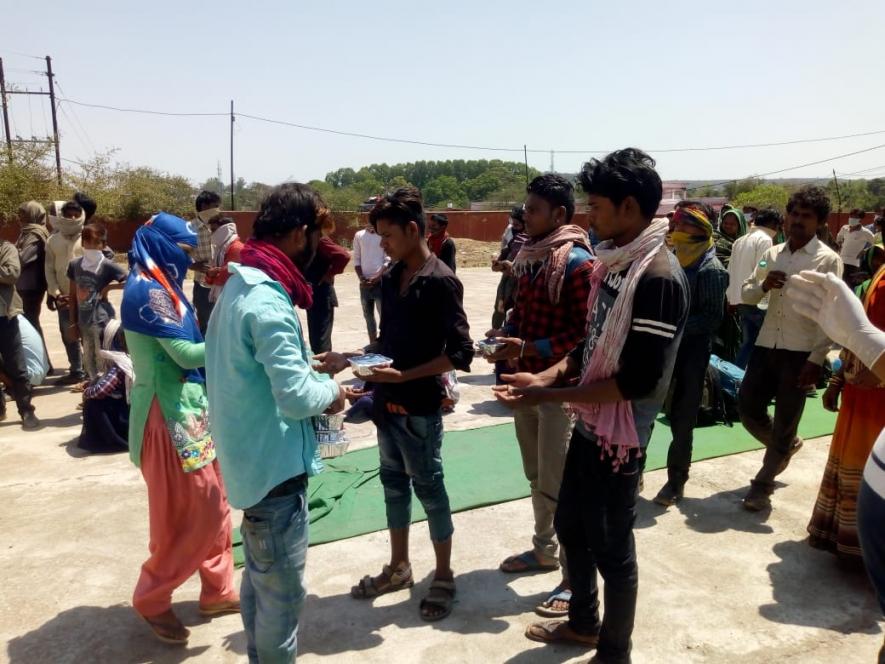 From March 29, since the Union government ordered sealing of borders, the migrants have been reaching the border, unaware of the fresh orders. 
"Jhabua and Alirajpur have hilly terrain. The tribals know every nook and corner of these districts and have been coming in large numbers without any medical check- up. They are also bringing migrants from other districts and states. The district administration seems helpless," Dwivedi claimed.
The district administration has set up two quarantine centres in each district for suspected COVID-19 migrants. Each centre has a capacity of around 500 people. However, migrants seem so impatient to reach home that they are running away from these centres owing to lack of resources provided, said sources.
The ordeal
Three days after walking and staying in three different cities, Mohan Adivasi made it to his home in Jhabua district of Madhya Pradesh on Saturday morning. 
"It was the longest ride back. We didn't have much to eat, but we had to return to the safety of our homes," says Mohan, a construction worker, who travelled 450 km from Rajkot in Gujarat, along with his wife and two teenaged daughters.
Left without work after the lockdown, more than 60,000 tribal labourers from Jhabua have returned from Gujarat, Rajasthan and Maharashtra. Another 30,000 from the district are left stranded in these States, say local reports.
With transport suspended, shops shuttered and food supply halted, some families hired pick-up trucks, while others hailed jeeps.
"The borders have been sealed. The spell of labourers returning home has eased. Now, the district administration is keeping them in isolation near the borders," said Abhay Singh Kharari, Sub Divisional Magistrate.
Another 5,000-7,000 labourers bound for Vidisha and Ujjain, and as far as Morena and Gwalior districts, 630 km away, crossed Jhabua through the Lambela and Kanjawani entry points from Gujarat, he added.
Over 5,000 labourers from Rajasthan and Gujarat returned to the neighbouring Alirajpur district, mostly in hired pick-up trucks, while another 200 crossed it, says SC Verma, Upper Collector, Alirajpur. "Luckily, many had returned in February for Bhagoria Haat, a tribal mela. Otherwise, many others would have been left stranded."
According to a government official, more than one lakh people have entered in MP from Jhabua and Alirajpur checkposts. The district administration's effort to accommodate and give medical treatment to the migrants seems ineffective due to their growing numbers.
Chambal -  Entry gate for Delhi, Haryana migrants 
Three districts of Chambal region - Gwalior, Bhind and Morena -- share borders with Uttar Pradesh, Rajasthan and Delhi-NCR, 350 km away. Migrants coming in from Delhi, Haryana, Punjab have to cross Gwalior.
According to official estimated, over 35,000 construction and agricultural labourers have returned home in the north-western districts of Madhya Pradesh.
A government official in Tikamgarh district, requesting anonymity, said more than 3,000 to 4,000 people were returning every day, but the number had reduced after the sealing of borders.
Unaware of the state government's fresh orders, migrants from Dahod in Gujarat to Morena in Madhya Pradesh on way to Mathura in UP are now stuck midway.
Buddh Singh, a construction worker, set out from Gurugram in Haryana on the morning of March 26 on a 580-km journey back to Chhatarpur in Madhya Pradesh along with a group. Singh's group reached Chhatarpur on Sunday midnight after a four-day ordeal.
At the outset, they walked from Gurugram to Badshahpur, from where they reached Palwal in Haryana by van. After walking 87 km to Mathura, they got a truck to Agra. Then an Uttar Pradesh government bus dropped them at the district borders, from where they walked 40 km towards Gwalior, before boarding another truck. Again, they walked 20 km towards Jhansi, boarded a pick-up truck, which broke down within 10 km, and after walking for some distance, they got a bus that left them 20 km from Chhatarpur, where Singh's sister lives.
Charitable NGOs and firms fed biscuits and meals to thousands of migrants returning to Bihar and Eastern Uttar Pradesh on the same route till Agra. "After the lockdown was imposed, work was suspended. Our landlord asked us to leave and the contractor stopped taking calls. We had to return," said Singh, who earned ₹300 a day for plastering walls.
"More than 8,000 workers have returned, mostly from Uttar Pradesh and Delhi NCR since the beginning of March," said Himanshu Chandra, CEO, Zilla Panchayat, Chhatarpur. "We are not allowing anyone to leave the district, and have made arrangements for everyone's food and stay here."
Gwalior was the main gateway to Madhya Pradesh for those returning from the North as they took the National Highway no. 3 from Agra to Mumbai, said Madhu Solapurkar, Assistant Director, Public Relations Department, Gwalior district. "At checkposts, we are screening workers and giving them food. Most of them are returning on foot," he added.
Shubham Sharma, Deputy Collector, Bhind district, said: "So far, we have screened 10,500 workers who're put in home isolation," , adding that 237 workers from other districts and states were made to stay in isolation centres on Monday. 
Seoni -- The entry gate for Maharashtra migrants
Tribal-dominated Seoni, located in Southeastern Madhya Pradesh, shares its border with Maharashtra, and is the main entry gate for migrants labourers from there.
As many as 14,000 labourers have returned to Seoni through 11 different checkposts, according to district collector Praveen Singh Adhayach. He said all of them were screened and asked to stay in self-isolation. Around 4,000 people are under quarantine in the district, the officials said.
Meanwhile, ill-equipped and overworked doctors are braving the onslaught of the virus. In the absence of masks, many of them wrap white cloth around their faces as they screen the migrants.
"The district administration is maintaining real time data of migrants and taking proper care of them. Till date 14,000 migrant labourers have returned to the city," said Seoni district Collector Praveen Singh.
However, officials did not share data of migrants other than in Seoni.
Gaurav Jaiswal, a social activits, said thousands of migrants labrours of neighbour districts such as Mandla, Dindori, Umari, Katni, Narsinghpur, Shadol and Anupur, (all are tribal dominated) who works in Maharashtra have returned through Seoni. "We don't know the exact figures, but, 2,500-3,000 migrants are coming in daily after the announcement of lockdown," he said.
Despite limited resources and lack of medial team, the district administration is leaving no stone unturned to tackle the situation, Jaiswal added.  
Seoni and its nearby districts have a massive tribal population. Due to lack of jobs, thousands of tribals migrate to Maharashtra every season in search of work. Nagpur is 120 km away from Seoni.   
Returning migrants in Bundelkhand
There has been a huge influx of returning migrant labourers in Bundelkhand region of Madhya Pradesh, especially in Sagar, Damoh, Panna, Tikamgarh, Chattarpur districts.
Every day thousands of migrants are pouring in from Delhi, Uttar Pradesh, Haryana, Rajasthan via Seopur and Gwalior. A government official in Tikamgarh said, "about 3,500-4,000 people are returning every day in the region. Most of them are factory workers."
Among all these districts, the situation in Panna district is most critical as it has the highest number of malnutrition cases in the state. Panna, which seemed deserted of late, has seen a sharp growth in population after the return of migrant labourers.
Every labourer has his/her own story to tell. 
"Around 10,000 labourers who work in Surat, Haryana, Delhi and other places have returned to Panna till date. We have maintained panchayat-wise data of those migrants. We have kept them in 40 different quarantine centres and are giving proper attention to their health," said Panna collector Karamveer Sharma.
They said that before the imposition of lockdown, they had already screened foreign tourists visiting Panna Tiger Reserve or staying in hotels. "With the help of self-help groups, the district administration is also making masks and sanitisers," Sharma added.
Yousuf Beg , convenor of Panna-based NGO, Prithivi Trust, however, claimed that the influx of migrants was still on. "The district administration is making efforts to tackle the situation, but, sometimes seems helpless due to lack of resources," he said.
"It is difficult to teach social distancing, isolation or quarantine to an illiterate labour. In some places, people have no water to drink, no food, how they can wash hands ?" Beg said..   
Interestingly, approximately 3 lakh migrant labourers have entered the state, but, no cases of COVID-19 have been reported, according to government officials. Those who seem sensitive, have been kept under observation, they claimed.
Ruchika Chouhan, Collector of Ratlam district, said labourers are returning because of assurances by the local administrations of food and shelter, because there is a sense of security back home.
"Neighbours can support them with food and finances. And women and children usually stay back, while men and teenagers go out for work. The family being together can help them tide over times like this," she added.
Get the latest reports & analysis with people's perspective on Protests, movements & deep analytical videos, discussions of the current affairs in your Telegram app. Subscribe to NewsClick's Telegram channel & get Real-Time updates on stories, as they get published on our website.
Subscribe Newsclick On Telegram