Fear of COVID-19 Leaves Mumbai's Slum Dwellers Sleepless
A significant section of the population in Mumbai and its suburbs live in slums, where cramped living spaces make it very difficult to maintain isolation or distancing.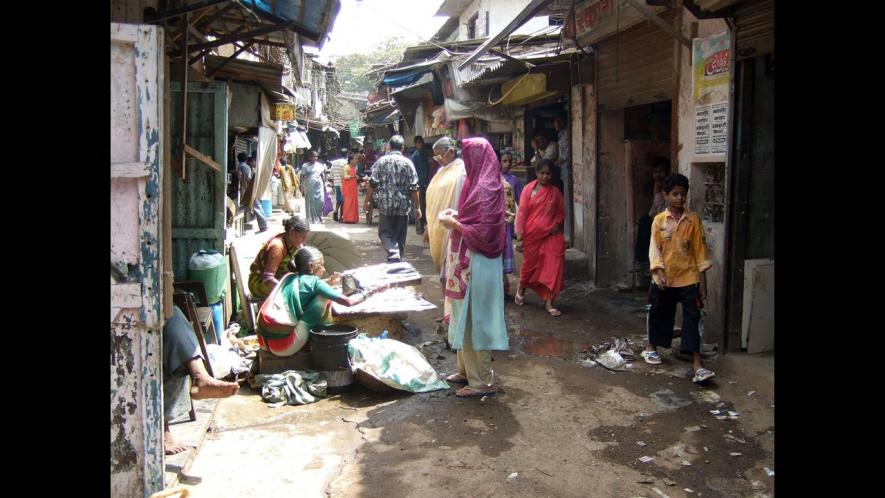 Representational image. | Image Courtesy: Wikimedia Commons
Radhabai Himmatlal Walke, 76, has been living in the Govandi Navnath Nagar slum since 1990. Her two sons and their families also live in adjoining shanties. After a long time, since the Mumbai riots of 1992, Radhabai recalls, this is the first time she is scared of living in the slums. "Everyone says keep distance. Don't touch each other. Keep cleaning hands every hour. What disease is this which is separating people from people?," she questioned, adding, "Somebody told me that if it comes to our basti then none of us would be able to survive. Is it so?"
This is the situation of fear which is prevailing in the slums and chawls of Mumbai, where a majority of the city's working class resides, due to the outbreak of COVID-19 pandemic. 
The pandemic has shut down Mumbai, a city known for its fast paced and busy life.
It is also the place where the richest and the poorest in the country live in close quarters. The population density of Mumbai is 28,508 people per square kilometer. However, while the rich have the luxury and space to stay in isolation, the ones living in the slums do not have that luxury. In the slums, sometimes as many as 6-7 people are cramped into 10 by 10 rooms. Therefore, the fear of this highly infectious disease spreading into the slums has kept the entire government machinery in the state, which has seen the second highest number of COVID-19 cases in the country, on toes. 
Also read: Section 144 in Maharashtra, Small Vendors Wait Anxiously for COVID-19 Crisis to Be Over
Even though, there are no clear estimates of the population residing in Mumbai and its suburban centres, rough estimates put it at not less than 35%. That is almost 70 lakh people are living the slums. Dharavi, the biggest slum of Asia, has 8,69,565 people living per square mile. Several other slums, including Malad Malvani, Behrampada of Bandra, Konkan Nagar of Bhandup, Maharashtra Nagar of Vikhroli, Ramabai Nagar of Ghatkopar and others, are in the grip of fear of COVID-19.
The reasons of fear are many. Government guidelines suggest that the people should keep washing their hands in every two hours. Lets take the example of the Aarey Colony pipeline slum, which is on record mentioned as Gautam Buddha Nagar. The people residing in this area do not have access to sufficient water. There are only two borewells for almost 2,500 people. "How can our people afford to wash hands in every two hours? Is that possible?" asks Rupesh Sonavane, who is a resident of this colony.
On March 26, various media houses in Maharashtra reported that four people from the chawl and slum areas have tested positive for COVID-10. Reports alleged that one patient, who is 37 years old, comes from Jambhalipada slum of Kalina, while two patients are from Ghatkopar slum cluster and one is from Parel chawl.
"Right now, there is no clear evidence of community transmission of COVID-19 in slums. We are still in stage 2. Our efforts are on to make people aware on larger scale and break the chain of community transmission," said Rajesh Tope, health minister of Maharashtra. 
Also read: COVID-19: Psychological Challenge as Grave as Economic Impact in Maharashtra's IT Sector
As the part of these efforts, Brihanmumbai Municipal Council has taken various efforts of sanitising these slum areas. Vehicles with sanitizing chemicals are visiting these slum areas and spraying those chemicals in all possible places, which has added to the fear of the slum dwellers.
"No rich or well-to-do person stay in slums. Here everyone is living because of their financial condition. Most people here are daily wagers, small street vendors or those who have jobs paying less than Rs 15,000 per month. Right now, more than 80% of slum population is worried about its earning. If this lockdown continues, then by next week, people won't have money to buy milk or tea powder or vegetables. In that case, what they will do? They can't go out of home to earn neither can they sleep in starvation," explains Sumit Kambale, secretary of Annabhau Sathe Nagar in Vikroli.
Thus, the government has to also focus on the provision of essential items to the people living in these areas, in addition to the sanitisation and awareness drives.
Nasim Razaq, who is from Gonda in Uttar Pradesh, stays in the slums of Saint Rohidas Nagar of Kalyan east. He drives auto on rent. Now, with the lockdown in place, he has been left without work as he cannot ply his auto. At the same time, he is also afraid of staying in the crowded and unhygienic conditions of the slum during this time. But he does not even have the option of returning to his home state as train services have also been discontinued. "Staying here in slums in such time is scary. I read on mobile news that our city (Kalyan) has four patients of Corona. Until and unless the situation does not return to normalcy, people in the slums will not have peaceful sleep," he said. 
The panic gripping the people of these slums highlights how vulnerable they are, especially in such times of distress.
Get the latest reports & analysis with people's perspective on Protests, movements & deep analytical videos, discussions of the current affairs in your Telegram app. Subscribe to NewsClick's Telegram channel & get Real-Time updates on stories, as they get published on our website.
Subscribe Newsclick On Telegram