In Maharashtra, Farmers See no Hope on the Horizon
Farmer suicides have increased in the state in the past five years. Their story is one of deep distress and zero hope.
Suicide note of Muralidhar Tale
Muralidhar Shaligram Tale committed suicide on September 6, hanging himself from a tree in his farm. He left behind three daughters, one son and wife and close to Rs 8 lakh as debt. He committed suicide because he had lost all hope to come out from the debt. Tale hailed from Khamkhed village of Balapur tehsil, Akola district.
Out of the Rs 8 lakh as loan, Tale had given Rs 3 lakh to a contractor to build his new house. That contractor allegedly cheated him. "What can one do? There is not enough income from farming and people cheat farmers. How will I come out of this situation? ," says his widow, Sindhutai Tale.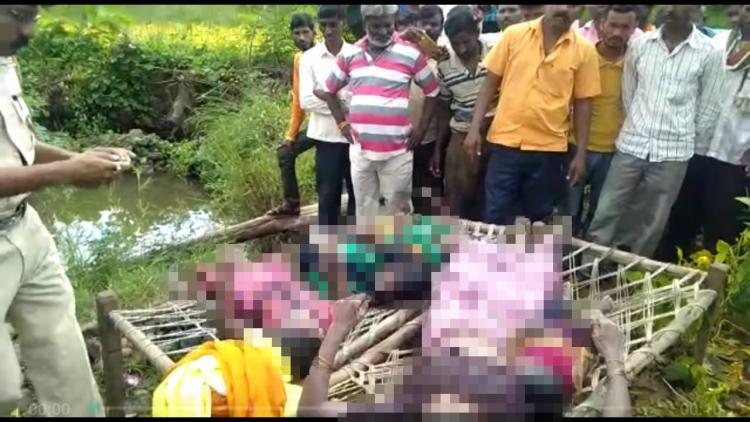 Sindhutai Tale with her son Ram
Muralidhar had three-acres of farmland. He used to cultivate soyabean and tur dal. Right now, both the crops are still standing in his farm.
"Agriculture has become a completely unpredictable profession now. Soyabean is ready, but the rains are still on. We fear it may damage the crop. Last year, we lost the entire crop due to drought. This year, heavy rains are posing a danger to our income," said Vinod Hage, Muralidhar's friend and neighbour.
When asked whether they received any amount from the Pradhan Mantri Fasal Bina Yojana (PMFBY), highly publicised scheme of the Narendra Modi government, none of the villagers gathered there responded in the positive. Neither PMFBY, nor Rs 2,000 as help or nor drought relief, they said.
Muralidhar had taken Rs 60,000 as bank loan. The Maharashtra government came up with farmer loan waiver. But Muralidhar's loan amount stays untouched. "Farmers are the most neglected community in this country. Everyone talks about us, but nobody helps us. Nothing will change," says Nilkanth Datane of same village.
A farmer suicide is termed so when the dead person has some land plot in his name. Otherwise, the government does not accept it as a farmer suicide. However, rural distress has been killing people related to farming but don't have land on their name. One such story can bring tears to your eyes.
Baban Dhoke from Malegaon village of Mehkar tehsil, Buldana district in Vidarbha, was a middle-aged tribal from the Andh community. He committed suicide on August 18 this year due to depression and financial issues.
Baban's family have two and half acre 'E Class' land. Tribals never had their owned land so they got some from the government for farming. This land, however, is not that fertile. Baban's grandfather got this land from the state government in the 1970s. He died long time ago, but the land has still not been transferred to Baban's father. So, Baban is not a farmer, as per government records.
Baban had a wife and four daughters. He was in the poultry business but that too was not giving him enough money to survive. He used to work as wage labour in the farms. But there, too, the work has reduced due to agrarian distress. So, in depression, he committed suicide.
Following this tragedy, his wife, Ujjwala, was under tremendous stress. She was worried about herself and her daughters' future. On September 23, she pushed all her four daughters into a well and she, too, committed suicide.
The Janephal police station, under which Malegaon village falls, is investigating the matter. "We have booked her under Section 302 as she pushed her daughters. Circumstantial evidence clearly shows that she committed suicide. The post-mortem report shows the same. The family was under financial stress and so committed suicide," said Assistant Police Sub Inspector Dilip Masram. He also said that as Baban did not have the land in his name, it can't be termed as 'farmer's suicide'.
Such is the situation on ground. Farmer suicides have almost doubled in the past five years in Maharashtra. The Union government has not come up with data (National Crime Records Bureau numbers) of farmer suicides since 2017. But, state government records show that from 2011 to 2014 (during the tenure of Congress-Nationalist Congress Party government) a total of 6,268 farmers had committed suicide, whereas during 2015 to 2018, the number doubled to 11,995.
Stagnant income of farmers in India is the biggest reason for the rise in the number of suicides. "If we do not get the price for our crops, then what option do we have? Either we sell land and leave farming or go for labour work. What else? This is why the number of suicides are increasing, as farmers feel they are trapped in a vicious circle of loans and lower prices for their produce," said Ajit Navale, a farmer leaders and All India Kisan Sabha general secretary.
Though the Modi government has announced a target to double the income of farmers by 2022, the ground reality clearly shows that the initial steps for achievement of this target haven't been taken yet. Farmers' income has been stagnant since the past five years, as suggested by a number of reports. This has affected rural labour, which has been crawling since 2012. All these factors are pushing Maharashtra's farmers to a corner.
Amid Assembly elections in Maharashtra, there will be a glittering campaign on what all the government has done for farmers' welfare. That huge spending on advertisement may hide this reality from voters at large but that can't change it. The truth will catch upon us as a society sooner than later.
Get the latest reports & analysis with people's perspective on Protests, movements & deep analytical videos, discussions of the current affairs in your Telegram app. Subscribe to NewsClick's Telegram channel & get Real-Time updates on stories, as they get published on our website.
Subscribe Newsclick On Telegram