Defeat of Pandemic Farther Due to Unplanned Urbanisation in Maharashtra
This high density of population among cities is being referred to as a crucial reason for the rapid spread of the pandemic.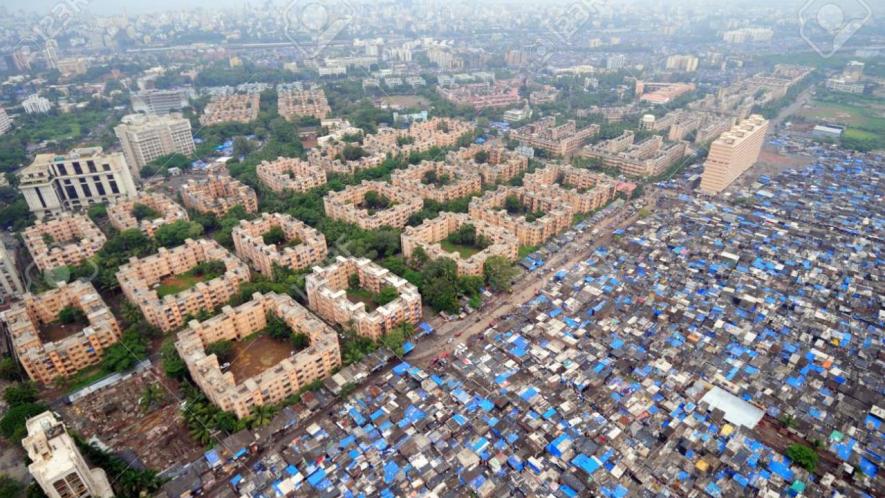 Representational image. | Image Courtesy: ClickView
Mumbai: The rapid spread of COVID-19 infections in the state that has been consistently witnessing the highest count in the country can be attributed to its larger extent of urbanisation, experts and observers believe. The most connected localities in Maharashtra, and especially in the capital Mumbai, have been recording rapid growth of the infection. 
The total number of COVID-19 infections breached the count of 135K—including 6,283 deaths—on Monday. While 67,706 patients have recovered, the number of active cases stands at 61,793. The state accounts for 45% of the total number of cases reported in the country.
Mumbai and the Mumbai Metropolitan Region (MMR) continue to be highly affected amid the pandemic. There are nine municipal corporations in this MMR zone. According to the June 22 bulletin of state's Health Department, city-wise count of the cases is as follows: Mumbai (67,586), Thane (7,477), Mira Bhayandar (2,510), Vasai-Virar (2,970), Kalyan-Dombivali (4,329), Navi Mumbai (5,923), Bhiwandi (1,177), Panvel (1,424) and Ulhasnagar (1,084). Together, these areas account for 94,480 or 69.57% of the  total number of COVID-29 patients in the state. 
Out of the state's total area of 3,07,713 square km, these nine cities occupy just about 2,297.37 square km or 0.74% of the land. According to the 2011 Census, the population of Maharashtra is 11,23,74,333. Out of this, over 1.84 crore people reside in the capital, while the other eight cities accommodate 80.7 lakh people. Added together, over 2.71 crore people have to coexist in only 2297.37 sq km area. This high density of the population among these cities is being referred to as a crucial reason for the rapid spread of the pandemic.
"It is completely understandable that the MMR zone is highly affected. When you have such a small area for such a large population, then any epidemic is bound to spread like this," said Dr Anant Phadke, a senior epidemiologist.
As numbers continue to spike in Mumbai, questions are being raised on the policies and efforts of the Brihanmumbai Metropolitan Corporation (BMC) and the state government. Chief of the state-level task force for COVID-19, Dr Sanjay Oak, told NewsClick, "It is unlikely that in a city like Mumbai, the number of patients will come down to zero. The graph will keep going up and down henceforth. So, we will have to treat people every time they complain of fever or cough. I have suggested to the state government to bring the testing price below Rs 1,000 and go for aggressive testing everywhere," said Dr Oak.
Apart from the MMR region, there are 11 other cities in the state which have shown rapid growth of Covid-19. These cities and their corresponding number of patients are: Pune (13,741), Solapur (2,081), Aurangabad (3,231), Malegaon (944), Nashik (1,407), Dhule (318), Jalgaon (1,930), Akola (1,105), Amravati (418), Nagpur (1181), and Pimpri Chinchwad (1,524). Adding this data to that from the MMR zone, we see that 90.10% of cases come from these 20 cities of Maharashtra.
According to the 2011 Census, Maharashtra is the third most urbanised state in India with about 5.09 crore or 45.23% people living in cities, following Tamil Nadu (48.45%) and Kerala (47.72%).
Also read: Adani's Plans to Privatise Airports May Go Awry
"Urbanisation can't be an excuse while dealing with this pandemic. There are several issues with the policies of the state. Like city planning. There is only one planned city in the MMR zone and that is Navi Mumbai. Look at the situation in Panvel or Vasai-Virar or Kalyan-Dombivali and even Mumbai. There is no planning to effectively provide necessary urban facilities to people," said Sulakshana Mahajan, a senior city planner.
Experts believe that Maharashtra's urban planning has gone for a toss in the past 20 years. Construction of illegal buildings has become common. In the last decade, there was the infamous case of Ulhasnagar where more than 20,000 buildings were found to be illegal. The state government had to formulate a special policy to legalise these buildings, which was termed 'Ulhasnagar Pattern'. The term has become common in real estate vocabulary.
As per Census 2011, close to 42% of Mumbai's population lives in the slums. According to Sitaram Shelar, director, Centre for Promoting Democracy, 40% of Mumbai's population does not have water supply. "Around 20% population is completely deprived of all kinds of facilities including roads, sanitation, health services, electricity and even water. Another 20%  of the population gets water with compromised quality."
This is responsible for the rise of 'mafias' in different fields. There are tanker mafias running in Mumbai, overcharging this deprived population for water. The same is true for other services like power as well, said Shelar.
Like any other highly urbanised city, it is difficult for the low-income or even middle-income families to purchase a home in the heart of the city. So, they are forced to relocate to the adjoining cities like Thane and Navi Mumbai while still working in Mumbai, which then increases their commute time.
According to Lata Aragade, a leader of the local commuters organisation, the average travelling time of the commuters from suburbs is three to four hours each day. If the commute takes place in public transport vehicles, the risk of exposure for these commuters increases multifold. 
On the other hand, the state's expenditure on health services is also going to play an extremely important role in the ongoing health crisis. BMC is known to be India's richest municipal corporation with a budget of Rs 33,441 crore in 2020-21. But its allocation for health is only Rs 1,049 crore or 3.13% of the total budget.
If we look at the state government's budget, total revenue receipts for 2020-21 are expected to add up to Rs 3,49,766 crore. The expenditure on public health is estimated to be Rs 5,000 crore and that by the medical education department is estimated to be Rs 2,500 crore. Combined, amounting to 2.14%.
Senior economist and former professor at Tata Institute of Social Sciences Sanjeev Choandorkar said, "Problems with urbanisation turn up when the state confuses urban planning with allowing raising many buildings. The neoliberal policy of the state is about rescuing itself from the responsibility of ensuring essential services. This has to be changed at the earliest.  I hope Covid-19 will push civil society and also society at large to push policymakers towards better and responsible governance."
Also read: Billions of Children Are Being Punished by the Pandemic
Get the latest reports & analysis with people's perspective on Protests, movements & deep analytical videos, discussions of the current affairs in your Telegram app. Subscribe to NewsClick's Telegram channel & get Real-Time updates on stories, as they get published on our website.
Subscribe Newsclick On Telegram