Maharashtra: Pune Tribal Couple Defies Mandatory Ritual of Virginity Test Before Marriage
The couple was inspired by the groom's brother's 'Stop V Ritual' campaign.  As per research, virginity rituals are common across several communities in India, cutting across caste and class lines.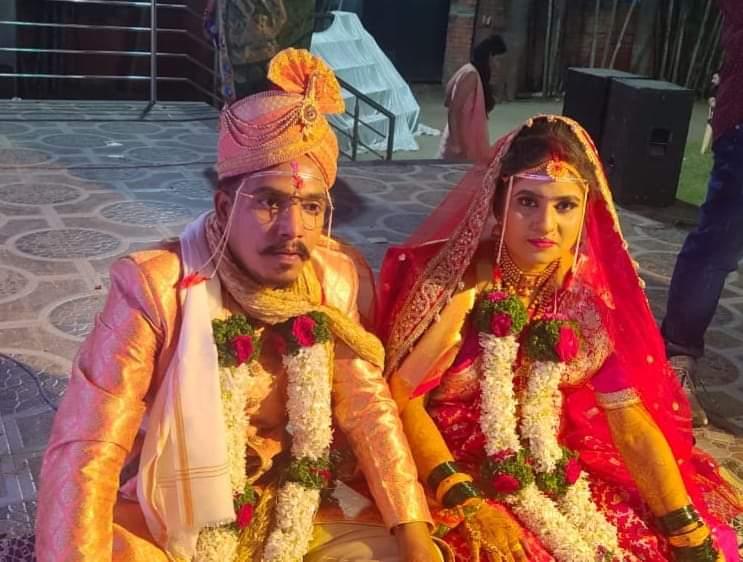 Pune: Priyanka, 23, a postgraduate, and Dhananjay, 28, from Pune, announced before their marriage that they would not undergo the mandatory virginity test on the first night after their wedding in front of community members.
The couple belonging to the Kanjrabhat community, one of the nomadic tribes from Maharashtra, tied the knot on December 9. They were aware that the jatpanchayat (caste council) of the tribe would boycott their wedding and families of both for years to come. However, they went ahead with their decision.
During such virginity tests, the bride and the groom are required to consummate their marriage and prove the bride's virginity on a white sheet while community members wait outside their room. If the bride fails to prove her virginity, then the caste council members either impose a hefty fine on the bride's family or socially boycott them if they fail to pay.
Kanjarbhats of Maharashtra
Kanjarbhat is a sub-caste of the Bhantu nomadic tribe, who are spread across India. Bhantu has many sub-castes and have a total population of over 3-4 lakh. The Kanjarbhats are found in Maharashtra and have a population of over 50,000 people. The humiliating tradition of proving the bride's virginity is followed among many sub-castes of the Bhantus as well as other communities. In Rajasthan, the ritual is known as 'Kukari'.
In case any newly married couple from the Kanjarbhat tribe fails to follow the ritual, the caste council punishes the family by boycotting and stopping from participating in community function. While several people chose to pay the hefty sums to buy their entry back into the community, several hundreds of families continue to live a life in boycott.
One such example is Krishna Indrekar, a government officer, who defied the rule at his wedding on January 1, 1996. Since then, his family has been living a boycotted life. Indrekar is also the uncle of Priyanka, who married on December 9.
Stop V Ritual Campaign
Vivek Tamaichikar, Dhananjay's brother, initiated the campaign 'Stop V Ritual' to oppose the virginity test in 2016. Following Vivek's refusal to follow the practice when he got married to Aishwarya, the caste council had boycotted both their families. The council barred Aishwarya from participating in the community function held for Navratri. 
"I have seen my brother opposing this cruel ritual for the last three years. I was mentally prepared that nobody barring my family members would turn up for the wedding ceremony," Dhananjay, who is an employee at L&T Aurangabad, said.
Also read: Maharashtra Fails Dr. Dabholkar in Spirit, Only 10 FIRs under Social Boycott Act in Three Years
Priyanka had the support to Dhannajay's decision as she had seen how her uncle Krishna Indrekar, a retired government employee, had challenged the humiliating rituals way back in the 80s.
'Virginity Test Is A Myth'
"Virginity test is a social and not medical concept. It is believed that the hymen gets ruptured when the wedding is consummated, and that causes little bleeding. Sometimes, the hymen is very thin without blood vessels and girls don't bleed. Or, the hymen is too thick and it does not rupture on the night of the wedding. Further, physical activities like cycling, climbing trees can cause hymen rupturing. If a girl does not bleed on the first night, that does not prove whether she is a virgin or not. There is no reliable medical test to check virginity," Dr. Arun Gadre, a gynaecologist and a social activist, told NewsClick, explaining the baselessness of such regressive rituals."
According to several community studies, female virginity is highly valued in various cultures and such controversial practices are common in many communities.
Maharashtra Protection of People from Social Boycott (Prevention, Prohibition and Redressal) Act
It should be noted that, in 2017, Maharashtra had implemented the Maharashtra Protection of People from Social Boycott (Prevention, Prohibition and Redressal) Act 2016 banning social boycott of the person in the name of religion, caste, community, and so on. The act was introduced due to the efforts by the late Dr. Narendra Dabholkar, an anti-superstition crusader from the state, who was killed by right-wing fanatics in 2013.
Since the implementation of the act, the caste council are not allowed to announce the boycott of weddings or other functions or families. In fact, as per the act, the caste council cannot arrange its meeting to decide whom to punish or not. As a result, members of the caste council could not boycott Dhananjay and Priyanka's wedding. Over 150 members of the Kanjarbhat community from across the state attended the wedding. 
"Earlier in November, Megha A, another member of the campaign (Stop V Ritual), married Shubham Malke, a relative of one of the caste council members, without a virginity test. Megha convinced Shubham that she would not undergo a virginity test. Shubham told his parents. They, in turn, stopped talking to him for a month but were finally convinced. This was a major victory for us as the son of a caste council member married without following the ritual," Krishna Indrekar told NewsClick.
Also read: Woman Declared Public Property By Caste Council For Lodging FIR Against Husband
"Virginity test is not limited to the Kanjarbhat community. When they (the groom's side) ask how is the character of a girl, it indirectly refers to whether the girl is a virgin or not and is widespread across many castes and classes. Now, the popularity of clinics offering hymenoplasty surgery is going up in India. This shows that it is still very prevalent. However, the poor cannot afford to go to a plastic surgeon, and often suffer the worst," Vivek from the Stop V Ritual campaign, said.
"Not only that, even Amazon and other online shopping platform sell products like blood capsules so that brides can fake breaking hymen when she consummates wedding. Amazon customers are not poor people. It is clear that this cruel mindset cuts across caste and class lines," he added.
He also criticised Over The Top (OTT) streaming platform broadcast series like Virgin Bhaskar for glorifying virginity. "There should be special act or law at national level barring such rituals that test virginity of girls directly or indirectly," Indrekar added.
Get the latest reports & analysis with people's perspective on Protests, movements & deep analytical videos, discussions of the current affairs in your Telegram app. Subscribe to NewsClick's Telegram channel & get Real-Time updates on stories, as they get published on our website.
Subscribe Newsclick On Telegram