Nearly All Adolescents in India Are Malnourished: UNICEF Report
The report pointed out that over 50% of Indian adolescents (about 6.3 lakh girls and 8.1 lakh boys) in the age group of 10-19 years are thin, short, overweight, or obese.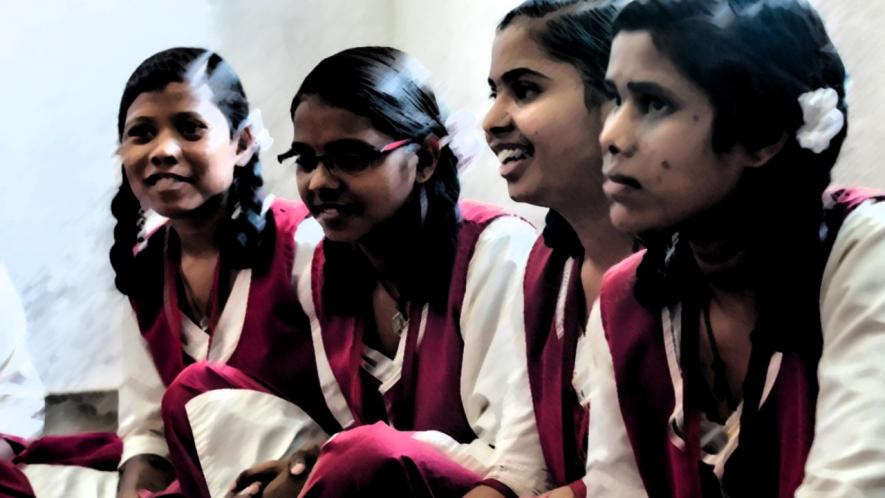 Representational image. | Image Courtesy: UNICEF
Almost all adolescents in India consume unhealthy or poor diets leading to one or the other form of malnutrition, pointed out a UNICEF report that was released on Thursday, October 31, in association with NITI Aayog. The report, titled 'Adolescents, Diets and Nutrition: Growing Well in a Changing World', pointed out that over 50% of Indian adolescents (about 6.3 lakh girls and 8.1 lakh boys) in the age group of 10-19 years are thin, short, overweight, or obese. The report is based on the recently released Comprehensive National Nutrition Survey (CNNS), conducted by the Ministry of Health and Family Welfare (MoHFW).
The UNICEF report also pointed out that over 80% of adolescents in India suffer from 'hidden hunger', that is, a deficiency of one or more micronutrients such as iron, folate, zinc, vitamin A, vitamin D, and Vitamin B12.
According to the CNNS, the prevalence of vitamin A deficiency was 16% among adolescents, vitamin D deficiency was 24%, zinc deficiency was prevalent in 32% of adolescents, and 31% and 37% of adolescents had vitamin B12 and folate deficiency, respectively.
Also read: Only 6.4% of Indian Children Get Minimum Adequate Diet, Says Study
Vitamin A deficiency among adolescents was least common in Rajasthan (2%), Himachal Pradesh (3%), Goa (4%), and Sikkim and West Bengal (5% each), while the highest prevalence was observed in Jharkhand (30%) and Chhattisgarh (26%). Prevalence of vitamin A deficiency among adolescents was more than 20% in four states, which is a severe public health problem according to the World Health Organisation (WHO) guidelines.
Punjab had the highest prevalence of vitamin D deficiency among adolescents, at 68%. Uttarakhand, Manipur, Haryana, Jammu and Kashmir, and Delhi also had high prevalence of vitamin D deficiency among adolescents. Vitamin D deficiency was more common among adolescents belonging to the richest section (34%) of the country as compared to those belonging to the poorest section (19%).
The prevalence of zinc deficiency among adolescents varied across states, from 4% in Nagaland to 55% in Gujarat. Manipur, Punjab, Himachal Pradesh, Meghalaya, Tamil Nadu, and Karnataka all had a high prevalence of zinc deficiency among adolescents. Apart from Nagaland, the states which had the lowest prevalence of zinc deficiency were Mizoram, Kerala, Haryana, and Arunachal Pradesh. More male adolescents were zinc deficient, as compared to female adolescents (35% vs. 28%).
Among adolescents, the prevalence of vitamin B12 deficiency ranged from 2% in Kerala and Nagaland to 48% in Gujarat among adolescents aged 10-19 years. Differences in prevalence were observed by sex (35% for boys vs. 27% for girls) and adolescent age, with 28% and 34% prevalence among adolescents aged 10-14 and 15-19 years, respectively.
Nagaland had the highest number of children with folate deficiency (88.9%), followed by Andhra Pradesh and Assam. A higher proportion of adolescents belonging to the wealthiest quintile had folate deficiency as compared to those from the poorest households (43% vs. 28%).
The report found that adolescent girls especially suffer multiple nutritional deprivations. While more girls suffer from shortness than boys, anaemia also affects 40% of adolescent girls, compared to 18% of boys, and worsens as they get older. The report stated that focusing on adolescent girls, before they become mothers, is critical to break India's intergenerational cycle of malnutrition.
The UNICEF report pointed out, "Nearly 25% of girls and boys do not receive any of the four school-based services (mid-day meal, biannual health check-ups, biannual deworming and weekly iron folic acid supplementation). Addressing this gap will be critical to addressing early adolescent nutrition issues."
It added, "All girls and boys are unable to meet the 60 minutes per day recommended outdoor sports and exercise time. On an average, girls in late adolescence spend only 10 minutes per day on such activities. Boys do relatively better, with exercise time of 40 to 50 minutes per day."
Also read: Over 68% Under-five Deaths Due to Malnutrition: Report
"We must take action where adolescent children spend most of their time — on school premises. For example, this means moving from a cereal-based mid-day meal in schools, to meals that are more nutrient-dense. In addition to iron and folic-acid supplementation, we need to do more to provide diets balanced with proteins and adequate calories. As consumption of fruits and vegetables among adolescents remains poor, providing nutrition counselling for young people to make the right food choices is one critical step we can take. We also call for legislation to regulate the marketing of unhealthy foods in school premises — marketing that often leads young people into making poor food choices," said Henrietta H. Fore, UNICEF Executive Director.
Get the latest reports & analysis with people's perspective on Protests, movements & deep analytical videos, discussions of the current affairs in your Telegram app. Subscribe to NewsClick's Telegram channel & get Real-Time updates on stories, as they get published on our website.
Subscribe Newsclick On Telegram