Manesar: Fear of Pay Cuts 'Force' Sick Workers to Report for Duty
The employees union at a Maruti vending company blamed the management for this, which had resorted to retrenchments and pay cuts in the recent past.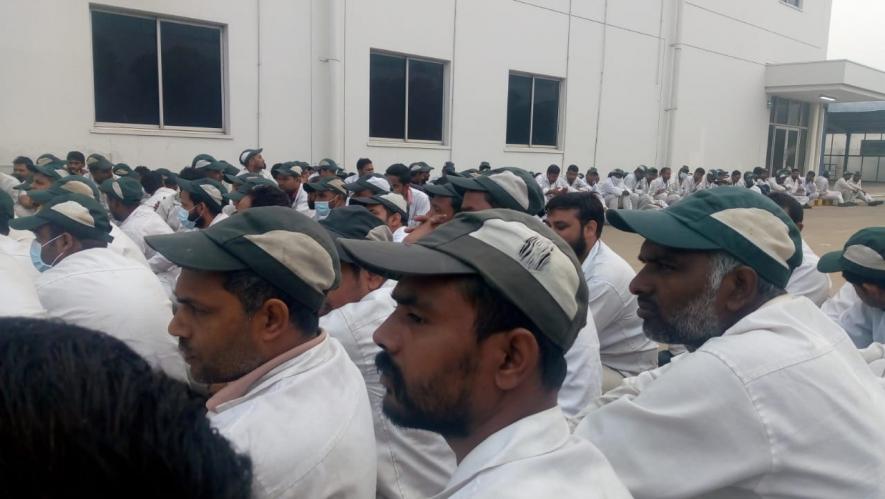 New Delhi: The easing of lockdown restrictions is putting workers in the Gurgaon-Manesar industrial belt in Haryana in a Catch-22 situation.
If the workers mark their presence at workplace despite being sick – carrying symptoms that resemble those of the coronavirus disease – they run the risk of infecting others. If they don't work, and stay put in their rented rooms, they fear pay cuts.
Faced with this dilemma, the industrial workers have hesitantly returned to work in their respective factory units in Manesar's Industrial Model Township (IMT), at a time when establishments are trying to swing back into action after a break of two-and-a-half months forced by the sudden countrywide lockdown since March 25.
In one such instance, the permanent staff union at Bellsonica Auto Component Pvt. Ltd., a first-tier vendor of Maruti Suzuki, alleged that some workers with high temperature were being "forced" to travel to factory units – putting other workers at risk of contracting the COVID-19 infection.
"Every day, around two to three workers report high temperature before entering the company premises," said Jasbir Singh, general secretary of the Bellsonica union.
Flagging the danger of COVID-19 spread, he said: "It is a matter of concern since it is only at the company gate that such cases get screened. Before that, the workers are required to travel together in company buses."
Singh claimed there were about 30-40 such cases till now in Bellsonica, where on average 450 workers, including helping staff, is engaged. The situation is similar in other industrial establishments, he added.
Though, isolation and further investigation by health authorities follows after a worker shows symptoms of COVID-19 at the company gate, Singh believes that the procedure still "compromises" with the health of the factory workforce.
At a time when COVID-19 positive cases continue to surge, Singh says the company must encourage workers to stay at home when sick. "The workers don't reveal their medical condition, fearing cuts in salaries if they are asked to stay at home," he said, adding that this 'fear' among workers was the company's own doing, as it had resorted to retrenchments and pay cuts in the recent past.
Salary Deductions, Retrenchments Behind Worker Fears
Following the revised restriction norms for industries and commercial establishments, issued by Gurugram's district administration on May 20, all factory units, outside containment zones, were allowed to operate with full staff.
On the same day, the Union health ministry issued workplace guidelines, defining sets of rules to be followed by employers to prevent the spread of the infection as economic activities restart.
Consequently, Bellsonica called back its permanent staff who had gone to their native places after the lockdown began, notifying them about production resumption. Workers who were unable to report to work saw hefty reduction in monthly payment.
Birbaan Sharma, 36, who hails from Jind district in Haryana, is one among 224 such workers, whose salary for May was cut.
"My line in-charge (company official) called me on May 20, asking me to come to Manesar. I had informed him that my village had been sealed after registering three positive cases," he said.
"The line in-charge asked me to inform him whenever I reported back to work," Sharma said, adding that he could arrange a conveyance on May 30.
However, Sharma was marked absent for 10 days, for which around one-third of his salary was cut. "It is not as if I was lying. I couldn't travel because no transport was available. I had already informed the company about this difficulty," Sharma said.
Some other workers, too, said they faced genuine reasons for not being able to travel back from their native places but had to face pay cuts.
In another incident, the company sacked 290 contractual workers, Singh said, alleging that such management decisions were the prime reason why sick workers were feeling "forced" to report to work.
Company Cites 'No Work, No Pay' Principle
Newsclick spoke to Ramesh Kundu, HR manager at Bellsonica's Manesar facility, who said these allegations were "nothing more than lies." According to him, the company is following all the workplace guidelines and is "with" sick workers who don't report to work.
"The company is ensuring that the staff gets proper medical care in such instances. So far, there have been only two cases, and in both, the workers were told to quarantine for 14 days. Their salaries won't be deducted for the quarantine period,"he said.
Kundu confirmed pay cuts for those workers who failed to report to the factory unit, citing the principle of 'no work, no pay.'
"We paid 'extra' salaries for the two months when the unit was shut," he said, adding that the company was not under any legal obligation to give salaries after May 17 for 'no work' since the compulsory wage payment order (of March 29), issued by Centre, was thereafter withdrawn.
"The workers were told not to return to their villages. If they could travel then, they can certainly travel now when company has resumed production," he said, while justifying the cuts.
This trend was being noticed in other industries, too. Shyam of Automobile Industry Contract Workers Union told Newsclick that some other industries were opting for similar "tactics" to pass the brunt of the lockdown on workers.
"Many companies have still not paid salaries to the workers for the lockdown period. The situation is worse for contract staff – in almost every factory unit," he said.
No coercive action has yet been taken against any employer for not paying salaries to workers for the lockdown period since Supreme Court is yet to pass a judgement over its constitutional validity. It has reserved its order for June 12.
At a time when the Centre has turned its back on them, the workers have been left with no choice but to continue work even if they are sick. They can't afford to lose their jobs or face more pay cuts in these tough times, Shyam added.
Get the latest reports & analysis with people's perspective on Protests, movements & deep analytical videos, discussions of the current affairs in your Telegram app. Subscribe to NewsClick's Telegram channel & get Real-Time updates on stories, as they get published on our website.
Subscribe Newsclick On Telegram