Manesar: Protest Against Labour Codes Sees Unionisation of Contract Staff
Fearing that recent changes in labour laws will lead to further contractualisation of labour, several contract workers have joined the unionised of an auto component firm.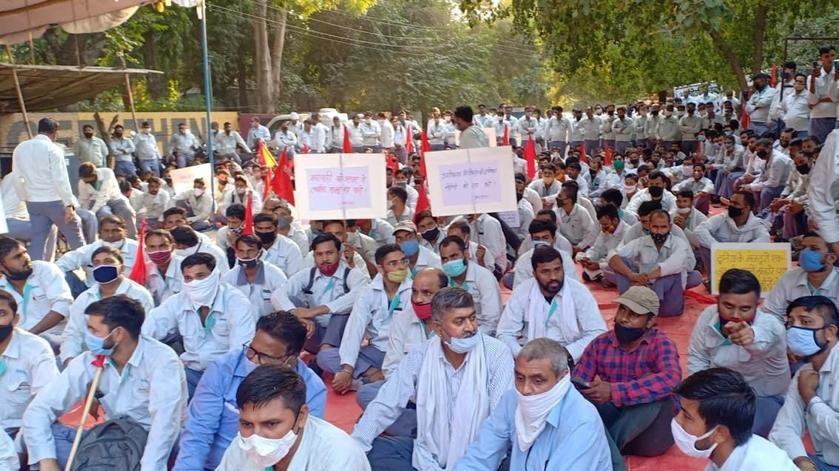 Eight office bearers of the BACI employees' union sat on an eight-hour-long hunger strike outside Mini Secretariat at Gurugram, demanding the codes be scrapped. They were joined throughout the day by the factory's staff. | Image Courtesy - Facebook
New Delhi: Better late than never, as the adage goes. In a significant development, a section of contract workers in a major auto component manufacturing company in Manesar has turned to unionisation by enrolling themselves in the employees' body representing permanent employees.
The staff of the Bellsonica Auto Component India Pvt. Ltd. (BACI), a vending company to leading car manufacturer Maruti Suzuki, many of whom have completed five to six years as contractual workers, were offered membership of the permanent employees' union, and around 145 of them are expected to join.
"This is an important day for the employees' union as it remains committed to safeguard the rights of the factory workers –also those on contract," BACI Employees' Union president Atul Kumar told NewsClick, adding that the union, formed in 2014, will see for the first time non-permanent workers as members.
What has spurred this development is the realisation among the wider workforce that only collective fight for rights can yield results, following a united protest against the four labour codes in Haryana's industrial town.
On Thursday, eight office bearers of the BACI employees' union sat on an eight-hour-long hunger strike outside the Mini Secretariat at Gurugram to press for scrapping of the new labour laws passed recently by Parliament. Through the day, they were joined by factory staff in batches, after completing daily work shifts.
The union, in a statement, said it was opposing the "diluting" of labour laws and subsequently giving the employers a "free hand" in "further exploiting the workers."
"Contractualisation of industrial workers would further increase under these labour codes," Kumar told NewsClick over the phone.
"Contractualisation is nothing but taking away the rights of a worker, while making him/her do equal amount of work in the factory. The system must end soon – this has been a major demand of all trade unions across the country for many years now," he said.
Citing various reports that feared a rise in contractualisation due to the new labour laws, Kumar said the union felt an "utmost need" to bring contract workers officially under its fold and start preparing for a longer political struggle. "Their unionisation will also help in waging a collective fight for our demands in Bellsonica," he added.
The union said a three-year wage pact for both permanent and contractual staff in the company, with a total workforce of 1,200, is pending since the past 20 months. The BACI management is allegedly not holding talks, the union said, adding that the earlier they cited a "slowdown" as the reason and now production loss during the pandemic-induced lockdown.
Calls made to the human resource manager at the Manesar facility of BACI went unanswered.
 A rally carried out in the evening on Thursday by the workers of BACI. | Image Courtesy - Facebook
The three labour codes that were notified last month include provisions that have been criticised by labour unions and experts for encouraging contract labour employment, while making it easier for managements to hire and fire staff.
Contract workers are outside the purview of the protective provisions of labour laws, and will continue to remain so even under these codes, say labour experts. There has been a steep rise in contractual workforce across industrial establishments, mainly under the garb of 'ease of doing business'.  However, union participation among such workers has remained low because of job insecurity due to the temporary nature of contracts.
It is this very reality that the BACI employees' union seems to have realised and is challenging, and expects other employees' unions in Manesar to follow suit.
Ashok Kumar, 29, a contract worker at BACI since 2015, who received union membership, told NewsClick that he is now more hopeful of enjoying the same rights as permanent employees in the company. "Now that we are members of the union, our issues will be heard," he said.
"The company has always attempted to divide the staff, but no longer. Contract and permanent employees are now under a single banner and I am confident that the union will demand equal working rights for us from the management," the graduate from Gurugram's Industrial Training Institute (ITI), said.
Kumar currently earns almost Rs 20,000 less than a permanent employee for similar work and no additional benefits.
Satbir Singh, vice president, Centre of Indian Trade Unions (CITU), Haryana, welcomed the unionisation of contract employees in BACI, saying it was the "need of the hour."
"With the labour codes, the industry will see more contract labour and it is important for unions to ensure how they can be brought under its fold. With decreasing wages and job losses, contract workers, too, are now feeling the need to organise," he added.
Singh said once contract workers get unionised, the overall workers' struggle against the "onslaught" on their rights by the government will get strengthened.
Anant Vats of Automobile Industry Contract Workers Union (AICWU), a sectoral union active in Manesar, however, struck a different chord. While appreciating the intention behind Thursday's development, he questioned its "political significance". According to him, it may fail to enhance any bargaining power for the contract workers with managements.
"With the production process getting fragmented into numerous factories over the years, an army of footloose workers has been created, which cannot be successfully organised within a particular establishment. That is not to say that this must not be done. However, what is needed is an area-based or sector-based union body representing the interests of contract workers," Vats said.
In the absence of that, contract workers will continue to have less bargaining power against their employers, he added.
Get the latest reports & analysis with people's perspective on Protests, movements & deep analytical videos, discussions of the current affairs in your Telegram app. Subscribe to NewsClick's Telegram channel & get Real-Time updates on stories, as they get published on our website.
Subscribe Newsclick On Telegram