Mass Migration From Uttarakhand's 'Ghost Villages' Still a Huge Problem
Despite efforts by the state government to help create opportunities, migration is still the norm as agriculture faces a crisis and poor health and educational infrastructure lead people to leave for the pains.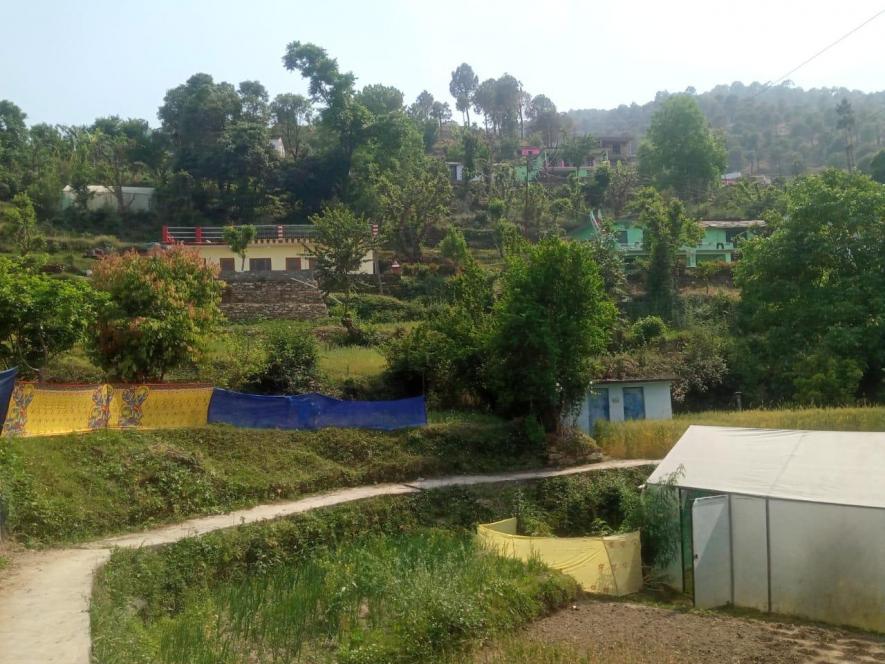 Houses in the hills, Simagaon
In the hilly parts of Uttarakhand, villages have always seen massive migration towards plainer regions of the state. Many villages thus have only a small population living as residents, and most of the houses and huts in these villages are empty.
In some villages, the entire population has moved out in search of a better life. Such villages have been popularly known as ghost villages. There are villages which have populations as low as in two-digits. In the Kumaon region of Uttarakhand, Simagaon, a village near the famous hill station Kausani, has a similar situation. Ashok Joshi, a resident of Simagaon, says, "if you go to hilly regions around here, you will only find elderly people. The youth have already left for the cities in search of jobs. This is the state of all of Uttarakhand."
Other locals in the villages around Simagaon, most of whom are elderly, say that the outward movement of the present and upcoming generations will never stop. "There are no opportunities in the hills, no proper jobs at all. That's one of the most common reasons people migrate to different cities," says Ram Swaroop Pant (70), a retired school teacher residing in the village of Ratora. As many families realise the dearth of opportunities, most youths leave the villages to stay away for years. Pant's son has left the village as well to pursue his higher education in Delhi.
Dinesh, a journalism student in the Bageshwar district, explains the severity of children leaving the village. "I have seen many people leave the village. There are many villages where the children leave their parents to move to other cities and have never even come back. The parents are still waiting for their children to return," Dinesh said.
The state of school education is in a crisis as well. Many primary and middle schools across several villages operate with such a low number of children studying in them that sometimes schools themselves are merged. Some schools have six to ten students overall.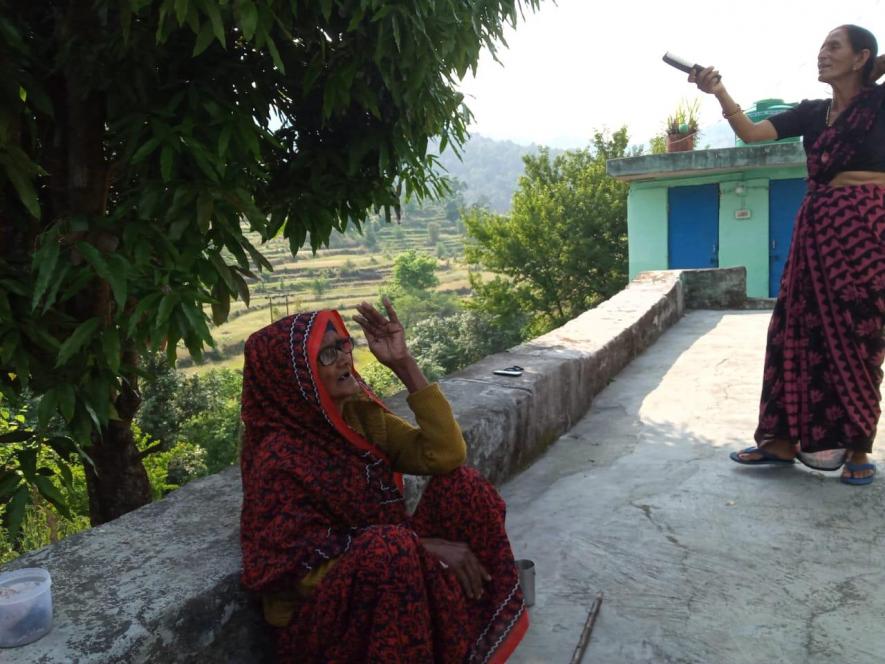 Nirmala Devi, requesting medicine from her neighbour
Nirmala Devi, an elderly woman in Ratora, has a fever. She visits her neighbour to ask for her help to get medicines. "I have no one around me to help me; my neighbour will only be back by evening, and till then, I'll have to wait," Nirmala said.
Like Nirmala, Geeta Devi, another resident of Ratora, says that the emptiness in the villages is part of the people's distress. It is psychological distress for her. "We usually have no one to talk to, no way of sharing our feelings. And we feel lonely all the while," Geeta said.
Another elderly woman, Parvathy Devi, stays alone in a one-storey house. "My son and daughter-in-law both work in a city. They come home once a year, for a month and then leave again. The houses here are also very far from each other, so we don't have anybody to go to,"
Parvathy said, "I usually then always talk to anyone passing by, be it a stranger or otherwise."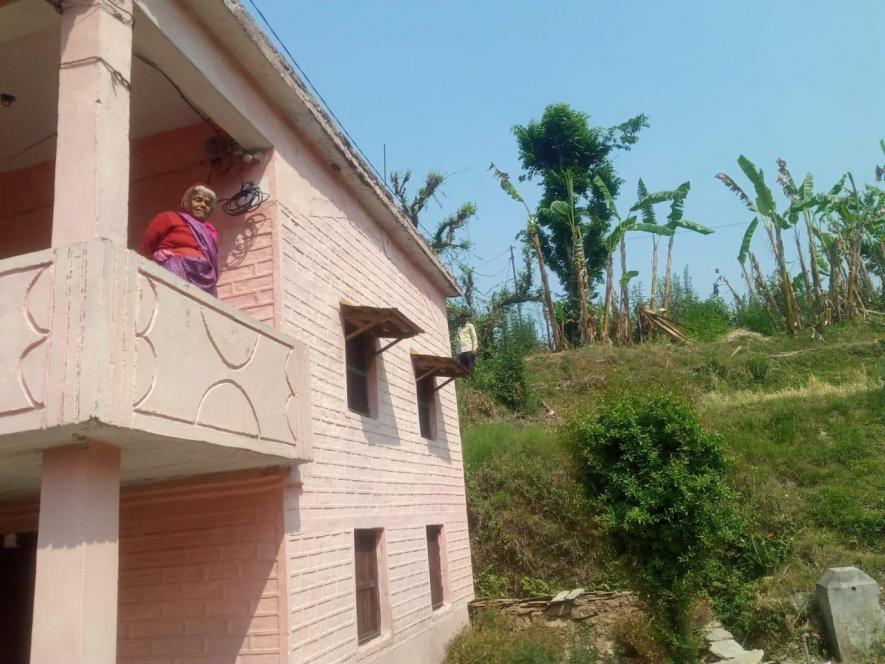 Parvathy Devi is the only resident in her house
Pant adds that the agrarian situation in villages in hilly areas has seen many difficulties over the years. "People are leaving agriculture as well since irrigation is becoming very difficult. Canals are drying up due to ever-rising heat," Pant said.
It has been predicted that the state's annual average temperature may rise by 1.6-1.9 degrees celsius in the upcoming three decades. Apart from climate change's adverse effects on crop production, the wilderness around hilly areas creates significant challenges. "This is the yearly story, that some animal, be it an ape or a wild boar, will destroy parts of our crops by eating it," Pant said.
Thus, most villages are dependent on agriculture and the sector is now adversely affected by such factors, leading to the inhabitants leaving their homes in search of a better livelihood. "If one even has to work as an agricultural labourer, they would have to go out to search for it in distant villages. Most people have small land-holdings," Pant says.
The issue of migration has been monitored by the state government since 2017. It set up a Palayan Aayog or Migration Commission to study the phenomenon of mass migrations that creates such ghost villages. In 2018, the commission reported that 734 villages have become uninhabited since 2011.
Pramod Kumar, another resident of Simagaon, says that the government has been taking small steps to act on the problem of migration. "The government is giving loans to people to re-enter agriculture, and is trying to create job opportunities," says Pramod.
Promotions of horticulture, tea plantation, and apple gardens are some of the ways the government has sought to halt migration. Government-owned tea plantation has provided jobs to many, but the income that many workers earn is meagre. Thus, working at a tea plantation is not so attractive to people who can envision a better future elsewhere. "But none of this really matters; overall, the poor medical infrastructure and quality of education will never help the migration," Pramod adds.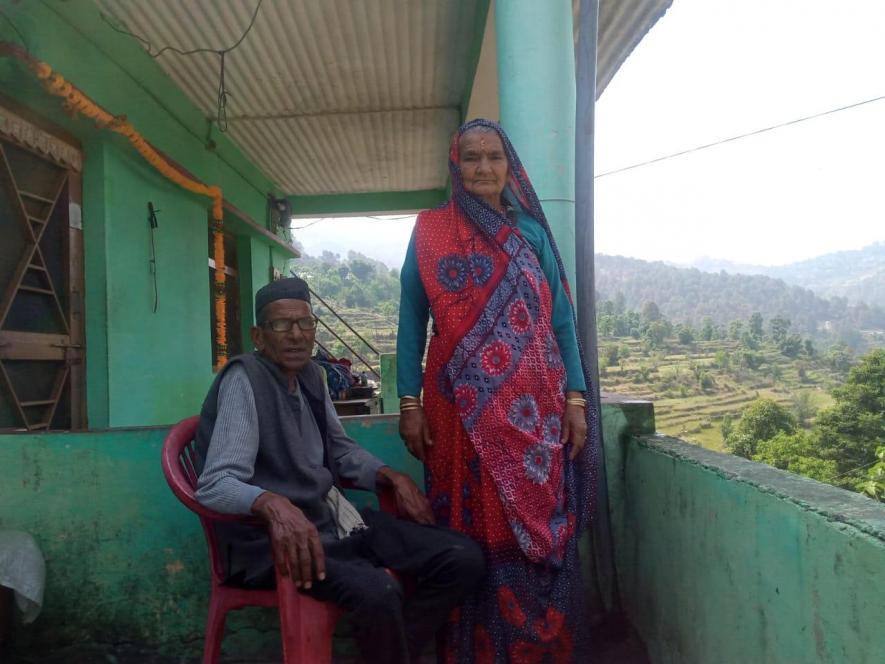 Ram Swaroop Pant with his wife
The ultimate future of the hills is that people would slowly keep on migrating," Pramod said. The poor connectivity between the villages makes it difficult to cater to medical emergencies.
"We have to carry the patient on our own and go downhill to catch a vehicle to the nearest hospital. It is very difficult to help critically ill people," said Pant.
Other locals complain about the poor quality of education and the unhelpful nature of government hospitals' medical facilities. "The doctors are inactive and do not do much work. They usually refer patients to bigger districts such as Almora," Pramod said.
"Those who have enough capital usually leave to plainer parts, such as Haldwani, and construct their houses there. They rarely come back to their village; many have left and never come back." Many people also sell their lands to business people who set up hotels and restaurants in the region, promoting tourism.
"But this doesn't help our people," says Pant, pointing out that the people who set up shop benefit the most. Most labour hired in the hotels is hired cheaply, and thus, it is not a considerably viable employment option.
Get the latest reports & analysis with people's perspective on Protests, movements & deep analytical videos, discussions of the current affairs in your Telegram app. Subscribe to NewsClick's Telegram channel & get Real-Time updates on stories, as they get published on our website.
Subscribe Newsclick On Telegram