'Feminist Pishachini': How Men's Rights Movement in India Is Attacking Feminism
On September 22, an NGO Save Indian Family organised a puja in Karnataka to end feminism.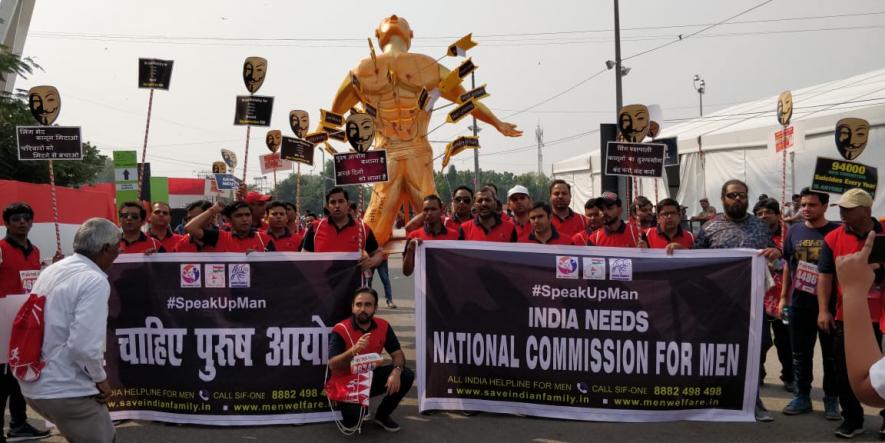 Representational image. | Image Courtesy: Twitter
No. This is not a parody of the 'men's rights' discourse. This is, in fact, 'the men's rights' discourse in India. An activist based in Delhi, speaking to NewsClick, termed this event, organised in Karnataka on September 22, as "a showcase of the insecurity of the men." An NGO Save Indian Family organised a puja to end feminism in the country and "to mark the death of #MeToo movement". Many feminists and women laughed it off, when asked to comment on this. Lekha Adavi, an activist based in Bangalore, said, "I know. I saw this earlier. These men do exist and they are a joke." Sumitra, an artist and an activist based in Bangalore, said, "Here are my thoughts (no feelings): There can be no death to #MeToo. There can be no death to Feminism. These people can do all the Pindadaans and Pishachini Mukti rituals they want, it still doesn't take away from what feminism is trying to do."
Also Read: Gender Wage Gap Still Prevalent in India
The mantra of these men and their organisations is that, feminism and its demand for a gender just society is a conspiracy against men. According to them, it is their sole right to decide what gender equality is: for them it is gender equality only when their interests, rules and regulations are respected and implemented. Daya, a Chennai-based publisher, said, "When you are accustomed to privilege, equality looks like oppression. You can only feel threatened by equality if you stand a chance to lose something and unconsciously they know that they stand a chance to lose their privileged status in society."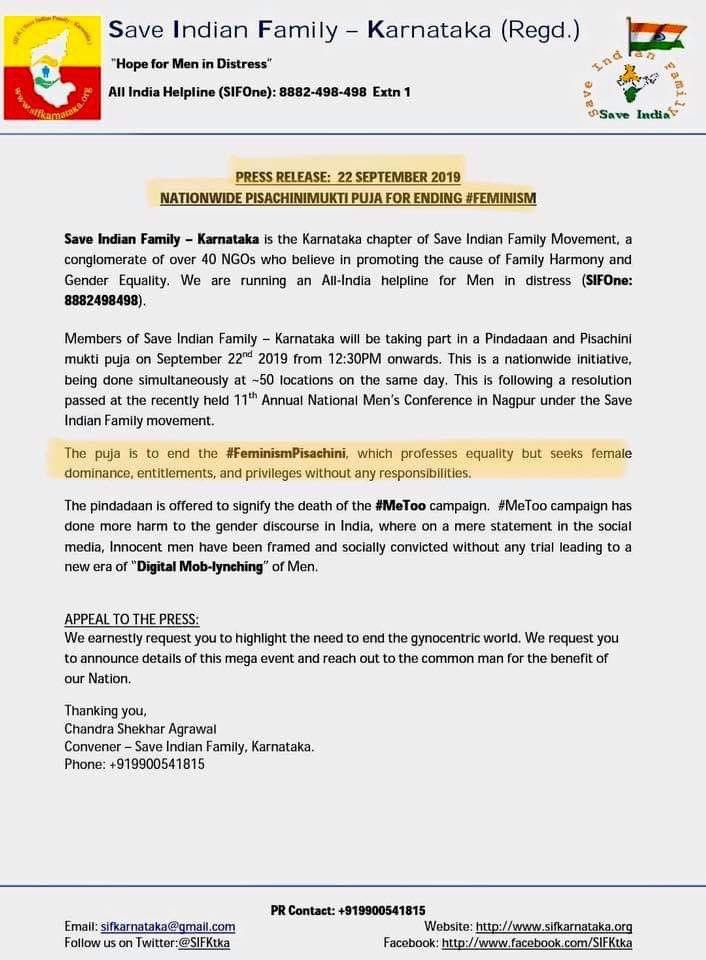 Events like this, even though the making of a few men, are alarming to say the least. The assumption behind such discourses is a refusal of the grave reality of rampant gender-based discrimination and violence against women in the country. As per the National Crime Records Bureau (NCRB), crimes against women have recorded a whopping 83% increase from 2007 to 2016. While crimes have risen, the rate of convictions remains disheartening.
Also read: Women's Status in Society – A Reality Check
The total crime rate—number of crimes per one lakh of the population—against women has gone up from 16.3 in 2007 to 53 in 2016. Rapes have risen by 88% since 2007, in terms of incidences, while the crime rate has spiked from 1.8 to 6.3.
Crimes under the category of 'Assault on Women with Intent to Outrage her Modesty' have seen a 119% increase. This category, covered under Section 354, was expanded in 2013 to include four new crimes. These crimes are Sexual Harassment (Sec 354A), Assault or Use of Criminal Force to Women with Intent to Disrobe (Sec 354 B), Voyeurism (Sec 354C) and Stalking (Sec 354D).
As compared to the rate of crimes recorded under Section 354 being 3.4 in 2007, it rose to 13.8 in 2016. Meanwhile, there has been a 45% rise in incidents of 'Cruelty by Husband or his Relatives' (Sec 498A).
According to an earlier report by NewsClick, the rate of conviction has gone up — but not nearly enough, given the abysmally low rates of conviction even until 10 years ago. This report also noted that, in 2016, the rate of convictions is 18.9 — less than 1 in 5 of the perpetrators who commit any kind of crime against women in India are convicted, if and when they are taken to court. Among the rape accused, the conviction rate rose from 4.7 to 25.5 — one-fourth of the men accused of rape are convicted. So, there is a three-fourth chance that a woman who reports rape and takes her rapist to court will not get justice. "Since the very beginning, Section 498A has been targeted by various 'men's rights activists'. They claim that women are misusing the law, misuse is reflected in the low conviction rate and high arrest rate, and so on. They have succeeded in influencing various institutions of the state, which has now resulted in the complete dilution of the law," writes Bindu Doddahatti, a lawyer and a legal expert. She further explains, "It's an established fact that mere low conviction rate does not mean the law is being misused. Higher acquittals may also result from inadequate investigation, the benefit of the doubt given to the accused or bias against women accessing the law."
Also watch: 'If Women Don't Rise, Oppression Will'
Doddahatti notes, "Violence against women in India is actually higher than what is depicted in the national crime statistics. Various studies suggest that the statistics provided by the National Crime Records Bureau, especially on crimes against women, are grossly underreported. Over 40% in 2005-06 and 30% in 2015-16 of married women in India have faced varied forms of domestic violence, and going by those numbers, not even 1% of married women facing domestic violence actually lodge complaints under Section 498A. In such a scenario, the Supreme Court and the Law Commission of India have repeatedly and very casually used the NCRB statistics to paint a very ugly picture of women using the law to address the violence faced by them inside their marital homes."
This is the grim reality of the country that these men, who want to get rid of feminism, are denying by organising such pujas.
Men's Rights Movement in India
'India's Sons' is a movie to be released in 2020. The 3:28 mins long trailer of this film is doing the rounds on YouTube. As the name of the film suggests it is about the sons-men of this country; it is about the men who allegedly are falsely accused of rape. A certain legal expert speaking to the camera in this trailer says, "A girl can anytime turn around and say 'I was raped'." This legal expert is shocked. His view is also seen being supported by other female speakers arguing that women are using rape laws as a tool against men by falsely accusing them of rape. The men's rights movement in India is rooted in such a belief system, where a woman is innately hysterical and a "pishachini" (demon) and is here to destroy men.
As Suman Naishadham wrote in the Vice US, the Indian men's rights movement is thriving. "What began in the early 2000s as a series of local support groups for aggrieved husbands fighting the supposed misuse of a law that protected Indian women from dowry-related crimes, has grown into a network of men's rights groups with the basic anatomy of a political movement. Under the law, police could automatically arrest husbands and family members accused of committing dowry-related crimes. Men's Rights Activists (MRAs) saw this as giving women too much power and lobbied to change the law. In 2014, the Indian Supreme Court took their side and removed the automatic arrest provision, purportedly to protect men against "disgruntled wives"," she writes.
Also read: Celibacy of Ayyappa is an Excuse to Oppress Women
Based on the SC verdict, MRAs are saying that there demands are legitimate. As seen and heard in the trailer of 'India's Sons,' the rape laws, apart from dowry laws are considered to be harming men's rights. Partha Sadhukhan, a Bangalore based MRA in his popular blog titled, The Male Factor, champions the cause of debunking the narratives of rape victims. In his review of the Hindi film Section 375, he writes, "...the sole purpose of the movie Section 375 was to attack patriarchy and show how much the Indian patriarchy is oppressing women. Not only filmmaker Rohan Khurana raped a junior assistant by applying force, after getting raped, the victim was shown to be beaten by her brother as well. An elder brother who was so angry that he instantly found fault with his sister (why did she go there alone?) and used force on a brutalised sister to show his masculinity...A feminist myth is thus created that the family members of Indian rape victims are so insensitive that they end up beating their own daughters when they are violated. Something that even you will realise is far from the truth but while watching the movie it might have seemed too real."
Events like 'pisachini pujas' bring to the limelight a project functional in the country, that aims to preserve patriarchy and celebrate misogyny.
Also read: #Me Too: A Voice That Awoke the Drowsy
Get the latest reports & analysis with people's perspective on Protests, movements & deep analytical videos, discussions of the current affairs in your Telegram app. Subscribe to NewsClick's Telegram channel & get Real-Time updates on stories, as they get published on our website.
Subscribe Newsclick On Telegram