No Holding Around to Speak about Dehumanisation of Muslims
Perhaps India's Holdings are silent, lest the Union government files a sedition charge or orders a tax probe against them.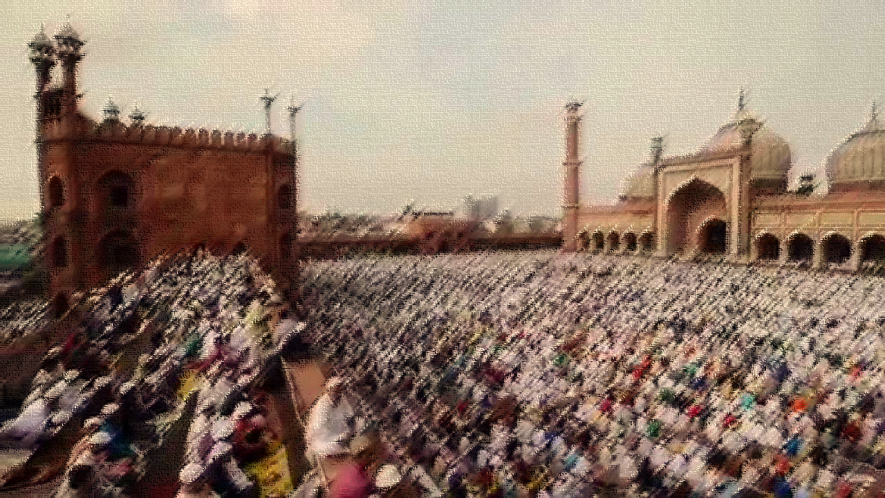 Representational image. | Image Courtesy: YouTube
Commentator and former cricketer Michael Holding, in a discussion before the first Test match between England and West Indies, linked racism to the "dehumanisation of the Black race" over centuries. A race or a people are dehumanised, psychologists say, when they are perceived as less than human, prone to unpredictable behaviour and aggression. This perception justifies their exclusion and legitimises violence against them.
It is plausible to ascribe the violent targeting of Muslims, over the last six years, to the process of dehumanisation that Holding talked about. A telling example of it was Bharatiya Janata Party leader Amit Shah equating "infiltrators" with "termites" multiple times. Infiltrators, in the BJP's lexicon, are Bangladeshi Muslims allegedly residing illegally in India. BJP leaders portrayed Muslims as "betrayers" and "rapists" in the month before the outbreak of communal rioting in Delhi in February.
Shah's dehumanisation of Muslims had commentators remind that the killings of Rohingyas in Myanmar had been preceded by an influential monk characterising them as "mad dogs" and "troublemakers." Likewise, Hutu officials dubbed Tutsis as "cockroaches" before Rwanda spiralled into genocidal killings. Long before they were gassed to death, the Jews were depicted as "rats", as in the film The Eternal Jew.
Yet the charge that Indian Muslims are being dehumanised will provoke howls of protest. After all, no social group in India has been dehumanised as Dalits were over centuries. They were excluded, by law, from the society, their touch, even their shadow, deemed polluting. Their dehumanisation became the rationale to shackle them, generation after generation, to menial occupations.
However, the Constitution adopted after India's Independence sought to ideationally reverse the dehumanisation of Dalits and guarantee them reservations in legislatures, government jobs and educational institutes. Although their assertions of equality invite retribution from the upper castes and the Other Backward Classes, rarely do national and regional parties explicitly dehumanise Dalits.
Indeed, the only social group subjected to dehumanisation in India today are the Muslims. And the only organisation explicitly engaged in dehumanising them are the Rashtriya Swayamsevak Sangh and its affiliates, including the BJP, which also subject them to attacks, rhetorically as well as violently.
At the nub of this dehumanisation process is the Sangh's belief that only those who consider India as their fatherland and holy land can be loyal to it. This definition of who is Indian excludes Muslims and Christians. Religion and skin-colour are two different markers of identity, yet both these are constructed to drive the dehumanisation process.
Blacks were or are dehumanised because of the colour of their skin. For Whites, Black is a signifier of their inferiority. It was for this reason Jesus Christ, as Michael Holding pointed out, was imagined with pale skin and blonde hair and Judas, who betrayed Jesus, was depicted as a Black.
Muslims are deemed inherently disloyal to India because of their religion, which disables them from culturally identifying with the "land of Hindus", or so the Sangh will have us believe. They are therefore deserving of second-class citizenship status.
Yet there is a difference between the two processes of dehumanisation, in the United States and India. Blacks are permanently trapped, from the white supremacist's perspective, in their inferiority because the colour of their skin cannot change. By contrast, a person can change his or her religion. Hindutva offers liberation to Muslims through the mode of conversion. Become Hindu, become their equal.
Hindutva senses, however, that Muslims will not embrace Hinduism of their own accord. They must either be compelled to apostatise or brought under such pressure as to have no option other than to become Hindu to escape the fate of termites.
This line of thinking is revealed in journalist Dinesh Narayanan's recent book, The RSS and the making of The Deep Nation. In 1970, at the conclusion of the three-year officers' training camp of the RSS, a volunteer asked Yadavrao Joshi, then head of Sangh workers across south India, "We say RSS is a Hindu organisation. Why don't we [RSS] be very clear that they [Muslims and Christians] have no place if we are a Hindu country?"
Narayanan quotes Joshi replying to the volunteer thus, "As of now, RSS and Hindu society are not strong enough to say clearly to Muslims and Christians…either convert or perish. But when the Hindu society and RSS will become strong enough we will tell them that if you want to live in India and if you love this country, you accept that some generations earlier you were Hindus and come back to the Hindu fold."
This philosophy underlies the Sangh's ghar wapsi programme, which is designed to bring back Muslims into the Hindu fold. Narayanan, in his book, writes of a 1996 meeting to which the late RSS leader HV Sheshadri came late. He said he had been delayed because he was recovering from a nightmare, in which he was slowly being devoured by a giant green python.
Narayanan writes, "Sheshadri interpreted it as a portent of things to come; a Muslim takeover of India. The answer, he believed, lay in a small town in Rajasthan called Beawar." In 1973, the RSS had launched a Beawar project to bring back into Hinduism the Rajputs who had converted to Islam but who still followed many of Hindu practices.
Fifty years after Joshi's answer to the RSS volunteer, the Sangh is in power at the Centre and has been conquering one state after another, either through elections or splitting political parties to grab power. The last six years have seen an incessant dehumanisation of Muslims—they have been lynched on the suspicion of slaughtering cows, Muslim cattle traders have been attacked, and Muslims marrying or dating Hindu girls have been accused of love jihad.
But perhaps no issue has been as contentious as the Citizenship Amendment Act, which triggered the fear among Muslims that the government planned to prepare the National Register of Indian Citizens to deny them citizenship. At the base of their fear is the knowledge that religion and citizenship are linked in the Sangh's world-view.
Indeed, their apprehensions deepen every time RSS chief Mohan Bhagwat publicly reminds the nation that Muslims were Hindus generations ago. Even in December, as the protests against the new citizenship policy raged, Bhagwat said, "Despite some inherent contradictions between the Hindus and Muslims, the Hindu society is capable of finding solutions in a Hindu way to unite the nation… Our cultural values define the Hindu way of life."
Holding said the only solution to the fraught race relations was to teach history conveying the perceptions of both Blacks and Whites. He cited the example of Thomas Alva Edison, whom the world knows as the person who invented the light bulb. Holding went on to ask: how many people know that the carbon filament used in the bulb was invented by Lewis Howard Latimer, a Black American? "I was never taught in school a single good thing about Blacks," Holding said.
History in India, too, has been harnessed to dehumanise Muslims. The Sangh accuses Muslims of demolishing temples, yet it never mentions how Hindu rulers too would raid temples of their Hindu rivals, desecrate them, and even whisk away their presiding deities to herald their victory. Or how Hindu rulers killed Buddhists, destroyed their monasteries, and expelled them from India, a vivid account of which is given in Giovanni Verardi's Hardships and Downfall of Buddhism in India.
The Sangh will, indeed, never tell the people about many contributions of Muslim rulers, whether in the realm of governance, art and literature, music, architecture and cuisine. It should, in fact, ponder why the number of Muslims in the east and west of India is infinitely higher than in the areas close to the capital cities of Muslim rulers—Delhi and Agra. Historians have interpreted this fact to point out that conversion to Islam did not merely happen under the shadow of the sword. The Sangh will never opt for Holding's idea of history because it will subliminally challenge its project of stereotyping and dehumanising Muslims.
In 2015, Dr Satish Prakash, a Dalit activist and associate professor in Meerut College, had told me, "Let me be very frank—the presence of Muslims in India is the greatest protection for Dalits." I asked him whether he thought Holding's theory of dehumanisation applied to Muslims. "Again, let me be frank, all the attributes that were once associated with Dalits—dirty, illiterate, backward, etc.—have now been assigned to Muslims."
America dehumanised Blacks to enslave and exploit them for cheap labour. Hindutva dehumanises Muslims because it wants to make the "anti-Muslim project…a national project for holding all castes together," according to sociologist Satish Deshpande. "Their (RSS) effort has been to convert Muslim into new Dalits," he said.
India does not have a Holding to outline to the nation the increasing dehumanisation of Muslims. Or perhaps a Holding does not speak out lest the Union government files a sedition charge against him or orders a probe into their tax returns.
The author is an independent journalist. The views are personal.
Get the latest reports & analysis with people's perspective on Protests, movements & deep analytical videos, discussions of the current affairs in your Telegram app. Subscribe to NewsClick's Telegram channel & get Real-Time updates on stories, as they get published on our website.
Subscribe Newsclick On Telegram