Mining Contractors Violate Rules in Jammu and Kashmir
Giant machines plunder small rivers and destroy biodiversity. Illegal contracts and excessive mining threaten aquatic life, flora and fauna, and agriculture.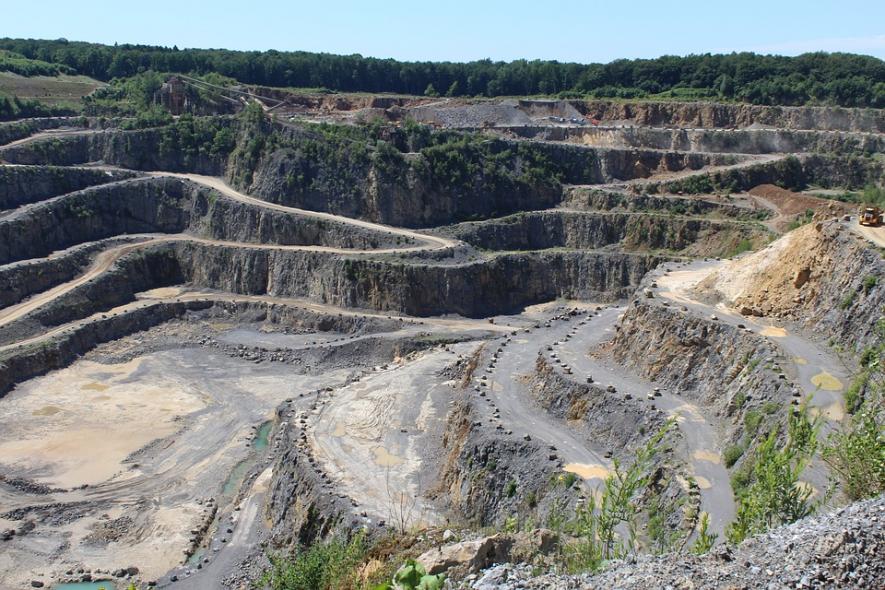 The Kashmir valley is a fertile plain between the Pir Panjal and the Great Himalayas. Its small rivers and hill streams don't just enhance its beauty. They mostly join the Jhelum river, the primary natural drainage system of the valley. Major tributaries of the Jhelum, the Lidder, Brenghi, Aripath, Sindh, and Pohru, are locally known as nallahs or Kulls. The Jhelum also has Rambiara, Vaishav, Doodh Ganga, Ferozpur and smaller tributaries that merge with it.
Most tributaries of the Jhelum river are just 40 to 50 meters wide, yet they significantly impact the local landscape and lives. Their water is used for drinking and irrigating fields and orchards. Due to massive urbanisation and growing population pressure, the Jhelum and its tributaries are under tremendous pressure. Sand, gravel and boulders are being mined in these water bodies, causing massive destruction over the last ten years. The mafia is in league with government officials, including local police, looting streams and rivers of their mineral wealth.
New Mining Rules
To control illegal mining, around six years ago, the PDP-BJP government floated new rules called the Jammu and Kashmir Minor Mineral Concession, Storage and Transportation of Minerals and Prevention of Illegal Mining Rules 2016. In an order (dated 19 March 2019), the Industries and Commerce Department decided to allot mineral blocks through e-auctions. District level e-auction committees were constituted, headed by District Magistrates. Senior officers and engineers from the PWD, Irrigation and Flood Control, Geology and Mining and Finance departments are members of these committees.
The Department of Geology and Mining has also moved from open auctions to e-auctions. So far, more than 173 mineral blocks across Jammu and Kashmir have been notified for the e-auctioning. Notifications have been issued for the districts of Poonch, Rajouri, Jammu, Samba, Kathua, Udhampur, Reasi, Srinagar, Bandipora, Budgam, Ganderbal, Kupwara, Baramullah, and Pulwama. E-auctioning was challenged before the Jammu and Kashmir High Court in 2020, but the court upheld it for minor minerals, saying it is a more transparent system that will maximise public interest and national priorities.
In October 2020, a division bench of then Chief Justice Gita Mittal and Justice Sanjay Dhar dismissed the appeals of mining contractors against the switch to e-auctioning of minor minerals. It also said the policy decision is "reasonable" and that "e-auctions are most transparent."
The bench also pointed out, "Illegal acts of the appellants have deprived the State of valuable financial resources in terms of the balance bid amount while deriving huge commercial profits and causing environmental degradation by their indiscriminate mining operations without environmental clearances...".
Scenario after e-auctions
E-auctioning, many hoped, would end illegal mining in rivers and streams across Kashmir. As a result, the prices of building materials such as sand, gravel, bajri, stones, and boulders would be lower. On the contrary, qualified bidders and contractors have become entrenched in the large-scale destruction of rivers and streams ever since. They deploy massive hydraulic cranes and JCBs, threatening the water ecosystem, biodiversity, and picturesque landscape. The labourers who earlier worked manually are jobless as machines do most of the work in many places. The guidelines of the 2016 Mining Rules are openly violated. The locals near Doodh Ganga and Shali Ganga are aggrieved by the unlawful methods of mining sand, boulders, muck, bajri, etc., from both tributaries of the Jhelum.
Mining in Doodh Ganga
The Doodh Ganga, which has an average width of 35 to 40 meters, originates in the Pir Panjal glacier of the inner Himalayan region, at around 4,400 meters altitude. It is called Chaz Kull locally as it traverses a small valley named Chaz Kani Naad, where its water takes on a milky appearance. Before reaching Chaz Kani Naad, it zigzags, mesmerising, past the tiny Navakan valley, pristine and clear. But just 30 km downstream, it gets heavily contaminated by solid and liquid waste, including from illegal mining. Pesticides drain into it from apple orchards, making the Doodh Ganga hazardous.
Around 12 years back, this river was diverted through a meadow to generate hydropower at Branwar village in the Budgam district. It destroyed the downstream flora and fauna in a seven-km area. Water supplied from the Doodh Ganga water filtration plant at Kralpora is unclean due to solid and liquid waste and pesticide contamination. Then the Srinagar Municipal Corporation (SMC) pollutes it further at several places along a four-kilometre stretch from Chanapora to Tengpora. The SMC has set up several pump stations to remove untreated liquid waste, a clear violation of the Water (Prevention and Control of Pollution) Act 1974.
This author moved the National Green Tribunal (NGT) last year through counsel Rahul Chowdhary, and in March 2022, the tribunal slapped a Rs. 3 crore penalty on the Jammu and Kashmir government. This penalty is to be realised from erring officers and polluters, the NGT order says.
But over the last four to five months, constant mining with heavy-duty hydraulic cranes has caused even more environmental destruction and pollution in the Doodh Ganga. In fact, when this author moved the petition bringing the pollution to the tribunal's notice, illegal mining was not a part of it because, at the time, mining had not even started. Yet, for the last two months, illicit mining has been rampant in Doodh Ganga and Shali Ganga, also affected by the problem. These small rivers flow through the Chadoora Tehsil, only five or six kilometres apart. Two patches of Doodh Ganga near Chadoora town upstream and downstream have been leased out for mining.
There was mining in the past, too, but on a smaller scale, and it hardly used mechanised equipment. It was done mainly by the local population, which paid royalties directly to the Geology and Mining department. There was corruption, but the prices of construction materials were always in control. The government introduced the new mining rules in 2016 to control illegal trade, but it is wreaking havoc as now it is the mining contractors who are the biggest violators.
Price rise
Soon after e-auctioning, contractors were allotted mining work, and the prices of minor minerals suddenly rose across Jammu and Kashmir. In 2020, a truck (tipper) of sand cost Rs. 4,000 in the Srinagar and Budgam districts, which now goes for Rs. 10,000-12,000. Bajri (crushed stones) was sold at Rs. 3,000-4,000 per truck in 2020, and the current rate is Rs. 9,000-10,000 per tipper. On 21 May 2021, the Geology and Mining Department and District Mineral Office (Srinagar) put the per-tipper rate of sand (around 150 cubic feet) at Rs. 3,975 and of bajri at Rs. 3,300. But these materials are selling at much higher prices.
Although the DPRs only allow mining up to one-metre depth, massive hydraulic cranes excavate sand and other materials even from 10 meters deep. It is destroying the river landscape and biodiversity.
Mining in Shali Ganga
Shali Ganga flows through Budgam and enters the Chadoora tehsil at Hushroo village. Its source is the Tatakoti glacier (4,725 meters) between Budgam and Poonch districts in the Pir Panjal range. The river is a treasure of resources and a significant source of drinking water in the Khansahib and Chadoora tehsils of Budgam. Many government water supply schemes source water from it. After the e-auction, the Department of Geology and Mining allotted the work of leasing out minor mineral blocks to Abdul Rashid Mir, a contractor, under the same Mining Rules of 2016.
A contract to extract the minerals was allotted to NKC Projects Pvt Ltd, a Gurgaon-based construction firm constructing the Srinagar Ring Road. There was no e-auction in this case, but still, the company is excavating construction raw materials at two locations near Panzan village. Giant hydraulic cranes excavate colossal quantities of boulders, which are taken to a stone crushing unit of the company inside paddy-growing land. It is unclear who permitted this crushing unit. The company has built a makeshift road with rocks and muck for its trucks to access Shali Ganga easily.
The distance from the stone crushing unit to the mining area in Shali Ganga is two kilometres at most from the main road. The company has plundered paddy fields to shorten this distance to 500 to 700 meters. And the Revenue Department is a mute spectator to it. If any farmer or villager had built a road through this land to his house, he would have been jailed. But despite openly violating the Jammu and Kashmir Land Revenue Act, the local officers have not even registered a case against the company. The Srinagar Ring Road project is important, but that does not mean a fragile environment, including water bodies, rivers and paddy fields, have to be destroyed for it.
Illegal e-auction
The Mining Rules of 2016 say no mining can be undertaken in Shali Ganga or Doodh Ganga, or any other stream or river 50 meters wide or less. Both these streams have a maximum average width of 40 meters, and the Geology and Mining Department should not have auctioned the area as mineral blocks. Rule 4, under the subhead "other restrictions" of the Mining Rules, 2016, says mining must be 25 meters from any of the main banks of a stream or river. That is, 25 meters from either bank and add the width of the river itself, 40 metres in this case.
"How will the geology and mining department justify e-auctioning mineral blocks in Doodh Ganga, Shali Ganga, Tailbal Nallah near Harwan Srinagar, Pohru nallah in Kupwara and other streams that are not more than 50 meters wide? These allotments are illegal and should be cancelled immediately. Further, more than one meter deep mining is not permitted, and then using only semi-mechanised methods. Here, heavy-duty JCBs and L&T hydraulic cranes go as deep as five or six meters into these rivers and streams," Badrul Dujja, an advocate at the Jammu and Kashmir High Court in Srinagar, tells NewsClick.
When this author visited the Shali Ganga and Doodh Ganga mining sites, residents said mining times are fixed for 9 am to 5 pm but continue past midnight. "Only 20 truck loads of material (sand, boulders, muck, etc.) are allowed to be taken from the river per day, but from Doodh Ganga and Shali Ganga as many as 150 truck loads are taken daily, which is open loot. The depth of river is increasing day by day, which will have adverse effects on agriculture and deplete the surrounding water-table," says Ghulam Nabi from Panzan village of Budgam, adding, "I appeal to the government to come to our rescue."
The author is a Srinagar-based columnist, activist and independent researcher and an Acumen Fellow. The views are personal.
Get the latest reports & analysis with people's perspective on Protests, movements & deep analytical videos, discussions of the current affairs in your Telegram app. Subscribe to NewsClick's Telegram channel & get Real-Time updates on stories, as they get published on our website.
Subscribe Newsclick On Telegram